Wireless Phone Chargers are very common and available for a low price. These Qi Chargers can use as Android Wireless charger and also be supporting as iPhone Wireless charger with additional Qi-enabled cases. When you shop for Samsung wireless chargers, there are dedicated wireless charging pads are available for Samsung phones.
We are listing the best wireless chargers for Android & iPhones to go complete wire-free when you charge your device next time.
Samsung Wireless Charger Pad
The latest flagships from Samsung are Qi-Enabled smartphones and tablets that support wireless charging. For these Qi-enabled Samsung phones, no need to buy any additional circuitry for Wireless Charging other than a Wireless Charger Pad. Available in sleek black and moon white, the Samsung Wireless Charging Pad is compatible with all sorts of Galaxy devices and Qi-enabled devices.


This Android charging pad makes use of inductive charging technology, and the device can be used to answer calls while charging. The easy to use Samsung device requires only the
right alignment
while placing the smart device on the Wireless Charging Pad. The
LED lights
present on the top face of the Wireless charging devices let the user know when the smartphone gets fully charged; as it
changes color
. The Samsung wireless charger is not just for a single type of smartphone and can be used for different Galaxy products.
Key Features: Power: 2A | Standard: Qi | Compatibility: Samsung Phones | Weight: 7 oz | Buy from Amazon
Related: 8 Best 360 Degree Cameras (VR) to Record in 4K Video Quality
CHOETECH Qi Wireless Charging Stand
Charge your device in a swift manner with a fast wireless charging offering by CHOETECH 10W Fast Wireless Charger. This QI Charger allows you to charge your Android or iPhone about 1.4x faster than a normal charger. You can watch movies, video chat with people as well as read anything on your phone while it is charging. This Wireless phone is a great accessory to have at your home and office to access your phone while charging it.
Whether you place your phone vertically or horizontally, it will charge your phone in both ways. The charger is phone cover friendly and identifies the phone within 4 mm. You can overcome the hassles of cables and wires with the daily usage of CHOETECH 10W Fast Wireless Charger.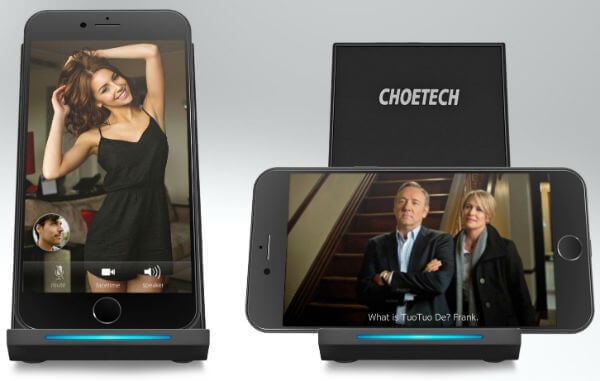 The CHOETECH Qi Wireless Charger comes with two charge modes. The fast charger mode can supply up to 10W and compatible the iPhone and Android devices that supports fast charging. The normal mode can offer a standard charging power up to 5W for regular charging mode and all Qi-enabled devices. With the built-in 2 coils support, there is no need to worry about charging woes even if you have placed the handset in an improper manner. Featuring overcharging and high-temperature protection, you can ensure the safe charging of your device. The anti-slip 4 rubber feet at the bottom provide better stability to the device during the charging process.
Key Features: Power: 10W/5W | Standard: Qi | Compatibility: Samsung & iPhones | Buy from Amazon
Totallee Wireless Charger Pad
Totallee Wireless Charger is the best of the best wireless charger available now online. There are a number of key features that make it stand out among its rivals. These include the mammoth power delivery, portability, and design. Also with a price tag of just $60, you ought to surely give this one a try.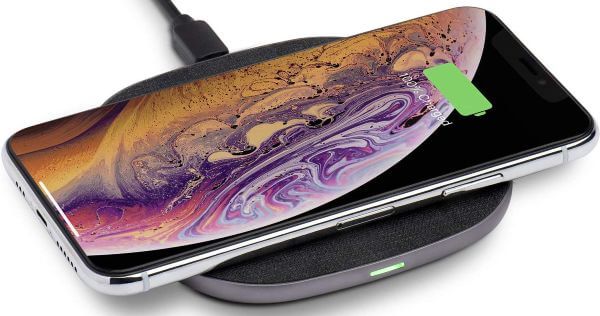 The Totallee wireless charger comes with fast charging. It has speeds of up to 10W and can charge your iPhones in 45 mins. There is a lot of protection features present in this device. These include overheating and over-voltage protection, short circuit protection, and much more.
Key Features: Power: 10W | Standard: Qi | Compatibility: Samsung & iPhones | Ultra Thin design | Buy from Amazon
RAVPower Wireless Charging Stand
This is a redefined Wireless Charger from RAVPower with HyperAir technology to deliver fast charging for your iPhones and Samsung Phones. This QI Charger is offering 7.5W for iPhone X, 8, and 8 Plus, and 10W for Samsung Galaxy S9, S9 Plus, S8 and Note 8. Compared to the regular Wireless chargers, the power output is almost double that makes the phone charge faster. This wireless charging pad has a dual coil charging system to make sure the phone can charge both in landscape or portrait modes.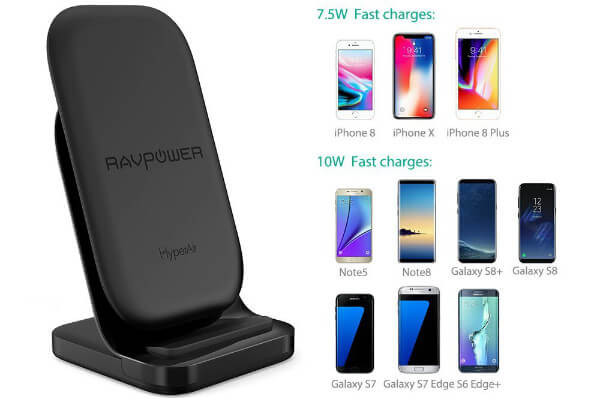 HyperAir technology makes sure to dissipate the heat faster. There is an additional inbuilt protection circuit is coming with this Qi Wireless Charger to prevent overcharging, over-current, over-voltage, overheating, and shortcircuit. Please make sure to register your device to get a lifetime of quality guarantee.
Key Features: Power: 7.5W/10W | Standard: Qi | Compatibility: iPhone, Samsung, LG | Fast Charging | Dual Coil Charger | Overcharging/Overheating/Short Circuit Protection | Buy from Amazon
Pictek 2 Coils Wireless Charger
A lightning-fast charge is possible with this Pictek 2 Coils charger. The fast charging mode is supporting Samsung phone models. The standard charging mode supports other models with a maximum 5W rating. These two Coil Wireless Charging Pad has a charging period that is 1.4 times faster than the average wireless charger pads and does not need any center alignment for charging your device.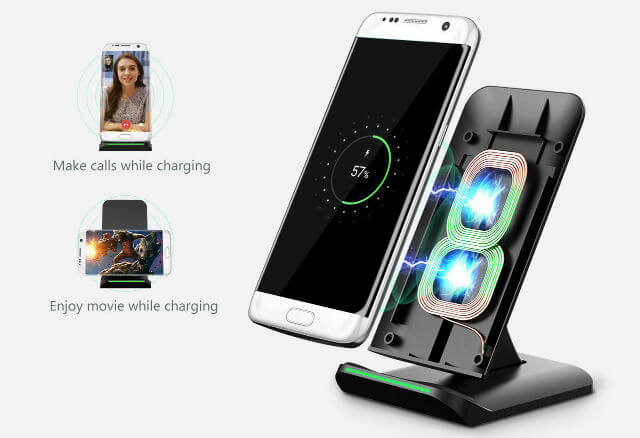 This Samsung wireless charger is also provided with an anti-slip mat. This Android Charging pad supports the charging of the smartphone either horizontally or vertically. The device proves to sleep-friendly, which means that does not show off its characters with unnecessary lighting and sounds. This ensures the sleeping pattern of the user is not disturbed.
Key Features: Power: 2A | Standard: Qi | Compatibility: Samsung, LG, and iPhones | Fast Charging| Two-mode charging | No blind spot on charger pad | Buy from Amazon
TaoTronics Fast Wireless Charger with LED Desk Lamp
There are certain Wireless chargers; those can do more than just wireless charging. This LED Desk lamp can work as a wireless charger, USB power supply, and also a led lamp for your office table or bedroom. TaoTronics' desklamp's base is powered by a Qi charger that supports iPhone X/8, Samsung Galaxy, and all other Qi-enabled smartphones.
This Hyper Air model supports fast charging for iPhone X with 7.5W power and 10W power for Samsung Galaxy Models (S9/S8/S7/Note 8). The USB Port is supplying 5V/1A power, sure enough, to charge your phone through USB cables if required. The base panels have touch controls and working smoothly, and the iPhone and Samsung phones are charging with wireless pad efficiently.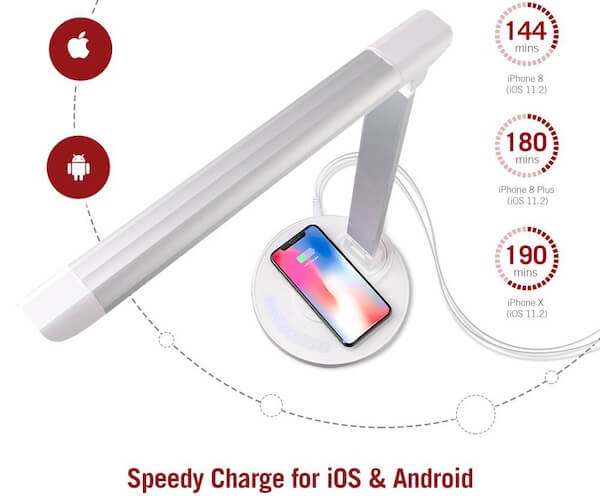 TaoTronics LED desk lamp operates at 5 different color temperatures (2500K-6500K) and 7 brightness levels (up to 410lm) to meet your eyes' needs and match your activity. The lamp's head can be tilted up to 135 degrees and rotates 180 degrees help you to direct the light almost at any angle you want. This gadget is an ideal solution for those who are looking for something different other than just a wireless charging pad.
Key Features: Compatible with iPhone X/iPhone8/Samsung/All Qi-Enabled Devices | Fast Charge (7.5W) for iPhone X, Galaxy S8/S7 | Wireless Power: 10W | Standard: Qi  | Desktop Lamp and USB Power Port | Buy from Amazon
RAVPower Fast Wireless Charger
One of the best wireless charger from Ravpower that supports fast charging for Android phones. The two different modes of charging support fast and normal charging modes with this wireless charger. In addition to Samsung Galaxy S8 Note 8 S8 Plus S7 S7 Edge S6, this charger will support all Qi-enabled smartphones like iPhone 8/8Plus and iPhone 10.
The silicone anti-skid layer on top of the charger prevents the phone from skidding from the charger pad. This smart charger has a smart battery indicator and additional protections like built-in over-current, over-voltage, and over-temperature protection.
Key Features: Compatible with Samsung Galaxy S8 Note 8 S8 Plus S7 S7 Edge S6 | Power: 10W | Standard: Qi  | Smart battery Indicator | Over voltage /Over temperature protection | Buy from Amazon
Pleson Wireless Charger
Pleson Charger Pad is voted as one of the fastest wireless charging devices; the PLESON wireless charger pad ensures that the smartphone charges within 50 minutes. This Android Wireless Charger is compatible with varies Samsung Phones without any additional cover, this includes the Galaxy and Galaxy Note variations.
However, there are certain types of phones which may require an extra receiver while using this wireless charger. For example, the models such as Samsung Note 4, Note 3, S5, S4, iPhone, LG G3, and G4 will support wireless charger with an extra Qi-enabled device attached to a smartphone.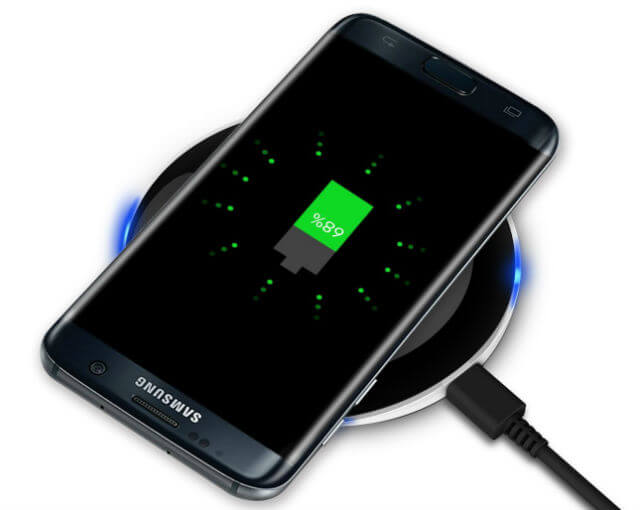 This sleep-friendly Samsung wireless charger can hibernate within the first 10 seconds of inactivity and save power. This Wireless Charger Pad does not have to make any unnecessary sound or blinking which may interfere with the sleeping pattern of the user. With extra technology to avoid any short circuit, the wireless charging pad ensures the safety of the smartphone.
Key Features: Power: 2A | Standard: Qi | Compatibility: Samsung, LG, iPhones | Weight: 4.8 oz | Buy from Amazon
Pleson Ultra-Slim Wireless Charger
The ultra-slim Android wireless charging pad C300 from PLESON is termed as an intelligent product. Staying true to its name, it is a sleek, simple design that is compatible with all sorts of smartphones in regard to the Qi standard. This Smartphone charging pad is as thin as 0.25 inches as its name. it helps to charge along with phone case of a thickness not more than 2mm.
One of the specialties of the ultra-slim PLESON C300 is that it generates only 50% heat when compared to other charging pads. This means that the charging pad has a better coolant system and stays cool for a longer period. The LED automatically turns off after a successful recharge of the smart device. It turns on for a spare time of 3 seconds and goes off.
Key Features: Power: 2A | Standard: Qi | Compatibility: Samsung, LG, Nexus, Nokia and iPhones | Weight: 3 oz | Buy from Amazon
Choetech T511 Qi Wireless Charging Pad
The deep black Choetech wireless charging pad is made with anti-slip rubber with a 7.5W power rating. This rubber pad ensures that even clumsy users have their phones intact and do not lose it's grip. This Wireless pad requires a 2 Ampere AC adapter to be compatible with a wide range of Android smart devices.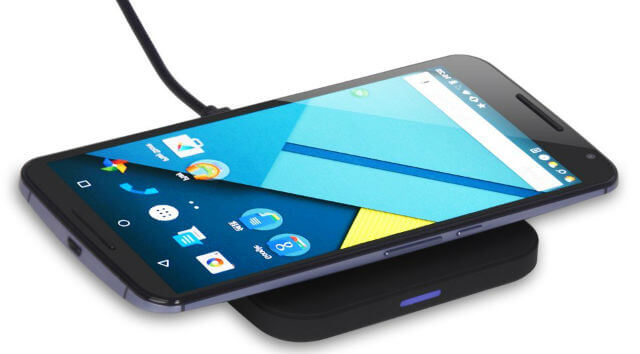 The Choetech wireless charging pad is given a one-year warranty. The Charger device works with all sorts of Qi-enabled devices without any additional circuitry. Efficient charging via the wireless charging product occurs without the phone case. Choetech T511 is coming with 7.5W power but does not support fast charging.
Key Features: Power: 2A | Standard: Qi | Compatibility: Samsung, LG, and Nexus | Weight: 2.7 oz | Buy from Amazon
Pictek Qi Wireless Charging
The ultra-thin Pictek Android wireless charger is a sleek black product. Being sleep-friendly this pad erases all the unwanted noises and blinks. The Pictek Wireless Charging Pad is also provided with a one-year warranty, offers a lossless charging with a 1.2 meter USB cable, to ensure a longer reach for the user.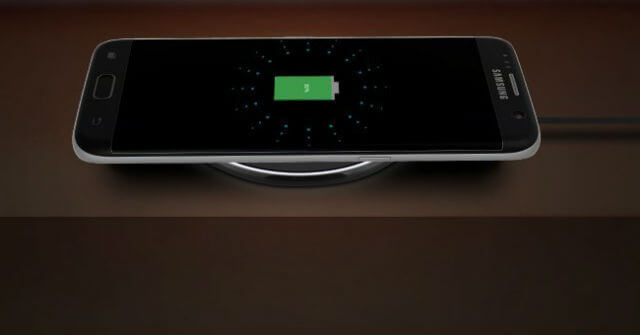 The Pictek wireless charging pad is approved by FCC, RoHS, and CE. A 2-Ampere adapter is strongly recommended for the power source for the best results. Blinking of soft lights is ensured to avoid the lights disrupting the user's sleep. The charging does not take place efficiently when used along with a phone case.
Key Features: Power: 2A | Standard: Qi | Compatibility: Samsung, LG, Nokia, and Nexus | Weight: 4.6 oz | Buy from Amazon
Related: Best iPhone Wireless Charging Pad for iPhone 8, iPhone 8 Plus & iPhone X
iQi Mobile – Wireless Charging Receiver
The silvery white iQi wireless charging pad is compatible with Apple products including the iPhone and iPod. The iQi product helps the user to convert their Apple products to wireless charge supporting device with the help of any Qi charging transmitter pad. This includes pads such as QiStone+, KoolPad, and WoodPuck.
The only disadvantage of this iPhone Wireless Charging device is, it enables wireless charging only through soft iPhone cases. The charging of the smartphone is quite simple with this iPhone Wireless Charging Pad. Initially, the smart device is inserted into the lightning port. Ensure that the Qi logo is facing upwards. The product charging port shows a thickness ranging from 1.4 mm to 0.5mm.
Key Features: Power: 2A | Standard: Qi | Compatibility: iPhones | Weight: 4.2 oz | Buy from Amazon
Related: How to Convert Old iPhone (iPhone 5/6/7) to Wireless Charging?
iPhone Wireless Charging Receiver
With a one-year guarantee, the wireless charging product first perfectly for iPhone 7/7 Plus / 6/6 Plus/6S Plus / 5/5S/5C/SE. it makes use of an inductive charging pad for wireless charging. With no additional tangled wires, the user can use the phone while simultaneously charging the smart device.
The iPhone Charging Pad is made in association with a Texas Instruments Chip and supports during conditions of overcharging and overheating. The wireless charging product ensures that it can be used along with the phone cover and does not show any bulkiness when used with the phone case.
Key Features: Power: 2A | Standard: Qi | Compatibility: iPhones | Weight: 0.2 oz | Buy from Amazon
mophie Charge Force Wireless Power
The sleek black mophie juice pack wireless charging pad is exclusively for iPhone 7. The mophie juice product shows us a whole new level of wireless charging. Without the use of any cables of charge pads to settle, the product goes directly with the phone case.
The lightweight product is characterized by rubber protection around it to be safe in case of any hard falls. It also has raised corners to protect the screen from any damage. The phone case also provides extra battery life for the iPhone7. It weighs about 3.2 ounces.
Key Features: Power: 2A | Standard: Qi | Compatibility: iPhone7 | Weight: 3.2 oz | Buy from Amazon
As you know, iPhone6 and iPhone7 are not Qi-enabled yet and not supporting Wireless Charging. Wireless Charger for iPhone is coming with an additional case that can convert the iPhone into a Qi-enabled device. This additional circuitry is packed in the iPhone7 or iPhone6 case. Some of this Qi devices for iPhone is coming as a sticker type electronic circuit that can mount on your existing iPhone case to enable wireless charging.
Related: Best 5 Wireless Bluetooth Long Battery Life Headphones
Similarly, the latest Android phones on the market are Qi-enabled to support Wireless charging. The Android phones from Nexus, LG, and Samsung (supports Samsung Note 4, Note 3, S5, S4, iPhone, LG G3, and G4) are the top in the list launched their recent Android phones with wireless charging support. Let us have a look at some of those Wireless Chargers for Android phones.
We recommend looking into the specifications of each of the top charging pads before buying one. The charging pad can seem to be the right sort of luxury especially for people who spend a good amount of their time on smart devices. For iPhone users, don't forget to buy the supporting Qi-enabled case to convert your iPhone 7 & iPhone 6 compatible with Wireless charging.