Android 12 is the next version of Android OS, which must be coming with a lot of features under its sleeves. Google manages to add features that Apple introduced in iOS 14, but with Android's signature customizability. Now the Android Beta Program lets you get your hands on Android 12, the next version of Android. We have gone through some of the best Android 12 features and we were really impressed by many of those.
Here, we will list out the best Android 12 features that are worth discussing.
Content
Add Text & Emoji to Screenshots
Android's screenshot feature has always been very bare-bones even as Android manufacturers kept adding many advanced features to it on their versions of Android. Things have been changing lately. The Android screenshot markup tool is now getting support for texts and emojis.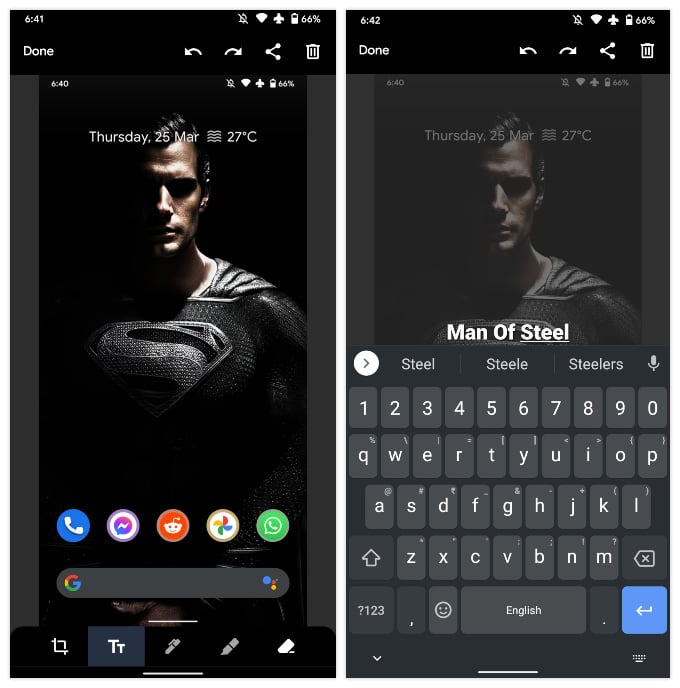 When you take a screenshot and choose to edit, you can add texts and emojis to it without having to open other Android image editor apps. You can choose from 7 different colors for the text. Both the text and the emoji can be made bigger or smaller with the pinch gesture.
Bigger Notification Shade Icons
Every major Android update makes at least some changes to the notification shade, for better or worse. The Android 12 update continues the trend by making icons in the notification shade bigger.
Moreover, the snooze functionality is not front and center. Every expanded notification has an alarm clock icon with the letter 'Z' inside it. Previously, it only became visible if the user did a half swipe towards the left or right on the notification. Tapping on this icon allows you to snooze the notification for up to 2 hours.
One-Handed Mode
Smartphones have been getting bigger and bigger for a long time now. Several Android manufacturers, as a result, have been including a special one-handed mode on their versions of Android. Google is finally adding a one-handed mode to Android. In fact, Android's new one-handed mode is an exact knock-off of the Reachability mode on iPhones.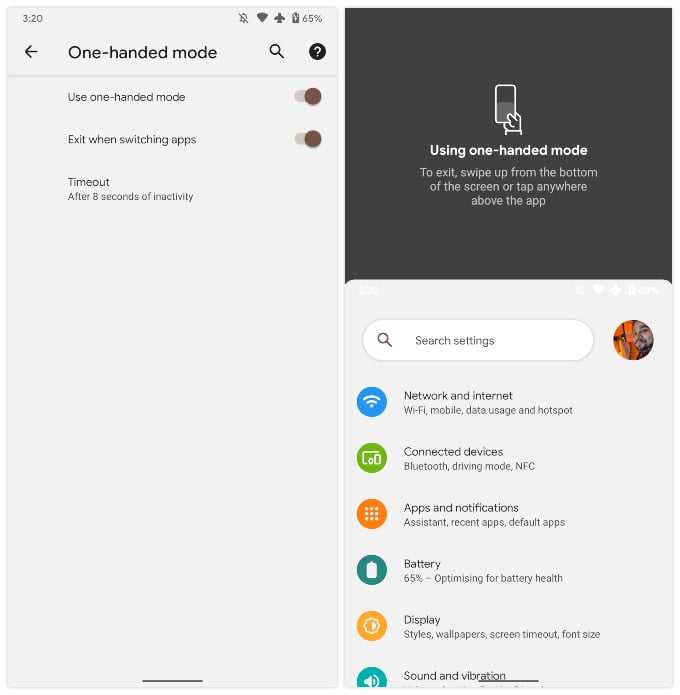 You can activate the new one-handed mode in Android 12 by swiping down on the gesture bar found at the bottom of the screen. This moves the top half of the display to the bottom half. Users can swipe up the gesture bar to restore the display back to its original state. To enable one-handed mode on Android 12, go to Settings > System > Gestures > One–handed mode.
Back Tap to Do Things
When iPhone came up with the option to do thing by just tapping the back of the phone, everyone including Android users were stunned. We even repicated the same Back Tap feature on Android phones using third-party apps. You no longer need any apps if you get Android 12. The next version of Android comes with the capability of doing things when you tap the back of your Android phone.
Google calls the feature Double Tap on Android 12. You can enable te Double Tap on Android 12 by going to Settings > System > Gestures > Double Tap. Once enabled, you can take a screenshot, play/pause media, see recent apps, open the notification shade, or call on the assistant. For now, Double Tap is only available on the Pixel 5.
Share Wi-Fi Password with Nearby Share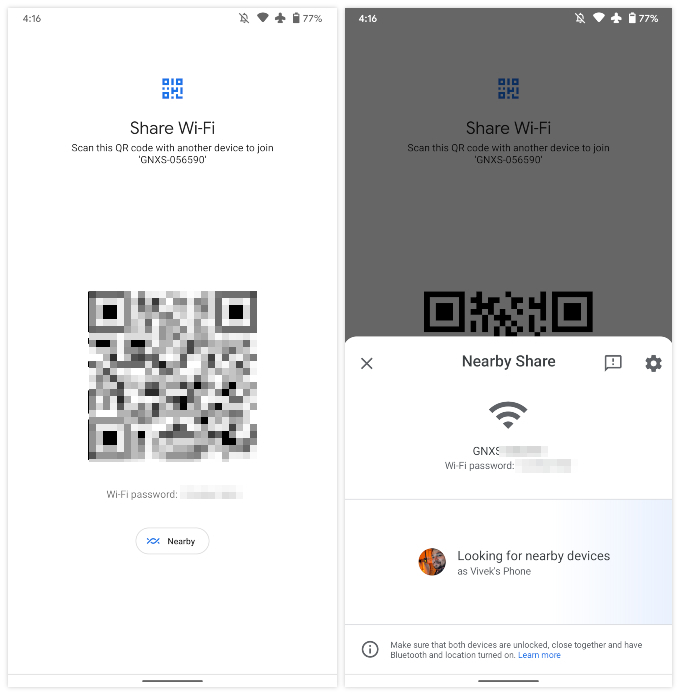 Android already allows you to easily share your Wi-Fi password with a QR code. One of the new Android 12 features is the ability to share your Wi-Fi password using the Nearby Share feature. Nearby Share on Android 12 is Android's take on Apple's AirDrop.
To share your Wi-Fi password with Nearby Share, go to Settings > Network & Internet > Wi-Fi. Tap on the Wi-Fi network SSID that you're connected to and then tap Share.
Verify your identity by entering the PIN, pattern, password, or biometric authentication. Next, select the Nearby button, and you can then share your Wi-Fi password to a device with Nearby Sharing enabled.
Camera and Microphone Privacy Toggles
One of the privacy-focused features in iOS 14 was the indicator for camera and microphone usage. Google is taking this a step beyond by allowing users to manually disable the camera and microphone altogether.
The new privacy indicators for the camera and microphone on Android 12 allow you to cut off access to the camera and microphone for every app, and even the OS. This works even for apps that have permission to use them.
Lighter Dark Theme
This one might not be everybody's favorite Android 12 feature, but it is here anyway. Android 12 tweaks the AMOLED dark theme with pure blacks to a theme with deep blue-gray backgrounds. It sure looks better than pure black, but that's subjective and a lot of AMOLED fans are not going to be happy about this.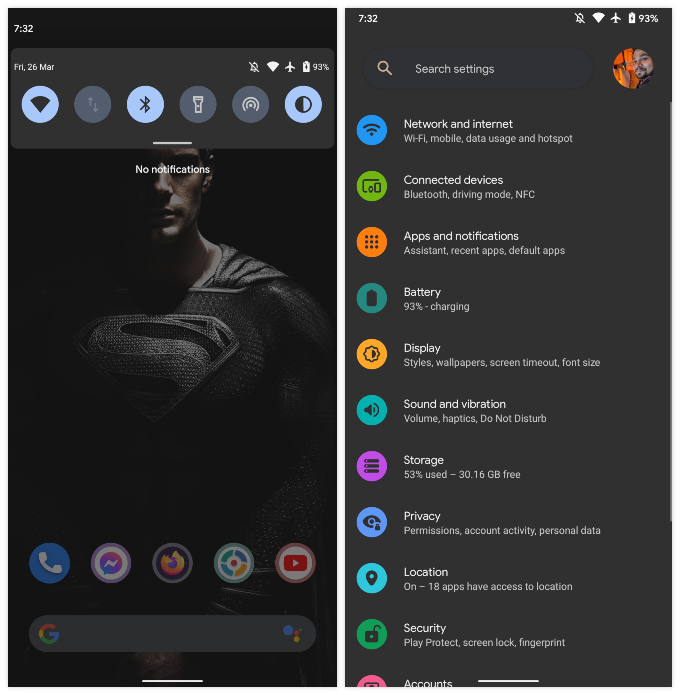 The backgrounds haven't been applied fully yet, so you may still stumble upon a settings page that's completely black on the next version of Android.
Hide Display Cutout
The Pixel 3 XL is the only Pixel phone to have a notch in the display. The Pixel 4a, 4a 5G, and Pixel 5 do have a camera cutout in the corner of the display. Android's hidden developer settings have had options to simulate different display cutouts.
With Android 12, Google is adding another option which is to hide the cutout. Once enabled, the status bar is turned into a black bar, thus hiding the display cutout in Android 12. The status bar icons remain in place.
Wallpaper Based Themes
Google is finally bringing a theming system that can change the background colors, not just the accent color. As you may have seen with Windows 10 wallpapers, your system theme color gets matched with the wallpaper tint or color.
The Wallpaper-based theme color for Android is still yet to release as of now. Once it rolls out, we will show you in detail how to et your Android system theme color based on the wallpaper.
All-New 'Widget Library'
Were you really tired of the cluttered widgets screen in the previous Android versions? Google now attempts somethings that looks like the "Widgets Library" on iPhone. Instead of confusing users, the new widgets screen organizes widgets under collapsible app menu.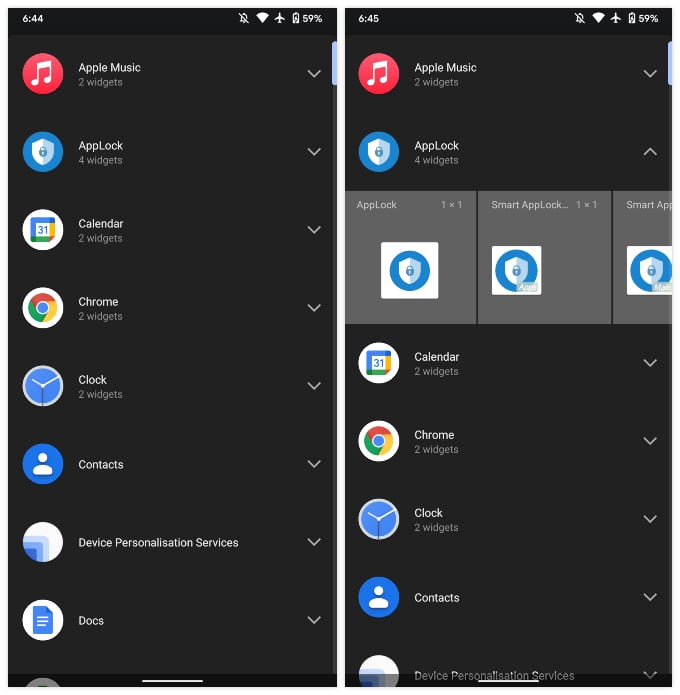 Each section shows a count of how many widgets it contains, along with the app name and icon. It makes it easier to find the widget you need since you can easily ignore the widgets you don't.
Picture in Picture Tweaks
The Picture-in-Picture mode in Android 12 has a new feature. For one, you can now "stash" a picture-in-picture window to the left or right side of the screen. This lets you move the video aside when you need to do something, and it's getting in the way. The iPhone's PiP mode has something similar, FYI.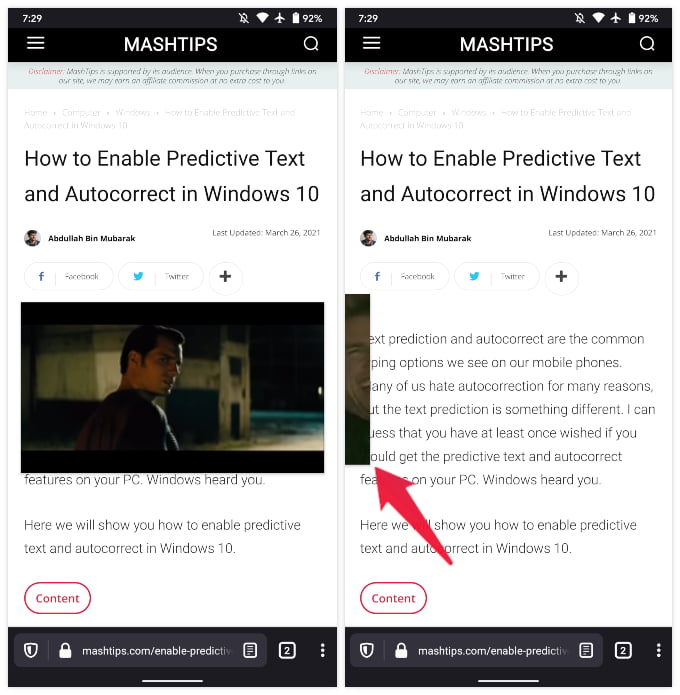 A single tap on the window shows playback controls, while a double-tap switches back and forth between a larger window and a smaller window. You can also pinch-to-zoom to resize the window more precisely.
Media Player UI Tweaks
The media player notification on Android used to take on its background color from the album art or thumbnail of the media. One of the new Android 12 features in the Android beta program is that this notification now adopts its background color based on the accent color of the system.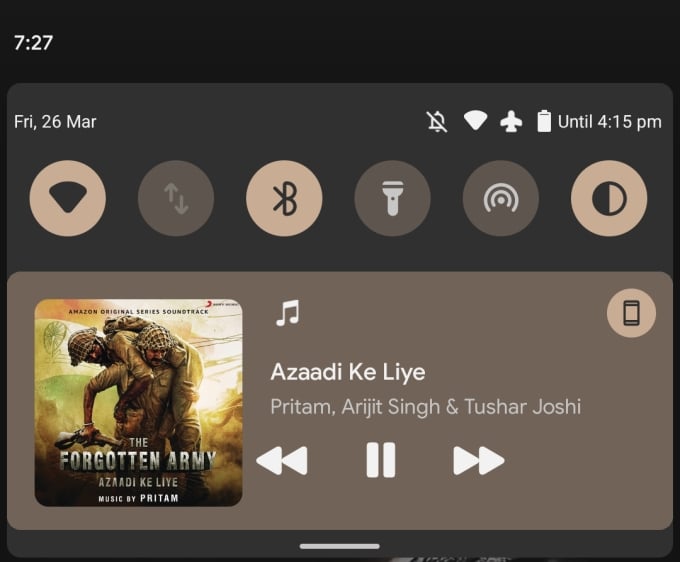 We're only at the Android 12 beta program at this stage and things are bound to change before the stable Android 12 release. According to Google's roadmap, we should start getting beta releases starting May. That's when we will have a more clear picture of Android 12 features.