With Android 11, Google is testing an AirDrop-like feature for Android. The new WiFi file transfer feature is called Nearby Sharing and it is backward compatible. So today we'll show you how to use Nearby sharing on any Android. In the future, you'll also be able to wirelessly transfer files from your Android to your Windows PC.
Here is how you can get AirDrop for Android, which is now named Nearby Sharing on Android devices.
Content
How to Get Nearby Sharing – AirDrop for Android?
Google is only currently testing Nearby Sharing on Android. It is the newest addition to the Android operating system with the latest Android 11 update. The good thing about Nearby Sharing is that it is baked into the Google Play Services app and not Android 11 itself. This means when the time comes, Google can enable it on almost every Android device.
As of right now though, the said AirDrop like feature for Android is under testing. If you want to get it right now, you'll need to enroll in the Google Play Services Beta program. Here is how to enroll for the Google Play Services Beta testing.
Click on the button "Become a Tester."
After this, you'll have to wait for the app to get updated via the Play Store. Keep in mind, however, that being in the beta program is no guarantee that you'll get Nearby Sharing. Google is enabling it for selected users right now.
Add Nearby Sharing to Quick Settings on Android
How do you know if you got Nearby Settings on your smartphone? The best way to see if you're one of the chosen ones is to find the Nearby Sharing quick settings tile. You can get the Nearby Sharing on Quick Settings, similar to the AirDrop on iPhone's Control Centre.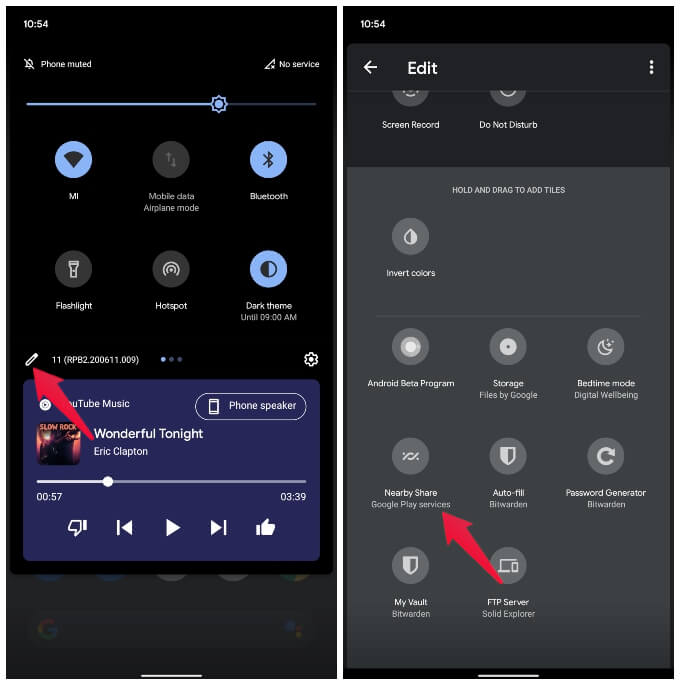 Swipe down from the top of your screen using two fingers to bring up the quick settings panel.
Tap on the edit (pencil) icon in the bottom left corner of the quick settings panel.
Scroll down and if you have the feature enabled, you'll find the Nearby Sharing tile.
Tap and hold to drag and the tile to the upper section of the page and place it wherever you want.
When done, tap on the back button.
You should now be able to find the Nearby Sharing tile in the quick settings panel.
Enable Nearby Sharing to Get AirDrop for Android
Once you've added the quick settings tile, you can easily enable Nearby Sharing by tapping on it. You can also enable it from Settings panel as well. See how.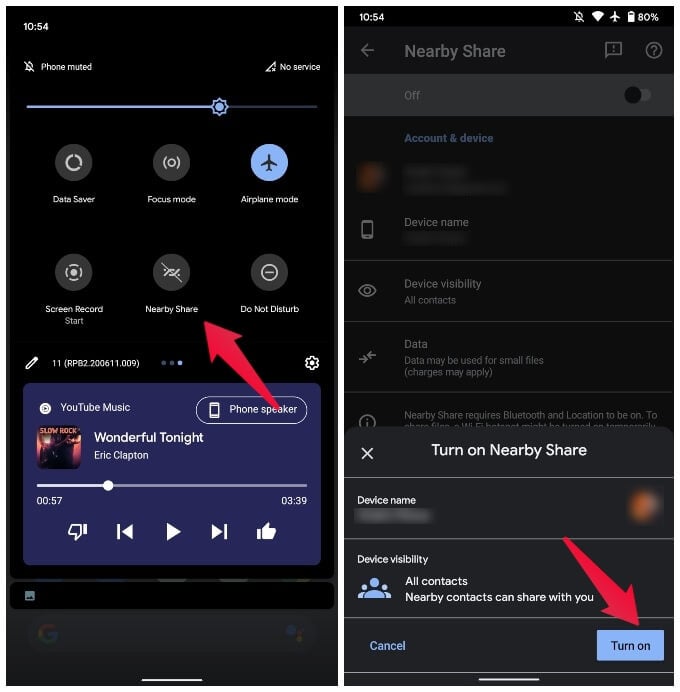 Go to Settings on Android.
Tap Bluetooth & Device Connection.
Toggle on Nearby Sharing.
You'll then be asked to confirm your choice and change which of your contacts do you wish to be visible to. When you have, just tap on the Turn on button. Nearby Sharing should also be similarly enabled on the other device.
Also Read: 6 Easy Solutions to Transfer Files between Android and Windows
How to Use Nearby Sharing on Android?
Both the sending and receiving devices need to have the Nearby Sharing feature enabled to start sharing files between them. Once Nearby Sharing is enabled on the two devices that you wish to transfer files between, all that is left is to transfer files. As mentioned, Nearby Sharing for Android works in a very similar way that AirDrop works for iOS devices.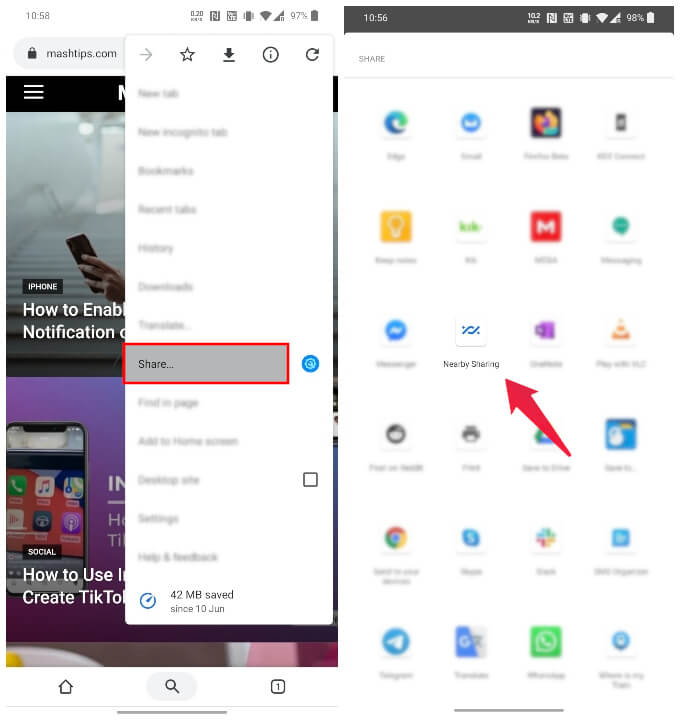 Use the share option in any file or media from any app on your Android smartphone.
On the Share sheet, you will find a new entry labeled Nearby Sharing.
Select Nearby Sharing from the Android share sheet.
Your device will now look for a nearby device. 
If the device is not already visible to you, a notification appears on the other device.

Tap on the notification to make it visible.
Select the device from the Nearby Sharing sheet.

On the other device, Accept the sharing request.
Once accepted, the file transfer starts on its own. You can see the progress as a circle that fills up around the profile image.
Once the transfer is complete, the shared items are automatically opened in the respective app. For instance, a link will be opened in your default browser. Similarly, images will be opened in the default gallery app.
iOS 14 has finally brought some popular Android features to iOS that users have been asking for. But there's one iOS feature that Android users have been waiting for a while as well. And that is AirDrop, a feature that lets iOS users easily share files with other Apple devices. Nearby Sharing works in an identical fashion and works pretty well even in this beta stage.