Creating personalized stickers is a fun and creative way to add a personal touch to your conversations with friends and family. With advancements in technology, it's now possible to create custom stickers directly from your iPhone photos, allowing you to turn your favorite memories into stickers you can use in your iMessages. Whether you want to create stickers for your pet, your favorite food, or yourself, the process is simple and easy to follow. Whether you use iMessage or WhatsApp, stickers always add more fun to the conversation than a simple text message. Apple is regularly adding new emojis and stickers to its messaging app. If that's not enough, you can create your stickers from the photos on your iPhone.
In this article, we will guide you through the steps to create custom stickers from your iPhone photos, so you can start adding a personal touch to your conversations without using any third-party app.
How to Create Stickers from iOS Photos App
Apple added a bunch of cool features to its Photos app on iOS 16, like copying and pasting edits on photos, finding duplicate photos, editing multiple photos at once, and more. In iOS 16, you can also copy the subject of the photo without its background. Using this feature, you can easily create a sticker. Let's see how to do that.
Launch the Photos app on your device.
Navigate to the photo from which you want to create a sticker.
Tap and hold the object and release it once you see a glowing line around it.
Here, you will see two options: Copy and Share.
To instantly send the sticker to someone, tap Copy. (If you tap Share, you can see multiple options to Save an Image, Assign it to a Contact, and much more).
Open the messaging or social media app (e.g., WhatsApp), go to the compose message screen, and paste the sticker.
That's it. You have successfully created a sticker from your photos.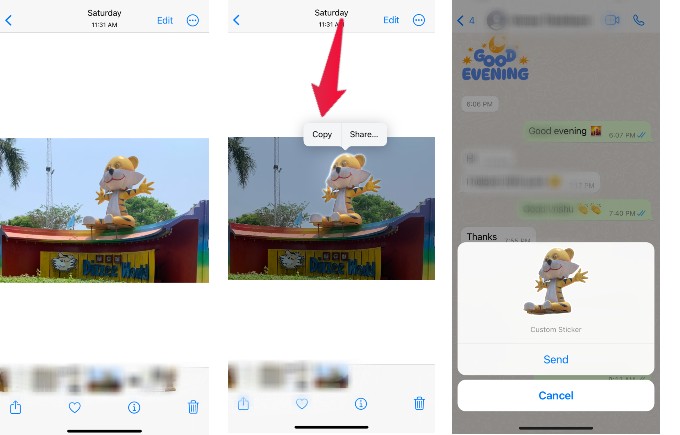 Besides the sticker, iOS also allows you to use that object as a watch face for your Apple watch. Plus, you can also save that object as an image as well.
Though this is a very trick on the Photos app, it will come in handy, especially if you want to send custom stickers out of your vacation photos.
Custom stickers from your iPhone photos are a fun and easy way to add a personal touch to your conversations. By following the simple steps outlined in this article, you can turn your favorite memories into stickers that you can use to express yourself in iMessage. Whether it's a picture of your pet, a favorite food, or a silly selfie, the possibilities for customization are endless. So, unleash your creativity and start creating your personalized stickers today!