Your iPhone will notify you whenever you receive a text message. There can be many reasons why you are not getting alerts for SMS or iMessage. We have found some solutions to troubleshoot and fix the issues for you.
Let's get started.
Check If Your iPhone Is in Silent Mode
Sometimes you might have put your iPhone in silent mode to avoid distractions and forgot to remove that. Because of that, you cannot hear notifications for calls or text messages.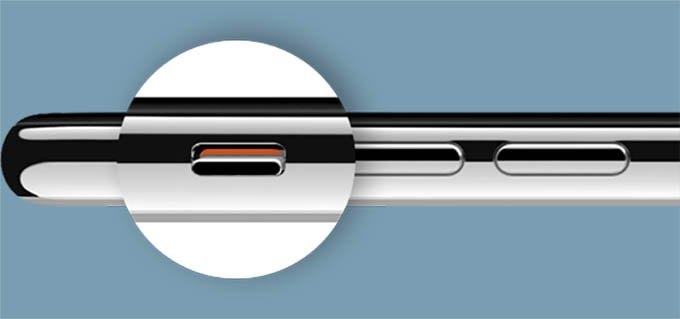 Before checking all your iPhone settings, make sure your iPhone is not in silent mode by checking the slider switch on the left side of your device.
Disconnect Any Bluetooth Speakers or Headphones
Your iPhone will only alert the calls and messages through the connected Bluetooth speaker or headphones. If you have connected Bluetooth speaker or a pair of AirPods to your iPhone, they are probably the reason for not getting alerts for text messages or iMessage.
To fix the problem, try disconnecting any Bluetooth or wired headphones and speakers paired with your iPhone. Either turn off the Bluetooth from the Control Center or go to the Settings > Bluetooth to disconnect speaker manually. If you found your iPhone is connected to unknown Bluetooth devices, select i and tap "Forget This Device" option.
Check Notification Settings for Messages
It is worth to check the notification Settings for Messages once and make sure it is enabled. Especially, if you are sharing your iPhone with small kids, they might have fiddled with the settings.
Go to Settings > Notifications > Messages. Next, check if Allow Notifications is set to green or ON.

Then, tap Customize Notifications on the bottom of the screen and check if the fields Promotions, Transactions and Unknown Senders are enabled.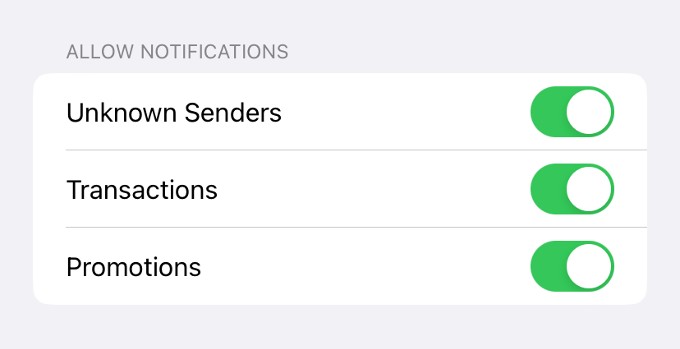 If any one of them is turned off, then you will not be notified of that message type.
Related: How to Announce Notifications on iPhone
Make Sure the Contact Is Not Muted
You can set a custom ringtone and text tone for every contact on your Phone. If you have set the text alert tone to "None" by mistake, then your iPhone will notify text messages from that contact.
Launch Phone app on your device and tap the contact name. Next, tap Edit on the top right.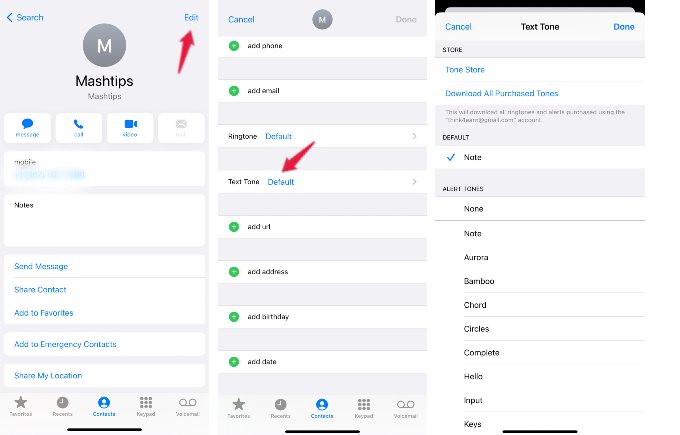 In the new screen, tap Text Tone and make sure it is not set to None. Either choose Default or select a custom ringtone from the list.
Turn Off Focus Mode or DND Mode
Are you using Focus mode or Do Not Disturb mode during your working hours to reduce distractions? And, if you have blocked certain apps like Messages during that mode, then you will not be notified of text messages while your device in that Focus mode.
Either turn off the Focus mode or Do Not Disturb Mode or allow notifications from the Messages app during that mode. See how focus filters work in blocking unwanted message notifications on your iPhone.
Check If Scheduled Summary Is ON for Messages
Apple lets you schedule notifications at a specific time on your iPhone. If you enabled that feature for Messages app, then you will not be notified immediately when you receive the message. Instead, you will see the notifications summary at the scheduled time.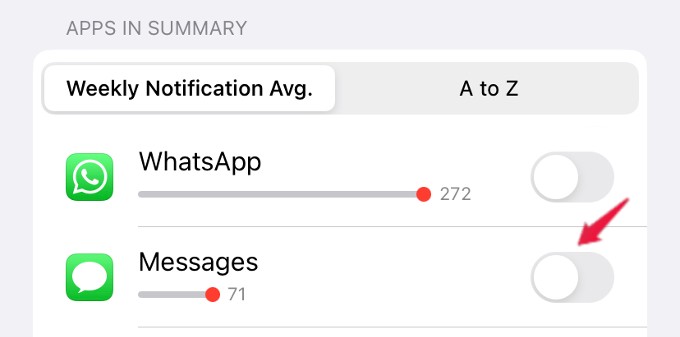 Go to Settings > Notifications > Scheduled Summary. Under the section APPS, IN SUMMARY, check if the Messages app is set to ON. To get notified immediately for text messages, toggle the field to OFF.
Disable SMS Filtering
Are you using SMS filter on your iPhone to avoid spam text messages? Then, it is possible your iPhone is putting the messages from those not in your contacts to a separate list and not notify you about that. To avoid that, you can disable SMS filter.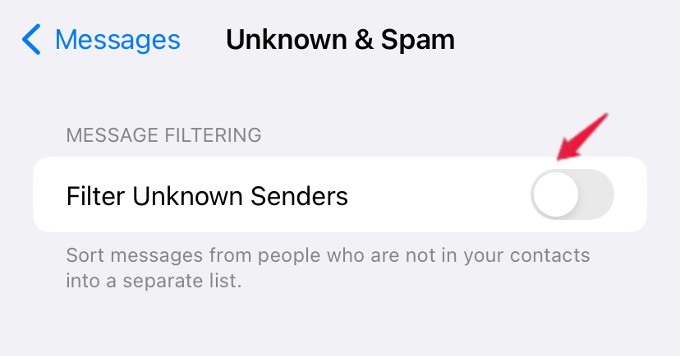 Go to Settings > Messages > Unknown & Spam and toggle Filter Unknown Senders off. From now on, you will be notified of all messages.
Restart Messages App
You couldn't find a clue on why your iPhone is not notifying of text messages? Then, close the Messages app by swiping from the bottom of your screen. From the app switcher, swipe up on the Messages app to close it. Wait for a few seconds and launch Messages app again from the home screen or App Library.
Restart Your iPhone
If restarting the Messages app doesn't help, then try restarting your iPhone as it will help to resolve any software glitches. Press and hold Side button and one of the Volume buttons till the power off screen appears.
Turn off your iPhone by swiping on the slide to power off button. Wait for a a few minutes and switch on your iPhone by pressing and holding the Side button till Apple logo appears.
FAQ: Message Notification Not Showing on iPhone
Why is my iPhone not notifying me when I receive a text?
If you are not getting alerts for text messages, your iPhone might be in any of the modes like silent mode, Focus mode, Do Not Disturb mode where the notifications will be disabled.
How do you unsilence text notifications?
Make sure the notifications are enabled for Messages app and turn off Focus or Do Not Disturb mode. Also, check if the notifications are set for immediate delivery. If they are scheduled, you will receive text notifications only at the scheduled time.