Spam text messages are so annoying that you will even struggle to find iMessage chats among the tons of chats. Unlike unsubscribing to spam emails with a single click, you cannot easily get rid of these spam kinds of text messages. However, you can make use of the SMS filter on your iPhone to filter and avoid spam text messages.
Let's begin.
What is SMS Filter on iPhone?
SMS Filtering on iPhone helps you identify the important chats and avoid other unimportant, promotional, and junk messages. When enabled, your iPhone will filter incoming text messages into three categories – Transaction, Promotion, or Junk.
Other than the inbuilt SMS Filter on iPhone, you can also install and use third-party SMS filtering apps for the same purpose.
How to Filter Text Messages on iPhone with SMS Filter
By default, SMS Filter is enabled if your iPhone is on iOS 15 or later. So you just need to make sure that your iPhone software is updated to iOS 15. Then, you can check the Messages settings to confirm that the SMS filter is turned on.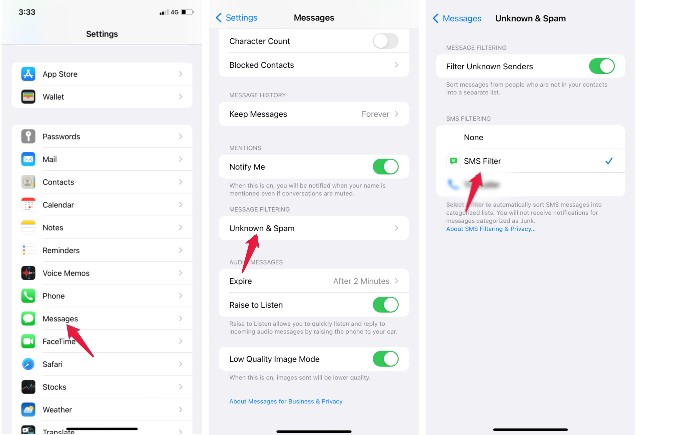 On your iPhone, tap Settings > Messages.
Then, scroll down to the section MESSAGE FILTERING and select the option Unknown & Spam.
Select SMS Filter

under SMS FILTERING option.
Related: How to Send Secret Messages from Your iPhone Using Notes App
How to Disable SMS Filter on iPhone
If you are missing important messages and you want to disable the SMS filter on your iPhone, you can do that anytime by navigating to the Settings menu on your iPhone. Let's see how to do that.
Tap Settings > Messages and go to SMS FILTERING in the same way as mentioned in the earlier section.
Under SMS FILTERING, select None to disable spam message filtering on iPhone.

Now, if you open the Messages app, you will not see the folders Transactions, Promotions, and Junk anymore.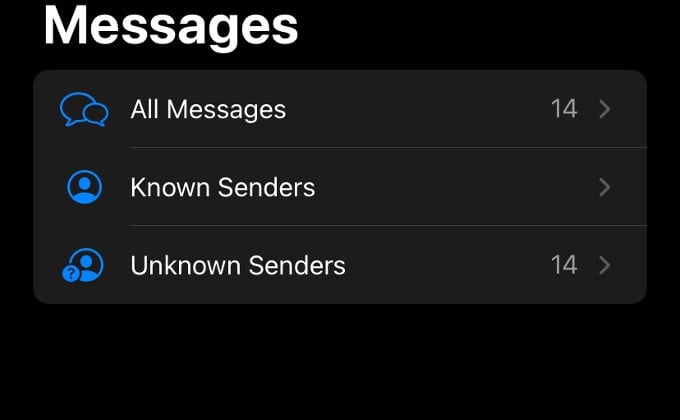 How Does SMS Filter Work on Your iPhone?
Well, SMS Filter doesn't delete or block any of your text messages. Instead, it organizes the text messages from unknown senders into folders named Transactions, Promotions. If the message doesn't fit any of the above two options, then it is considered Junk.
If you open the Messages app on your device, you can see that the messages are organized to the corresponding folders like below: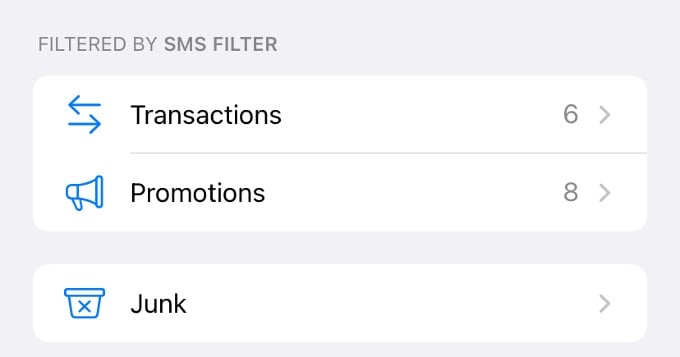 Of course, you will still get notifications for these messages like for a normal text message.
Related: How to Get Text Messages on Mac from iPhone
The SMS Filtering on iPhone saves time while looking for important messages and will hide the spam ones out of your sight. Plus, you can delete all the messages in the Promotions folder at once instead of checking every message and deleting that.