You need to reset iPhone or iPad if you are planning to sell your device or pass it over to someone in your family. Occasionally, some people would like to restore the iPhone to factory settings to solve any issues related to the device. Whatever the case it may, you need to back up your iPhone or iPad before resetting the device. Because a factory restore will erase all your information and settings from your iPhone and will install the latest iOS software. A factory restore is equivalent to buying a new iOS device.
What is the Difference Between Hard and Soft Reset?
You can make use of the soft reset if your iOS is unresponsive or not working properly. It is just similar to restarting your laptop or desktop computer. A Soft Reset will not erase your data on the iPhone or iPad. And, it won't cause any kind of harm to your iPhone. To activate the soft reset, just press and hold the Home & Side buttons till you see the Apple logo on your screen. Then, your device will go through the usual startup process.
However, a Hard Reset will completely erase all the information on your iOS device. You can either do the hard reset directly from your iPhone or using iTunes by connecting the device to a computer. Don't forget to backup your iPhone or iPad before making the hard reset.
How to Factory Reset iPhone or iPad without iTunes?
You can erase all your documents, photos, settings, and other types of content from your iPhone without using iTunes. However, you need to make sure that you took a backup of your iPad or iPhone before starting the process.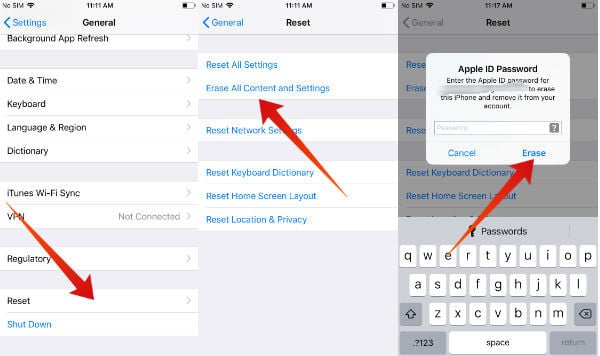 Navigate to Settings -> General.
Tap Reset from the list.
Here, you will see a lot of reset options. To wipe out the entire content of your device, tap Erase All Content and Settings.
Now, your screen will ask "Do you want to update your iCloud Backup before erasing?" with three buttons: Back Up Then Erase, Erase Now and Cancel.
If you choose the option Back Up Then Erase, then the iOS will backup the iCloud data and prompts you to enter the device passcode followed by the restrictions passcode.
Next, tap the button Erase iPhone.Then, enter your Apple ID password and tap Erase button.
Now, all the content on your iPhone or iPad will be erased completely and it will restart as a new device.
How to Reset iPhone or iPad with iTunes?
You can follow the below steps to erase your iOS device using iTunes. If your iPhone or iPad is already synced with the iTunes, then you can easily restore your device to factory settings by erasing the content and passcode. Before starting the restoration, make sure that Find My iPhone option is disabled.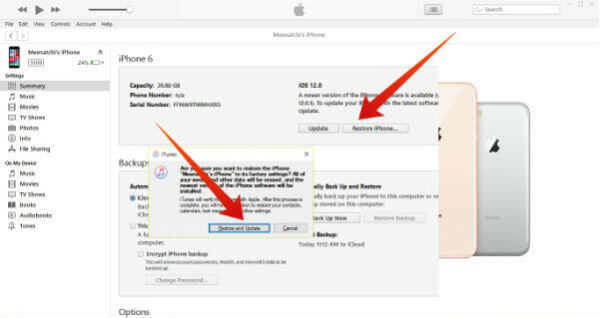 First, connect your iOS device to the synced computer.
Wait for a moment until iTunes establishes a connection with your device.
Tap the iPhone button once your device is connected to the iTunes.
Then, click the Restore iPhone option located on the Summary tab. Now, you will be prompted by iTunes to take a backup of your iPhone. ( Let's skip this section for now as the backup is not needed )
Go ahead and select the Restore option to erase the content from your device. ( If you had made a backup using iTunes in the past, then it will show the option of Restore iPhone using iTunes backup. And you can choose the relevant date of your previous backup ). If you don't have any past backup, then your entire device will be erased and restart as a new one.
Now, your iPhone has been restored to the factory settings and you can set up the device for a child or however you like.
How to Hard Reset iPhone or iPad without a passcode?
Have you forgotten your passcode? Or your device got disabled because you had entered the wrong passcode six times? ( iOS will disable/lock your device if you enter the wrong passcode 6 times ). No need to panic. You can still restore your iPhone or iPad and reset your passcode using iTunes.
If you had not synced your iPhone with iTunes in the past, then you need to put your iOS device in the recovery mode.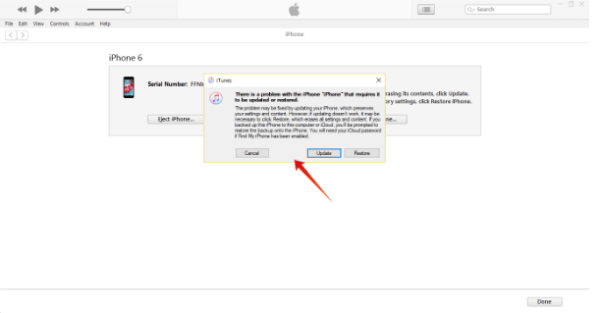 First, connect your iPhone or iPad to your computer using the data cable and open iTunes.
Then, you need to do force restart of your iPhone manually:
– iPhone 8 or Higher: First, press the Volume Up button and release it quickly. Repeat the same thing for Volume Down button. Then, you need to press and hold the Side button until your iPhone is put into the recovery mode. Your screen will reflect the recovery mode.
– iPhone 7 or 7 Plus: Here, you need to press and hold two buttons ( Side and Volume Down ) at the same time till the recovery mode is seen.
– iPhone 6s and earlier: Here also, you need to press and hold two buttons ( Side and Home ) at the same time till the recovery mode is seen.
Now, you should see two options  Restore or Update on your computer. Click the option Restore so that the iTunes will erase the content and download the new software on your device. If you have entered the recovery mode to fix the issues, then
It may take 15-20 minutes for the iTunes to install the latest software on your iPhone or iPad. And, you can set up your iOS device with a new passcode.
How to Reset iPhone Remotely?
Just in case you misplaced or lost your iPhone, and you worried about the data and private information on it? Don't worry, the strings are still attached to your hands. As long as your iPhone connected to data plan or internet, still you can reset your iPhone.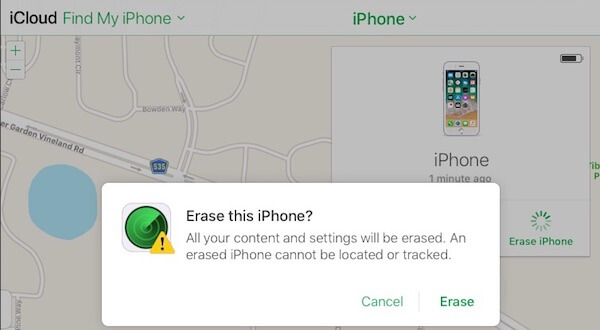 Open PC browser and log in to your iCloud account and use click on Find My Device > All Devices > iPhone > Erase iPhone. Please be aware, this is a non-reversible solution and advised to perform only if necessary. If you lost iPhone or shipped to somebody else with your data on it.
Don't forget to reset your iPhone or iPad, if you would like to exchange your old device and buy a new one. Or you wish to give your old iOS device as a gift to your kids or someone else in your family.
Have you ever got a chance to reset your iPhone or iPad? Please share your comments.