You must be seeing that your iPhone is connected to some strange Bluetooth device that you are totally unaware of. You would know if you previously paired a Bluetooth speaker or headset. But these alien Bluetooth devices get connected without you knowing and sometimes will not even let you disconnect them.
If you see your iPhone is connected to unknown Bluetooth devices, here are the best possible ways to disconnect them and solve the issue.
Why Is My iPhone Connected to Unknown Bluetooth Devices?
Generally, your iPhone can connect to a Bluetooth device only if you paired it previously. But, rarely, your iPhone will connect to Bluetooth devices that you do not even recognize. Some will have strange names and will not allow you to remove the device manually. There is nothing to worry about these devices, however.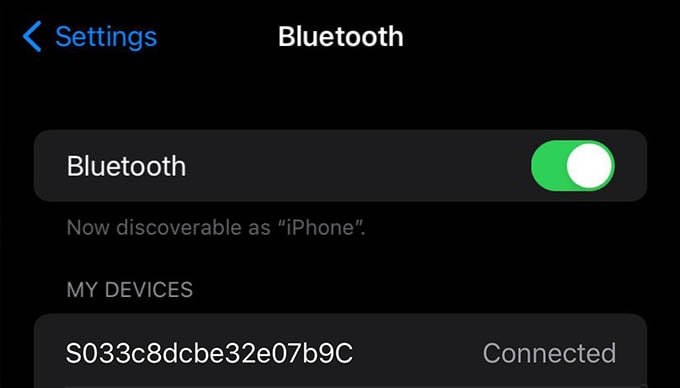 If you have a Bluetooth tracker device like AirTag or Tile with you, these devices connect to your iPhone as BLE (Bluetooth Low Energy) devices. Such connections do not have controls like "Disconnect" or "Unpair." Such BLE devices only use Bluetooth connections to communicate with the respective apps, and it is noting you should be bothered about.
Other smart home gadgets like health trackers, smart home appliances (refrigerators, TVs, lights) also may connect with your iPhone. If you have a Tesla car, it is normal for your iPhone to show several Bluetooth devices connections with strange names.
If you are having none of these and are worried about an unknown Bluetooth device your iPhone is connected to, we have some solutions.
Related: Automatically Open Spotify When You Connect iPhone to Bluetooth Speaker or Headphone
Remove Unknown Bluetooth Devices from iPhone
Here, let us take a look at some of the reasons and solutions for the unknown Bluetooth devices to connect to your iPhone. These methods will help you remove any such suspicious Bluetooth devices and take away your fear.
Unpair and Remove the Bluetooth Device
When you see a strange Bluetooth device connected to your iPhone, you can simply remove it by tapping on it. To disconnect the Bluetooth device from your iPhone, open the Bluetooth from the Control Center or Settings. From there, simply tap the Bluetooth device to disconnect it.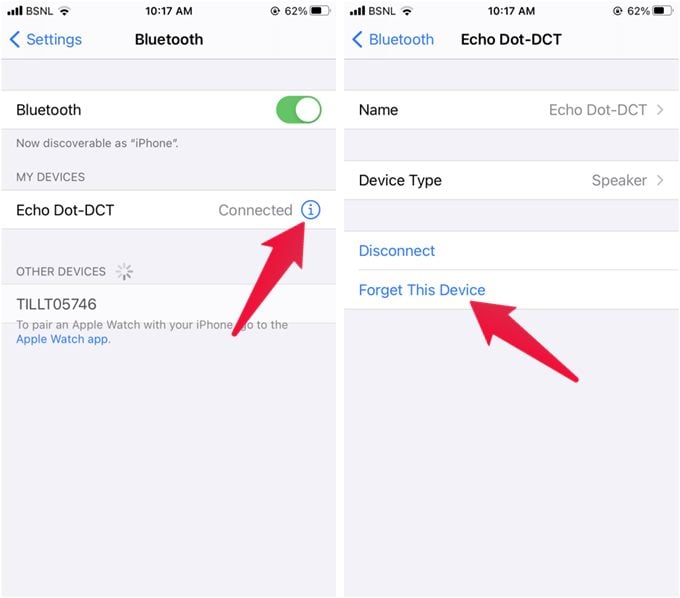 Once you disconnect the Bluetooth device, tap the "i" icon along with the name and tap "Forget This Device" to unpair and remove the Bluetooth device.
Related: 8 Ways to Fix iPhone Bluetooth Not Working Issue
Turn Off the Bluetooth
If you are unable to disconnect and unpair the unknown Bluetooth device from your iPhone, you can disable the Bluetooth connection as a solution. Turning off the Bluetooth on your iPhone will keep such Bluetooth devices from connecting to your iPhone.
To turn off Bluetooth connectivity, pull down the Control Center on your iPhone and tap the Bluetooth icon to make it gray. (The Bluetooth icon turned blue means it is turned on). This disables Bluetooth connectivity and searching, but does not disable the Bluetooth connection completely.
For disabling the Bluetooth radio on your iPhone entirely, head over to your iPhone's Settings > Bluetooth, and toggle off the Bluetooth option.
Check for AirTags or Bluetooth Trackers Nearby
As mentioned above, Bluetooth trackers like AirTag and Tile Tracker can sometimes connect to your iPhone over Bluetooth. These devices can show up with strange code names and will not even let you disconnect them. If you see any strange Bluetooth connection on your iPhone, stop worrying and start looking for any key trackers or similar devices around you.
If there is an AirTag following you, it will show up on your iPhone and you can locate it easily. If you do not get any notification for a longer time, it must be either your own AirTag or some other BLE (Bluetooth Low Energy) device.
This can also occur with smart home lights, appliances, gadgets, and even connected cars like Tesla. So, before panicking, look for any such devices around you. If this is the case, there is nothing you can do about it. It makes no difference whether you keep those devices connected, or turn off the Bluetooth.
Related: AirTag Found Moving with You? Here's What You Should Do with a Suspicious AirTag Following You
Install Latest iOS Update
Sometimes, strange Bluetooth connections can appear due to some software glitch. We can resolve this mostly by installing the latest iOS update on the iPhone. Doing so will resolve any glitches and errors.
To check for iOS updates available for your iPhone, open the Settings then go to General > Software Update. When you select the Check for updates option, you can see if there are pending updates for you. Download and install the available updates from there.
You need to have a fast WiFi connection to download updates on your iPhone. If you only have cellular data, see how to download and install iOS updates without WiFi.
Check for Device Management Profiles
If your iPhone belongs to your company, school, or organization, it is possible that there are certain restrictions applied to it. Apple Device Management Profiles are configured to apply such restrictions on iPhones. If your iPhone is restricted with a device management profile with mandatory connection with specific Bluetooth devices, they become unable to disconnect or unpair ever.
To check for any device management profiles on your iPhone, go to Settings > General > VPN & Device Management. From there, you can select and try to remove the any installed device management profiles.
If the profile is locked with a passcode, you should approcich your organization's admin to get id of the profile.
Related: How to Hide Your IP Address and Browsing History on iPhone Without a VPN
Reset Network Settings
In case what you are seeing is something that is caused by a network settings issue, you can reset the entire network preferences on your to factory settings. This can usually resolve the issue and get rid of unknown Bluetooth devices appearing on your iPhone.
You can reset network settings from General > Reset on your iPhone settings. Read our guide to reset network settings on iPhone without losing any data.
Uninstall Recently Downloaded Apps
Are you starting to see unnecessary Bluetooth connections after installing certain apps on your iPhone? Certain apps can make BLE connections with the devices they support for communication. In case you have installed such apps, try uninstalling them.
There is nothing to worry about if you see Bluetooth devices connected to your iPhone to communicate with these apps. If you are worried, get rid of those apps first and the Bluetooth connections will go away.
Related: iPhone Apps Disappearing? Here Is How to Get Offloaded Apps Back on iPhone
Restart Your iPhone
This is the classic solution for all messups on your iPhone — restart your iPhone. If you are seeing unknown Bluetooth devices connected to your iPhone and cannot disconnect them, restart your iPhone for once and check again. This should mostly resolve the issue of your iPhone connecting to unknown Bluetooth devices.
All the above methods are proven to get rid of unknown Bluetooth device connections from your iPhone. In most cases, there is nothing to worry about if you see a Bluetooth device with strange name.