It is essential to have a portable monitor if you travel often. If you're an on the go businessman, then you would've always felt the need for a portable display during your meetings and presentations. You can get the max out of your system with an extra portable monitor, whether working using Mac or gaming using consoles like PS4. Dragon Touch S1 is such a portable display as your daily gear.
Let us take a look at this stylish, sleek portable display – Dragon Touch S1 display.
Overview
The Dragon Touch S1 is a portable 15.6″ monitor with a Full HD 1080p resolution. It comes with the USB C connectivity and is exceptionally good for gaming and business presentations.
It works as a mirror screen or a wired screen from your Laptops, Desktops, smartphones, and most gaming consoles. The lightweight and stylish design make it a good contender in this league. It works through the plug n play, and there isn't any need for additional software.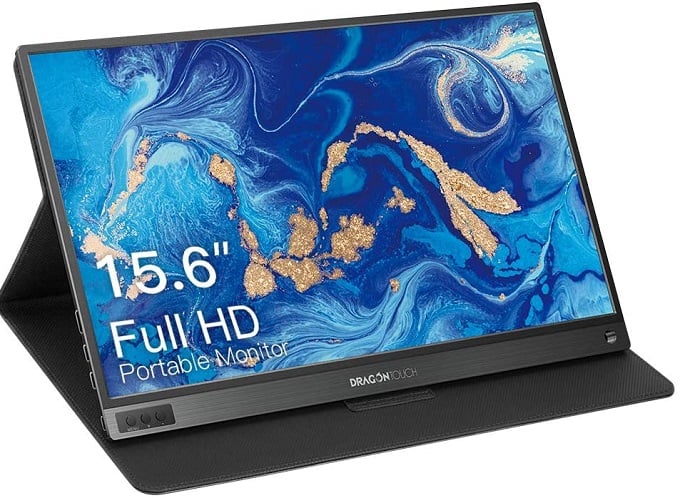 There are good inbuilt quality speakers of its own. You can even combine external speakers if you need them. The S1 offers versatile connectivity. It includes the Micro USB, USB Type C, and the Mini HDMI ports for connectivity. You get a nice and stylish carry case and a protective case that doubles itself as a kickstand.
Design and Build Quality
The Dragon Touch S1 is quite durable and sturdy. It offers a 15.6″ LCD screen and is quite compact and portable. The device fits nicely inside your briefcase or laptop bags and is easy to carry around. There are multiple navigation switches on the front panel.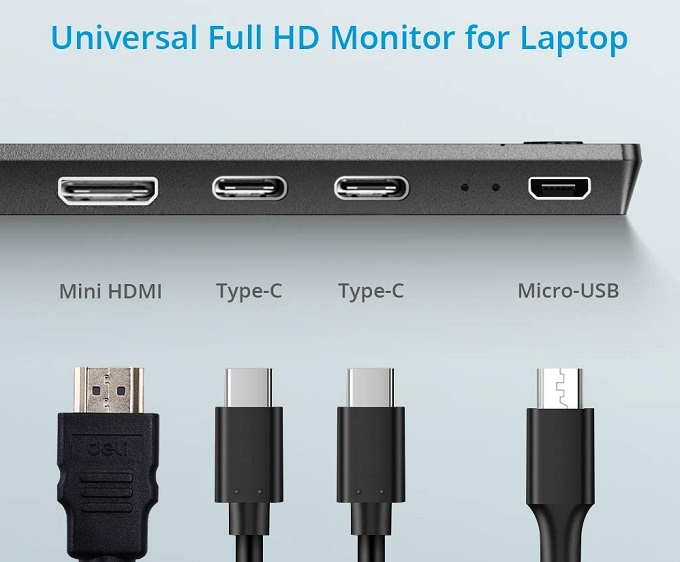 The slim 10.5 mm thin portable monitor is perfect for slipping into your backpacks. There are input ports on the right side of the display. It includes USB C, Mini HDMI, and the micro USB port. There is also a protective case that works pretty well as a kickstand too.
Related: Vantrue S1 Review: Best Dual Dashcam with 24/7 Parking Mode
Audio and Video Qualities
This Portable Monitor comes with a 15.6″ IPS Full HD display. The 1080p resolution offers crystal clear videos every time.  There is also a dual inbuilt speaker for more splendid audio qualities. It is perfect for your gaming sessions and binge-watching.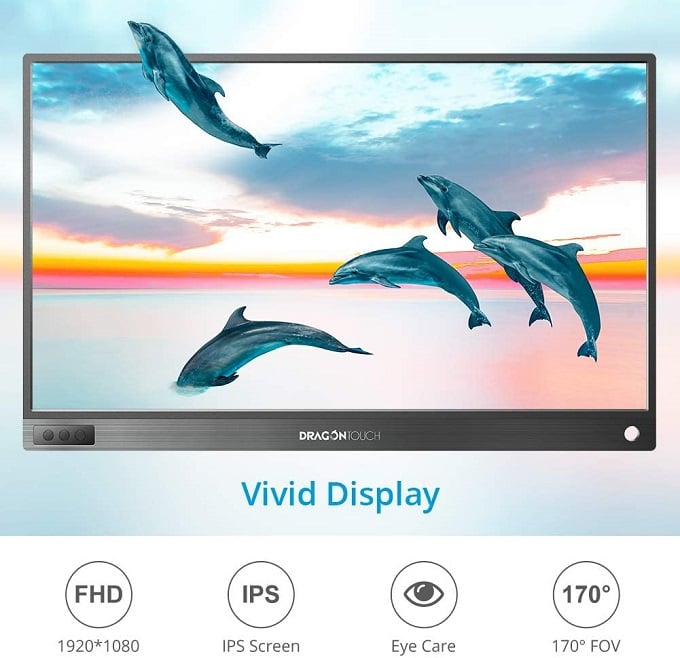 The display comes with the standard 60 Hz refresh rate. There are other bigwigs that offer the 90 Hz display, but when it comes to portability and quality, the S1 rules. You also get a vertical portrait mode for coding purposes to see more lines of code at once.
It can plug and play with a wide variety of devices, including personal computers, smartphones, tablets, gaming consoles like PlayStation, Xbox, Nintendo Switch, etc.
Key Features
The Dragon Touch S1 is a phenomenal player when it comes to the league of the portable monitors. The key features include:
15.6″ IPS LCD screen
1920x1080p HD resolution
Dual inbuilt Stereo Speakers
USB C connectivity
Versatile compatibility
Micro USB, Mini HDMI secondary input ports
Lightweight and slim
Protective case
View adjustable kickstand
Pros and Cons
Here's what we like and dislike about this elegant portable display from Dragon Touch.
Pros:
One-cable setup
OSD is easy to learn
Clean design that matches up with your laptops and smartphones
Cons:
Compromised color reproduction
Not as bright as the specifications
Pricing and Availability
The Dragon Touch S1 is a portable monitor that's quite budget-oriented. It's pretty much available easily on Amazon and is tagged at $169.99. The device comes with a 1-year warranty and as far as we know, with some decent after-sale service and response. It is really worth a shot.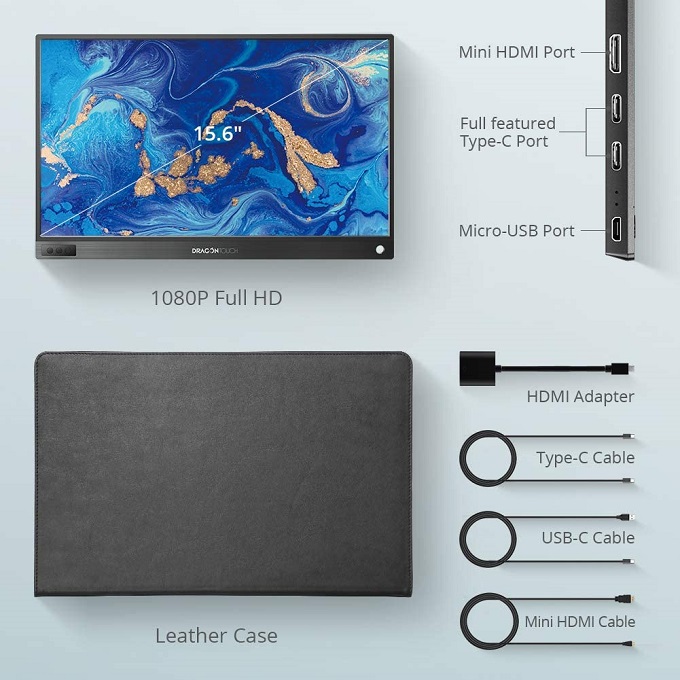 Conclusion
The Dragon Touch S1 is a good portable display that works well in all scenarios. It comes with an IPS LCD display and offers a 1080p resolution. The main inputs are mini HDMI and USB Type-C, which almost all new devices now come with. If you find connectivity issues, you can go for the converters that are available online. And yes, make sure to analyze tour needs and try gazing some of the relevant Amazon reviews to the more.