Adobe Flash Player is a dying technology. iOS never had support for it while Android dropped it a long time back. Most content on the web has been switched to HTML5 which is better and more secure. Yet, there is a great deal of content that still utilizes flash. You can always find a workaround and install Flash Player for Android.
This is our guide to install Adobe Flash Player on Android. 
Adobe Flash Player Free Download
We already know now Android does not support flash player out of the box. However, there still are some Android web browsers that do. Adobe flash player also used to have an Android app. It is no longer in development though. Android 4.0 is the last version of Android that the Flash Player works. That means it might not even work on a newer version of Android. Depending on your phone and the version of Android, your mileage may vary. 
Follow the steps below to install Adobe Flash Player on Android.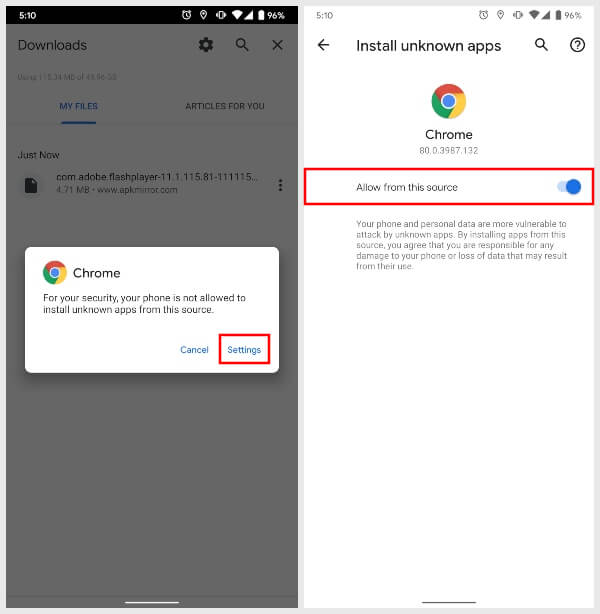 Download the latest version of  Adobe Flash Player For Android. 
If it doesn't work, you can try other versions as well. 
Tap on the downloaded file in the browser when completed.
Select Settings on the pop-up dialog.
Turn on the toggle on the next page and go back.
Now tap Install and Adobe Flash Player should be installed on your Android device.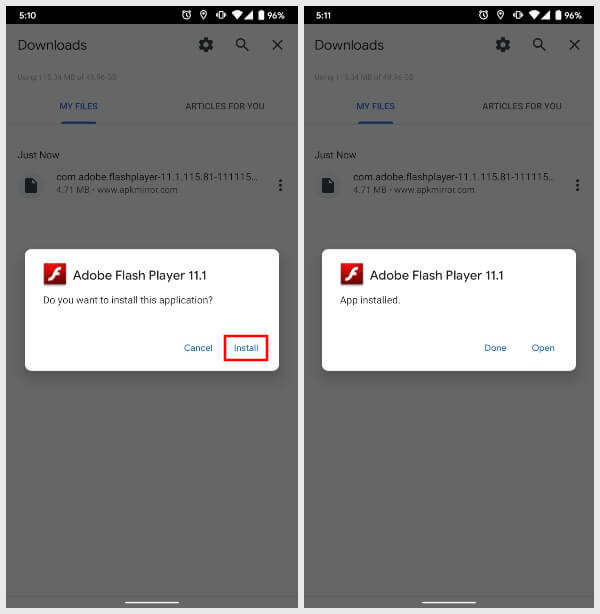 You can find the installed app on your phone but opening it will only open the flash player settings page in your browser. 
How to Enable Flash Player In Google Chrome for Android
Unfortunately, the Google Chrome browser on Android smartphones does not support the direct integration of Adobe Flash Player. Google Chrome has long dropped support for the flash player. However, there are a few other browsers and apps you can enable Adobe Flash Player on Android. Here are them. 
Puffin Web Browser
Puffin Browser is one of the few Android browsers that have made headlines for being better than Chrome. A certain publication even found Puffin to be the fastest browser on Android at some point in time. Whether that claim holds true today or not, it's one of the best browsers that still supports flash player on Android.
There are others but Puffin is regularly updated to the latest version. It's also capable of emulating a mouse and a keyboard using overlays. Flash content is rendered in the cloud, however. Since the data is always being transferred from a server far away the playback can be choppy. But if you do face a situation like that, just lower the Flash quality in the browser settings. Puffin is currently the best browser on Android with flash support.
Download Puffin Browser: Play Store
FlashFox – Flash Browser
Don't let the Fox in the name or logo make you think this is from the same people that make Firefox. FlashFox is made by a totally different company but it looks a lot like Firefox for Android used to. The design is simple but it's not the most reliable browser with flash support.
Download FlashFox: Play Store
Photon Flash Player & Browser
If you don't want to use Puffin for some weird reason, Photon Flash Player & Browser is also a popular choice. However, the free version of the app is ridden with annoying ads. The banner ads and constant reminders to upgrade to the paid version also result in a jerky performance. You can get rid of the ads after a one-time payment. The app also has mouse and keyboard emulation support like Puffin.
Download Photon Flash Player & Browser: Play Store
Dolphin Video – Flash Player For Android
Dolphin Browser used to be the best Android browser at one point. Then it became the best browser with flash support. That was a long time ag, however, and today that part is completely separate from the browser as a standalone app. Dolphin Video is pretty useless when it comes to playing flash content on websites though. It only works when you want to play a video.
Download Dolphin Video: Play Store
Android is the most flexible mobile operating system and this is just another example of that. While you can still play the legacy flash content on Android using these apps, sooner or later you might have to accept that flash player is dead.