Animojis and Memojis on iOS devices have become the new way to make your chats funny. Now iPhone starts to supports Animojis on WhatsApp. These animated emojis are mainly developed focusing on iMessage users, where you can share several unique media like Animoji or Memoji stickers, Digital touch, etc. With an iPhone, you can also use the Animojis and Memojis on other messaging platforms and social media, as images. Well, have you ever thought to send Animoji or Memoji as WhatsApp Stickers from iPhone?
Here is a complete guide to send Animoji and Memoji as WhatsApp stickers right from your iPhone.
Editor's Note: Meomoji is currently limited to iOS users only as a creation from Apple. iPhone users can customize the Memoji here. If you are an Android user check here for the workaround to get emoji or Memoji stickers on WhatsApp for Android. 
How to Send Animoji or Memoji as WhatsApp Stickers?
Before you proceed, you need to have the latest version of iOS, iOS 13 on your iPhone for Memoji Sticker. After getting the iOS 13, you need to update the WhatsApp from App Store. Now follow the steps to know how to use Animoji and Memoji stickers on WhatsApp.
Open WhatsApp on your iPhone.
Open a conversation and tap the text field for the keyboard.
Tap Emoji icon on your keyboard to open Apple Emoji Keyboard.
Swipe left to see the available Animojis and your Memojis.
Tap any of the Animoji stickers to send it as a sticker.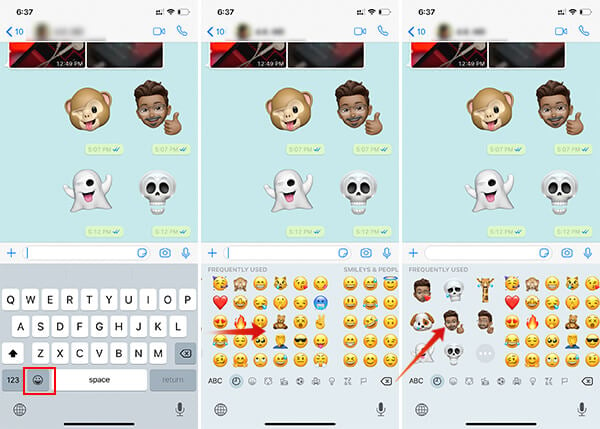 If your iPhone is running iOS 12 or earlier versions, you might not find the functionality to use Animoji or Memojis widely on third-party apps. Even though iOS 12 can send Animoji or Memojis through WhatsApp, they are not really stickers.
The tutorial mainly aims at the iPhone models that can have the new iOS 13 update. First of all, you need to update your iPhone to the iOS 13 version, in order to start using it. The Animoji feature was only available on iPhone X or later models. However, with iOS 13, Apple now makes it available on all other supported models. It includes iPhone 7, 7 Plus, 8 and 8 Plus. Except, there is no facial reaction feature for it since it needs TrueDepth Camera. So, you can have predefined Animoji stickers on your iPhone 7 or 8.
When you tap an Animoji from the Emoji keyboard on WhatsApp, it will instantly import the sticker and send it as a WhatsApp Sticker. As we mentioned before, even you have iOS 13, you need iPhone X or above to send Memeoji Sticker in WhatsApp.
Related: How to Get Animoji or Memoji Stickers on WhatsApp for Android
Animoji Stickers on iPhone
Apple released the Animoji along with the iPhone X, which makes use of its TrueDepth Camera. And, later with iOS 12, Apple released the Memoji which allows you to create your own custom Animoji and record videos with the custom one on iMessage. Initially, it was released only for iMessage users and later Apple expanded it and integrated along with the emoji keyboard on iPhone models.
If you are using iMessage to text your friends or family, you can have the Animoji or Memoji from the texting area itself, instead of finding it from the keyboard. However, on other third-party apps like Facebook Messenger and WhatsApp, you need to grab the Animoji from within the emoji keyboard itself. It allows you to send the Animojis as standard images, upon the tap. Well, it is never the perfect way to text someone, right? Most users would rather go with the standard emojis or other WhatsApp Stickers to express the emotion, instead of some images.
It was a highly demanding feature from WhatsApp users to let them send Animojis and Memojis as WhatsApp Stickers. Surprisingly, it is now possible to send custom stickers from Animoji collection, which Android users can never have.
Related: The Ultimate Guide to iMessage Text Effects on iPhone and iPad
Can I use iPhone Animoji in WhatsApp?
If you are on the stable iOS 12.xx Operating System and having the Animoji support, yes, you can use the same iPhone to send Animojis on WhatsApp contacts chat window. To insert an Animoji on WhatsApp with iPhone, you only need to go to the chat area and switch to the emoji keyboard. From there, swipe rightwards to see the collection of Animojis and Memojis with different reactions. You can then tap on any of the Animoji or Memoji to import it to the WhatsApp (or any other messaging app), as an image.
The problem with this method, as mentioned above, is that they can be sent only as images. Even with your iPhone, if you have iOS 12, you can't treat Animojis as actual stickers. Well, the latest iOS 13 has a solution for sensing the Animojis as stickers in iPhone. It is not that complicated to get the iPhone Animoji sticker on WhatsApp. For that, you should have the latest version of the iOS (iOS 13 and above) and WhatsApp the latest version (2.19.90 or above) too. Those who want to send iPhone Memojis and Animojis as WhatsApp stickers, just follow the instructions below.
Also Read: How to Know if Someone has Blocked you on WhatsApp?
Can I Create My Own Memoji Sticker Pack?
WhatsApp Stickers are mainly used by importing sticker packs into your device. You can even create custom sticker packs and use them on your own chats. So, there must be an option to import all Memojis into one sticker pack, right? Well, neither WhatsApp nor Apple does currently provide an option to import all the Animoji and Memoji stickers into one single sticker package. So, you cannot have the entire pack at once to share with your friends.
Although, you can still access each and every Animojis from within the emoji keyboard on iPhone, so is not a big deal to use all the stickers. You can use Animoji or Memoji as WhatsApp Stickers by choosing any from the keyboard itself. Also, the Sticker keyboard on WhatsApp will show the recently used Animoji stickers, and you can even "favorite" any of them.
If you did get an update for WhatsApp that lets you use the Animoji as Stickers, then you need to check if your iPhone runs the latest iOS 13 or later.