The USB C earphones are double sided connector with 24 pins, unlike an audio jack. This may not fit with your regular phones. However, these headphones with USB C port is designed for the latest phones with USB C Port. This USB C port headphones are coming with a built-in mic, headphone controllers, etc. Please see the list of lighting port headphones built for iPhone users.
Let's see the list of best USB C earphones you can buy for your Google Pixel 2, Pixel 3, new iPad with USB C port, HTC, Huawei Phones, etc.
Acessorz Wired in-Ear Magnetic Earbuds
The In-ear headphones sponsored by Acessorz come with a good sound clarity along with the bass stereo. The DAC chip present will output the audio without any loss. The earphone is designed such that, it will securely fit in your ear. While you are traveling or sporting or in a busy street, it will cut out the noises.
The remote button given will play and pause music, and answer and hang the phone. It will also control the volume. But this stylish headset is good only with certain devices and its versions. Some are Google Pixel Phones, HTC, Huawei, and new iPad Pro those are coming with USB C Port.
Buy Acessorz earphones from Amazon
Also read: Crazybaby – A Lightweight TrueWireless Headphone for Workout
EldHus USB-C Earbud with Mic
The EldHus earphones will be on the list if your budget for USB earphones is less. This headphone with USB C port costs $9.99 and pretty well fits into your phone. When you plug it into a laptop or tablet or smartphones, to attend a call, a pleasant background will be present.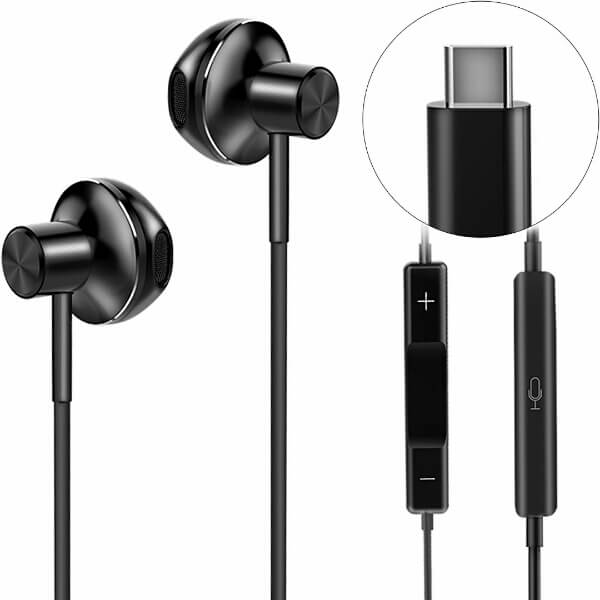 And whatever you are listening to, the audio quality will be in 32 bit and 48kHz. It is made with TPE material so that it is more durable and suitable to ears for long hours. It suits well for Samsung, Xiaomi, Google, Sony, LG and Nokia devices.
Buy EldHus earphones from Amazon
WOHZOEK USB Type C Earbuds
Mijiear's USB earbuds have features similar to Acessorz and EldHuz. Some are stereo bass, in-line remote control, and full audio output. The remote control has the ability to skip songs, which works only for the USB C Port mobile phones. However, it does not seem to bother much about the noise canceling feature. So you can expect a minimal cut out of other noises.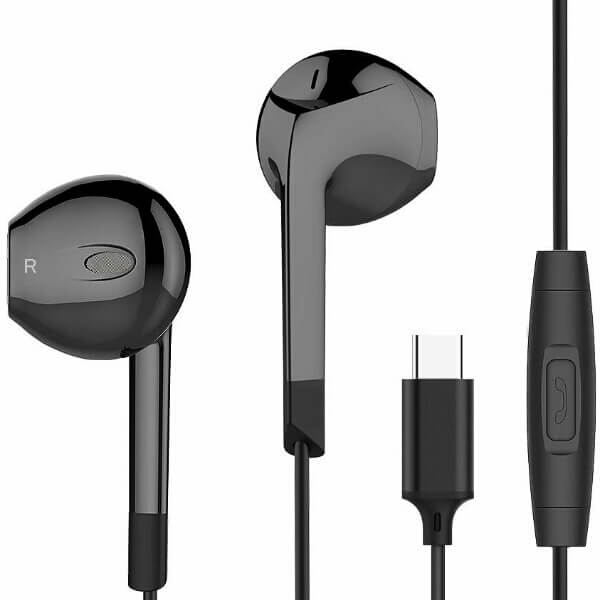 But coming to its design, it is made such that it has two outlets. The main outlet present on the earbuds will produce more refined and focused audio. The second outlet is an air hole that saves high-frequency audio. The USB earbuds work well with all the recent versions of Google, Xiaomi, Essential Phone, One Plus, and Huawei.
Buy WOHZOEK earphones from Amazon
Also Read: 8 Best Headphones with Lightning Connector made for iPhone
Libratone Q Adapt USB-C in-Ear Headphones
This exclusive Q Adapt In-ear headphones are designed for Google devices. This headphone with USB C port costs higher than normal ones and so does its features. If your budget is as high as $119, you can go for it. It has four In-line control buttons that include Adjustable Noise Cancellation (ANC), Google Assistant, music, and volume controls. The ANC has 4 levels of noise cut-outs percentage that ie 100, 80, 60 and 50. Which means 100 percent is picked up for no noise cut out, and 80 percent is three fourth of outside noise will not be heard.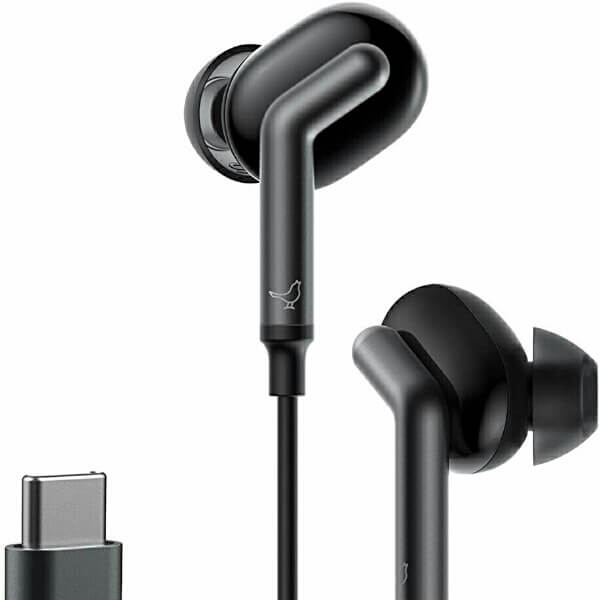 This makes it quite distinct from others. The stormy black earphones come with sports flange tip, that is made weather and sweat proof. So, you can attend calls and listen to music with premium bass and good audio clarity. And to give a better fit into ears, it has S, M, and L sizes to choose from.
Libratone earphones from Amazon
TRILINK USB Type C Earbud Headphones
The Trilink branded red USB earbuds are attractive and flat wired in nature. With flat wire comes the tangle-free cable which often, is not found in others. Although, its cost is a bit higher than Acessorz and Mijiaer branded earphones, its features are not up to the mark.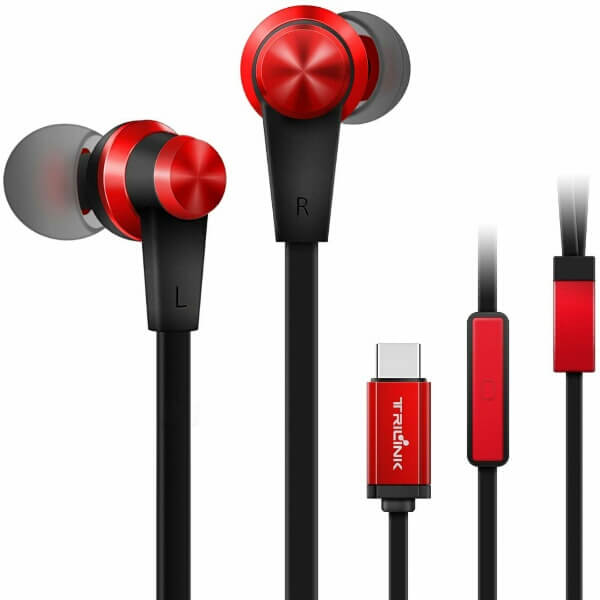 This USB C headphone has In-line mic and remote to receive a call, and input digital and analog signal supported DAC chipset. It does not stress much about the isolating noise but ensures output audio delivery of bandwidth up to 24 bit and 96kHz. You can play music and experience the high-resolution audio. It will fit pretty well into Xperia, Google Pixel, One plus, Motorola, and some more devices.
Buy TRILINK earphones from Amazon
Related: 12 Best Noise Canceling Headphones for Great Music Experience
Balance Tech Type C Headphone
The stereo wired In-ear headphones are designed with oxygen-free copper wire technology. The design and build quality make this USB C headphone lasts longer and remains sweat proof. These whitish earbuds are simple to see and soft to fit in the ear. Once you are done with fitting, you will know HI-FI bass that lets you enjoy each and every song.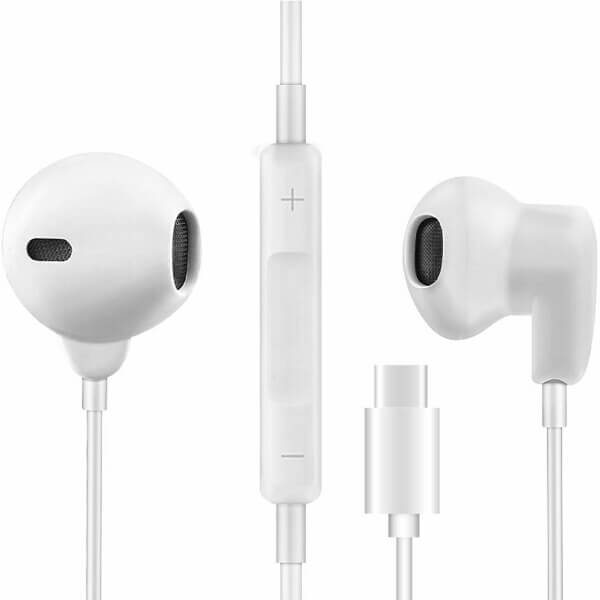 It eliminates unwanted noise with help of CVC6.0 while you are busy talking on the built-in microphone. And a better audio quality of 96 bit and 48kHz will be given. One hiccup here is multi-function control works for phones that have USB C jack only not the audio jack. So be sure of it while buying it.
Buy Balance Tech earphones from Amazon
Monoy USB Type C Earphone
The USB earbuds are unique in its structure and design. And the earbuds have many layers encapsulated in it to make it sturdy. It has two driver units, each covered with metal shield case and copper ring horn. Because of this, you can enjoy music in stereo bass at high and mid levels.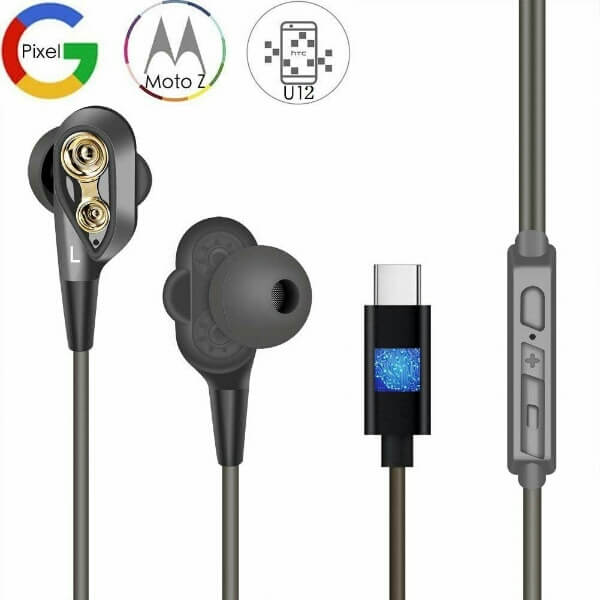 These elegant earphones are comfy and set smoothly into the ears. Even its output sound is as high as 24 bits and 192KHz. Along with this if you turn on the sound to the maximum level, you can hear your favorite music in 360-degree stereo sound. Simple silicon earbuds will further enhance your joyfulness by canceling noise.
Buy Monoy earphones from Amazon
Divol 
USB Type C Earphones
The USB headset by Divol makes it easier for you to carry it with you all the day around your neck. The magnetic backs of earbuds stick together and are with you when not in use. Just set the earbuds in such a way that they fit in 45-degree angle into the ear, which will be of more comfort. The headset works well for both calling and music in some type-C devices and only music for some. The music played will be of enhanced bass along with noise cancellation.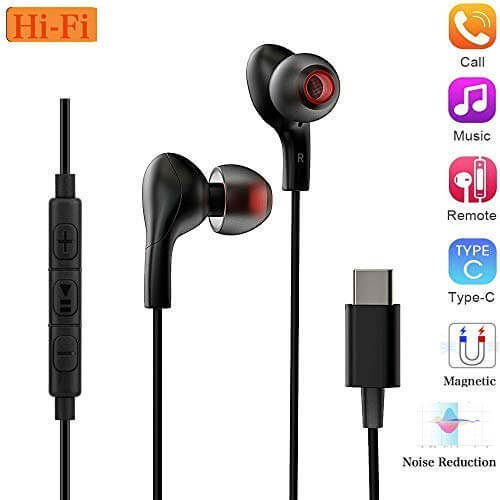 So when you plug them in, you can skip a song, control volume, and receive and end the call. All these work with control button present on the wire of earphone. As it is made with TPE, it is also knot free.
Buy Divol earphones from Amazon
Also read: All About iPhone/Android Headphones and Gaming Headsets
Mindorlen USB C Digital Earphones
The classic black colored digital USB earphones are in no way different from others. And its price is also similar to EldHus's. But it uses Digital Noise Cancellation technology to give an audio output of 32 bit and 48 kHz. If you are thinking to wear it on a work out day, you are most welcome. Once you plug them, you will feel the flat earbuds snug in smoothly.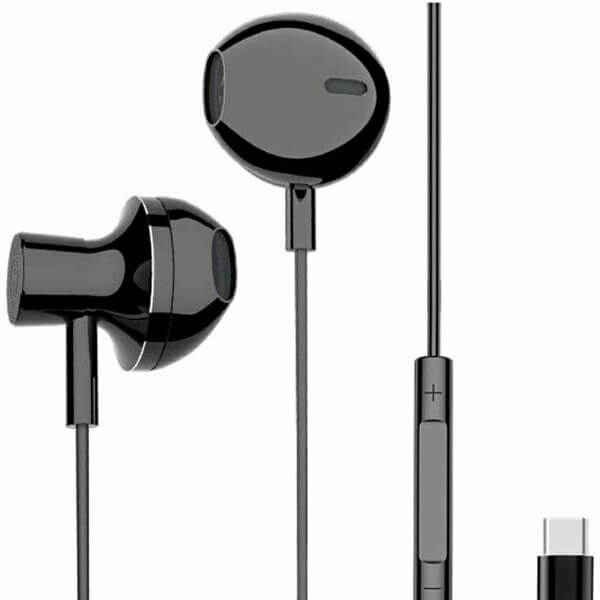 Remote control present In-line, activates voice command and rest of the functions are same. Even when you look at devices you can connect, they are similar. Razor, HTC, Motorola, Essential, Xiaomi, and some more Android phones and notebook computers.
Buy Mindorlen earphones from Amazon
Best Headphones with USB-C Port
We are all well aware of the fact that earphones are the best and useful in leisure, and when we step out. So, while buying one, you need to make a wise decision. There are some factors to be taken care such as affordable price, snug fit, sound effects etc. And some of the phones, laptops, and tablets are only compatible with only some type C earphones. These in-ear earphones are the chosen ones that you can afford to buy for a USB type C phone without any second thought.