Android Instant apps are cloud-based apps, which gives you an overview of the app features without installing it. For a user, they can go through the options, interact with contents and use all those stuff that is available after installation. If you are a developer, this feature will increase engagement with your app that will help to gain more installs and revenue for good. All you need to do is, just share the link at any social media platform. Currently, this feature is available on those devices that are running on Android lollipop (5.0 API level 21) and higher.
Google provided a list of some handy Instant apps including apps like Realtor.com Real Estate, Skyscanner, Redbull Tv,  and many more. You can check the complete list of Android Instant Apps to Try Now.
In order to see those apps, if your device supports this feature then you need to follow below steps: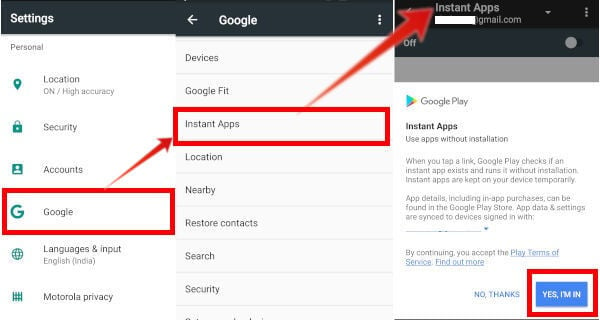 Go to Your Mobile device Settings.
Scroll down to Personal category and tap Google.
Again scroll a bit to Services category and there you will see Instant apps.
Slide the button on top to the right for ON Instant Apps to run apps instantly.
Tap one more time on Yes, I'm IN which means you are accepting the Google Play terms and services.
The Instant apps feature will start only after you open it which includes the above steps. Also, you can opt out of it anytime from the device's Google Play settings. These apps will not cost anything to open and try it. If you have a full version installed already into the device then it will open instead of the cloud-based application.
Related: Cortana on Android: A Complete Guide to use on Android
Find out Instant Apps in PlayStore
In order to check whether an app that you wanted to try out before installing it, having an Instant app version or not, then you just need to perform a Google search from your Android device. You will see the results with an Install button and app's link for opening in Google Play. By tapping on that button, it will redirect to Google play store where you will see the Install and Try Now options. You can check out all the features by tapping on Try Now option.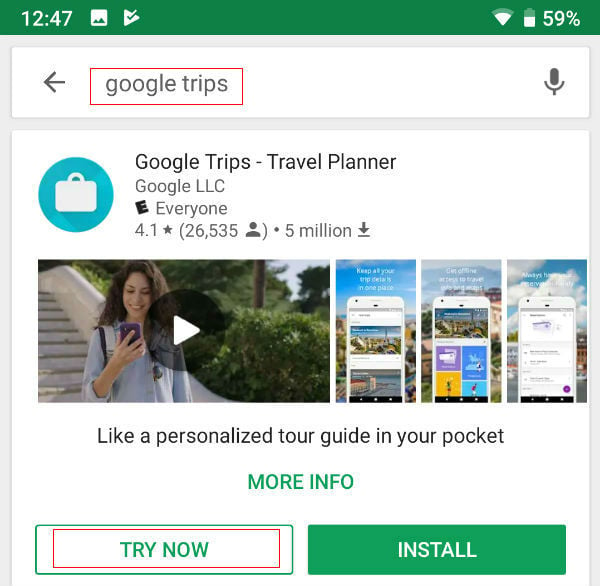 There are two different solutions If you wish to install the Instant app on your Android. First, you can install it by tapping on the Install button from the same instant app application menu.
Second, just bring down the notification bar > select the app notification > tap on App Info >press the Install button. You can also Clear App Data, Check App Permission granted, toggle Show Notification etc. from there.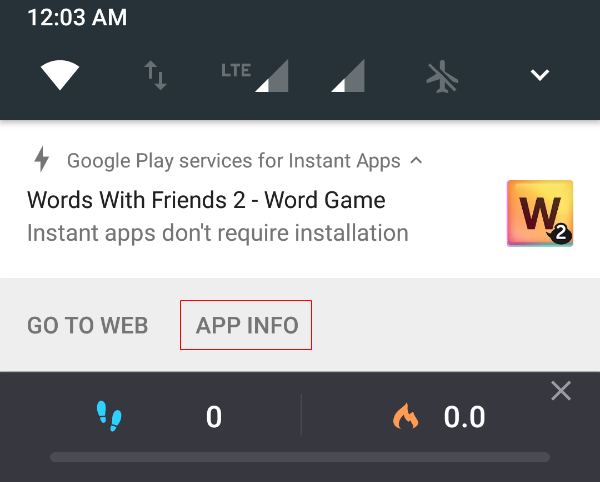 Based on the current settings by the app developer, some of the Instant apps may or may not visible to your device search. However, it is possible that such application's full version is available on Google Play store.
Search Instant Android Apps in Playstore from Web
Alternatively, you can navigate to Google from any browser (Firefox, Chrome etc.) and search for Apps to Try Now or Instant Gameplay, Try Now, Install Later. You will be redirected to Google Play website attached to your google account and there you can take a look at all available apps or games for trying.
How to Opt-out from Android Instant Apps
Just in case you don't want to use the instant apps on your page, you can completely opt-out from using the instant app on your Android phone. To opt out from Instant Apps, You need to Go back to device Settings >Scroll down to personal category > tap on Google > > toggle to OFF on Instant app option.
There is a lot of buzz about Instant Apps in the technology field and due to it's potential, a large number of apps are nowadays coming with the cloud-based version. Since this instant version is easy to use, it gives a potential user all idea about the app that he wanted to use. This instant app option slowly becoming a prominent feature for any developed game or application.
Though this post is not much from the developer's perspective, still we feel good to give a few hints on developing instant apps, for them find it worth a try.
Related: How to Search Music on Android with Google?
Instant Apps: Developer Perspectives
If you are an experienced developer or just started, then you can take help of this option to increase engagement or retain existing users. All you need to maintain a single project with a single source tree. However, you can configure the project into two parts such as:
Installable version
Instant apps version
You can create both versions using this developer's complete guide from Google for Creating an instant app.
Android Instant Apps for Android Phone
Google Instant app is indeed having so much potential, if we take a look at its offerings. Users can take a look at its content, without moving to installation, uninstallation steps. Further, developers can gain much attention as well as hits and reviews from users so that changes can be made beforehand.
Though this is not a right time to say that, if this feature picked a huge interest from every android users, there are a lot more to come and we need to wait for to see how it goes. Till then, enjoy them and subscribe to our feed for other technology-related updates.