Most of the addictive games on Android demand internet connection to enjoy the game with full features. However, there are offline Android games to help when you want to kill some time and no data connection available. These offline games for Android platform built for solo enjoyment and gaming with friends even without a data connection. We recommend installing at least a couple of these Android games to play offline in advance on phone or tablet.
We listed the best Android offline games to play without a WiFi or data connection on your Android phone or tablet.
BADLAND
BADLAND is the highly recommended, and one of the best android games available on the Android platform. This offline game is a side-scrolling action adventure game. The player has to control the rotund birds to fly up and move right towards the screen. The gameplay can be changed at any time, and the gamer has to be alert to face it.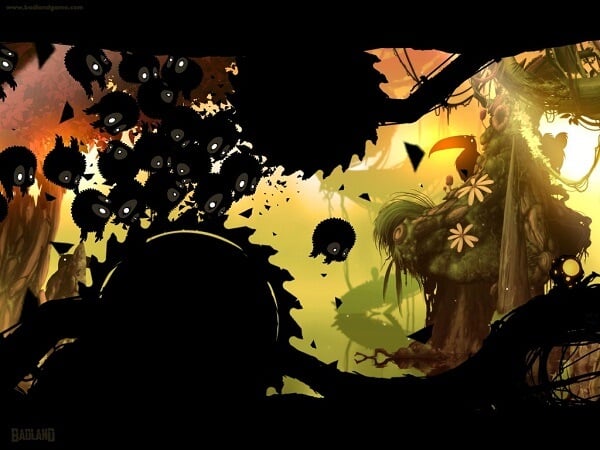 Describing the genre of this offline android game is not easy. Badland can be considered as an
endless runner
at first but a
platformer game
otherwise. The player
taps the screen
to control the height and lateral movement. The more leftward movement and getting stuck in obstacles will kill the chance of meeting the victory for the player. Badland is one of the
most downloaded offline game
in android platform.
Download from PlayStore: BADLAND
Related: Top 7 Free Android Email Apps (Client) for all Email Accounts
Smash Hit
Smash hit can be considered as the best of many addictive free offline games available in PlayStore. In Smash Hit, you will be seen to move forward, and you will be blocked by some glass objects, what you have to do is to touch any side of the screen to throw marbles in that direction, and smash the glass object to pieces. Throwing the marble on some crystal-like objects and breaking it will add three more marbles to your marble count which will make your life in the game increased.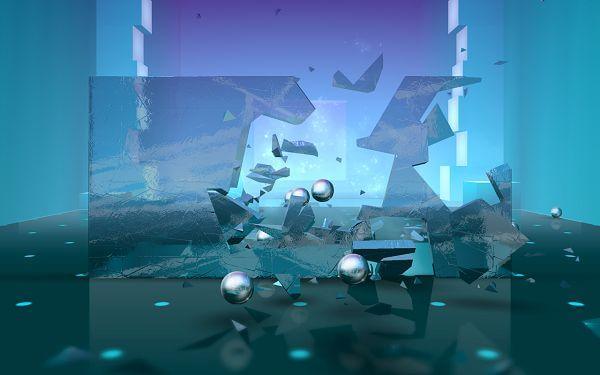 Hitting the glass which is trying to block you will result in loss of 10 marbles in your marble count. Providing over 50 rooms with almost 11 different graphic styles, this game pleases your eyes. The variety of music offered in each level and sound effects of breaking glasses will make your hearing enjoyable, and the right graphics in the gameplay will make you addicted to this game for sure.
Download from PlayStore: Smash Hit
DUET
One of the best and small offline game DUET, this is a beautiful arcade game where you control two small balls. The red and blue balls attached opposite side of a circle placed at the bottom of the screen, you can see blocks falling towards you, touch on the right side of the screen to rotate the circle clockwise and left to rotate the circle anticlockwise release the screen to make the circle stay in resting position.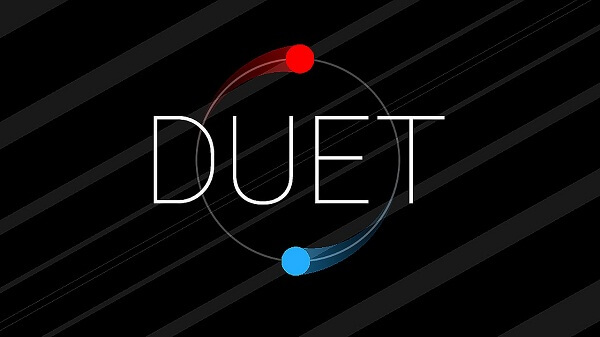 The gameplay is to spin the circle around in such a way that the falling blocks should not hit the balls. A level in Duet is almost 20-25 seconds, but it will take more than 10-15 minutes for a beginner to complete one single level. The sudden falling of blocks in different shapes and size will make the gameplay very difficult, but DUET is very addictive too.
Download from PlayStore: Duet
Related: 10 Best Bluetooth Android Game Controllers
Shadow Fight 2
SHADOW FIGHT 2 is one of the best downloaded free offline android games of the action genre. Here the gamer will role-play his career as a shadow that is in search of an opponent to fight with. The gameplay is about to compete with the computer-controlled opponent in 3 matches. The best of three will be considered as the winner of the match and will be rewarded with gold that can be used to purchase new weapons and to upgrade the weapons.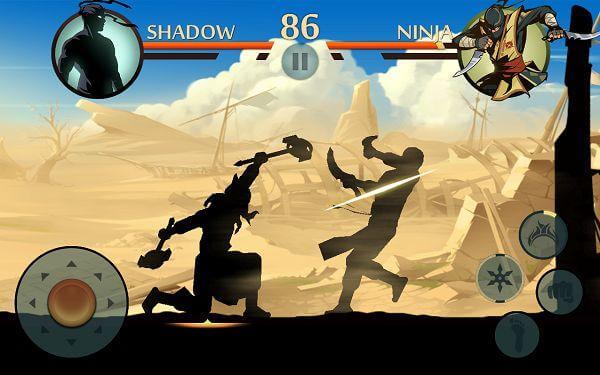 The animation in this free offline game for android is realistic and physics-based. Developers of SHADOW FIGHT allow the gamer to play up to 5 matches before their energy gets drained. After that, the player will have to wait for refilling their energy or watch ads online, or they have to pay real money to refill their energy and fight. SHADOW FIGHT 2 can be told as one of the best because it carries a sequel and prequel which can also be categorized into the best offline games in this genre.
Download from PlayStore: Shadow Fight 2
Asphalt 8 Airborne
Asphalt 8 Airborne is the eighth game in the series of asphalt from Gameloft. This game can be considered as the most successful game in the Android racing genre games. Smooth controls and thrilling speed of this android racing game make it highly recommendable.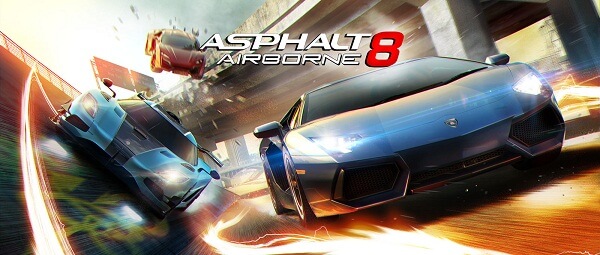 The cars in the game will auto accelerate; the gamer has to tilt the screen to steer their car. Each half of the screen implies the brakes of the vehicle. Furthermore, users can change the control settings according to their choice. The in-air stunts will offer rewards as nitro boosts. This incredible offline android racing game features 180 races which include multi cars and one on one match for the gamer.
Download from PlayStore: Asphalt 8: Airborne
Alto's Adventure
Alto's Adventure is a runner snowboard game, which is free to download and can be played offline. The character in this free offline game will move through beautiful landscapes without hitting obstacles in front of him and falling into large gaps on his way. To avoid being hit by the obstacles, the gamer has to tap on the screen for jumping. While jumping if the gamer tap and hold the screen the character will do some tricks or stunt in midair.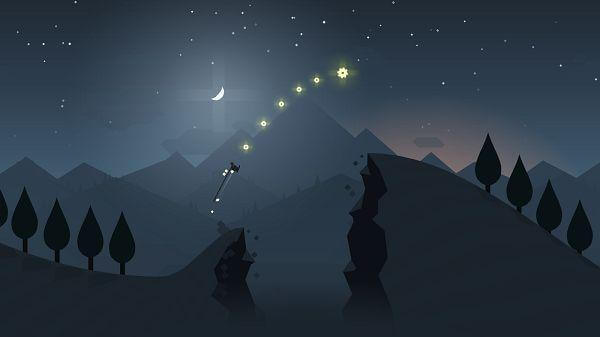 The gamer will be rewarded for completing each mission of the game which can be used for purchasing an upgrade. Alto's Adventure features 180 handcrafted goals for the player. You can challenge your friends by beating your high score. Its beautiful visual designs and graceful physics-based gameplay make ALTO'S ADVENTURE one of the most downloaded offline android game.
Download from PlayStore: Alto's Adventure
Doodle Army 2: Mini Militia
An intense offline multiplayer shooter game (online/offline) which can be played with up to 12 players using Local Area Network (LAN) without using data or 6 players online. These free offline/online games consist of three different gameplay, i.e., Quickplay, Multiplayer& Solo play. In "QUICK PLAY" the gamer will get connected to an existing server by getting online & thereby can enjoy the game by voting for one map out of three, game timing will be 6min and 30 sec, and the maximum players will be six by default.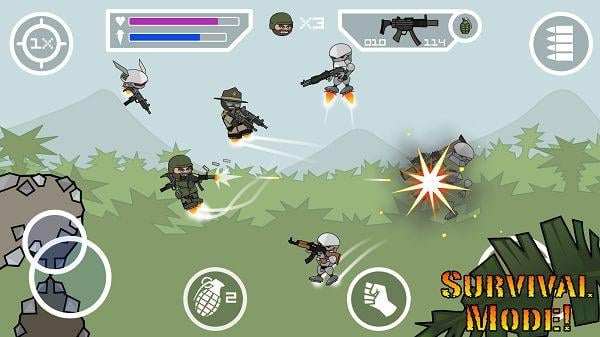 The "MULTIPLAYER" mode features in MINI MILITIA both internet, and Wi-Fi cross connectivity Wi-Fi multiplayer can either be on a Local area network which supports 12 players, and online which supports eight players. This gameplay supports deathmatch and captures the flag mode in different maps and with a time limit of maximum 15 minutes. This free offline/online game can be considered as a time killer while being with friends who love mobile games.
In "SOLO PLAY" The gamer can sharpen his/her skill in offline training and survival mode using LAN. There will be only one map where the gamer can play in survival mode. The gamer can customize his avatar and name in the settings section. The player will be promoted in ranking and will get battle points while playing online, which can be used for purchasing from the store. DOODLE ARMY 2: MINI MILITIA is also available on IOS platform.
Download from PlayStore: Doodle Army 2: Mini Militia
Dream League Soccer 2018
Ever dreamed of making your dream football team with real stars? Well, here is your chance. Dream League soccer 2018 can be defined as one of the best free offline soccer game. Sign in with real football stars with the coins you earned by playing. Gamer has the freedom to customize, create and have control over their team; they also have the freedom to customize their dream team logos and game kits.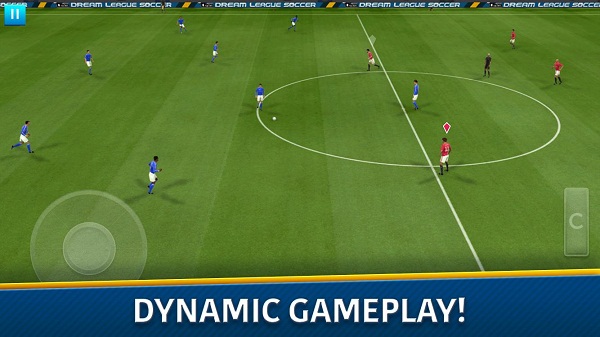 Signing a secret player in the game will enable the gamer to get a surprise superstar at a decent discount. The new update of DREAM LEAGUE SOCCER also allows the gamer to create a superstar according to his/her imagination. This game can be played online which will put your team against the best in the world. The gamer can also play with their friends by connecting to a Local Area Network.
Download from PlayStore: Dream League Soccer 2018
WORLD CRICKET CHAMPIONSHIP 2
If you love cricket, you will love this free offline cricket game for sure. Amazing graphics and good gameplay make this cricket game different from other cricket games. Various tournaments, test cricket, and t20 tournaments can be played using this best free cricket game. Customizable jersey pattern, colors, and names of players is attractive this game provides about 69 different batting styles and eight different bowling actions.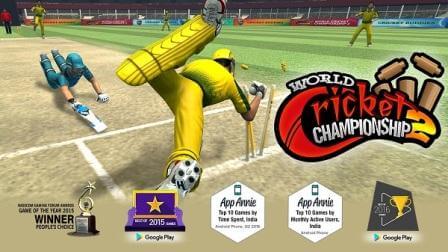 While coming to the fielding, the gamer can experience diving catches and quick throws as in a real game of cricket. The animations in the present version of WORLD CRICKET CHAMPIONSHIP 2 and announced updates are stunning. The actual physics of the ball according to the nature of the pitch makes this offline game addictive for cricket lovers. The commentary in two languages will make the feel of watching live cricket on televisions. The gamer will get rewarded for each match and each tournament and after achieving some tasks with coins which can be used for unlocking pitches and competitions.
Download from PlayStore: WORLD CRICKET CHAMPIONSHIP 2
Bomb Squad
BOMB SQUAD is one of the best multiplayer offline games available in android. This game is all about to kill your friends by smashing them or bombing. The characters in this game will hold bombs on their head, which will explode within seconds. You should throw the bomb on opponents before exploding.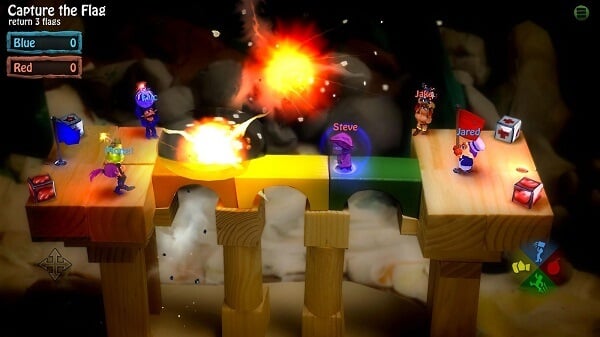 The bomb squad is a series of game modes which can be played with up to 8 local or networked players. Capture the flag, bomber hockey, and elimination are the different game modes in this game. The tiny characters in this game range from insane chefs to pirates which will come out from a toy box.
Download from PlayStore: BombSquad
Leo's Fortune
Leo is a mustachioed fluffy ball which is in search of the stolen gold. The gamer has to control the mustachioed to travel forward and help to find the stolen gold. Each level of the game has a variety of obstacles that can kill the hero. Even though it seems simple, the gameplay sometimes demands to collect all the gold or survival to complete the game within a time limit. By doing or fulfilling the demands of the gameplay, the gamer will advance to the next level of LEO'S FORTUNE.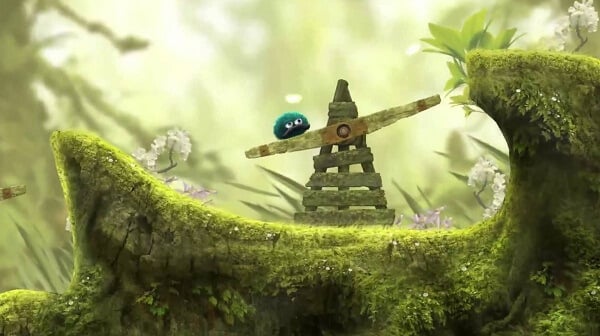 The puzzles in each platform make it more addictive and challenging at the same time. There are 24 platform levels which have been divided into five chapters. The rich tale of redemption, good gameplay, and enjoyable to watch graphics along with the sound effects will make the gamer addicted to this best paid offline game for android.
Download from PlayStore: Leo's Fortune
Make More!
MAKE MORE! One of the simple and best time killing the offline game in Android. Here the gamer will play the role of boss in an enterprise. The products to be produced will range from rubber ducks to skull ornaments. The mission is to make money by creating more products in the small time span.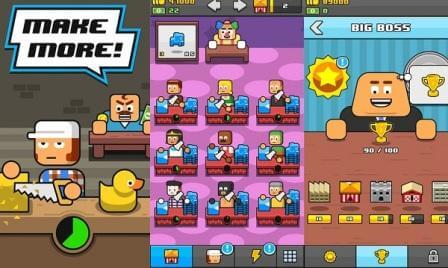 This game features minimal graphic, and the gameplay is just about to bash on the desk. You have to hire efficient workers or upgrade the efficiency of workers with the money earned. Even though the gameplay is silly and simple, it can be very demanding and addicting.
Download from PlayStore: Make More!
N.O.V.A Legacy
N.O.V.A LEGACY brings the immersive offline and online shooter experience to the player in just 29 MB. The gameplay can be referred to based on the modern combat series. This android game provides a series of 19 single-player levels and a multiplayer deathmatch with up to six players.
The developers had made this free offline game for android with compelling graphics, adventurous sounds, simple touch and effective controls with good-looking gameplay.
Download from PlayStore: N.O.V.A. Legacy
Android Games to Play Offline
We did our best to include the top running offline Android games on the list. This includes your favorite sports games like soccer and cricket games. Have a look at this offline games for Android and download a couple of them to try for your next trip. If you like these offline games, then there is no need to burn your data while playing games on Android. These offline games can enjoy without a data connection and can be played both on Android phones and Tablets.