There are numerous email client apps for Android platform. Some of these apps are limited to a single email client and some of them are really powerful to support almost all email clients including Gmail, Yahoo, Hotmail, iCloud, MS Exchange etc. Good apps with all these client support and additional features like swipe to delete or archive, unified email search, I may and pop support, cloud integration, file attachment capability are rare to find out. In addition to this apps, we listed two more email apps GMAIL and MAILBOX that provides the best user experience, but they are offering only Gmail and iCloud email support at this point.
We take a few free email app from the list, focusing on those that can handle multiple email clients with a nice interface and useful features.
Editor's Note: Updated version of this article 10 Best Email Apps for Android Phone and Tablet
The built-in EMail App in Android provides excellent support to most of the email clients. This app is compatible with pop, IMAP, and exchange account. While considering the support of different email client and the features, the default Android e-mail client is an excellent way to perform the task. This Android email app has a clean interface, nice features and a stable app that supports all email clients.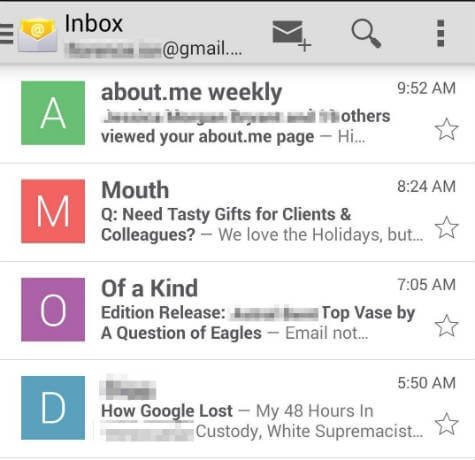 This app is coming with a nice and simple interface and swipes to delete and unified inbox features. The interface is almost identical to Gmail app except for multiclient support.
PlayStore Link: EMail
K-9 Mail
K-9 Mail is an open-source e-mail client supports IMAP, POP3, and Exchange 2003/2007 (with WebDAV) with easy setup.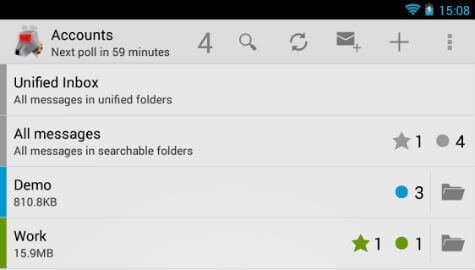 K-9 Email supports all major email clients like Gmail, Yahoo, Hotmail, AOL and offers additional features like Email Search, IMAP push email, multi-folder sync, flagging, filing, signatures, bcc-self, PGP, email on SD, etc.
PlayStore Link: K-9 Mail
Aqua Mail
AquaMail is an email app for Android 2.1 and higher that supports Gmail, Yahoo, Hotmail, FastMail, Apple mail services (@me.com / @mac.com), GMX, AOL, and more. This app recognizes mail accounts at domains hosted by Google Apps, Yahoo BizMail, and others. Aqua Mail works with many other email services via standard Internet email protocols (IMAP, POP3, SMTP) as well as Microsoft's EWS (Exchange Web Services) protocol.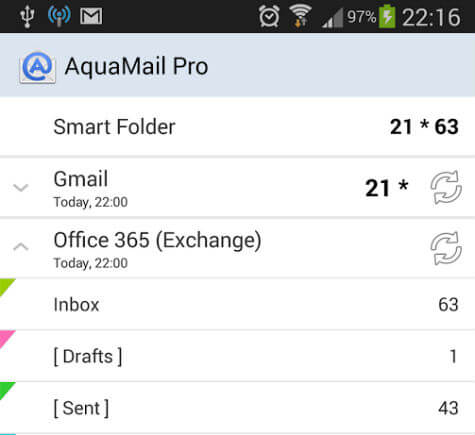 Aqua Mail is offering easy automatic setup for Office 365 and Exchange Online. This app plays well with other email apps that you may be used to access your IMAP or EWS mailbox. Aqua Mail can save attachments on the memory card and come with Android widgets, rich text formatting support, and integrated with Light Flow, Enhanced SMS & Caller ID, Cloud Print, Apex Launcher Pro, Nova Launcher / Tesla Unread, Executive Assistant, DashClock Widget.
PlayStore Link: Aqua Mail
Mail Droid
MailDroid is an ad-supported Webdav/POP3/IMAP Idle Push email client. MailDroid has the features like the ability for IMAP users to sync draft emails, sent email, deleted email, etc. MailDroid supports all main email clients like Yahoo email, AOL, Hotmail, MSN, live mail in addition to Microsoft Exchange 2003,2007,2010, Office 365.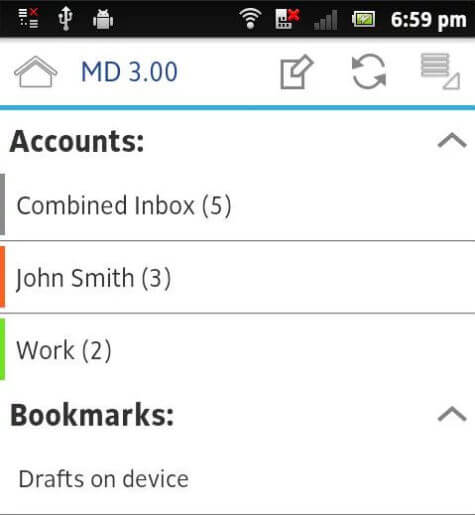 MailDroid will allow you to encrypt and sign email using OpenPGP in the MIME format or Inline format and allow you to encrypt and/or sign an email using S/MIME. This app Idle Push for all IMAP email servers, Save/Download Attachments from email to SD card using ES Explorer, Astro, or built-in File Manager. The Email settings support for signature, font size, ring tone, led color, icon selection, etc. Additional features include email search, password protection, cloud storage integration to Dropbox, box.net, google drive, etc.
PlayStore Link: Mail Droid
MyMail
MyMail is a free mail app supporting Gmail, Yahoo, AOL, iCloud, Hotmail, Outlook.com, GMX and other IMAP or POP3-enabled mailbox. Using simple taps and swipes, you will be able to preview, read, forward your emails, reply or attach images and files to them.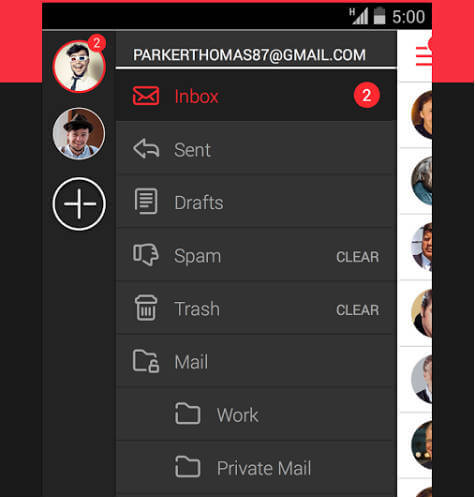 Additional features include instant push notifications for any IMAP mailbox with filters, time and privacy settings, instant search with contacts, and with phrase search suggestions, built-in attachment browser to view files and images right in email client, etc.
PlayStore Link: MyMail
SolMail
SolMail is a powerful e-mail client that helps you to manage all of the e-mail accounts and messages in one app. This app supports most of the email clients via standard Internet email protocols: IMAP/SMTP/POP3 that works with Gmail, Yahoo, AOL, Hotmail, Outlook, MSN, GMX, Naver, Daum (hanmail), Nate, etc.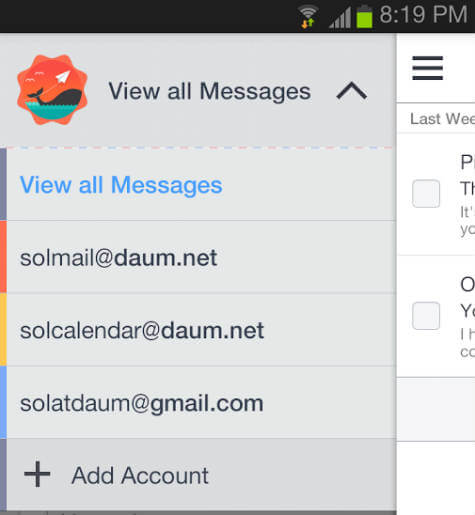 Additional features include swipe to archive or delete messages. You can simply flick the email you were reading to read other emails instead of using the back button, Android email widget with notifications etc.
PlayStore Link: MyMail
Blue Mail
Blue Mail is universal email client allowing you to use and manage as many email accounts as you desire at the same time to create a powerful Unified Inbox experience with an extraordinary and modern design. Blue Mail supports Gmail, Yahoo, Office 365, AOL, Google Apps, Hotmail, Outlook, iCloud, Mail.ru, Zoho, GMX, Yandex, Mail.ru, GMX, mail.com, Hushmail, Zoho, Web.de, QIP, rambler, etc.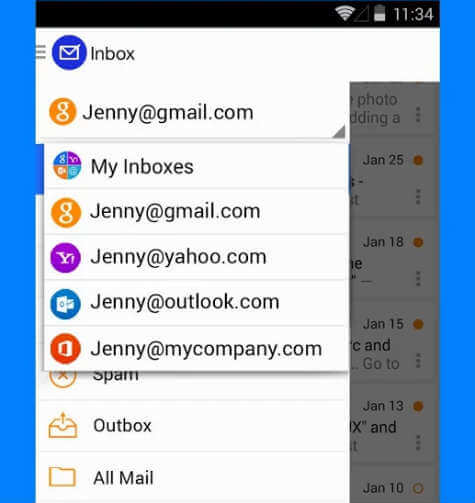 Additional features include Android widget count for any provider and a unified inbox. Compose emails using contacts from your phone's address book and your email account's address book etc.
There are a couple of beautiful and more feature rich applications that have to consider in this list with their beautiful interface design and nice features. They do not support all the mail clients like the other apps, but they are worth if you need a very nice mail application that supports only Gmail and or iCloud.
PlayStore Link: Blue Mail
Mailbox (discontinued)
Mailbox that supports Gmail and iCloud at this time that caught attention with its nice and simple UI design and swipe features. Mailbox makes email light, fast, and mobile-friendly and you can send your messages to your archive or trash with a quick swipe. You can snooze emails until later with the tap of a button and they'll return to your inbox automatically.
With Auto-swipe, Mailbox learns from your swipes and snoozes to automate common actions. You can mute that conversation you don't care about, snooze messages from your friend to this evening, or route all of your receipts to a list automatically.
Gmail
Gmail is built on the idea that email can be more intuitive, efficient, and useful. You can get your email instantly via push notifications, read and respond to your conversations online & offline, and search and find any email. Gmail lets you manage multiple accounts, view and save attachments, set up label notifications, set up vacation responder, send or download attachments of any type, including documents, PDFs, zip files, attach multiple files at once, print emails and attachments etc.
PlayStore Link: Gmail
If you are the one only depends on Gmail, then go head to Gmail app or you can go with Mail Box app if you have iCloud email. The other apps in this list are best for those who depend on multiple email clients and your office or student email accounts.