The cult of gaming has grown from PCs to Consoles and now ends up at smartphones. Unlike the old-school games on feature phones, the Android smartphone market sells high-end games. Many need higher graphics resource usage like PUBG Mobile, Fortnite, Need For Speed, PES, etc. Still, tap & swipe through the screen might turn boring after long hours of gaming. Many Android controller devices are available in the market to serve the "concrete" gamer in you.
In this article, we show you some best Android Game Controller to play smartphone games.
GameSir G3s Bluetooth Android Controller
The GameSir G3s is a wireless Bluetooth game controller that supports Android smartphones. The joystick or the gamepad is for Android devices only. We can connect the Bluetooth game controller to any device that supports the connection. The list covers smart TV, PC, Consoles like Xbox, Playstation, Samsung Gear VR headset, and Android smartphones and tablets. The joystick Android comes with a section to hold your smartphone.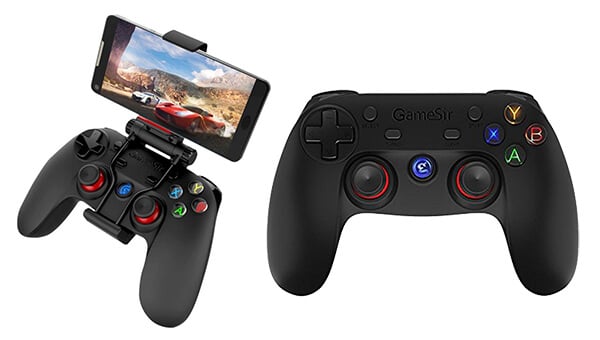 To handle the requests and to respond, the Android game controller uses a 32-bit high-speed MCU with 48MHz link speed. The connection between the device and the android controller is secure with a Bluetooth 4.0 radio. You can also use a 2.4GHz wireless USB dongle for PC connection. The Wired connection is also available on the Bluetooth controller. You can connect it to any smartphone in native mode or controller mode. As well, it does come with the Apple ArCade support to connect the Android controller to an Apple iPad. The Bluetooth game controller for Android also offers a constant gameplay up to 8 hours in a single charge.
Features: Dual Shock vibration | Turbo (autofire) function | Button backlit | multi-platform support | Buy from Amazon
SteelSeries Stratus XL Android Game Controller
SteelSeries Stratus XL is a fully wireless Bluetooth controller Android device support. The compact design of the game controller makes it unique from other Android controllers. The device supports a wide range of gaming devices — Windows PCs, Android smartphones, high-end VR devices like HTC Vive, Oculus, Samsung Gear, etc.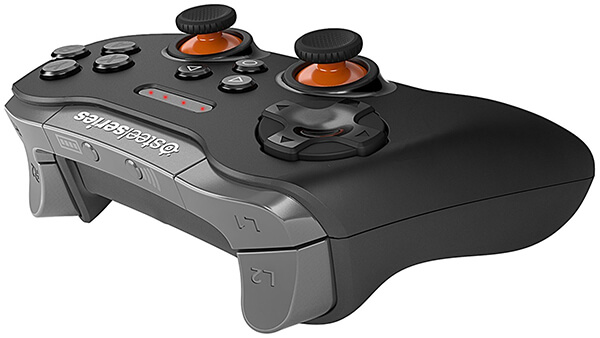 You can connect the game controller over Bluetooth only. There is no RF dongle available to use with the PCs. So, your PC also needs to support Bluetooth to plug-and-play the Bluetooth game controller. The hardware buttons on the Bluetooth game controller also packs a home and back actions. The support is available for Android 3.1 or later versions. There is no inbuilt battery for this joystick for Android. The game controller does use two AA batteries, which can be replaced easily. The connection status is visible through the LED-light panel.
Features: Multiple platform support | 40 hours gaming (with two AA batteries) | custom button actions | Buy from Amazon
ZD T Gaming Wired Gamepad Controller
ZD T game controller is an excellent choice as a cheap, fitting android controller. The device comes at a price tag of US$20, so there is no wireless connection available on it. You can connect it to any platform or any device. You can connect the gamepad to any Android device, which supports the OTG connection.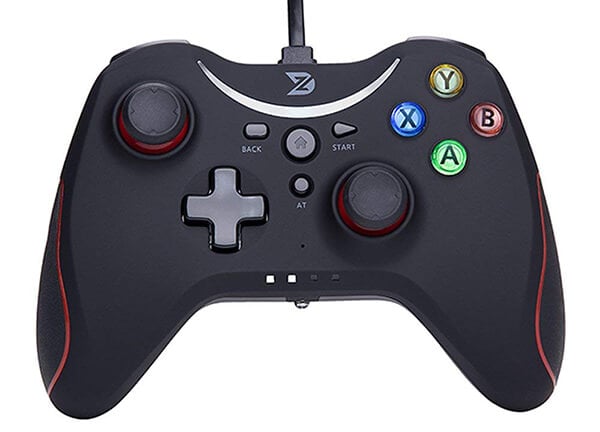 There is no dock to hold the smartphone on the Android game controller. So, we need to put the smartphone aside by connecting through the USB wire. So, it might not be a perfect fit to play the games on-the-go. However, the plug-and-play method is straightforward, and the android controller identifies any device to set the controls by itself.
Note: Before buying the ZD T Gaming Wired Gamepad controller, make sure your Android smartphone supports OTG connections.
Features: Wired | Plug-and-play | Multi-platform | JD-Switch function | Xinput mode | Xbox controller style design | Buy from Amazon
Related: 12 Best Offline Games for Android to Play without WiFi
GameSir T1s Bluetooth Game Controller
The GameSir T1s Bluetooth Game Controller for Android comes with all possible means of connectivity compatibility, including Bluetooth, 2.4GHz wireless, and wired connectivity support. The same can be connected to any smartphone, PC, gaming consoles, Android TV, etc. over any of the supported connection. The Android controller supports Android smartphone connectivity through Bluetooth as well as OTG. The hardware body itself sports an inbuilt smartphone dock, which can be enlarged to place any devices ranging from any screen size.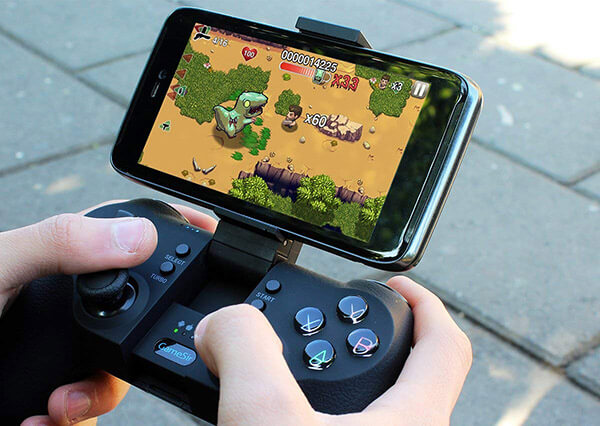 The pressure-sensitive D-pad and dual vibration motors help in making the gameplay much more in-depth on your android smartphones. The phone bracket has adjustable angles. Plus, the remapper tool app for Android smartphones is available to remap the buttons for Online Battle Games like PUBG.
Features: Cross-platform support | Bluetooth, 2.4GHz, & Wired | in-built smartphone bracket | Autofire function | Dual vibration motors | Buy from Amazon
BEBONCOOL Android Game Controller
The BEBONCOOL Android gamepad is yet another Android controller available in the market. It comes at a lower price tag compared to most other Bluetooth game controller devices. The gamepad is made for Android smartphones, tablets, and VR headset usage. There is no support for other gaming stations like PC or consoles. The Android game controller supports every Android 3.2+ smartphone with Bluetooth 2.0 or higher. The gamepad controller carries a unique design, with separated trigger buttons (R2 & L2 under the console). The inbuilt bracket can hold any Android smartphone sizes from 3.6-inches to 6.0-inches screen size.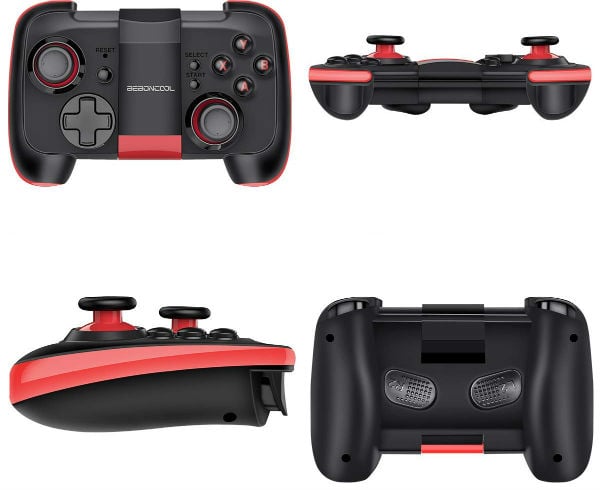 The portable Bluetooth controller for Android comes with a 350mAh battery pack. It could last up to 10 hours of gaming. There is also an auto-power off feature if you leave the console in idle untouched for five minutes. The company also offers an Android device companion app that supports key mapping and extra games.
Features: Unique ergonomic design | auto cut-off | VR compatibility | built-in bracket | Buy from Amazon
ZD-C Wired Android Game Controller
The ZD-C Wired Gaming Controller is a handy game controller for Android smartphones and PCs which support USB connection. This one is similar to the above mentioned ZD T Wired Game controller, but with better design and more controls. Since the connection from the joystick is over the wire, we can use it with any gaming panel. Although, Xbox and PlayStation might not find it a suitable mate. The design and buttons are standard yet, worth the pricing.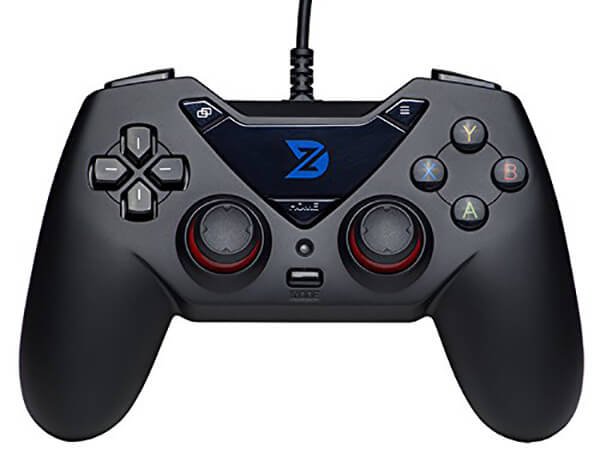 The ZD-C Android controller supports Joystick precision tuning. Also, it comes with JD-switch and Turbo mode for auto-trigger the actions (like fire). Also, the LT-RT triggers, shock vibration, and RGB LED lighting can be switched on and off with a single tap. The High-gloss mirror body and the new precision D-PAD design gives the wired Android controller a modern look. Your smartphone must support OTG to use it.
Features: JD Switch | RT, RT Linear | Plug-and-Play | Adjustable Rocker | Buy from Amazon
GameSir T1 Wireless Bluetooth Controller
The GameSir T1 Wireless Android Gaming controller is a cheaper variant of the GameSir T1s, which comes with multiple connectivity choices. The smaller one, well at least in papers, comes with only Bluetooth and Wired connection support, and no 2.4GHz USB Dongle connection is possible. So the only way you can connect the game controller with your PC is through a USB wire.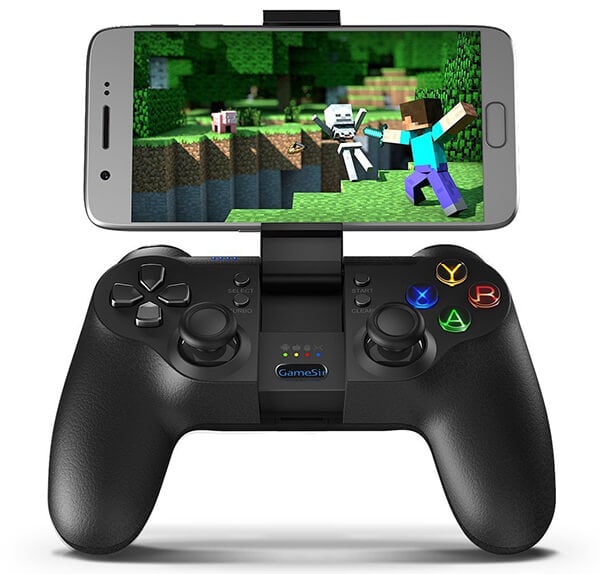 The look and purposes of the GameSir T1 Wireless Bluetooth controller are as same as the T1s. Moreover, you can use it to control DJI drones when you do not play games. The indicator lights are visible under the two-way movable smartphone dock. The target smartphone should be running Android 4.0 or later Operating System. Plus, they recommend to install GameSir World App for better compatibility and remapping with the Android game controller.
Features: Multiple platform support | in-built smartphone bracket | Autofire function | Dual vibration motors | LED XYAB buttons | Supports DJI Drones | Buy from Amazon
Related: 8 Best Wireless Karaoke Microphones to Perform Like A Pro
GameSir G3s Bluetooth Game Controller
The GameSir G3s is the higher grade model for GameSir G3 with extra connectivity support. The GameSir G3s Android controller also supports all Bluetooth, 2.4GHz dongle, as well as the wired connection through the USB cable.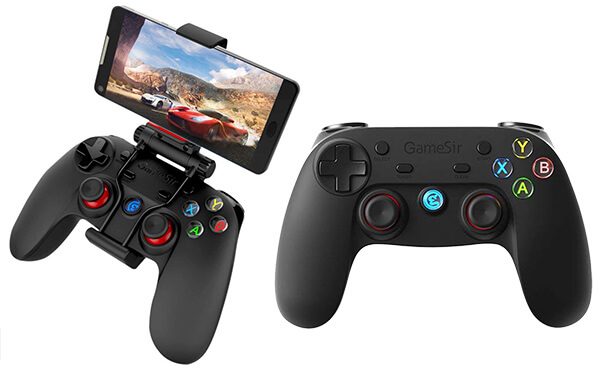 The maker of the Bluetooth controller ensures seamless connectivity compatibility with any smartphones or PCs using the 32-bit MCU chip and Bluetooth 4.0 radio. Extra features of the Android game controller includes auto-fire function, iOS device support using Happy Chick app, etc. You can either place the smartphone aside and play using the Bluetooth controller on your hands. Or else, place the device on the separable bracket.
Features: Multiplatform support | Bluetooth, 2.4GHz, & Wired | Turbo function | Removable bracket | Dual-vibration motors | Buy from Amazon
GameSir X1 Android Mouse & Keyboard Converter
The GameSir X1 is not a Bluetooth controller to connect to Android devices. Unlike other handheld joysticks and Android controllers, the X1 is a USB Mouse and Keyboard converter. The game controller dock lets players connect keyboard and mouse to the smartphones at a go. Any Android smartphone can connect with the "BattleDock" over the Bluetooth connection. Two main USB ports are available on the docking station to connect wired or wireless keyboards and mice.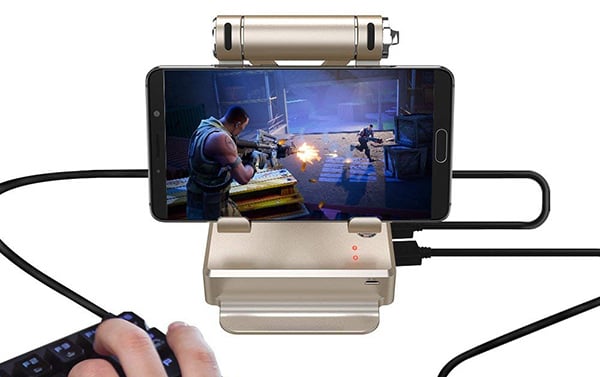 We can also connect the wired game controllers and joysticks to play the games on your Android smartphone or tablet. The Bluetooth android game controller is a perfect gear for those who want PC-like immersive experience. It helps gamers who focus on battle/FPS games like PUBG. The Android controller converter for Keyboard and Mouse connection does carry a 3,000mAh inbuilt battery to power the connected input devices.
Features: Keyboard & Mouse connectivity | Auto fire button | One-click macro support | Keyboard customization | Foldable design | Buy from Amazon
Also read: Best Dual Bluetooth Transmitter to Connect 2 Devices Simultaneously
IPEGA PG-9083 Telescopic Game Controller
The Telescopic wireless game controller by IPEGA looks like the handheld Nintendo Switch game controller. The wireless android Bluetooth game controller does have a separated design. But, it does have a smartphone holder in the middle. Hence, we can place the smartphone inside the holder. The controllers will be on both sides of your Android device. Not only for phone gaming, but the hardware buttons on the Android controller also acts as volume rockers and music control buttons. The smartphone holder can be stretched up to 280mm long to hold tablets.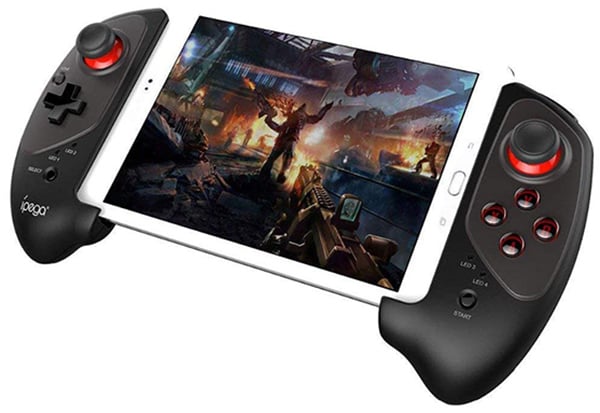 An in-built rechargeable 300mAh battery pack assures 10 hours of gameplay. Meanwhile, it takes 2 hours of charging to boost up to 100%. The Bluetooth game controller can also control your Nintendo Switch, Windows PC, and any Android smartphones over Bluetooth. The available control buttons on this Android game controller are L1/L2, R1/R2, Left/Right 3D with L3/R3, A/B/X/Y, Home, D-Pad, and Mode switches.
Features: Ergonomic design | Easily Portable | telescopic smartphone dock | Buy from Amazon
With the arrival of a wide range of Bluetooth controller devices for Android gaming, smartphone gaming has become much more comfortable. If you are more fond of smartphone games playing on the go, getting a Bluetooth controller is what we back you the most.