The Subscriber Identity Module, also known as the SIM card is absolutely essential in making phone calls to your loved ones, including your family members, friends, relatives, and colleagues. However, with smartphones and the quality of Internet that's available today, a SIM card is not mandatory to make a phone call. Suppose you're currently residing in an area where there's no coverage for your SIM card's network, or you've lost/damaged your SIM card to a point where it's no longer working, you can simply harness the power of internet and third-party apps that let you make phone calls on your iPhone without using your SIM card.
As long as you have internet connection on your iPhone, regardless of whether it's Wi-Fi or 3G/4G network and a valid phone number, you'll be able to take advantage of some of the third party services mentioned below. If you think you're paying too much to your carrier for phone calls, this is probably the best alternative you can go for, and save some money. Some of these apps can also help you in bypassing calls from your carrier to VoIP, in order to avoid roaming charges.
So, if you're interested, let's take a look at how to make calls on iPhone without a SIM card to any number, by taking advantage of these following services:
Google Voice
This is a phone calling service developed by the tech giant Google themselves, and it's nothing short of impressive when it comes to the set of functionalities that it has to offer. Users can take advantage of the service to make free phone calls to the United States or Canada (Android users can use Google Voice as A Free Second Phone number). However, it's worth noting that the service is only available in the United States, so if you're residing somewhere else, you're out of luck.
Related: How to Call US Land Phone & Mobile for Free While you Abroad
That being said, users will have to make use of Google Voice's calling credit for international phone calls. The maximum credit that you can have on your account is restricted to $70. If you're planning to install Google Voice on your iPhone, you might want to take a look at their international calling rates as well.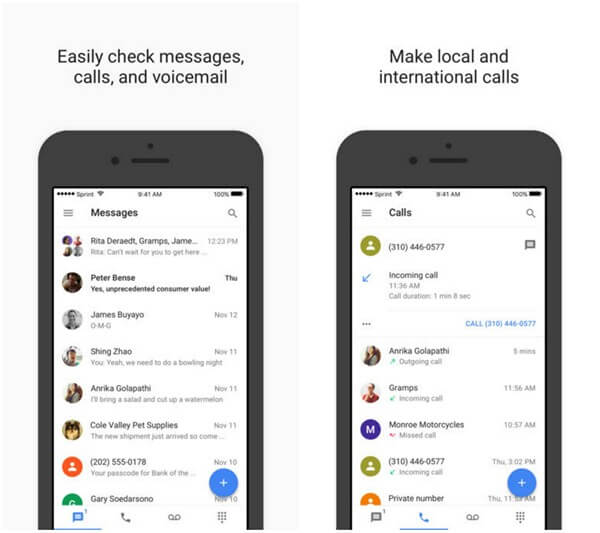 Once you sign up for Google Voice, you'll be provided with a phone number that's connected to the service across various devices and destinations, including mobile phones, landlines, and VoIP lines. In addition to the phone calling service, Google Voice also has some value-added features like call recording and call forwarding that can be accessed on paid accounts.
Download: (Free)
More Info: 12 Best Google Voice Features you Never Heard Before
Vonage Mobile
This is a service that can be put to good use, especially if you have a Google Voice account. That's right, you can configure Vonage Mobile to make use of your Google Voice number for phone calls. Once you've downloaded the application from the Apple App Store, Vonage Mobile will ask your phone number for the initial setup process. You can either choose to give your phone number or Google Voice number to access the service. Then, the app will send a text message with a confirmation code, as part of the verification process.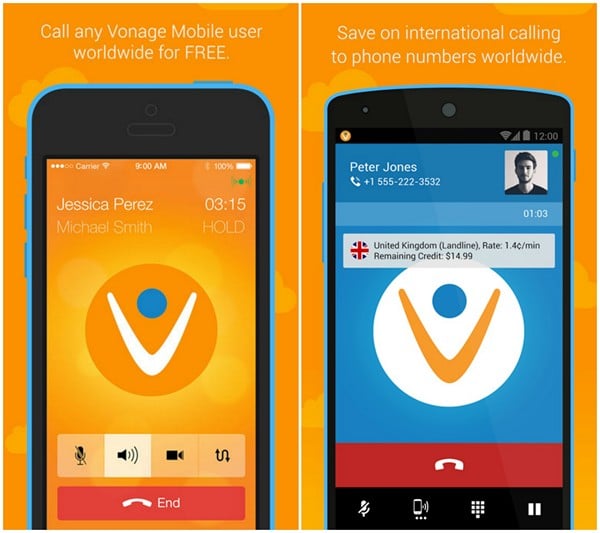 If you're interested in availing this service, do make sure you check out the calling plans displayed on their official website. Their pricing is quite affordable even for international calls to mobile numbers and landlines, so we've got no complaints in that regard. In order to add calling credit on the move, you can use your Apple ID for the in-app transaction. That being said, all phone calls between Vonage Mobile users are completely free of cost, which is quite similar to several other phone calling services out there.
Download: (Free)
Viber
With over 800 million users, Viber is one of the most popular calling/messaging services out there. Although calls between Viber users are totally free of cost, you'll have to make use of Viber Out credit if you want to make local/international phone calls and this includes calls to a landline number as well. If you're interested in making use of Viber for phone calls, you can have a good look at their calling rates right here. The pricing is far from expensive, so this is not something that you should be worried about.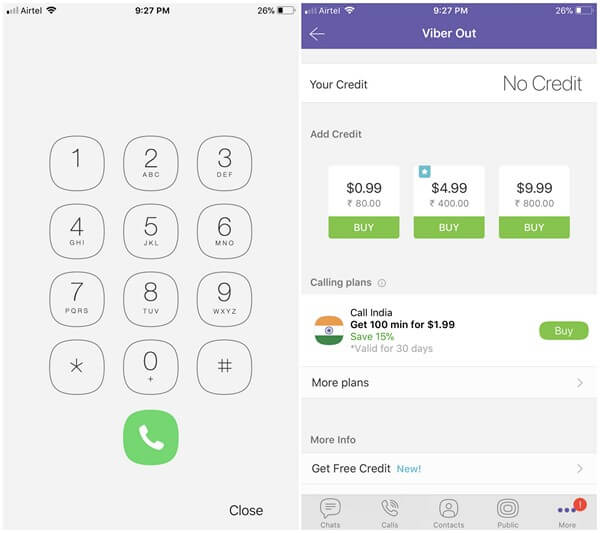 As long as your phone is connected to the internet, Viber will be able to provide you with all its calling features, regardless of whether you have a SIM card installed or not. Once you've installed the application from the App Store, you'll have to verify your phone number with the service using a one-time password that'll be sent to your number. In addition to voice calls, you can even make video calls to other Viber users for free. Viber has been available for years now, and we've got no doubts regarding the quality of their service.
Download: (Free)
Skype
Owned by Microsoft, Skype has been leading the VoIP service market for years now. People across the world have been making use of this hugely popular service, mainly for international phone calls (see best Skype Alternatives). Calls to other Skype users are totally free of cost, just like similar other services out there. However, if you want to make phone calls to a regular mobile number or a landline number, you'll have to make use of Skype credits. You can check out their calling rates by heading over to their website, if you're keen on taking advantage of the service for making phone calls without a SIM card.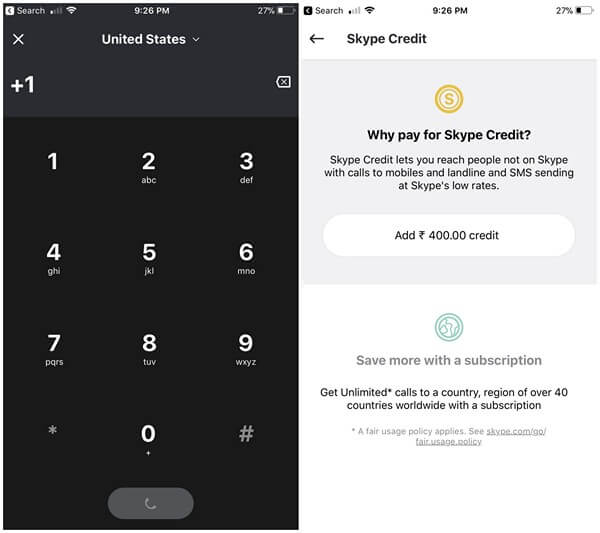 As long as you're connected to the internet via Wi-Fi, Skype will let you make calls with absolute ease. In addition to voice calls, Skype also lets you make video calls to other Skype users anywhere in the world without even having to pay a penny. You can sign up for the service using a Microsoft account. Additionally, you can even log into the service using a Facebook account. Skype also offers monthly plans that provide you with unlimited minutes for phone calls to several international destinations.
Download: (Free)
WePhone
This service might not have gained quite the reputation as other services featured in this list, but it's still fairly popular among the masses. Developed by Innovation Works, WePhone claims to be 30% cheaper than Skype and offers $0.6 free credit to make cheap international phone calls. However, calls to other WePhone users are totally free of cost, so that's not something that you should be worried of. That being said, WePhone also lets users record their phone calls for free, which might be of great importance to some users.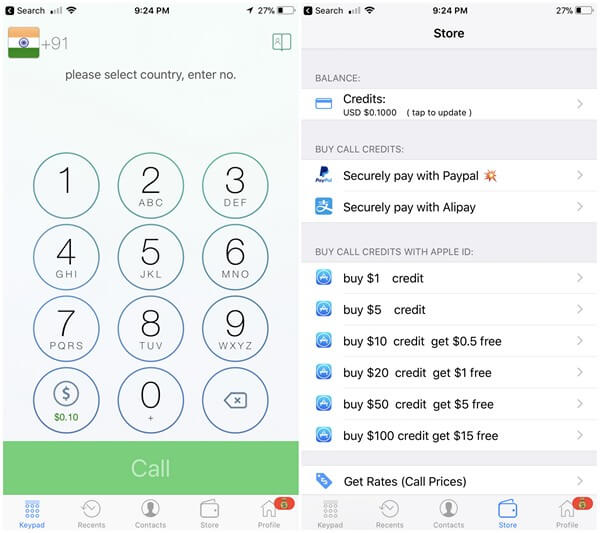 If you're interested in availing this service, you can check out their affordable international calling rates here. These include calls to landline numbers as well. Users can check into the service every day to earn free credits, and even get bonus credits for every call they make using the service. Apart from all this, the receiver will be able to see your actual phone number while you're using WePhone to make the call, which is impressive, to say the least.
Download: (Free)
Make Calls on iPhone Without SIM Card
Well, you don't have to depend on your SIM card for making phone calls from now on. You need an active phone number to register one time with the above services. You can use Google Voice Free number (How To Get A Free US Phone Number to Call the US and Canada?) or any other free number services like Text Free: Texting App + SMS to get the free number to register the above services. Once you register the service with a valid number, you can make calls without SIM. The good thing about this service is, most of them support both iPhone and iPad.
If you register one time with above services, With the power of the internet and some of these reputed services, you can contact your friends, family members, relatives and colleagues for a significantly cheaper price than you'd normally pay your carrier. So, which one of these services are you planning to spend your hard-earned cash on, and why? Do let us know, by dropping your valuable opinions in the comments section down below.