Google Voice is a free voice service from Google that lets you make unlimited calls anywhere in the US and Canada. There are a bunch of Google Voice Features that make this service an excellent VoIP service from Google and can be used for your business or personal purpose.
We are going to list the best Google Voice features that may help you to save a couple of bucks per month.
Free Google Voice for Business
Save money on your residential or small office phone bill, and you can get a free landline number with no extra charges. You can set up a completely free landline phone connection with Google Voice Account and a VOIP (OBI) device. Here is the step by step instruction to set up free landline phone to Call US and Canada For Free Of Charge.
Free Google Phone Number
You have the freedom to pick your favorite number by entering the zip and the area code while you register for a Google Voice account. This is a helpful feature to get a local number of a city that you recently moved.

This Google Voice feature is also useful for creating a local number for your business and can keep the original cell phone number private. The details are described in the article to Get A Free US Phone Number to Call the US and Canada Free?
Unlimited Free Calls and Text over WiFi
It doesn't matter you are using Tablet, Mobile Phone, a Web browser on your PC. You can send and receive texts, make calls from all these platforms with a single Google Voice number.

One number for all your devices, no need to move around and see the related article to Convert Android Tablet to Smart Phone for Free
Free Voice Record and Calls Download
Cann recording is expensive and for iPhone and Android users have to use dedicated apps for call recording. Google Voice offers this feature as free with Google voice number. You can see the recorded calls on your Google Voice account on Google Voice > Left Sidebar > More > Recorded Calls. You can activate voice recording with Google Voice app by just pressing 4 during a call to start recording and press 4 again to stop.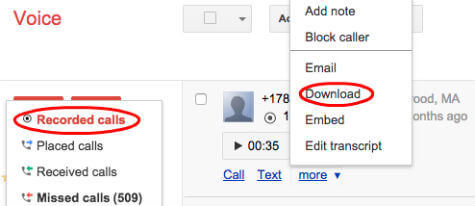 The calls will save in an MP3 format that can use to listen later. Please configure this feature on your Google Voice account Google Voice > Settings > Calls >Call Options
Google Voicemail Transcription
Google Voice is coming with voicemail features that can save voice messages. In addition to this, Google's advanced speech recognition technology can transcribe your voicemail into a readable text and keep within your Google Voice account. You will get an email notification with a text and audio version of these voice messages to your Gmail.
Related: Please see the best google voice apps for iPhone that can integrate Google Voice number on your iPhone or iPad to make free calls.
Google Voice can Port Number without Changing Device
Port number feature lets you bring your old number from a phone service provider to Google Voice. Once you port the number to Google Voice, you can use this number with all the Google Voice Features for free of cost.
Once you port the number, the calls to this number can ring on all the devices you want, or computer, and save voice messages coming to this phone number and lot of extra features. Porting your number to Google Voice costs $20 and the port request will usually complete within 24 hours.
Related: Best 12 G Suite Products Helped my Business to Perform Well.
Receive Calls on Multiple Numbers
With Google Voice account, you can set multiple numbers to forward calls. Once somebody dials this number, all the devices with these numbers will ring at the same time. Instead, if you installed and configured the Google Voice app on your devices, all devices will ring at the same time for incoming calls. You can add more numbers to receive calls Google Voice > Settings > Phones > Forward Calls.
Block Spam Calls with Google Voice
One of the free Google Voice features, block spam calls automatically. With Google Voice number, you can block calls and text messages from numbers identified as spam by Google directly to the Spam folder.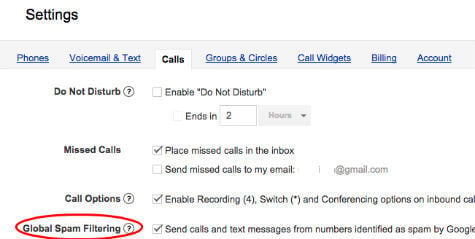 No more wasting of your time by answering calls from telemarketers and debt collectors. To enable this feature Google Voice > Settings > Calls > Global Spam Filtering. However, if you want more powerful spam call filtering, there are dedicated and Free Android Apps to Block Unwanted Calls and SMS.
Call Direct from Gmail with Google Voice
With Google Voice, there is no need to use the cell phone to make calls every time. When you are working with PC, and if your cell phone is not reachable, you can call directly from Gmail or Chrome Hangout Plugin. So convenient and easy to make the call directly from your PC free of cost.
Google Voice Do Not Disturb Mode
Google Voice lets you take some rest with Do Not Disturb Mode. You can set your Google Voice Account on Do Not Disturb Mode at any time. You can set a time interval to activate Do Not Disturb Mode by following Google Voice > Settings > Calls > Do Not Disturb.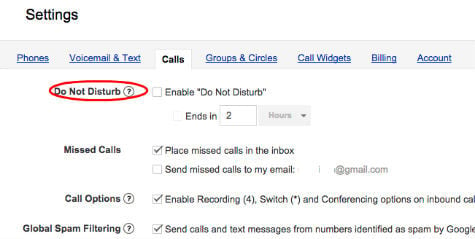 All your Google voice forward devices will keep silent at the same time, and you are free from annoying phone rings.
Send and Save SMS to Email with Google Voice
Do you ever think to keep a history of all your incoming and outgoing SMS/Text messages?, Google Voice can do that.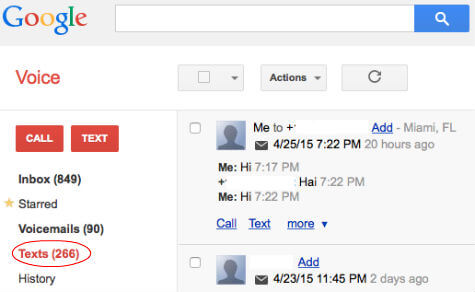 You can open the history of your Text messages from Google Voce > Left Sidebar > Texts.
Google Voice Conference Call Feature
Google Voice lets you make a conference call up to four callers together. Instead of having to send out a conference number and access code to people calling in, you can just ask them to call you at a preset time, and you can merge all calls together to start the conference call.
When you're on a call, and a new call comes in (call waiting required), you'll have the option to conference the caller with your existing call. You have to enable this feature in Google Voice > Settings > Calls > Call Options.
Set Google Home with Google Voice
Google Home Owners can make free calls to the US and Canada. By default, the recipient will see the unknown number when they receive the calls from the Google Home device. Instead of using this unknown number, you can set up Google Home with Google Voice Number for your business and personal calls. Please see the step by step instruction to set up Google Voice number with Google Home.
Best Google Voice Features
Most of all, Google Voice is free and easy to start with your own Google Voice number. You just need a valid Gmail or Google account to get the Google Voice number. You can register your own Google Voice number with Google Voice account or port existing number to Google Voice.
Once you have Google Voice number, you can make calls, receive calls, and even forward this Google Voice number to your cell phone without any additional charge. We listed only the Best Google Voice Features which are helpful for your personal or business life.
There are few of these Google Voice features like conference calls are best for small business owners, and rest can be utilized for the personal purpose, most of all, this Google Voice number is absolutely free.