Google Home Owners can make free calls to US and Canada. By default, the recipient will see the unknown number when they receive the calls from Google Home device. Instead of using this unknown number, you can setup Google Home with Google Voice Number for your business and personal calls. As you know, there are plenty of spam and marketing callers are dialing with an unknown number. Those who set to block unknown numbers on their cell phone can't accept the calls from Google Home device. So the best solution is to set Google Voice number for Google Home device to make calls from Google Home.
Now let us see how to Set Google Home to Call with Google Voice.
Get Google Voice Number
Google Voice is a free service, those who are in US and Canada can get Google Voice number for free with their Google account. To get free Google Voice, login Google Voice and follow the instructions explained in this article. Please make sure you are using Google Home primary account to register new Google Voice number.
Related: How can you Make Unlimited Phone Calls to US and Canada For Free
Now, let us see how to set this Google Voice number for your Google Home device. Open Google Home App > Tap on Right Top Corner Device Icon. Now find Google Home Device Card and Tap on Menu (three dots) > Settings.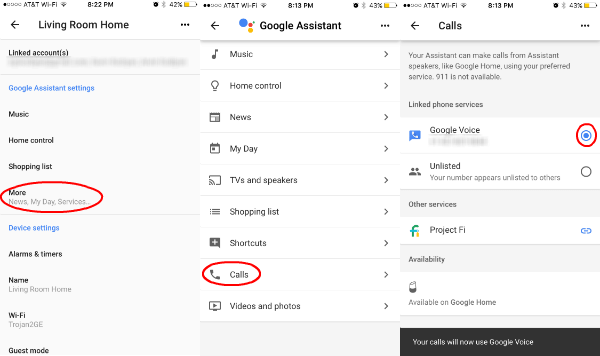 Once you are in Google Home Settings > More > Scroll Down to see Calls > Check under Linked phone services. Now you see two options under linked phone service. One is Unlisted and that is the default call setting for Google Home users and display calls from Unknown.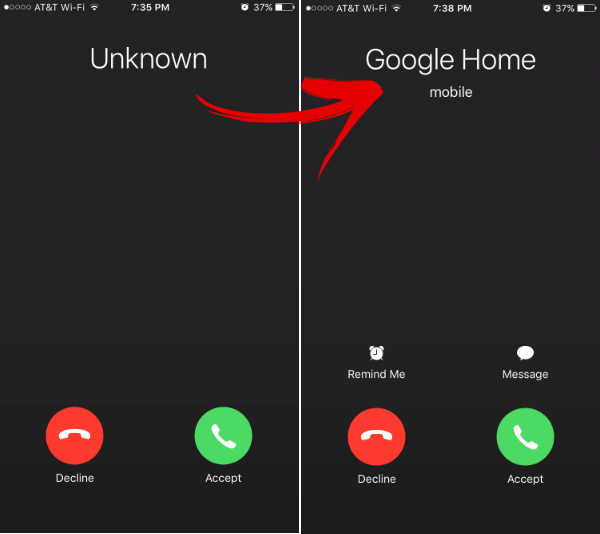 If you already have Google Voice number with the same Google Home account, you will be able to see Google Voice Number here. Tap on Google Voice selection to display Google Home Number when you make calls from Google Home. The Google Voice number that you set for Google home will work only with the same Google account that you set for Google Home. Multiple Google Home users are able to make calls from their Google Home device with their respective Google voice number.
This is a cool idea to display their own Google Voice number when they make calls with Google Home, instead of displaying primary account holder number for all user calls. Now set Multiple Google Home Accounts and make sure all Google accounts have corresponding Google Voice number. Now, Google Home will display your own Google Voice number by recognizing your voice from the voice command.
To make free calls from Google voice is a nice free solution from Google. You can make this free calling feature more amazing by setting up your own Google Voice number to make genuine business and personal calls.