Audio Equalizer for Windows plays an essential role in sound enhancement. You can boost audio components to make it either louder or quieter. Sound Professionals can choose any acoustic environments to estimate echo and sound settings and select the ideal configurations for the best sound setup. Audio Equalizers make sure that you have a balanced structure of sound components and frequencies for music lovers.
We have shared some audio equalizing tools for Windows 10 and Windows 7 users to enhance your audio experience.
Editor's Note: Please make sure to update your sound drivers to get the most out of Audio Equalizers for Windows. Some users may end up with no sound at all after installing any of the below-mentioned tools. Make sure that you are selecting the proper output device. If the problem persists, you can always choose to uninstall it, and everything must get back to normal. Finally, if the audio problem is not sorted, then users can do a system restore to undo any changes which interfered with system audio.
FXSound
The FxSound app is a lite audio equalizer and easy to set up. This windows equalizer gives 20+ presets of sound which automatically adjusts the music as per users choice. You can also enhance effects such as 3D Surround, Dynamic Boost, Ambience, Bass, Fidelity, etc.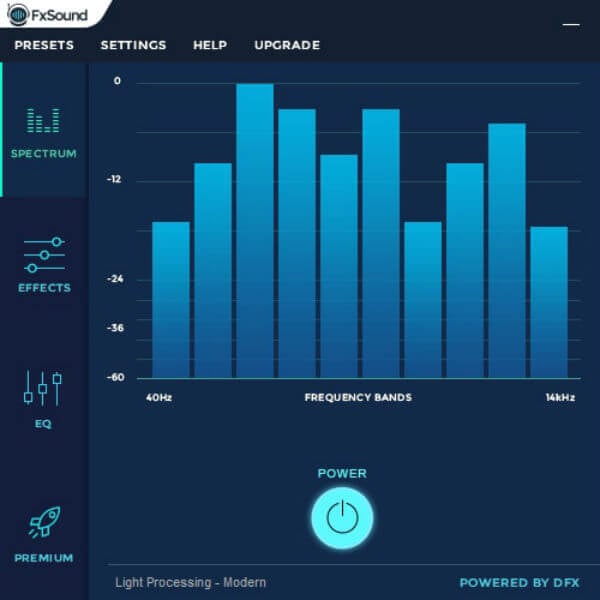 Users can manipulate audio frequencies as required for ideal sound output. FxSound offers a 7 Day free trial of the premium version. You can also save your customized setup to a preset so that you can use it in future. Overall this app is user-friendly and easy to use tool for music lovers.
Link to Download: FXSound
Also Read: Best Windows 10 WiFi Analyzer Software.
Bongiovi DPS
Bongiovi DPS comes with Digital Power Station technology which claims to enhance overall user experience. You can select the device type which you are using, and also allows the selection of content whether Music, Movies or Speech. This feature comes in handy while listening to audio-books to get a more focused voice output.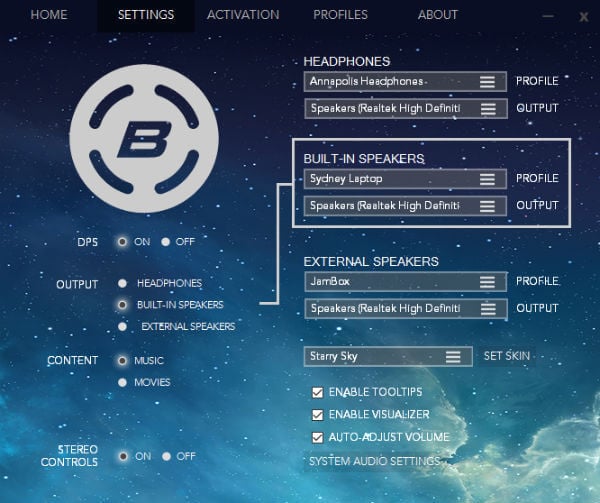 Premium version of this Windows Audio Equalizer allows users to choose a customized device profile, Bass, and Treble controls with frequency visualization. This Digital Power Station software also offers a virtual sub-woofer as another stereo enhancement.
Link to Download: Bongiovi DPS
Viper4Windows
Installing Viper4Windows can be a bit tricky. Please make sure that .NET framework 2.0 is present on your PC. Never forget to choose the correct sound card and output hardware at the time of installation. This tool is designed to get most out of your standard audio equipment. Users can choose to increase Bass on the basis of speaker size.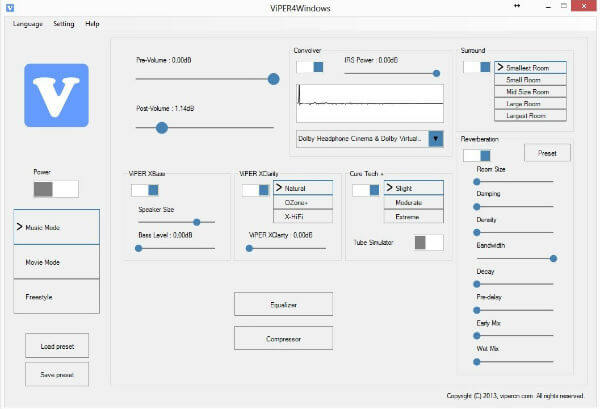 XClarity feature gives you enhanced voice and CureTech provides active audio corrections. You can select Surround options according to your room size for external speakers. Compressor option gives you the ability to compress the sound, and simultaneously you can change frequencies as well. Users can save the preset or load any of the available presets for device type and get instant results without playing with the configuration. Also, it is not recommended to use this app while streaming any audio or video content as it causes an audio delay of 35ms.
Link to Download: Viper4Windows
Also Read: Best e-Pub Readers for Windows PCs and Tablets.
Equalizer PRO
It supports 10 bands of frequencies to adjust the sound according to the requirement. You get a pre-amp volume control; this is to change the config of all the bands, and sound components at once proportionally.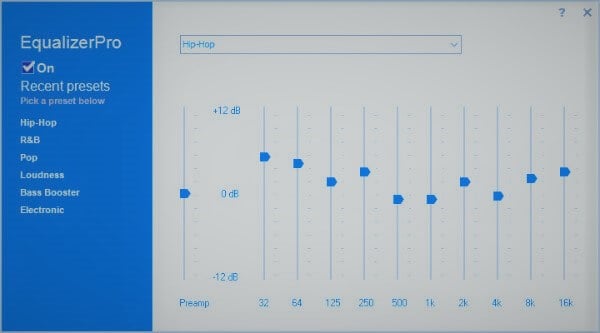 Users can choose from 20+ presets for sound according to the taste and surrounding. It also comes with Bass Boost effect. It is easy to install and configure, plus it also allows to save your own presets. You can get a free trial of 7 days to test this tool.
Link to Download: Equalizer PRO
Razer Surround
Razer Surround improves the sound experience by allowing the user to test the direction of sound from its origin. Users can change the level of incoming voice and set clarity for it as well. This windows equalizer is mainly required to improve the gaming experience.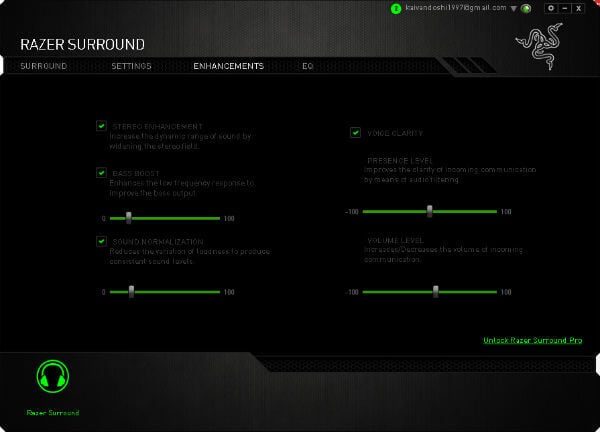 Razer Sound Equalizer comes with 11 different sound presets to adjust and gain more powerful audio. Music lovers can use the Bass Boost feature too. Please make sure that you have an active internet connection during installation. The basic version comes with stereo support. To use all the features, that comes premium and you have to pay for it.
Link to Download: Razer Surround
PC Equalizer
This PC Equalizer app comes with 10 and 20 Band Equalizer options. This Windows audio software comes with custom presets and users can also edit and save them accordingly. There is a Multi-Delay option to choose which sound comes first. This feature is useful to get a wide range of sound effects at once. It also supports left and right control channels to change audio output in real-time.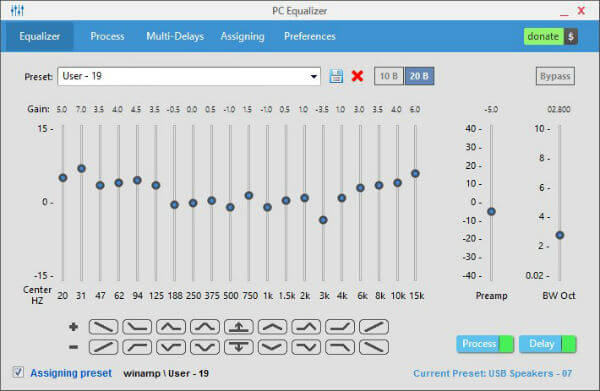 Moreover, you can choose this app to work with a particular app or any media player. The best thing is that this audio equalizer is an open source project and is completely free. This tool is made for professionals and if you are new to sound testing, it is a good choice to start going towards pro.
Link to Download: PC Equalizer
Also Read: 10 Best Dark Themes for Windows 10
Room EQ
With Room EQ, you can test sound quality according to a particular room and speaker size. Room EQ helps you to find a suitable location for excellent sound in a particular acoustic environment. You can generate test signals to analyze various sound components.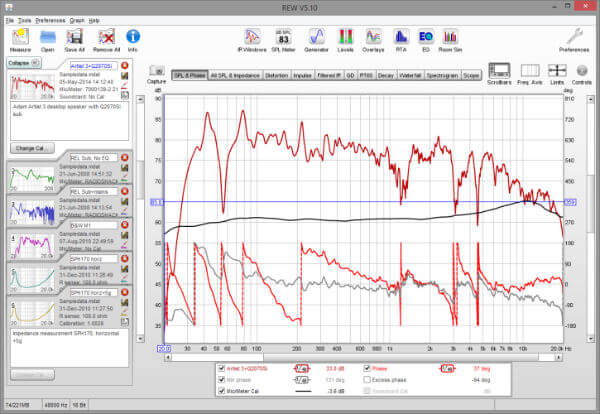 This software also displays a target curve for an ideal sound system for the room. Users need to make changes and try to get close to the curve for excellent sound performance. This Windows Equalizer needs a microphone or a mic to judge the audio effects. Please make sure that Java is installed on your system for this audio equalizer to work.
Link to Download: Room EQ
Best Audio Equalizers for Windows
For music to be perfect, it needs a lot of things, including an excellent sound configuration for the starters. Make sure that whatever genre you are listening, that sounds awesome in all the aspects. Use the Audio Equalizer for Windows to make sure that you get best out of your standard speakers.