We all have been there when we wanted to copy some content from one application to somewhere else and feeling extremely frustrated during the process of establishing it. The traditional method is to hold down the content and place the content you need to copy between two grabbers. Placing the grabber in the exact position you want to, is a real pain as the text sizes are always going to be of pinch size.
The frustration reaches the zenith if the particular application has disabled the option to grab the content altogether. This phenomenon is on the rise among apps as they are in a constant race with each other, that they don't want to be in common ground.
The loss is the end users' who gets caught in the middle of the app tug-of-war. The number of apps which cannot talk to each other is growing day by day.
[irp posts="28638″ name="6 Best Android OCR Scanning Apps to Convert Image to Text"]
The Garage, Microsoft's initiative to promote experimental ideas which produced Arrow Launcher, Sprightly etc. has produced another app.This particular app could be groundbreaking to the users' aforesaid issue, by launching Clip Layer.
Clip Layer has a simple to understand working methodology. It applies a universal overlay over any screen it is called on. You can select whatever information you want to copy by this method.
Step 1: Install Clip Layer App from Play Store
Once you complete installation of Clip Layer from Play Store you are required to change your Assist App to Clip Layer.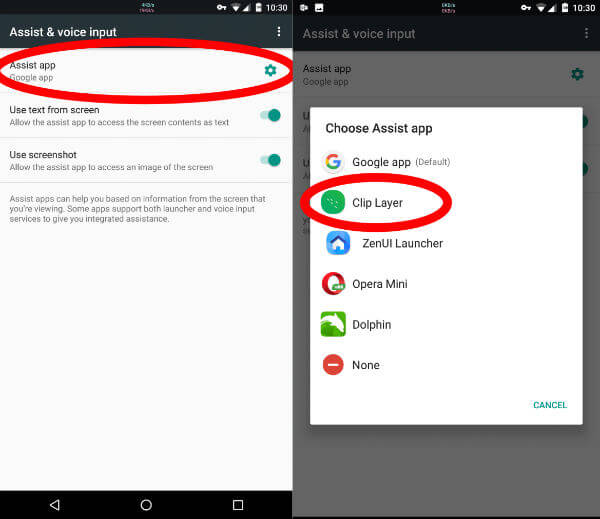 On most of the Android Devices, Google Assist is the default Assist app. You have to select Clip Layer as default, assist app by tapping on assist app and choosing Clip Layer.
Step 2: Copy the Content and Use on other Apps
Navigate to the page or content you want to copy. Hold down the Home button, till the Clip Layer interface appears. Touch the area/snip you want to copy. Now press Copy in the bottom left.
You can either open any app, as in the example above, and paste it there or share it to other apps or save to Wunderlist as a Task. A direct E-Mail option is also provided by the app developers.
The app is expected to streamline copying of text content across your social networks and apps, even if the native grabber has not given permission to do so. Steve Won, the developer of Clip Layer had previously developed Hub Keyboard in Microsoft's Garage platform which, according to him had made him familiar with the coding process required and the formalities involved in app development. Steve's previous product was to compose, while his latest product focuses on reproducing what already exists and sharing and reusing it.
[irp posts="33020″ name="These Android Apps Can Monitor Data and Limit Usage"]
The app has a great potential to become an essential tool for more users if it can iron out a few issues. The primary one being that the requirement to sacrifice Google Assist, which many users may not be willing to do right away. Secondly, the snip recognition will require improving in precision if it is to really replace the traditional grab method.