The word games are a source to hone your vocabulary skills. These word puzzles also entertain and serve the purpose of developing English skills. There are many categories in these word games such as puzzles, crosswords, word searches and more to discover. These are some readily available iOS and Android apps that monitor your concentration level and grasping power in the English language.
Here we have narrowed down the user choice of ample word games to some of the most useful, challenging and always the best-rated apps.
Work With Friends 2
Work With Friends 2, one of the best word puzzle game apps allows you to create correct words that have various progression levels. The gamer can start the play based on his choice either by challenging his friends or with predefined inbuilt programmed characters. With this Word Game, the gamer can even team up with fellow players to face challenges and earn badges.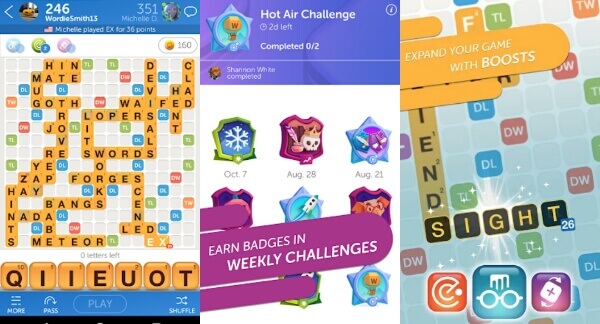 In case of any distraction caused by third-party ads, the gamer is given an option to subscribe to work with friends Pro or no third party ads. Stay current on frequent updates of the app by following it on Twitter and Facebook. Explore more modes of the game by choosing in-app purchases.
Download Work With Friends 2 for iOS | Android
Related: 7 Best Chromecast Multiplayer Game (with Android)
New York Times Crossword
The popular New York Times has created this Word Puzzle to make it easier for you to access crosswords from everywhere on Android and iPhone devices. This free word games bring you the crossword app one day in advance to the one published in the newspaper. Those who are looking for boosting up solving skills by taking up more crosswords from archived, this Word game for iPhone and Android is the best bet.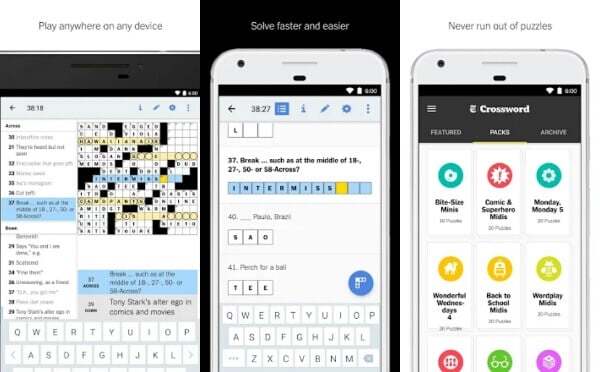 You can opt for mini puzzles when running out of time and select puzzle packs when adamant to solve in a specific subject. After a free successful 7 day trial, switch to monthly or yearly subscription to get unlimited access to crosswords.
Download NY Times for iOS | Android
Bonza Word Puzzle
Bonza, the Word Puzzle game, offers a unique type of puzzle that challenges the player to integrate the fragments of the crossword. While arranging the word pieces, Bonza provides clues to solve the crossword at a faster pace.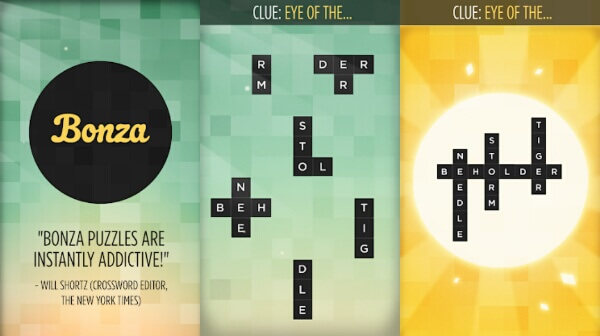 Bonza Word Puzzle Game let you choose and design customized puzzles convention by Bonza community or by the fellow players. The Word Game mixes word search, jigsaw and trivia to create something interesting and challenging.
Download Bonza Word Puzzle for iOS | Android
Related: 10 Pinball Games for Android Smartphones
4 Pics 1 Word
With a different goal and gaming methodology, this free word game app has off the chart followers and downloads. 4 Pics word game app works on the concept of guessing the word from action shown in 4 pictures.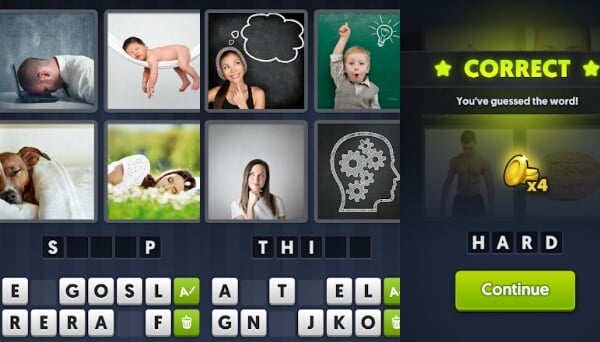 Gamers are attracted and addicted to the very new feature of 4-pic 1-word theory. With infinite puzzles popping up every day, the gamer can unlock new levels which makes it interesting.
Download 4 Pics 1 Word for iOS | Android
A Word Game
The abstract idea of word game is to search and trace out the word (with the provision of hints). The word is concealed within the pool of letters that are arranged in a hexagonal shape.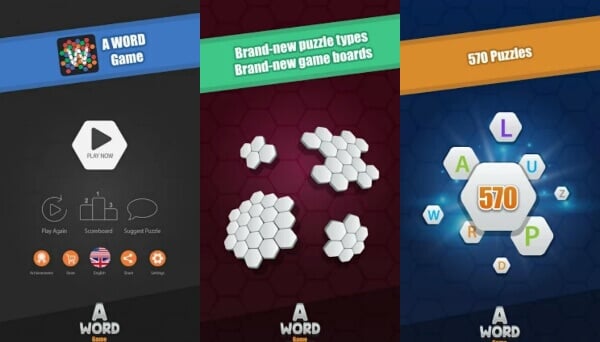 Somehow, word puzzle game provides a limited number of puzzles being generated on basis of subject selection. You can access the word game app offline (see a list of more Offline Games for Android) and without any purchases. Enhance your concentration to unlock more levels and grab badges by competing with fellow gamers.
Download A Word Game for iOS | Android
Related: 12 Best Vehicle Simulator Games for Android & iOS
Word Cookies
Isn't it mouthwatering to taste cookies? Yes, but control your taste buds and sharpen your eyes, master your mind to taste the cookies. The interface developed gives you a view of cookies being served into the plate. Word Cookies is one of the top word games for kids. The jumbled letters are placed in the shape of a cookie. The gamer serves them by framing or searching maximum possibilities of words from the letters.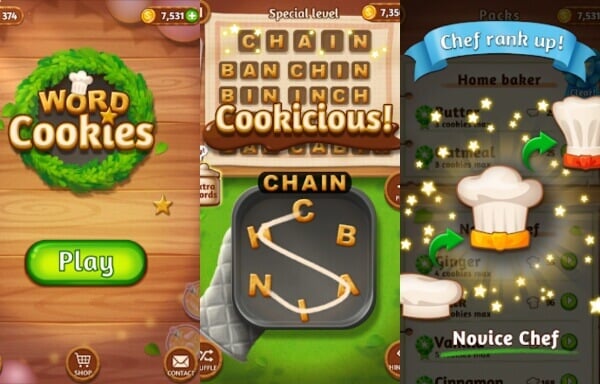 You can enjoy cookies by scoring more and by entering into more challenging levels. In addition, the player can access Word Games offline and unlock infinite levels with ad-free advantage gained from purchases.
Download Word Cookies for iOS | Android
WordBrain
This brainy game challenges the gamer to locate the word from letters placed in grid form. You can swipe the word and step into next level with this Kids Words game. As it seems easier at first, the WordBrain gradually gets harder on entering further levels.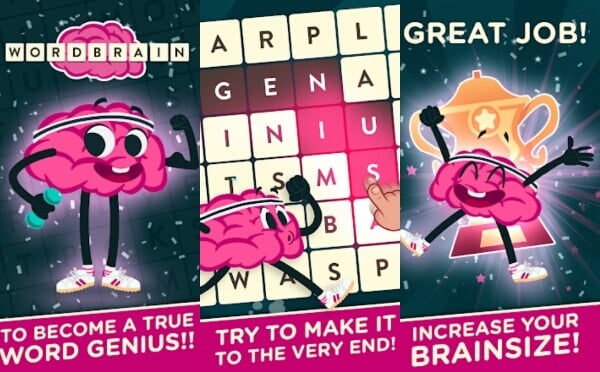 Arduous puzzles are posed in front of players to test their caliber. This Word Puzzle Game is available in 15 languages and boasts itself as being the smartest word game.
Download WordBrain for iOS | Android
Wordfeud
Wordfeud is a game that allows 30 simultaneous games to be played and saved at a time with different opponents. The features include customizing interface, choosing an opponent, selecting language option, chatting with opponents, etc.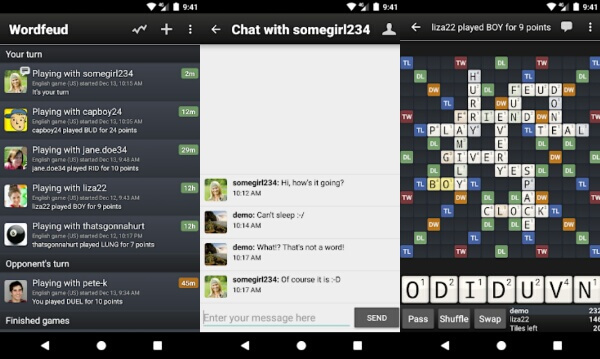 Constructing words of your choice and fighting against your opponent are some of the additional features provided by Wordfeud. Multiply your chances of scoring by constructing words near to double letter, double word, triple letter, and triple word tiles. Follow Wordfeud on Facebook and Twitter to get frequent updates.
Download Wordfeud for iOS | Android
Word Search
As the name indicates, this word search game lets you search for the words given by the app in all possible directions. Swipe your finger through the letters in the grid and see the words you traced out being highlighted in different colors.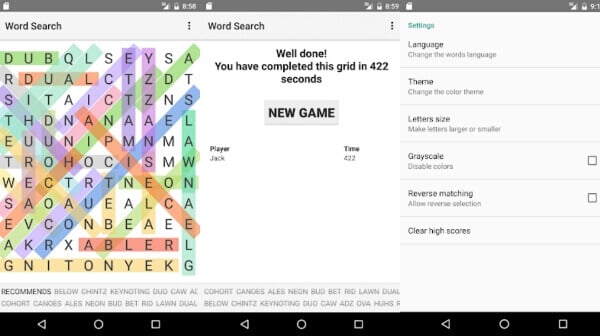 With this Word Puzzle Game, you can complete the word search, score high and use them to get more hints. This app also allows in choosing your own language, theme and letter size. It is compatible only with Android devices with no in-app purchases.
Download Word Search for Android
Related: 12 Best MMORPG Games for Android
Words Crush
WordsCrush is a simple and easy word game that lets you swipe through the letters to crush the word. You can swipe in any direction to trace the word. Moreover, size of the word is indicated below the grid to hint the gamer.
Although with an indication if you are unable to find out the word, opt for clues to make it easier in further levels. As there are five modes to unlock, you can try to crush the word with minimum swipes and collect medals by crossing all modes.
Download for Words Crush iOS | Android
Scrabble
Master the word games easily by attempting scrabbles. Scrabble can play as a single player or find a random opponent by connecting to them on FB. With Scrabble word puzzle, you can improve word formation skills and score under the guidance of a teacher.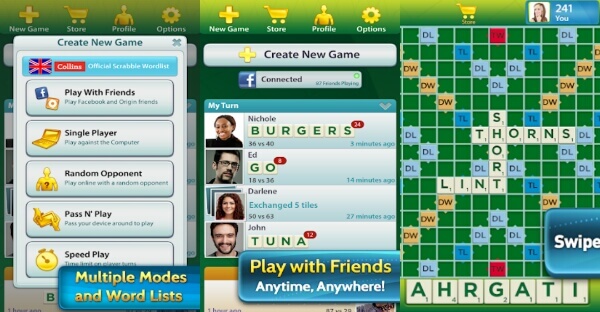 Play faster through speed play mode and try not to unlock the nudge and forfeit options. Better, provide an option to stop ads which will be helpful.
Download for Scrabble iOS | Android
Alphabear
With cuteness overloaded by bears, the Scrabble puzzle game is lovely to play. This word puzzle let you spell words or press on letters to form a word and claim maximum points possible. Although there are in-app purchases, it has no recent updates and word formation level is not so difficult to crack.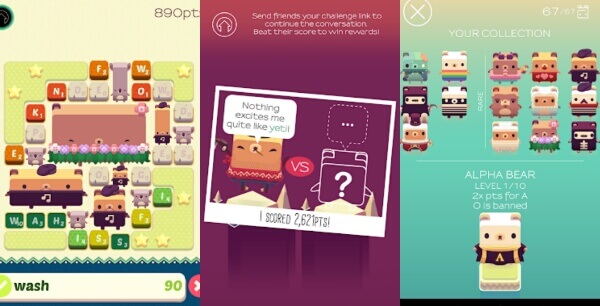 With Alphabear, the more words you find, you unravel more variety of bears. You can participate in challenges with friends and beat them to earn rewards. With Scrabble-style gaming strategy, you can aim at unleashing a masculine and bigger bear at last.
Download Alphabear for iOS | Android
Are you whiling away your time that could worth a small activity? So better get into a recreational activity named word games. Even you are a gamer or you have kids those want to improve the vocabulary. The above-listed word games can be tried for your kids or for Adults to improve their language skills. Never to hesitate, some of these word puzzle games can be played offline which makes them very convenient to play anywhere. The online games are built with an attractive user interface with more options to explore. Have fun and enjoy your time with these word games and improve your skills and master in the language.