As far as we know, Windows 10 dark theme is very much asked feature in Windows 10. When Windows 10 was released globally, the most attractive personalization option was its color perks. At first windows 10 came with two themes, Dark & Light, which caused some of the native apps, such as the Settings App to had black colored UI. Since this far, Microsoft made a lot of UI changes, including Accent colors, though they did not make it up, a total dark UI. In curiosity, Developers made their own Dark themes which transform the whole windows 10 environment into the dark.
Let's go through those gorgeous Dark themes starting from the Default Windows 10 Dark theme.
Editor's Note: It is advised to create a restore point before trying the third party themes on your Windows and do it on your own risk.
Windows 10 Default Dark Theme
It is the one that I mentioned in the introduction. After applying this dark theme from Settings app, all native apps will appear in dark theme UI. It is only applied to those apps which support Windows 10 Dark theme by default. All of the factory apps support this dark theme, though this dark theme cannot change your Windows Explorer into the dark. Here is how to apply the default Dark theme on Windows 10 Version 1803.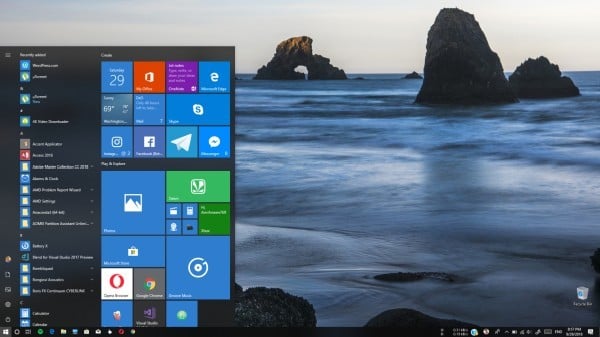 Open Windows Settings. Click Start. On the left sidebar, click on the spinning gear icon. Now click on Personalization in the next screen. Then in the Color tab, scroll down to see "Choose your default app mode". Below that you have to choose a choice, whether dark or light. That's all, you've done it.
This Windows 10 theme has some limitations though. No third party apps other than from the Windows Store can't have this dark theme applied. Even for the apps from the Windows store also needs the Dark theme support to reflect the changes.
Also Read: Schedule Night Light in Windows 10 to Protect your Eyes
Nocturnal W10 Dark Theme
Nocturnal Windows 10 theme is titled as one of the best Windows 10 Dark themes yet. It comes with nice dark UI to feel you much better than the default one. This theme is not compatible with the oldest versions of Windows, Windows 7 or Windows 8 & 8.1. W10 Dark Theme is having full compatibility only with Windows 10. You will not notice any lag using this theme to tweak your UI. It offers you very fast and cleans UI. This theme transforms your Windows' every UI element to a dark flavored one, from File Explorer to the whole.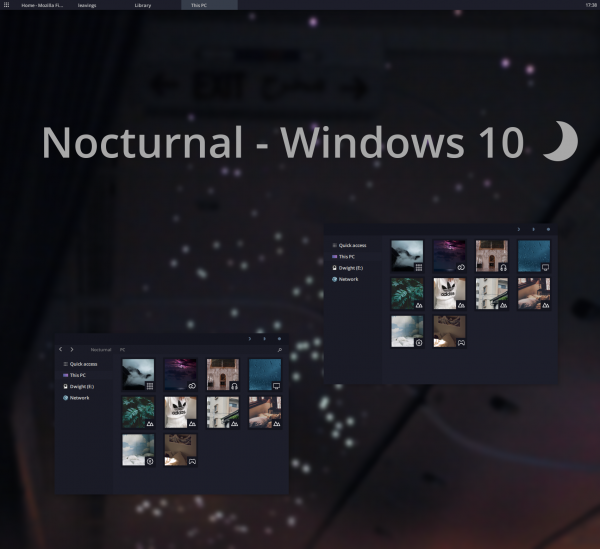 It's not that easy to have the Nocturnal windows 10 dark theme on your PC unless you install some third-party applications. Once you download them all, you can follow the Deviantart's theme installation guide.
Also Read: How to Get Night Shift Feature for Windows and Mac OS
Also, you have noted that this theme uses Sans Semibold as the basic font. If you don't install the specified font, you will not be able to feel the most out of your Nocturnal Dark Theme.
Nocturnal Dark Theme Links: Classic Shell | UXStyle | Win Aero | OldNewExplorer
Guide to install: Nocturnal Windows 10
After Dark Cyan Theme
After Dark Cyan is another Dark theme that targets the threshold2 windows 10 release build 10586. This dark theme gives more customization for Windows 10 UI. This theme also covers the whole environment with Dark and Cyan color combinations. It's free as well as free of ads. Here also we need a tweak tool PatchUXStyle so that you can install or personalize the theme later.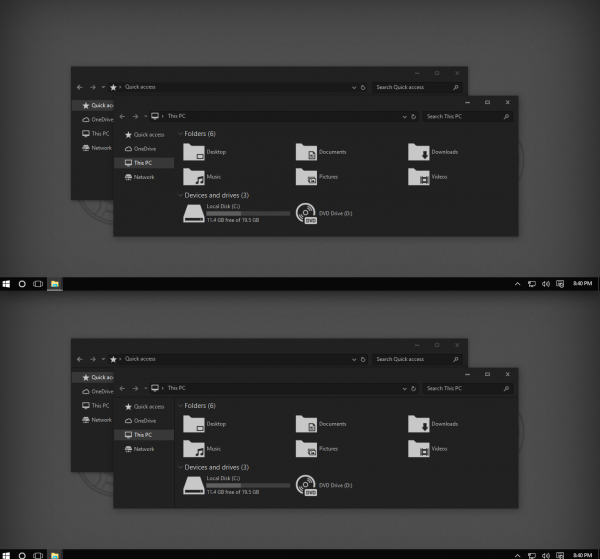 The theme appears just like an all-new-interface with fluid experience as it is optimized best for the Windows 10 November Update. Descriptive installation guide is available at the download website. Please go through the readme file for successive installation of the theme. The freedom of personalizing the theme using PatchUXStyle gives you the best of the experience.
Guide to Install: After Dark Cyan
Penumbra 10 Dark Theme
Penumbra Dark theme is a perfect suit for those who want minimalistic darkness on their Windows environment. This dark theme prefers neutral dark colors to show off the minimalistic dark look in simplicity. Penumbra looks very simple as well as easeful for viewing. It is not that easy to install this theme too.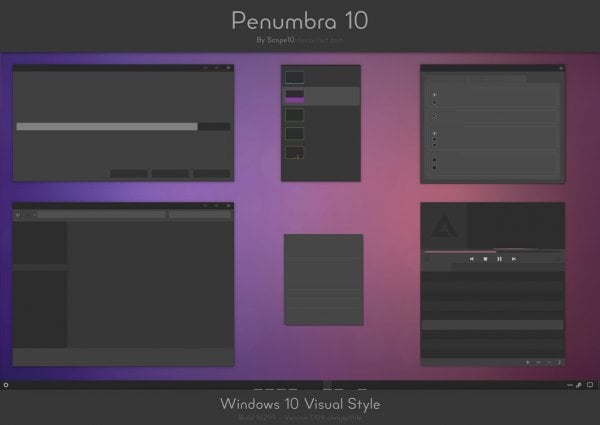 Here also you will need to install the tweak perks. This theme also suggests its own font for the complete experience, the Open Sans. After performing all these, you can follow the installation guide given on the below link.
Guide to install: Penumbra 10 Dark Theme
GreyEve Theme for Windows 10
First of all, I should tell you, this theme is not completely dark. Also, it doesn't allow you to customize it for your ease. The theme possesses little grey color with high contrast. If you are familiar with high contrast grey UI, you can go for GreyEve, because some apps may look very different.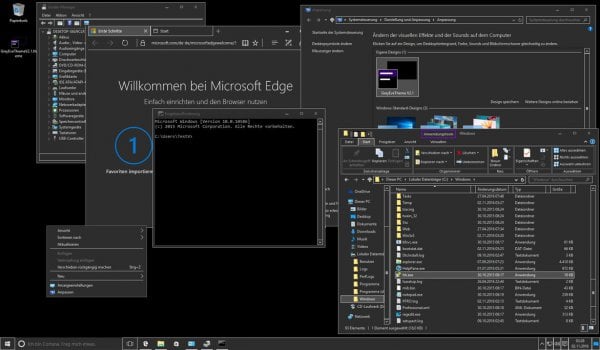 Installation of this theme is very simple. Just download the theme zip and double-click the theme file. You are done. Though the Theme developer himself recommends you some fixes for your ease. The download and Installation Link is given below.
Guide to install: GreyEve Dark Theme
Grey10 Dark Theme
Grey10 Dark theme is one of the best looking dark & Grey theme which has a completely gorgeous look if used with correct color combinations. This one also is not a darker theme. Installing this theme is a bit tricky as it uses some third-party apps that you might be familiar with the above themes.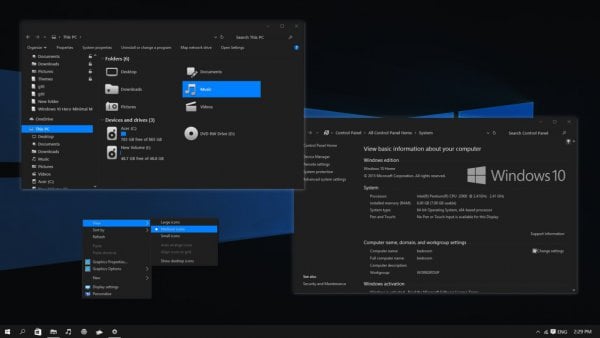 Grey10 also uses UXStyle patcher, OldNewExplorer, etc. to work great. Also, Grey10 tweaks your taskbar using another app, Taskbar Color Effects. Go to the link below for the detailed installation of this theme. All that you've done are at your own risk.
Guide to install: Gray10
Ades Dark Theme
Ades Dark Theme is another best-looking theme in Dark themes for Windows 10 category. This windows 10 dark theme is also not a complete dark theme. It has some light dark and greyish attributes to make it attractive. The UI will contain a variety of color combinations such as soft blue, green, grey etc. Installation of this theme looks easy, though you have to take good care about it.
Ades Windows 10 theme is provided for different versions of Windows from threshold2 10586 build to version 1709. It is must to follow the correct folder to copy it to the system unless your system will fail. And it is compatible only with the Windows versions in the above range.
This dark theme also needs you to patch your system with UXStyle, the link is given in the Guide. Also, the developer suggests a fix to overcome a bug, causes the theme to fail to show correct color combinations after a Windows Sleep.
Guide to Install: Ades Dark Theme
Hover Dark Aero Theme
Hover Dark Aero theme is a sleek looking dark theme with much more extensibility. It is very modern and elegant theme, eases out your eyestrain looking onto a dark screen for a long time. It creates an overall distinct experience with its Aero theme. Complete darkness and little translucency make the Hover Dark Theme look delightful. This theme comes with a new title bar and menu bar for Windows 10 in the file explorer.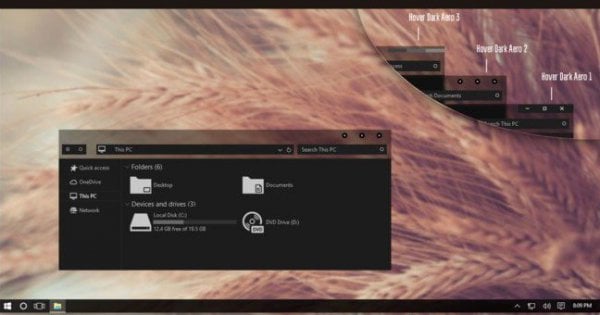 Hover Dark Theme also has its own icon pack. This one also wants you to install PatchUX Theme app to go with the setup. It has some wide variety looks, such as a bright theme too. Further, this will be on the installation guide awaiting you.
Guide to install: Hover Dark Aero Theme
Nost Metro Dark Theme
Nost Metro Dark theme is only spotted for the three Windows 10 Versions, Anniversary update, Version 1703 & Version 1709. this Windows 10 dark theme is actually a two in one theme, which offers you both dark and light UI tweak.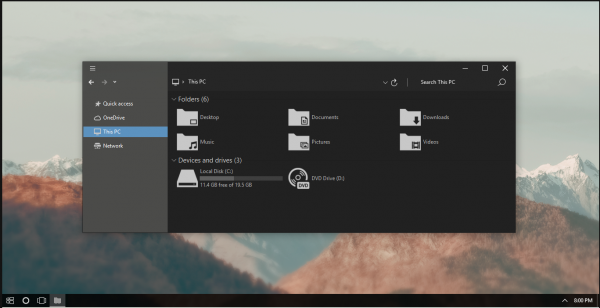 This Windows 10 Dark theme provides you with an elegant and user-friendly atmosphere with its true black color contrast. It allows you to switch between Dark and Light color themes, on your preferences. This theme also uses the PatchUXStyle app to customize its interface, just like some previous ones. And the installation procedure will be detailed in the theme website given below.
Guide to Install: Nost Metro Theme
Hatspy Windows 10 Dark Edition
Hatspy Dark theme is the last best dark theme for Windows 10. This theme provides you with an elegant dark and light grey colors combined together to have a great feel. Hatspy also comes with an icon pack, as well as different tweaks for the UI components in Windows 10's Desktop.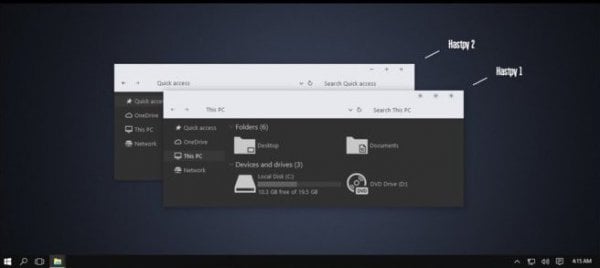 Hatspy also offers you to install the PatchUXTheme app, so that the theme can be applied to your System. Installation of this theme is described in the guide below.
Guide to install: Hatspy Dark Edition
Best Dark Themes for Windows 10
We've got a couple of best dark themes that suit the 'Dark' need of users, in one way or another in Windows 10. It should be noted that these themes are very specifically designed for different versions of Windows 10. That is from Windows 10 Version 1507 to Windows 10 Version 1803, these themes have distinct compatibility.
Even though Windows 10 Theme engine has some limitations to provide a complete dark UI to the users, developers are thriving to mold themes that are changing the experience of using native Windows 10 UI. And that is all about the Best 10 Windows 10 Dark Themes. Hope you all enjoyed the themes. And have fun. Stay tuned.