The new Material You is the next step in the evolution of Android's design language. It lets you switch the phone's theme color based on the wallpaper you set, which makes your phone's interface vibrant. There aren't many Material You apps around at this point in time though. However, there are many apps that are switching to Android's new colorful theme.
Let us look at some of the best Material You apps that are available to use on Android phones at the moment.
Google Apps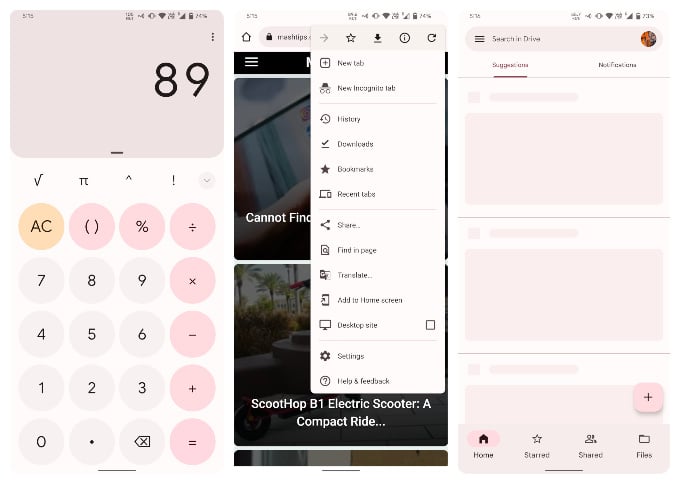 Let's start with the obvious culprit. Google makes Android, and it is the one that developed the Material You design language. It naturally follows that all Google apps will follow the guidelines Google expects others to follow. At least, that is what you would expect in an ideal world. Unfortunately, not all Google apps are Material You apps. A big and obvious example is the YouTube family of apps. The same if true for the Google Play family of apps such as Play Store, Play Games, Play Books, etc.
Most of the commonly used Google apps do follow the design language, though. This list includes Search, Maps, Chrome, Duo Drive, Gmail, Photos, Keep, Google TV, Meet, etc.
Download: Google Apps (Free)
KWGT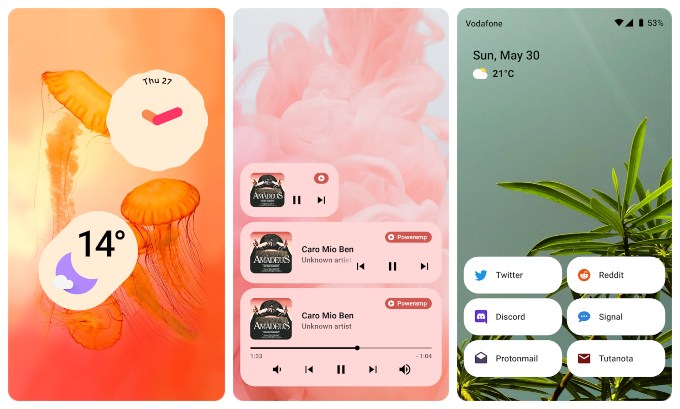 KWGT is one of the most popular apps on Android for Android enthusiasts. The app itself does not really adapt to the Material You color scheme. However, KWGT is more than an app, it's a platform for widgets. And there are plenty of KWGT widget packs available for KWGT that can give you some beautiful Material You widgets as well as other styles. If you're not familiar with KWGT, you can follow this link, and we'll tell you all about it.
Download: KWGT (Free)
Infinity for Reddit
There are many great clients for Reddit on Android, and all of them have something going for them apart from several great features. For the time being, the Material You theming can be the selling point for Infinity. Infinity for Reddit, as the name suggests, is a Reddit client. The app is simple, and supports useful features such as multi-account login, automatic light and dark themes, auto scroll, etc.
If your Reddit client felt a bit out of place on Android 12, Infinity for Reddit even follows Android 12s Material You color scheme. You do have to manually enable it in Settings > Theme.
Download: Infinity for Reddit (Free)
Pix Material You Icons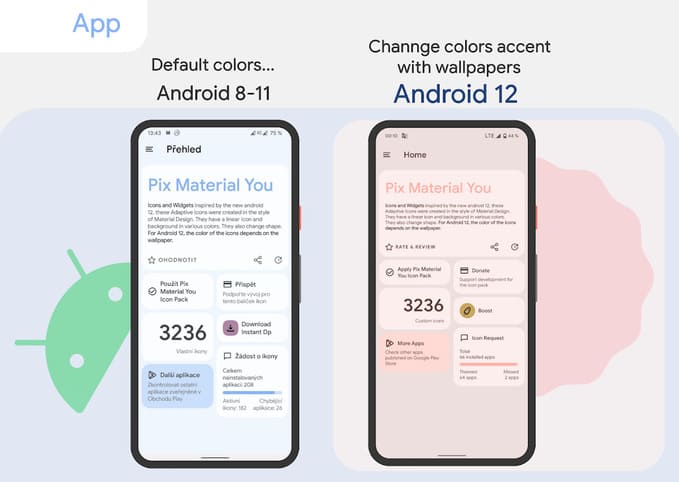 As you can guess from the name, Pix Material You Icons and Widgets is an icon pack. The Material You icons even adapt to your wallpaper, although you do have to manually reset them each time. The app itself follows your device's color scheme. There are even a handful of widgets in the app that also follow your wallpaper's colors, just like the Material You widgets from Google apps.
The only problem is to use the icon pack, you may need a third-party launcher. That's because the stock launcher may not allow you to apply icon packs. You can still use the widgets on any launcher, however.
Download: Pix Material You Icons and Widgets ($1.99)
Pix Wallpapers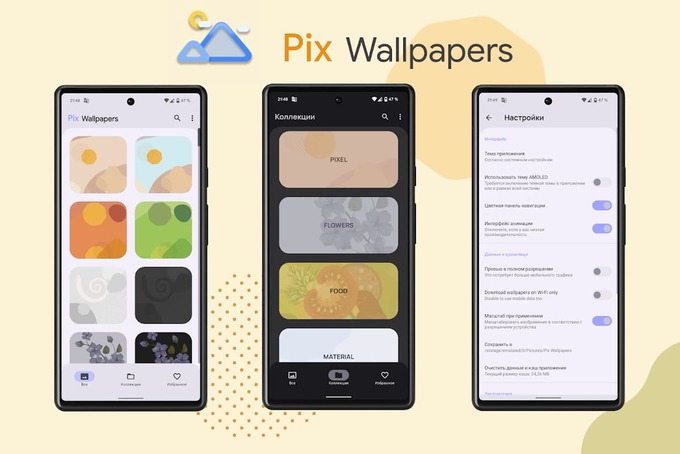 Again, you can probably guess from the name that Pix Wallpapers is a wallpaper app. And yes, it is by the same developer who brought us the wonderful Pix Material You Icons. The reason it isn't named Pix Material You Wallpapers is that the app is not limited to just Material You wallpapers. There are several categories to choose from, and most wallpapers have both light and dark versions available.
Download: Pix Wallpapers (Free)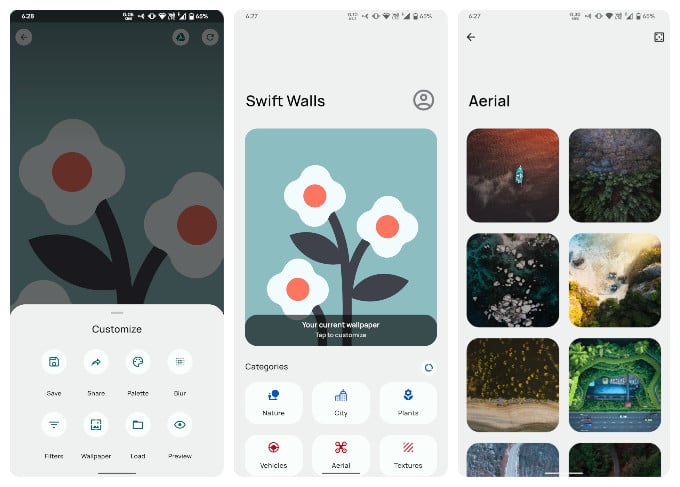 This is another wallpaper app and it makes sense. This is a list of Material You apps, which means the focus is on design and colors. And that's exactly what good wallpapers focus on. Not only does Swift Walls emulate the Material You theming in the app, it also somewhat emulates the Styles & wallpaper app on Android 12 on Google Pixel devices.
Other than that, it works like a regular wallpaper app. There are several categories to choose from, filters to apply, and you can preview wallpapers before applying. It also packs in some wallpaper editing features.
Download: Swift Walls (Free)
Tasker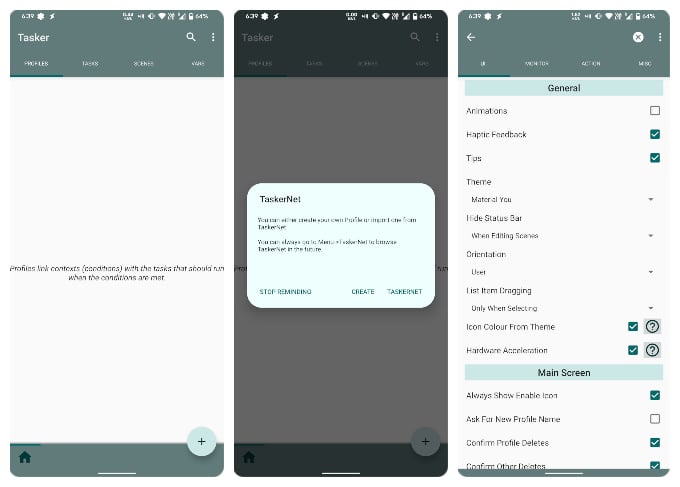 Typically, design and theme is the last thing on the minds of developers of an app like Tasker. Like KWGT is a platform for widget creators, Tasker is an automation platform in itself. The learning curve is a bit steep, but you can do some really amazing, silly, stupid, useful, and crazy things with Tasker. Being one of the few Material You apps is just another thing that Tasker does now. Not only that, Tasker can also extract the colors from your wallpaper to let you do other crazy things with it.
Download: Tasker ($3.99)
The list of Material You apps out there in the wild is likely going to increase a lot more in time as more and more apps get updated. Clearly, this list too does not include all the apps with Material You theming that are available on the Play Store. Some Material You apps actually are not available on the Play Store, like the beta version of Niagara Launcher. But you can find the official APK on their website.