The Camera Drones are coming with the professional build quality. Phantom 3 drone is coming with a high-end camera to capture the details from the sky. There are certain things keep in mind when you shop for professional drones with a camera. The first thing is the price, where the baseline would be around $500. The camera quality is another factor to be considered for aerial photography drones. The Drone Smart Control, Auto Mode, Battery Backup time are the other factors to consider while shopping for professional drones for photography.
Most of these professional high-end drones are ready-to-fly out of the box and built with the feature return-to-home and at last 15 minutes battery backup. We listed the best camera drones for professionals ideal for aerial photography and video.
DJI Inspire 1
DJI Inspire 1 offers a 360-degree camera rotation capability makes the best drone with a camera, which is ideal for an unrestricted view of the world below. The camera system and 3-axis gimbal of this drone are removable, which is suitable for safe transport.
Zenmuse X3, Zenmuse X5, Zenmuse X5R, and so on are the cameras compatible with this drone. The dual positioning system (GLONAS + GPS) provides higher precision. There is provision for one-touch takeoff/ landing. The controller comes with dedicated buttons for photo and video capture, dials for gimbals, camera settings, and so on.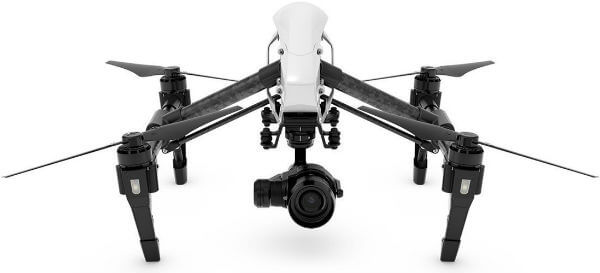 This DJI drone has a dual operator mode. This allows one person to take control of the flight while another person controls the camera system. The drone can spin all the way around. Beginners can use the built-in flight simulator for practice purposes. One of the specialties of this drone is intelligent power management.
The Inspire 1 is also equipped with an algorithm to calculate the distance of the drone and estimated time to return, making it possible to notify when to call back the drone. Regarding accessories Inspire 1 packs lens filters, extra battery, and a deluxe bundle.
Key Features: Good for photography & video recording | Camera Resolution: 12MP | Video Resolution: 4K at 30FPs | Maximum Flight Time: 18 min | Maximum Speed: 49 mph
DJI Phantom 4 Drone
Phantom 4 has a promising battery life, which offers up to 28 min of flight time. The Phantom Drone has an obstacle avoidance system which adds to the security of the drone. The lens of this professional drone is newly designed and offers a clear and crisp video.
DJI packs a flexible shock mount and comes with multiple flight modes such as Position mode, Sports mode, and Atti mode. The Position mode allows usage of satellite and Vision Positioning, Tap Fly, and Active Track. Agility and speed are boosted in Sports mode. Atti mode helps to hold the altitude of the drone.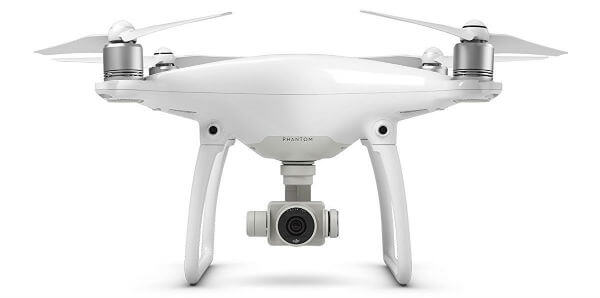 Phantom 4 Video drone has an improved Vision Positioning System (VPS), which helps to hover even in the lack of satellite positioning. Each of the four legs of the drone is equipped with obstacle sensors, these sensors aid in obstacle avoidance function. Phantom 4 drone has the ability to tilt up and down, but cannot spin all the way around.
The drone automatically logs details (route, duration, distance, and speed) of every flight. There is an active braking system to bring the fast-moving drone to a halt. An interactive flight simulator is provided for beginners. There is a beginner mode featured, which limits height and other attributes of the drone to the skill level of a beginner. The accessories are coming with Phantom 4 extra battery, charging hub, quick release propellers, and lighting kit.
Key Features: Good for Photography and Cinematography | Camera Resolution: 12MP | Video Resolution: 4K at 30FPS/ 1080P at 120FPS | Maximum Flight Time: 28 min | Maximum Speed: 45 mph
Related: Professional Drone Buying Guide- Best 8 Features Should Know
DJI CP.BX
DJI CP.BX is a professional film drone, coming with two separate cameras. One hung beneath the drone, which offers 360-degree camera rotation. The other one mounted on the front of the drone; this provides a better view for the pilot. CP.BX drone also comes with dual operator mode and has a dual-battery design with a capability of obstacle avoidance.
This video drone also has multiple flight modes. The Spotlight Pro mode can use with a single pilot to create complex and dynamic shots. Other modes are TapFly and Active Track. The drone also comes with a return to home function.
Key Features: Good for Professional Film | Camera Resolution: 30MP | Video Resolution: 5.2K at 30FPs/ 4K at 60FPS | Maximum Flight Time: 27 min | Maximum Speed: 69 mph
DJI Mavic Pro
DJI Mavic Pro is small in size, which makes it an easily portable drone. The portability does not compromise its performance. This too comes with an obstacle avoidance system. DJI has a strong operating range (4.3mi). To calculate the current location and speed of flight for increasing the positioning accuracy of the drone dual forward vision sensors are provided.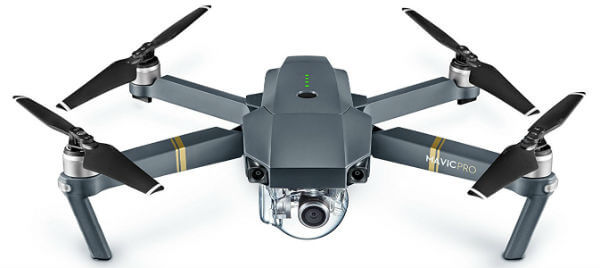 This professional drone requires a Smartphone to operate. The accessories include lens filters, extra battery, extra propellers, travel bag, car charger. The Gesture mode is a cool feature of this aerial photographer. This feature allows a person simply wave and the drone will then follow that person. Tripod mode reduces maximum speed to 2.2mph and brings down the responsiveness, suitable for shooting indoor.
Key Features: Good for Photography & Video Recording | Camera Resolution: 12MP | Video Resolution: 4K at 30FPs | Maximum Flight Time: 27 min | Maximum Speed: 40 mph
Yuneec Typhoon H
Yuneec Typhoon is one of the best drones for photography. This camera drone is a high-quality aerial photography drone suitable for recreational and business purposes. Yuneec is a hexacopter, which has six rotors and the camera is a 360-degree Gimbals camera.
The sonar sensors integrated with the drone enables obstacle avoidance. The Point of Interest is a feature that allows selecting a subject, and then the drone will orbit that subject. The controller of this aerial photography and video drone is Android-based, with a 7-inch display. Extra battery and hardshell backpack are accessories of this drone.
The professional drone is featured with some modes such as Journey mode, Follow me and watch me. In Journey mode, the drone will go out and up to 90m and take a selfie. Follow me mode makes the drone move along with the pilot. Watch-me-mode is Follow me mode with the camera pointed towards the pilot. The No Fly Zone feature prevents drones to be used in restricted areas and heights.
Key Features: Good for Photography & Video Recording | Camera Resolution: 12.4MP | Video Resolution: 54K at 30FPs | Maximum Flight Time: 25 min | Maximum Speed: 43.5 mph
Holy Stone F181
F181 is considered the best beginner aerial photography drone, one of the cheap drones with the camera. This low-cost camera drone is customizable to 4 levels of expertise, ranging from low to high. The handling sensitivity of drone increases, as the level, goes up. There is an altitude hold feature in the drone which holds drones place in the air.
The range of the drone is about 100m. The drone can do flips in 4 ways in left, right, forward, and backward. 360-Degree continuous roll for perfect action and incredible performance. The headless Security system of the drone helps in withstanding the wind and thus preventing flying backward.
Key Features: Good for Photography | Camera Resolution: 2MP | Video Resolution: 720P | Maximum Flight Time: 8min | Maximum Speed: 20 mph
GoPro Karma
GoPro Drone is a foldable easy to carry aerial photography drone. The GoPro Karma is compatible with two GoPro cameras; Hero 4 and Hero5. This Professional Drone is coming with four rotors and also can be converted into a handheld grip.
Users can specify no-fly zones in these drones, and the drone can stay out of those regions. There is a flight simulator for the starters to try the flying modes before start with real flying experience.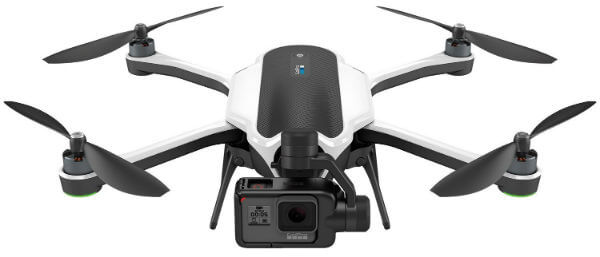 As many other aerial photography drones, Karma also packs some flight modes. Drones have a selfie mode, where the camera of the drone will be locked to the user the entire time. To make the drone fly along a fixed path the Cable Cam mode can be used.
In Orbit mode, the drone will follow a circular path while locking the camera on a subject. Users at any skill level can shoot a dramatic shot using Reveal mode, in which the drone will stay close up to a subject then pull away.
Key Features: Good for Video Recording | Camera Resolution: 12 MP | Video Resolution: 4K at 30FPs | Maximum Flight Time: 20 min | Maximum Speed: 35 mph
Autel X-Star Premium
X-Star premium is hard to be lost in the sky due to its tangerine color. Its lens can capture 108 degree wide images. The drone has three autopilot modes that ensure safety. The beginner mode ensures ease of use for beginners.
There are two customizable battery failsafe in this drone. Thus the user can set the drone to return when the drone is either at 25% power or 10% power. The drone comes with six batteries, a charger, and extra propellers. Autel X-Star can stream HD Live View up to 1.2 miles away with a free Starlink app for iOS or Android.
X- Star has hands free hover functionality. The drone will stay hovering as soon as the hands are removed from the control buttons. securely is a mode in which the drone attains the capability to withstand the wind and magnetic interference, and stay on its course.
Key Features: Good for Video Recording | Camera Resolution: 12 MP | Video Resolution: 4K at 30FPs/1080P at 120FPS | Maximum Flight Time: 20 min | Maximum Speed: 35 mph
3DR Solo
3DR solo is compatible with multiple models of GoPro cameras, but it does not have a camera out of the box. The mounted camera will work as a single entity. It can calculate flight, take off and land itself after an area of interest is selected.
3DR Solo can stream HD videos from GoPro direct to iOS/Android devices. There are automatic camera controls for cinematic shots. Regarding the speed, this aerial photography tool beats its competitors, with a maximum speed of 55mph.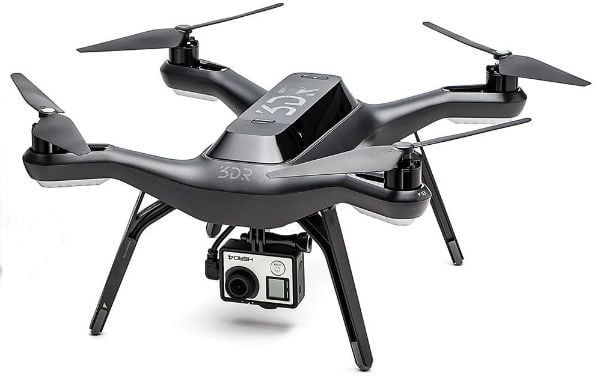 Overlay Data is a unique feature where the user can set up drawings in the area of flight. Multiple flight modes such as Orbit to fly in a circle by keeping a radius, Selfie, Follow Me and Cable Cam is available. The Safety Net mode limits the range and altitude of the drone.
Key Features: Good for Photography & Video Recording | Camera Resolution: NA | Video Resolution: NA | Maximum Flight Time: 25 min | Maximum Speed: 55 mph
Holystone HS200
HolyStone HS200 is similar to F181 in many ways. This drone too has an altitude hold function, that allows the drone to keep hovering at the current height. The range is around 100m. The smartphone app is available for free to control the drone from your palm.
The drone can do a 3D flip, and multi-axis gyro offers extra stability for easy handling and 360° flips. Four modes of speed are available with One Key Return Home Function. You can pair the RC drone with your Smartphone to stream a live video and or photo while flying. The drone can fly in headless mode, in which the drone will fly in the direction of the transmitter instead of nose direction.
Key Features: Good for Photography & Video Recording | Camera Resolution: 2MP | Video Resolution: 720P | Maximum Flight Time: 9 min | Maximum Speed: 20 mph
The professional drones have multiple applications such as aerial cargo, surveying/ mapping, monitoring, search and rescue, aerial video, and photography. With 4K/HD Cams and the powerful drones, aerial videos and photography have gained popularity.
The ability to see from a different point of view is what attracted many to aerial photography and video. Aerial video and photography drones are not limited to professionals. Hobbyists, hikers, and travelers also make use of aerial photography drones. This paved the way for the manufacturing of a variety of drones.
When you shop for professional drones, the camera quality is not the key factor. You can have other drone features like hovering, 3D Flip, headless mode flying, one key home return, are the additional flavors you may need on your next drone in addition to the camera and picture quality. We listed the best Professional Camera Drones for Aerial Photography and Videography that can bring excellent footage.