Google Forms is a great free tool that lets users create Forms that people can distribute and answer online. While google forms are great in their own way, you might notice that it does miss out on a certain number of tools and features that many users wish they could use right away.
If you are a Google Forms user, you can check out these add=ons to help improve the overall experience of using Google Forms.
Install Add-Ons In Google Forms
The most attractive feature of these add-ons is that they are simple to install and free to use (though some require a purchase after the free trial). Additionally, these add-ons are only linked to your Google account, so you can use them on any PC as long as you are logged in with the same account.
Snip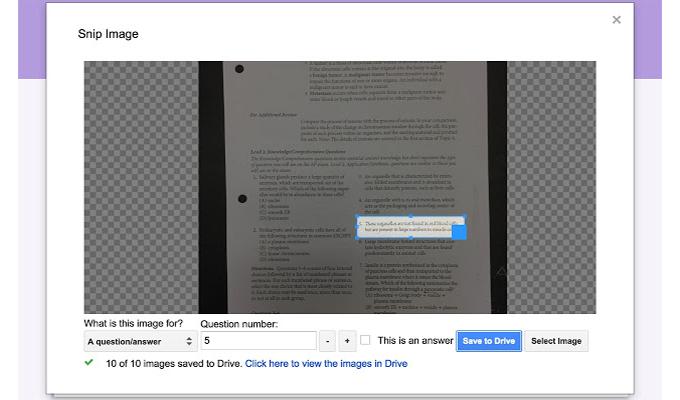 Snip is a great add-on tool for Google Forms that help form creators easily add questions from a book that has been digitally scanned into your Google Form. You can easily crop a section of the image and then easily insert the image into Google Forms with ease.
Key Features: Crop and Insert Images Into Forms | Crop Image To Any Size | faster Than Recreating Diagram or Typing Out The Question
Install: Snip
Form Notifications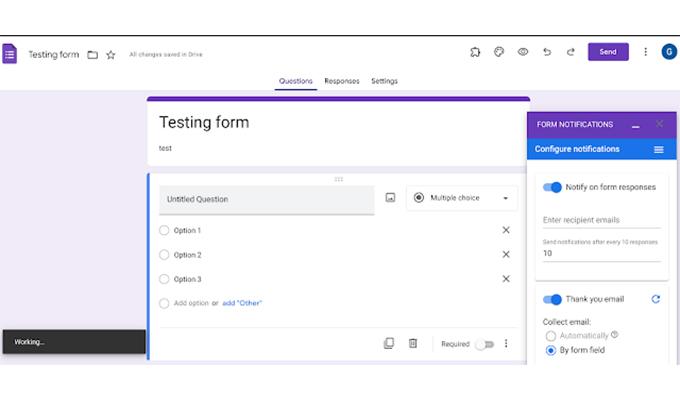 Google Forms is great. However, it lacks the option to receive notifications for a form when one is either being submitted or being modified by the owner. With the Form notifications add-on, you can easily get email notifications when a user submits the form or when the editor of the form makes a few changes to the form itself. You can receive notifications with this add-on by simply switching a toggle on.
Key Features: Receive Form Submission Updates | Form Edit Updates | One Toggle To Receive Notifications
Install: Form Notifications
Choice Limiter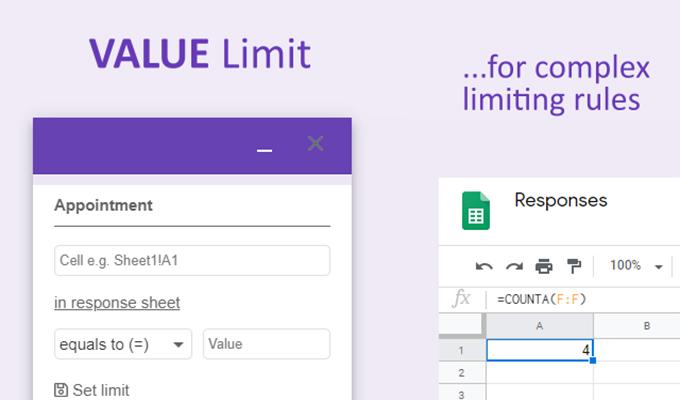 Choice Limiter is a great add-on for Google Forms that helps you to eliminate options from a particular question after a certain number of responses. You can set the choice limit for the different options for a single question itself. Also, you can display a message for a particular question that it is no longer receiving responses from that question anymore. This helps you to easily study and understand the responses that you have received from the users.
Key features: Add Choice Limits To Each Option | Display Messages To A Particular Question | Receive Email Notifications | Easily share Values Into Google Sheets
Install: Choice Limiter
Form Approvals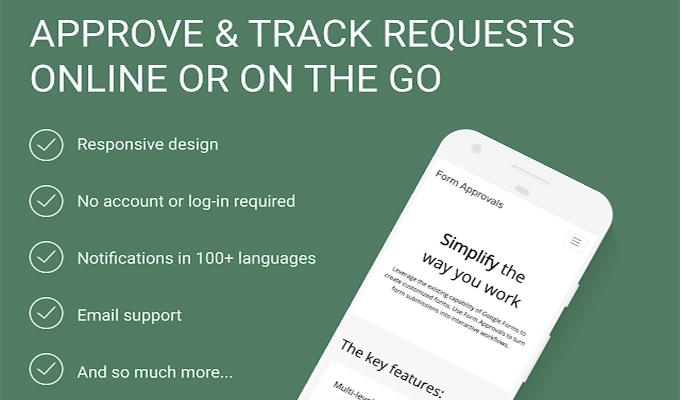 Ever wanted to make your Google Forms more interactive? You can now do that with the help of the Forms Approval add-on. This add-on lets you easily capture approvals, signatures, and other multi-level workflow data. You can easily set up reminders and generate documents with responses received from the forms.
Key Features: Set Sequential or Parallel Approvals Approvers | Add Dynamic or Static Approvers | One Click Email approvals | Notifications in Multiple Languages | Free To Use
Install: Form Approvals
Form Duplicates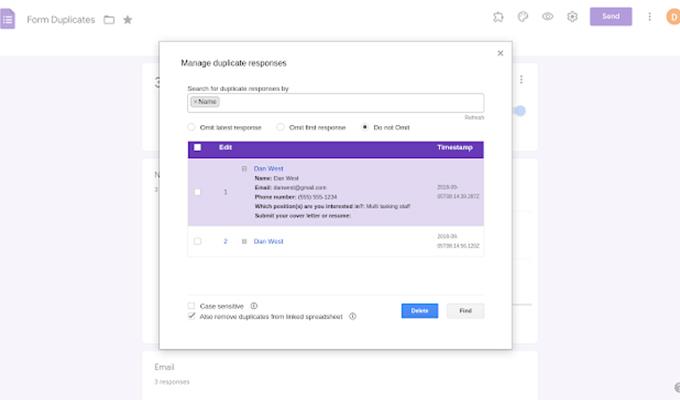 When viewing responses from Google Forms, there is always a high possibility that you might view duplicate responses multiple times. With this add-on, you can choose the left duplicate responses. The Form Duplicate add-on is great when you want to view a clear summary of the responses submitted by users via Google Forms.
Key Features: Limit Duplicates | Delete Duplicate Responses | Choose Which Duplicate Responses To Omit or Delete | Easily View Only Duplicate Responses
Install: Form Duplicates
Chat- Forms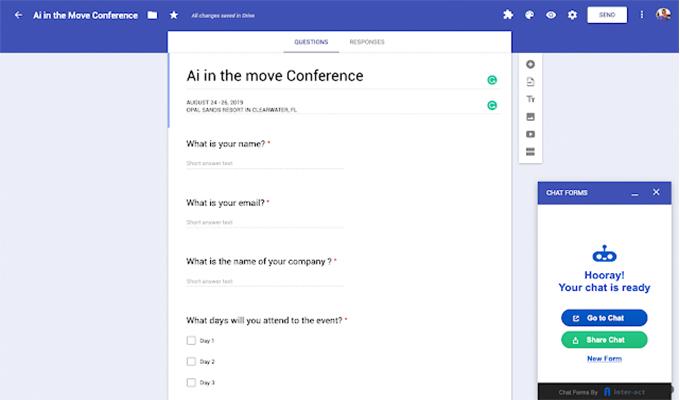 Filling out Google Forms is a simple and easy task. It can, however, get very boring and lead to responses that might not simply be the ones you are looking for. With the Chat Forms add-on, you can easily turn your Google Form questions into a more chatbot system. Meaning that you can use a chatbot to ask the questions, and the user can type in their responses right away.
Key features: Create Chatbot In A Single Click | Get more Responses | Free To Use | All Answers Viewed By Form Creator Only | Can Be SUed As Website Widget To Generate More Responses
Install: Chat Forms
Simply Send
With the simple name that it goes with, the Send add-on is asked to do one essential thing. Its job is to send the result of the form filled by the user for the particular form. Also, the user will be able to easily merge the results from a document into a PDF file with ease. This could have been a feature built into Google Forms but is available as an add-on for you to use for free.
Key Features: Send Form Results | Send Link To The Summary Of The Results | Send Link To Edit Responses From a Google Form | Merge Documents Easily | One Click Use
Install: Simply Send
Payable Forms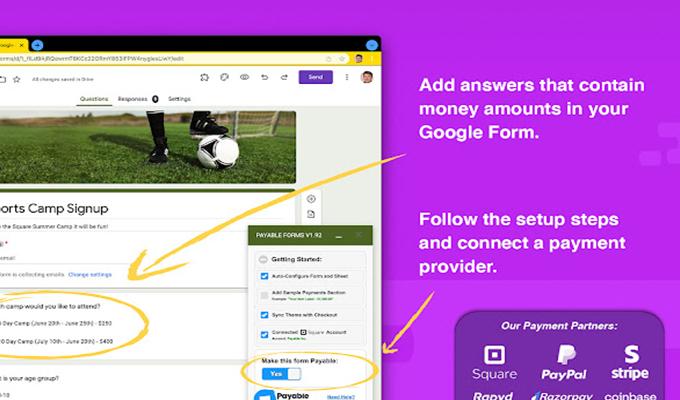 While you can use Google Forms to get information from people about certain topics, did you know that you can make use of an add-on even to collect payments? With the Payable Forms add-on, form creators can easily add a payment option to their forms. The user can choose whether to donate, help support a charity or maybe even crowdfund a particular product or event.
Key features: Add Payment Options In Forms |Get notified As To Who Has MAde payments | See Payment Info Like Name and Amount via Linked Google Sheet | Supports PayPal, Square, and Stripe Payment Options
Install: Payable Forms
Scorecery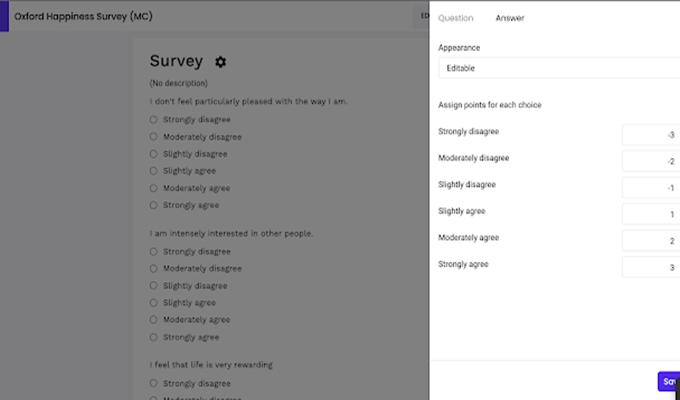 There are different types of Gors out there that people create. Some can be surveys, while others can be small tests that require the person to fill it out as well as take a look at their score at the end of the form. While Google Forms does not have this feature baked in right away, the Scorecery add-on for Google Forms comes to the rescue. You can easily assign points for different questions and answers
Key Features: Add Points To Dropdowns, Multiple Choice Questions, and Checkbox Questions | Different Points For Different Rows | Calculate Section Scores | Easily Find Commonly Answered Questions | Specify Correct Answers | Display Verbal Assessments | Redirect To Different Pages Based On Scores
Install: Scorecery
Timer For Google Forms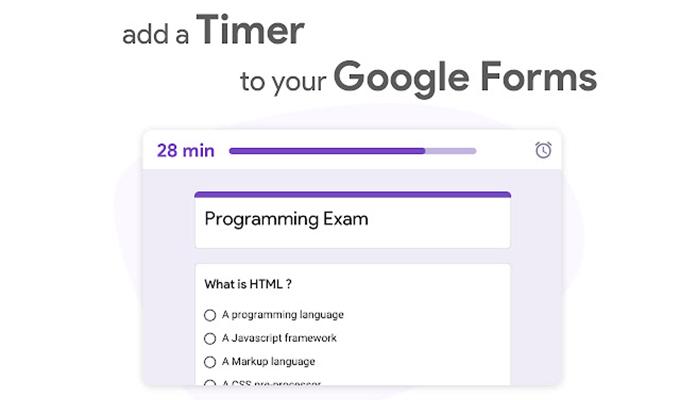 This add-on does what it says. You can easily add a timer to your Google Form. Why would you want this? It's useful when you want people to complete their forms within a certain amount of time. Having a timer also gives you a good idea of who fills their orms without reading anything properly. Additionally, when a user completes the form, this add-on will display the time it takes the person to complete their form in a spreadsheet right away.
Key Features: Custom Time Limits | Track Submission Times | Helps Prevent Cheating | Works Without Any Account Sign up | Easily Hide Timer In Google Forms | Useful In Exams | Custom Start and End Timer
Install: Timer For Google Forms
These are some of the best add-ons you can install and use for free, along with Google Forms. With such add-ons made available, it is only reasonable to use such add-ons the next time you plan to send out surveys using Google Forms. From this list of useful add-ons, Scorecery and TImeer for Google Forms are the best and must-use with Google Forms.