Android Offline Messaging Apps can send a message without the data connection. Offline messages are the best solution to get your messages delivered even if you have trouble with net connectivity. When you are away from home or mobile phone network coverage, the offline message apps communicate through the mesh network.
Here is the list of best Android Offline Messaging Apps, that can deliver the message without WiFi or Cellular Data connection.
1. Firechat

FireChat is an innovative Android offline messaging app. This offline messaging app uses Bluetooth and peer-to-peer WiFi to establish a mesh network to transmit data. It works by bouncing signals from one device to another till it reaches the recipient.
As a result, the more people use FireChat, the larger and faster the network becomes. It is an App that is ideal for use on a school campus and public transport where it's easy to find large groups of people. This app claiming to communicate by using iPhone built-in radio.  The maximum radius Firechat can reach is 210 feet. This app supporting peer-to-peer communications. Technically, this app offers more wide coverage when more people use FireChat in a location.
Offline Messaging Mode: Peer-peer using Bluetooth/Wifi and Internet.
Features: Travel Messages 210 feet radius | Encrypted Communication | Download from PlayStore: FireChat
Also Read: How to Charge Mobile Phone without Electric Power?
2. Bridgefy

Bridgefy is an Offline texting app. The Bridgefy app lets you communicate completely encrypted messages with others without an internet connection. It can send data directly to other phones within a range of 230ft/ 75 yards from you using Bluetooth. There is also a WiFi network mode that lets you connect with users via your WiFi network that isn't providing Cellular data.
Bridgefy also allows for mesh-network communications, with unlimited hops.  The Mesh Mode lets you use peer-peer communication. This is exactly like FireChat, which is creating a network in a group of people. The mesh mode communicates by creating a network with available users. You can broadcast with this app to a group of people, very useful for emergency alerts.
Offline Messaging Mode: Peer-peer using Bluetooth and Internet
Features: Travel Messages in 330 feet radius | Support Mesh Mode | Support Broadcast Mode | Download from PlayStore: Bridgefy
3. The Serval Mesh
The Serval Mesh App aims at creating direct connections between cellular phones. The connections are made through their WiFi networks. There is no need for a mobile phone operator while forming the mesh with WiFi. The several Mesh app uses a store and forward system called Rhizome. Rhizome can achieve broad distance communication with minimal mesh connections.
Serval Mesh is open-source software. This allows you to make private phone calls, send secure messages and data. An ideal app to use in remote areas or during a disaster.
Offline Messaging Mode: Peer to peer WiFi Direct with MDP encrypted | Download from PlayStore:  Serval Mesh
4. Hike

The Hike is a peppy Messenger which has tons of fun features including offline texting. It has Live filters for your photos. 5000+ FREE Stickers to express your every emotion.  Chat themes that let you personalize your chat window based on your mood.
There is even a feature which allows you to hide all your private chats making them accessible only with a password. In the absence of internet, connection hike can transmit data to other users within 100 meters. If in case the recipient has switched off his internet, the app delivers the message in the form of a normal SMS.
Offline Messaging Mode: Peer to peer WiFi Direct with SSL encryption | Download from PlayStore:     Hike
Related: Best Apps Read Text Messages While Driving for iPhone & Android
5. Signal Offline Messenger

Signal Offline is a WiFi Direct messenger that works by sending a signal to discover nearby devices. The user list displays the surrounding devices. The active devices are shown in color whereas inactive devices are shown in gray.
Signal offline Messenger can work up to a range of 100 meters and the data are encrypted. WiFi direct data transfer occurs at 250mbps. This makes sure that all images and video can be transferred at high speeds without any modification.
Offline Messaging Mode: Peer to peer WiFi Direct with end-to-end encryption | Download from PlayStore: Signal Offline Messenger
6. Briar

When you travel out of town, or you are a businessman who wants to communicate always with your mobile, Briar app can help you. Brian can send messages even in data blindspot area through Bluetooth. Briar doesn't have a central server concept. All the messages are synced direct between users' mobile devices with Briar app.
When your phone doesn't have a data connection, Briar offline messaging app can use Bluetooth or WiFi to transfer messages between phones. Briar app is giving priority to users' privacy. This app communicates through Tor network when connected to the network.
Offline Messaging Mode: Peer-peer using Bluetooth/WiFi and Internet.
Features: User Tor network for privacy | Encrypted Communication | Download from PlayStore: Briar
7. WhatsApp

Whatsapp is one of the most popular instant messengers out there today. The WhatsApp app uses a store and forward technique to transmit messages. When a user sends a message, it first travels to the WhatsApp server where it is saved. The server then repeatedly requests the receiver to acknowledge the message. This is exactly happening when your phone connected to the internet.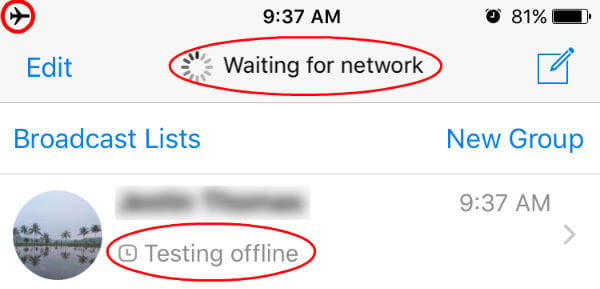 WhatsApp Offline feature let you tap on the send button even if you don't have a live internet connection. The message saved on your phone cache and send to the recipient when the phone connected to the internet.
Offline Messaging Mode: Cache messaging with end-to-end encryption | Download from PlayStore: WhatsApp
Related: 7 Best WhatsApp Alternatives for Free Text and Call
Additional Android Offline Messaging Apps
There are a few more apps that support offline messaging. However, these apps listed below are not compatible with the offline messaging concept like the listed apps bove. However, these apps can be included in the list for Offline Messaging Apps for Android.
GO SMS Pro

With nearly 100 million users worldwide, GO SMS Pro is a simple, intuitive as well as customizable app at its core. The offline messaging app comes with hundreds of themes as well as allows you to encrypt the messages for protecting your privacy. Give special care to the important contacts by sticking them on the top of the app.
Use the GO Chat support for sending free messages and group chat. Access the 'Delay to send' feature to correct the wrong messages in time. You can also use the app for identifying the unknown calls and blocking the spam ones.
Download from GO SMS Pro from Play Store
GroupMe

Access GroupMe as the free and simple way of being connected with the people who matter most for you. Start chatting immediately to any person over their phone number or email address. Select the category of notifications that you want to receive and mute the other ones that you do not want.
Chat wherever easily and over your mobile or other devices. You can easily communicate with your desktop or laptop at groupme.com. SMS chatting is currently available in the US only and standard rates are applicable for messaging. Share your important moments through the app and relive them without any trouble anytime.
Download GroupMe from Play Store
Textra

Textra is a great offline messaging tool that comes with about 180+ material design themes. Simply outstanding in its offering, the app offers multiple bubble styles and 'Delay' feature to stop the sending of any message to any person. Choose the perfect text size among the given 21 text sizes as well as customize the preferred theme and bubble color.
Fully compatible with Android Wear and Android Auto, get instant notifications and quick reply for the users of the app. It also comes with dual SIM support to allow the devices to send messages without any data from both carriers.
Download Textra from Play Store
Chomp SMS

Set your own unique look as well as customize the app's appearance with the help of 100+ themes on Chomp SMS. Stop while sending a message and pin the favorite contacts over the top to send messages to them in a second. Forward the messages without any need for data to any person all around the world.
Access the unlimited customization options that are present for your notifications icons, LED colors and ringtones. Add your personal touch by selecting the preferred Emoji style among the latest 2700+ styles of Emojis. Add signatures, text snippets and quick reply popup to make the app experience easier and enjoyable.
Download Chomp SMS from Play Store
Handcent Next SMS

Encounter the next generation experience messaging with Handcent Next SMS app on your Android device. Coming with a new night mode and popup window, the offline messaging app gives you more flexibility while messaging to others. For making things simpler, the app allows you to send a message without the requirement of data anywhere and any place.
Offering dual SIM service support, the app aids the individuals to send messages from their device through their two phone numbers. Any person can easily access the app in their own language and send the messages in their preferred language. Communicate with people on your PC/MAC, tablets as well as smartphones through the app and its service.
Download Handcent Next SMS from Play Store
Pulse SMS

Pulse SMS aims to provide the ultimate texting experience to every person using the offline messaging app. Make your conversation more fun with the endless global and per-conversation theme options. Secure your messages with password protection and have private conversations on the app without any trouble. Delay the sending of messaging allowing you to edit as well as cancel the messages.
Preview the web links on your message over the app to avoid app switching. Create automated replies for your contacts, certain keywords as well as for driving and vacation modes on the app. Blacklist the spam messengers and share GIFs in your messages with GIPHY support.
Download Pulse SMS from Play Store
Best Offline Messaging Apps for Android
We have now seen that most Android Offline messaging apps use a variety of methods to deliver messages. Some apps like WhatsApp use cached messaging. Others work by transmitting data directly to a user via WiFi or Bluetooth.
Some apps create mesh networks that grow depending on the number of active users. Be in a crowded festival or during an emergency situation, having a sure shot means of communication at hand is always a good idea. Despite their differences, all of the above apps are effective at communicating offline.
These Android offline messaging apps are coming handy when you are at SubWays, Cruise ships, and other Internet dead zones. With these Android messaging apps, you can ensure that you are always connected with your loved ones at all time.