Are you someone who will answer calls, check emails or reply to messages while driving? Then, you need to get rid of this habit as it will affect your concentration and might lead to accidents. In case you get an emergency call, you can use a Bluetooth hands-free to answer that one. The best option is to enable Do Not Disturb Mode while driving and set up Auto-Reply for all the incoming messages or calls.
If you would like to read emails or reply to the messages while driving, then you can use any of the apps listed below to read the text messages aloud.
1. Speaking Email
Most of the working professionals will spend at least a couple of hours daily to read emails and reply to them. Especially, if are working on time-critical projects, then you will be getting a bunch of emails every day. However, it is not recommended to open your Inbox and read the messages while driving as it is dangerous.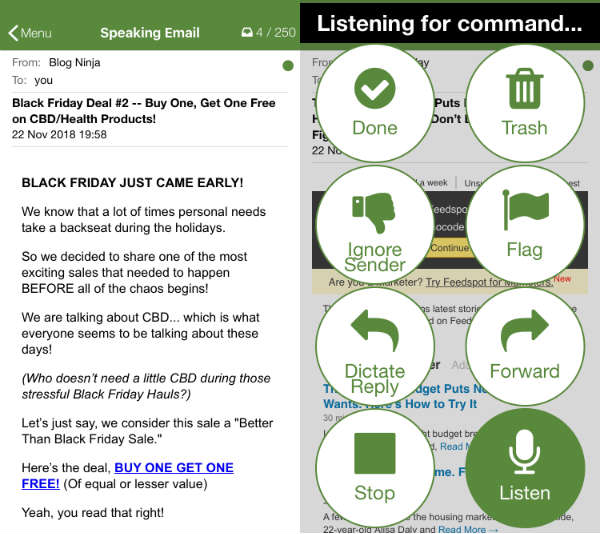 Let's imagine that you are totally driving for a duration of 2 to 3 hours every day. And, you would like to utilize this time to check your emails. Then, the best option is to use an app like Speaking Email which will read out the new emails aloud and help you to respond to them as well. i.e You can dictate the reply using your microphone and the app converts forwards that message to the sender after converting voice to text.
The Speaking Email app automatically detects the email language and switches the voice accordingly. It communicates with various email servers and exchanges like Gmail, IMAP, POP, iCloud, Outlook/Hotmail, Yahoo and more. Based on the subject and sender of the email, you can input several voice commands like Next, Trash, Reply, Flag, Archive and more.
Download from App Store
2. messageLOUD
These days, people are so addicted and attached to their smartphones that they use them even while driving on the roads. Distracted driving is one of the main reasons for road accidents all over the world. To avoid that, it is better to avoid keeping the phone in one hand and holding the steering wheel using the other hand. In case there is a need to read and reply to messages while driving, it is better to use the apps that read text messages like messageLoud.
As per the name, messageLOUD automatically reads SMS, emails, and messages on apps like WhatsApp, Facebook, Skype etc while you are driving. Even though the text messages can be read for free, you need to pay a small fee of $1.99 per month to read emails and other messages. messageLOUD is available for Andriod and the iOS version is in beta testing.
Download from Google Play Store
3. Agent
Agent can not only read messages while driving but also helps you to silence your calls or reply to messages while you are attending an important meeting. In short, it is a 5-in-1 app which has the following features: Battery Saver, Driver Assist, Parking Memory, Sleep Secretary, and Meeting Agent.
Driver Assist can be configured to read messages aloud, auto-reply to calls/messages while you are driving on the road and more. Either it can respond to all incoming calls or to only selected contacts which can be configured on the app. Currently, it is available only for Android-based phones.
Download from Google Play Store
4. Drivemode
Drivemode helps to do all your daily routines like reading emails, browsing Facebook, sending messages on WhatsApp etc without taking your hands off from the steering wheel. Sounds surprising? Yes, it is true. By using simple voice commands, you can do all your favorite activities without deviating your concentration while driving.
Drivemode allows you to reply to text messages using voice commands or put the phone in Do Not Disturb mode and respond only to your favorite contacts. Plus, it can also be integrated with music apps like Spotify, Google Play Music and more. Currently, it is available only for Android-based phones.
Download from Google Play Store
5. Siri
Don't you like to install any iOS apps to read text messages? Not a problem. You can get help from Siri to not only read out the messages but also to reply to them as well. Let's imagine that you would like to read the new WhatsApp messages from your iPhone.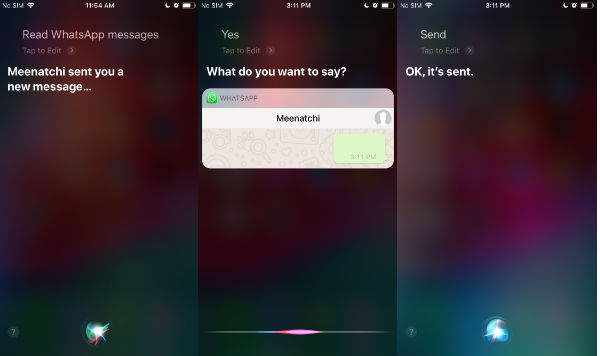 First, tap and hold the Home button to activate Siri.
Next, Siri will prompt you to ask a question or tell your command. You can type something like "Read WhatsApp Messages".
Then, Siri will read out the unread WhatsApp messages on your iPhone aloud and ask "Would you like to reply?". You can say "Yes" if you would like to reply to the message.
Now, Siri will ask "What do you want to say?". Then, you can speak out your message so that Siri will do the typing automatically.
Once you had finished your message, Siri will show two options "Send" and "Cancel" along with the message. Just say something like "Send message". That's it. Your message will be sent to your contact and your screen will show "Ok, it's sent".
Likewise, you can ask Siri to read your SMS, messages on Facebook Messenger, Skype or whatever app you need. Without taking your hand from the steering wheel, you can read text messages and reply to them using Siri. Pretty cool. Right?
Are you someone who would like to concentrate only on the roads and nothing else? Then, the best option is to put your iPhone in Do Not Disturb mode and set up the auto-reply to calls/messages either to your favorite contacts or everyone. Thanks to iOS 12, now you can activate the DND mode based on location, event or a specified time interval. Check out this post to Set Auto-Reply to Calls/Messages while driving.
However, if you want to enjoy safe driving and want to get a live update of your messages and emails while driving, these apps are your best bet. These apps can read text messages for you. Whether you are using an iPhone or Android, these are apps dedicated for this mobile paltform to read the text for you.