iPhone Do Not Disturb Mode can detect when you drive and silence your incoming calls, messages, and notifications. This iPhone DND Mode can auto-reply text message when somebody calls or messages you while driving, and also blocking unwanted notifications. No more distraction while driving, and you can setup a default auto-reply text on your phone to message back. There are three options to set Do Not Disturb Mode on iPhone when you connect Car Bluetooth, While Driving or Manual Mode. The Do Not Disturb Manual mode can activate right from iPhone control center screen.
Let us see how to enable iPhone Do Not Disturb while driving and Auto Reply Text Message to the caller.
Enable Do Not Disturb on iPhone
To set up Do Not Disturb on iPhone, go to iPhone Settings > Tap on Do Not Disturb > Scroll for DO NOT DISTURB WHILE DRIVING > Activate > Select Automatically or When connected to Car Bluetooth.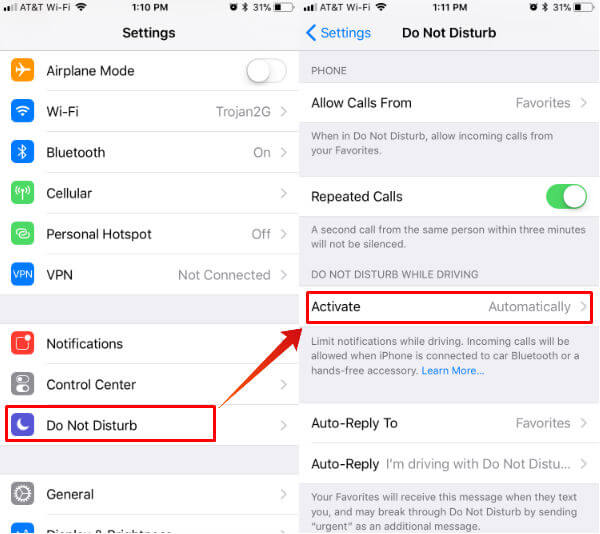 There are two settings for the user here, Automatic mode detect your motion to set Do Not Disturb Mode and the second option will activate iPhone DND mode only when iPhone connect to car Bluetooth.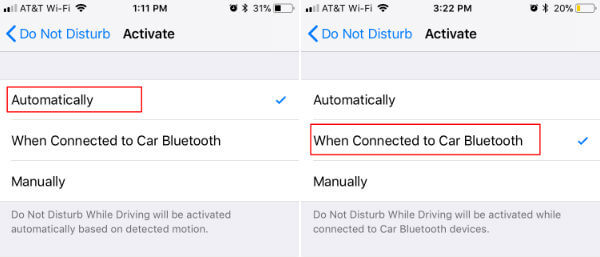 In Automatic mode, iPhone will detect your car's movement and use Location Service, assume you are driving and automatically turn on Do Not Disturb Mode. The problem here, this will turn on even when you are traveling with somebody else or on a bus and iPhone can't identify whether you are the driver or co-passenger.
Related: How to Share WiFi Network with QR Code on iPhone?
The Car Bluetooth option seems to be working, but still, it depends on the Bluetooth device. We tested with some external car Bluetooth transmitter, and iPhone didn't recognize those external Bluetooth devices to switch to DND. However, Car Bluetooth option is more viable and make sure to only work when you are driving with your car and end automaticaly when Bluetooth disconnects from iPhone.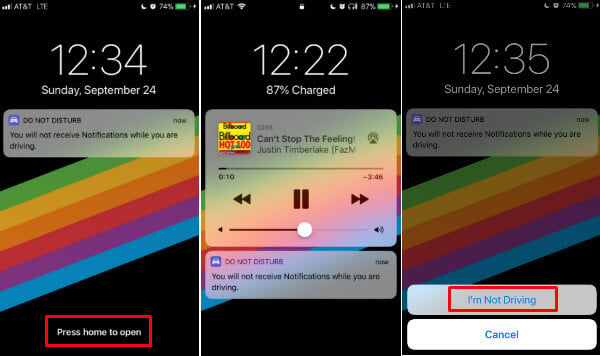 You can see the iPhone DND feature in action in above Home Screen depends upon the setting. The left screen is based on the DND mode automatically, and the middle screen is the result of iPhone switched to DND mode when connected to car Bluetooth.
Turn Off Do Not Disturb Mode
Now your iPhone will automatically switch to DND mode while you drive. If you want to turn off this iPhone Do Not Disturb feature, press on Home button and you see pop-up about the DO NOT DISTURB MODE. Now if you want to get rid of this iPhone driving mode, press again on Home button and select I'm Not Driving. Please Do Not Perform this action while you are driving.
Setup Auto Reply Text While Driving
Now you have an option to customize the iPhone Auto Reply Text Message from the settings screen. Go to iPhone Settings > Tap on Do Not Disturb > Scroll All the Way Down > Tap Auto-Reply >  and set your Custom Reply Text Message While Driving.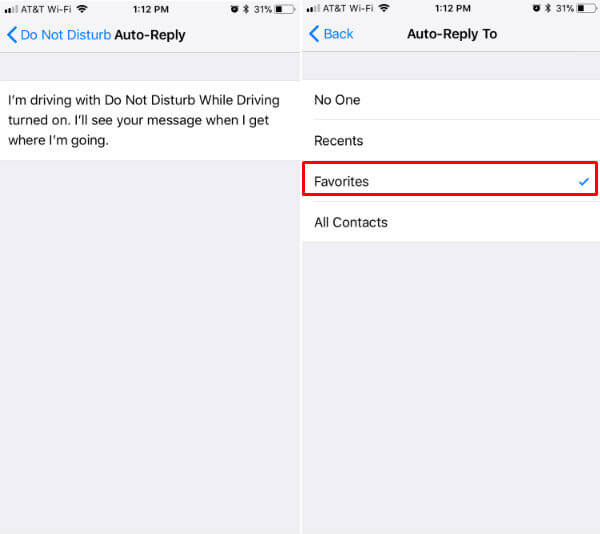 There is no need to Auto Reply for every call; you can make sure your Auto Reply Text will send to Recent Call or Favorites or All Contacts from iPhone from the Do Not Disturb Screen setting.
Manually Control Do Not Disturb on iPhone.
Now, if you want to switch to Do Not Disturb Mode Manually, you can do that from iPhone Control Center. By default, you don't have this button on iPhone control center. Go to iPhone Settings > Control Center > Customize Controls > Tap on + Do Not Disturb While Driving.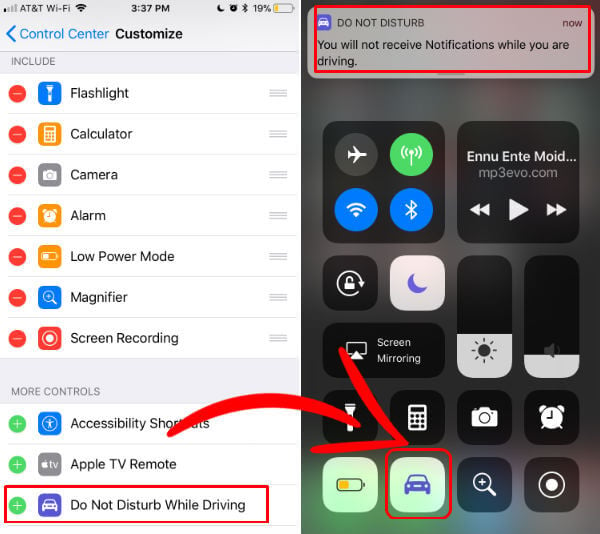 This will add a car icon on your iOS Control Center. Now from your home screen itself, you can acciPhonehoen Control Center and Turn on/Off iPhone Do Not Disturb While Driving feature manually.
iPhone Do Not Disturb Exceptions
However, there are some exceptions where iPhone DND will not block messages, calls or notifications. For messages, emergency alerts, alarms, and messages from a predefined set of contacts will ignore DND settings.
Related: How to Set iPhone Do Not Disturb Exceptions for Messages and Calls?
You can set favorite contacts and recent contacts (repeat calls within three minutes) to receive calls and messages in Do Not Disturb mode. The cars have inbuilt Car Play won't work with iPhone DND. Instead, all the calls and notifications will route to Car Play screen. Also, iPhone's Siri can bypass DND mode.
Your safety is the priority while you drive. This iPhone Do Not Disturb Mode will take care of the calls, messages and auto-reply text messages to the caller while driving. Those who want to auto answer to iPhone calls, they can set up with the car. You can decide whom you want to reply back from your contact list.