Lockdown mode is a new feature from Android Pie. This is a nice feature that can use to hide all notifications and required the password to unlock the phone again. When you leave a phone for a while or you want to switch the phone to safe mode to protect all data, this lockdown mode will be the best bet.
The Lockdown on Android Pie is turned off by default, but you can enable lockdown mode on Android and turn on with the Power button.
Enable Lockdown Mode on Android
To turn this on, you are required to have Android Pie on your mobile phone and follow the steps below;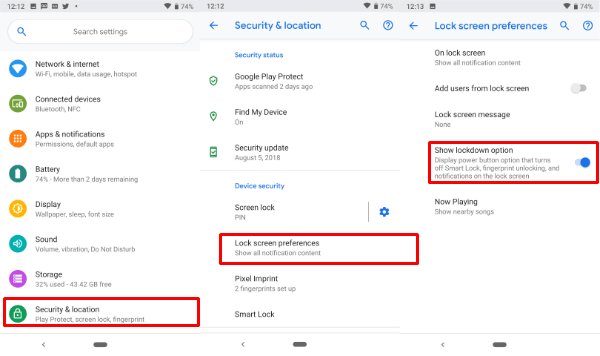 Go to Android Settings.
Scroll down to Security & locations.
Tap on Lock screen preference
Turn on Show lockdown options.
Related: How to Enable Split Screen on Android Pie?
Turn On Lockdown on Android
By default, when you press and hold the Android power button, in addition to the "Power Off" and "Restart", options, Android has introduced the handy button for "Screenshot". Now you can add the fourth feature to the Power button menu, Lockdown mode by following the steps above.
When you want to activate Lockdown mode, simply press and hold the Android Power Button, and tap on Lockdown icon from the power button menu. Your phone immediately goes to lock screen and all the notifications will be hidden until you unlock the phone with the passcode.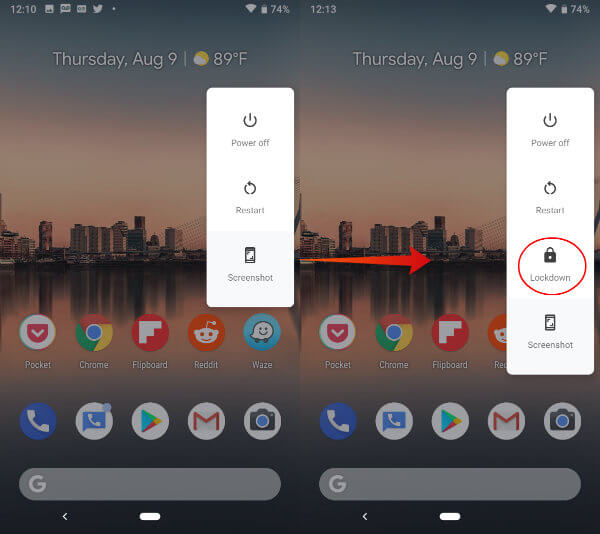 The good thing about this, the Lockdown mode will hide all your notifications. This is good when you leave the phone on the office table, where you want to hide all incoming notifications from the intruders.
Related: How to Get and Use Google Floating Keyboard on Android
There are situations that you may force (a thief) to unlock your phone with your finger or pointing at your face. This Lockdown mode will come to save you on these kinds of critical conditions where the phone required the passcode to unlock once you activate the Lockdown mode.