Many foreign language websites do not have English versions. For most people who speak only English, it is really annoying. Many browsers including Google Chrome already support an inbuilt webpage translator. But, Safari on iPhone did not have such a translator. However, Apple now adds a new feature to the Safari on iPhone that lets you translate websites.
Today, we will show you how to translate a webpage in Safari on the iPhone.
Translate Webpage in Safari on iPhone
The translator is one of the newest additions to iPhones with iOS 14. Apple includes an inbuilt translator for the Safari browser. Therefore, it will be easier for iPhone and Mac users to translate a webpage on Safari. Unlike some other browsers, Safari does not require a third-party app. You can translate a webpage directly on iPhone.
Follow the steps below to learn how to translate a webpage in Safari on iPhone. Make sure your iPhone has iOS 14 or newer.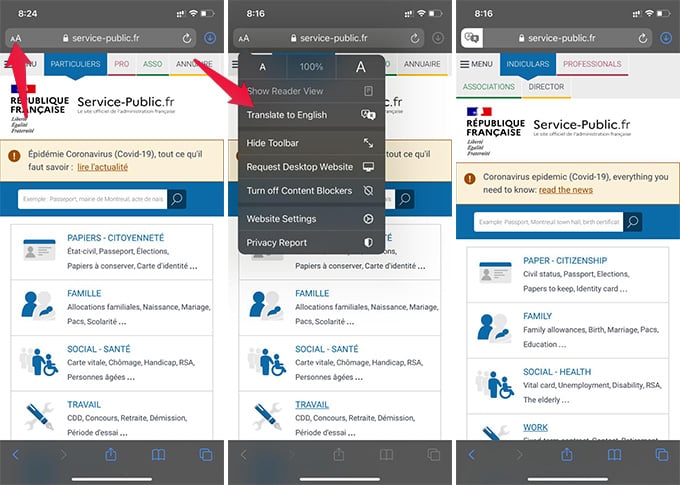 Open the Safari browser on iPhone.
Visit a non-English website.
When the page loads, tap the "Aa" button on the left of the address bar.
Tap "Translate to English."
The website will reload with the translated version.
To see the original version, tap "Show Original" from the same menu.
As of now, Apple Translate only supports a few languages. This includes French, German, Italian, Arabic, Chinese, Korean, Portuguese, Russian, and Spanish. So, you can translate only websites in these languages using Safari on your iPhone. Also, it needs your iPhone to run iOS 14 or newer versions.
Related: How to Set iPhone to Automatically Close Safari Tabs
In case your iPhone does not support iOS 14, you can get third-party browsers for the same. Google Chrome on iPhone can also translate webpages from any language to English.