Having lots of tabs opened in the browser is too annoying when you open the Safari after a long time. You will have all the older tabs opened in the stack, and might need to clear them all manually. However, new iOS13 has a new feature which lets you automatically close Safari tabs on your iPhone.
Here is a simple guide on how to automatically close Safari tabs on iOS 13.
How to Automatically Close Safari Tabs on Your iPhone?
Safari browser on iPhone, unlike the Mac version, preserves all the tabs even if you close the app. You do not need to go to the history section in order to find out the tabs opened in the previous session. However, this can cause significant memory and battery usage when you relaunch the app. In most cases, you may not need all those tabs opened in the background. Therefore, the only way left is to close all of them one by one.
This caused inconvenience among users, and Apple decided to reinstate bout this with iOS 13. With the latest version of the operating system, you can opt to close all the Safari tabs automatically, when you are inactive. With this feature on, you do not have to bother about the tabs being opened every time in Safari browser. At the same time, you can set a time limitation before automatically closing all the tabs so that you can browse the same tabs eve when you relaunch the Safari.
Also read: How to Reopen Closed Tabs in Firefox for PC and Phone
Go through the following steps to allow safari to automatically close tabs which have not been viewed recently.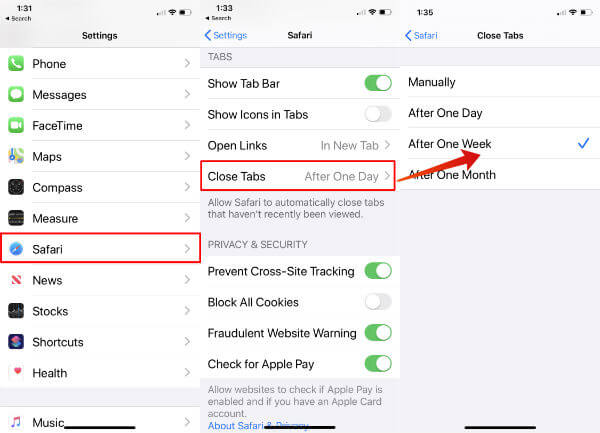 Open iPhone Settings on iOS 13 or newer, .
Scroll down and tap "Safari."
Go to the "Close Tabs" options under the Tabs section.
There you will see the frequency to clear all tabs automatically.

Manually: All tabs will be open until you close them.
After One Day: Will close all tabs automatically in every day.
After One Week: Safari tabs will come in weekend.
After One Month: All Safari tabs will close on end of the month.
The feature only works on iOS 13. If you are not on iOS 13, you can check the current version and check for new updates as follows. Please note that only iPhone 6s and higher versions will receive iOS 13 update. You can see full list of iOS13 support devices here: iPhone models compatible with iOS 13.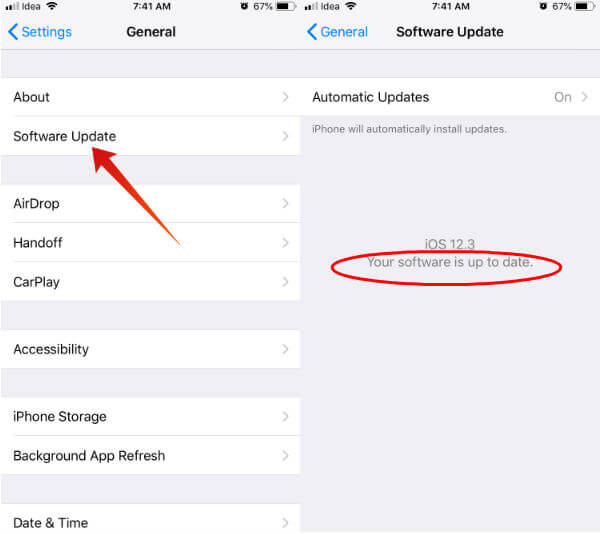 Connect your iPhone to the Internet or Wi-Fi.
Open Settings on the iPhone.
Tap General > About to see the iOS version and other details.
If you want to update, enter General > Software Update.
You will see if there is any update available, and choose to install them.
Also Read: How to Stop Chrome from Reloading Tabs Automatically
If you have just upgraded to the iOS 13, you can follow as in the previous steps list to enable automatically closing tabs on Safari.
After you enable the feature, all the inactive tabs will get closed automatically, after a certain period of inactiveness. In other words, if you chose "After One Day," all your tabs will disappear after one day you opened them.