You can reopen the closed tabs on Firefox, just like Safari or Chrome. As we discussed before, to restore the closed tabs in Chrome, there is some workaround for the Firefox browser to open the recently closed tabs. Whether you accidentally closed a webpage or want to re-open the last closed firefox tab, check here.
Firefox is one of the most feature-packed web browsers around and check here to reopen closed tabs or restore closed tabs in Firefox, this is how.
Reopen Closed Tabs in Firefox for Android & iPhone
Firefox is a third-party web browser available on all platforms including Android and iPhones. Mozilla jas been an advocative of user privacy and Firefox is built around that idea. So if you don't use Chrome or Safari, Firefox might be your choice and this is how you can reopen closed tabs in Firefox on Android and iPhone.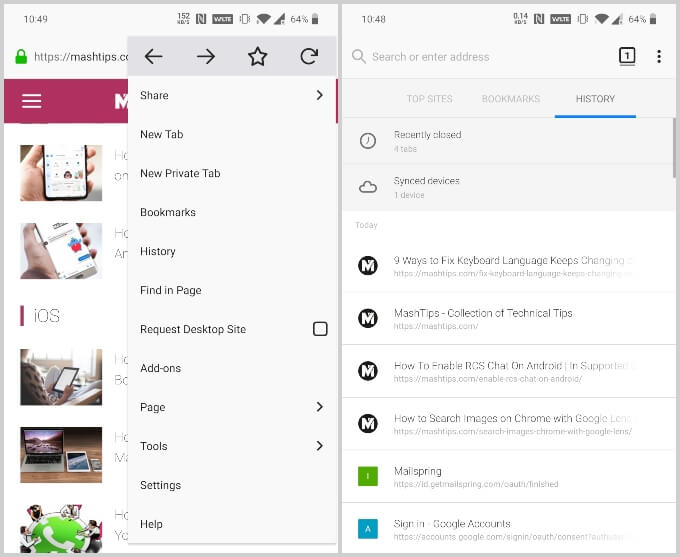 Launch Firefox.
Tap on the three-dot overflow menu button and select History.
Select Recently closed to see a list of recently closed tabs.
Select Synced devices to see a list of closed tabs from other devices.
Tap on any of the closed tabs that you want to reopen.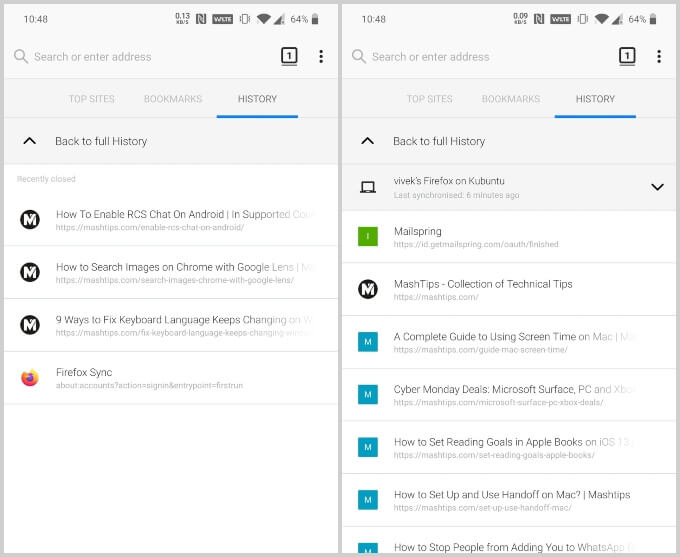 Firefox is also pretty customizable on the desktop when compared to something like Google Chrome. You may be the kind of person that likes a history button next to the address bar, while someone else might prefer a much cleaner interface. Firefox allows for all of that. This also means the button placement for different users can be different. Therefore, we will use the default layout in most cases.
Related: 7 Best Firefox Add-ons for Android
Reopen Closed Tabs in Firefox for iPadOS
iPadOS is the pretty much same as iOS, and you can do the same on iPadOS to restore the FireFox tabs that closed before.
Launch Firefox.
Tap on the Library button next to the address bar.
Select the History tab from the bottom.
Next, tap on Recently closed to reopen recently closed tabs.
To restore closed tabs from other devices, select Synchronised devices.
Select any of the tabs you want to reopen.
Much like any great piece of cross-platform software Mozilla's Firefox tries to maintain a consistent design across the multiple platforms it is available on.
Firefox was one of the first major web browsers to have dedicated Linux versions as well, way before Chrome did. It becomes essential that a Firefox user shouldn't feel confused when switching between platforms. A consistent design language prevents that.
Related: How to Import Bookmarks from Chrome to Firefox & Firefox to Chrome
Restore Tabs in Firefox for Desktop (PC & Mac)
The Firefox browser is a little bit different on PC. Both Windows and Mac OS, the options are the same to restore the Firefox tab. If you've accidentally closed a tab, you can undo it. This only works if you actually have closed a tab and not right away at the start of the session.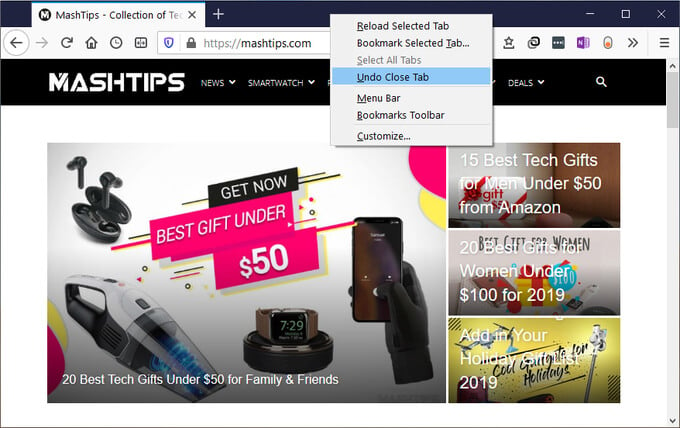 Right-click on the Firefox tab bar.
Select the Undo Close Tab option.
As with Chrome, this option only allows you to reopen the last closed tab. If you want to restore a closed tab from earlier, you can follow the steps below.
Launch Firefox.
Click on the hamburger menu button.
Select Library from the menu.
To reopen closed tabs from other devices, click Synced Tabs.
To reopen closed tabs from the same device, click on History > Recently closed.
Click on the tab you want to reopen.
Firefox by Mozilla has been the champion of open-source web browser and open-source software in general. When the internet opened up and moved over to open-source standards, Firefox was the first browser to adopt these changes and give Microsoft's Internet Explorer a run for its money.
Firefox was generations ahead of Internet Explorer. While Chrome dominates the market today, those concerned about privacy still stick to Firefox. In terms of features, Firefox is a bit ahead of Chrome, not behind. The one thing that may hold you back is websites like YouTube work better with Chrome. Also, to have your history and tabs synced between devices, you'll need a Mozilla account, which most people don't already have, unlike a Google account.