Firefox for Android is a much better browser, although not as deeply integrated with the OS. When it comes to features, Firefox for Android trumps every other browser out there. The reason behind it is that Firefox for Android supports browser add-ons or extensions to extend the power of browsing and user experience. Just like your desktop, Firefox for Android is also bringing the extensions that bring additional featured to the browser.
Let's see the best Firefox Add-Ons for Android mobile that offer a better browsing experience on Android phone and tablet.
1. Google Search Fixer
When you do a Google search on Android using Firefox, the results appear quite different than they would've on Chrome. If you haven't noticed this before, just look at the screenshots below. The results appear much more organized, interactive and pretty on Chrome. This also stands true for all other Android browsers that use the Blink browser engine. This makes then essentially Google Chrome but with a different skin. Firefox, however, uses the Gecko browser engine which has its own advantages. This also means though that Firefox misses out the party.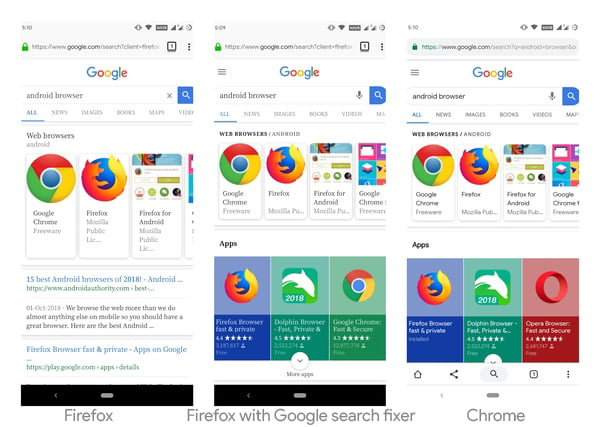 Google Search Fixer by Thomas Wisniewski is a neat little Firefox add-on for Android that fixes this problem. He says "Firefox engineers are working with Google to fix this situation" but is unclear how long it may take. In the meantime, you can just install his add-on linked below to get the advanced Google search results that you would get on Chrome.
Download Link: Google Search Fixer
Also Read: 12 Essential Google Search Tricks That You Never Used Before
2. Dark Reader
While the add-on mentioned above gave Firefox something Google Chrome has, Dark Reader gives it something Google Chrome lacks. Google is certainly working on a night mode for Chrome and they've even included it as a flag on the Chrome Canary builds. On Firefox though you have the power of browser add-on. You don't have to wait for Mozilla to officially include a dark mode or a night mode.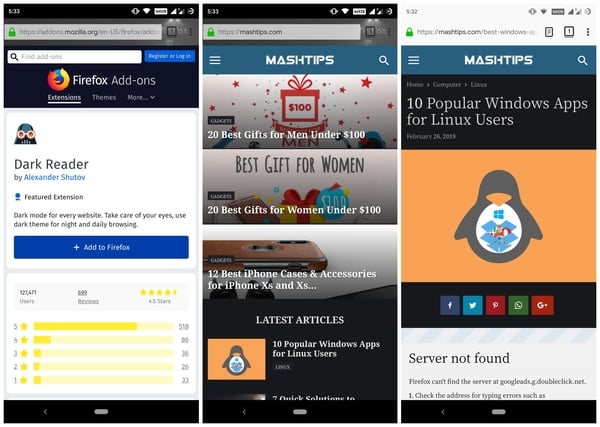 The name clearly implies what Dark Reader does. It turns web pages dark which makes the internet easier to browse during the night or in darker environments. The add-on extension manages this by inverting the colors on a web page. If you are worried images won't look right with inverted colors, don't. Because it doesn't touch the images at all so you still get the actual image with accurate colors. It's only the web page itself that the colors are inverted for.
Download Link: Dark Reader
Also Read: How to Enable YouTube Dark Mode on iPhone, Android and PC?
3. HTTPS Everywhere
As more and more people have access to the Internet, the more and more secure it needs to be. Google has taken a number of measures to ensure user safety as have other organizations. One of those is the use of an encrypted protocol, HTTPS. However, not all websites default to it unless you manually add https:// in front of the URL.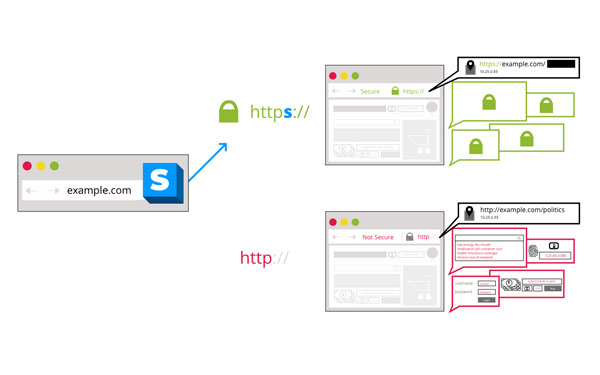 HTTPS Everywhere is a Firefox add-on that automatically enables HTTPS encryption on websites that are known to support it. This works regardless of how you enter the website's address and whether you add https:// or not. That's the whole point of its existence, after all.
This is a popular extension also available for other browsers such as Chrome. It's also available for Firefox both on the desktop and mobile.
Download Link: HTTPS Everywhere
Also Read: How to Choose Right SSL Certificate for Business Website?
4.Tap-Translate
When you browse the web using Google Chrome and you land up on a website which isn't in your preferred language, Chrome will either automatically translate the entire web page using Google Translate or ask you whether it should.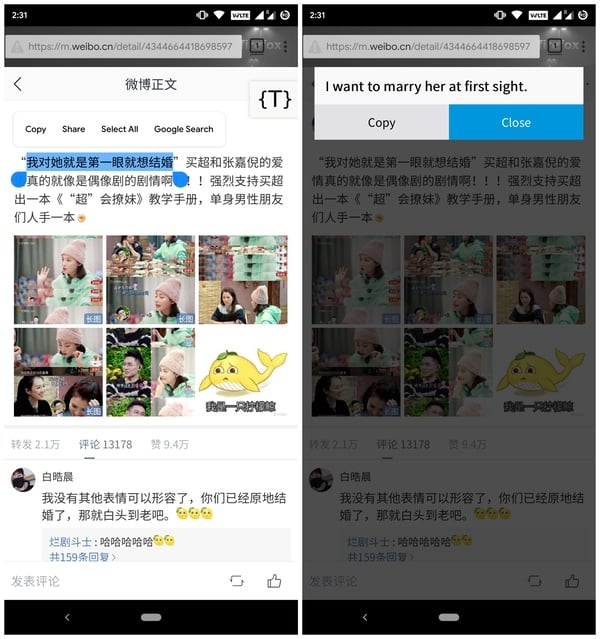 On Firefox, you can install the Tap-Translate add-on which is also available for Firefox mobile. With it installed, whenever you select a text that isn't in your preferred language, you will see a Translate button. Tap on it and the selected text is translated into your preferred language.
Download Link: Tap-Translate
5. Self Destructing Cookies (WebEx)
Cookies are an integral part of web browsing and without them, your browsing experience would be nothing short of hell. These help websites store your login information, or information about the items in your shopping cart, etc. Without cookies, anytime you visit a webpage you would have to start from scratch. So yes, they're essential. However, there is no limit to what a website can store in these files. Some sites could store information that isn't particularly helpful in your browsing, such as cookies saved by ads.
Sometimes, cookies can be used to track you, see your browsing pattern and build a profile of you. If you're concerned about that, you can try the Self Destructing Cookies add-on for Firefox. It automatically detects tracking cookies and deletes them once you close a tab.
Download Link: Self Destructing Cookies (WebEx)
6. Grammarly
Grammarly is an excellent tool for those who type a lot and make a lot of mistakes while doing so. Even the most seasoned writers will often mistype many words. Most operating systems, keyboard apps, etc. do come with built-in spell check.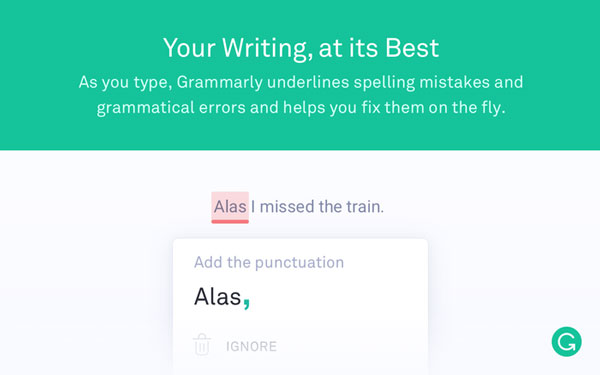 However, Grammarly is not a mere spell-check. Of course, it does automatically detect and highlight spelling mistakes. But it can also detect grammatical errors and also suggests improvements in places that are grammatically correct. Grammarly is quite popular and has an extension for every major browser as well as native apps for various operating systems including Android.
The Grammarly extension for Firefox also works on Firefox Android though so you can take complete advantage of it without having to install an entire app.
Download Link: Grammarly
7. Video Background Play Fix
When you play an online video in your mobile browser, it only plays while it is in the foreground. As soon as you switch tabs or minimize the browser, the video is paused. This is very different from how online videos behave on a desktop browser. If you're someone who likes to play something on YouTube or Vimeo, etc. and listen to it while you browse the web, this extension can be very helpful. Once installed, it allows background playback of online videos even if you've moved away from the tab, minimized firefox or even locked the screen.
Download Link: Video Background Play Fix
More Firefox Add-ons for Android
Before Chrome, before everything, we had Internet Explorer and all of us unanimously agree that it sucked. With the web adopting open standards, Mozilla introduced a browser that was based on those open standards, Mozilla Firefox. The browser revolutionalized our browsing experience and introduced browser add-ons. Firefox showed that users didn't have to wait for a browser to get updates in order to get new features.
With Firefox, users could cherry pick the features they wanted in the form of browser add-ons. Some of those users were also developers who could create those add-ons as well. Even today, with the dominance Google Chrome enjoys, Firefox still has the larger add-ons library. So when I say Firefox for Android is one of the very few browsers that support browser add-ons, it shouldn't come as a surprise.
Google Chrome certainly does not support add-ons or extensions on Android. Samsung Internet, UC Browser, Dolphin, and perhaps a few others do support extensions. None of them allow you to add extensions from the web like Firefox though and you have to instead download more apps from the Play Store.
And yet, nothing even comes close to Firefox when you consider the vast library of add-ons it has. We've listed the best Firefox add-ons for Android here, while on other browsers you'd be hardpressed to find as many extensions as having been listed here. For Firefox though there are plenty of add-ons available at the official website. Keep in mind that not all Firefox add-ons work on Android so you'll have to try and find out.