Time to switch website from HTTP to HTTPS and need SSL certificate for your site? Google is going to display "Not Secure" warning on HTTP sites those are collecting passwords and credit card information. Yes, this is the right time to switch to secure the web and make sure your business website of blog serving https pages with SSL security. There are certain parameters you consider while you switch the website to an SSL website, that can save time and money in this process.
When you buy SSL certificates for a website, the provider issue a unique certificate for that particular site. If any other server or fake site is pretending as the HTTPS site, the modern browsers can detect and warn the visitor while connecting to the site. For those who have questions like Why Do I need SSL or HTTPS based websites, those can visit CA Security link to learn more details.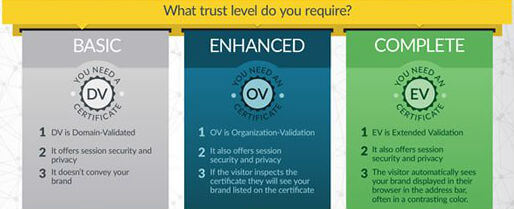 There are different types of SSL Certificates are available, varies in terms of security, encryption standards and level of protection etc. The tough question is which one suitable SSL Certificate for your website?
Content
SSL Certificates for Blogs
Recommended SSL: Free SSL | Standard SSL
Blogs are single domain sites does not interact with customer password or credit card information. However, blogs with HTTPS are ranking better than HTTP in search engines. For those who want to utilize the support and after purchase protection, there are Cheap SSL Certificate providers listed here. These Free and Standard SSLs are easy to get.
Also read: Best Website Builders for Business and Shopping
SSL for Personal & Business Website
Recommended SSL: Free SSL | Standard SSL
Those who own business websites dealing with customer credit cards and user accounts, better to have a standard SSL certificate for the domain. The standard SSLs are cheaper than EV SSL and typically cost less than 100 bucks for a year. Wildcard SSLs are coming for subdomains and multi-domains.
SSL for ECommerce & Large Business Website
Recommended SSL: Extended Validation SSL
ECommerce websites are handling with customer personal information and credit card details. The communication between the browser and hosted server should be protected at the best level with maximum security. All ECommerce domains should be protected with EV SSL certificates and communication protocol should be HTTPS. EV SSL provides a green address bar on website URL, typically take 1-2 days to receive.
Also read: Online Tools to Optimize Website Speed and Mobile Compatibility
SSL for Global Sites and Servers
Recommended SSL: Organization Validated SSL
OV SSL Certificates are built for large organizations and security is provided at the Organization level.
The technology now using for protection is TLS(Transport Layer Security), not SSL. However, SSL is the acronym still widely used instead of TLS and followed in this article too.
Also read: Cool Websites to Send Free International SMS from PC
What types of SSL Certificates are available?
There are at least three to four types of SSL certificates are available in the current market. This market may vary depends on the growth of technology and the future requirement of more bulletproof security.
| SSL Type | Validate Domain | Validate Company | Validate Address | Display Padlock | Green Address Bar | Good For |
| --- | --- | --- | --- | --- | --- | --- |
| DV SSL | Yes | No | No | Yes | No | Blog, Small Scale |
| OV SSL | Yes | Yes | Yes | Yes | No | Business, Shopping |
| EV SSL | Yes | Yes | Yes | Yes | Yes | Servers, Global |
Typically, these SSL offers 128-bit to 256-bit encryption level to protect the communication between the clients and HTTPS sites.
Free SSL Certificates
There is an open source free certification authority Let's Encrypt ideal for blog admins. Let's Encrypt is sponsored by companies like Google, Facebook, Cisco, Mozilla, Sucuri, etc. These free certificate owners have to renew their certificate every three months, maybe a bit time consuming but worth for a zero cost SSL certificate. Please visit for free SSL Certificate Let's Encrypt. Please make sure your host is supporting Let's Encrypt community page.
Cloudflare is an alternative solution for a cheap SSL certificate. Cloudflare is a reverse proxy, the first point of contact for browsers when a visitor request data from your server. By setting properly, you can establish an encrypted connection between the visitor and CloudFlare server. However, the traffic between your site hosted server and CloudFlare will not be encrypted. Read more details about Cloudflare.
Standard SSL Certificates
Standard SSL (Single SSL) are, Domain Validated SSL, ideal for single domain those who own a single website. These Standard SSL certificates are easy to buy and do not need to submit much information to the certificate issuing authority like other SSL Certificates. However, these certificates are issuing after proper domain evaluation performed by SSL provider. The SSL Certificate providers are offering the lowest assurance to these Standard Certificates.
Standard SSLs are good for personal website and medium level business websites but not recommended for any E-commerce sites. This issue process is very fast, does not involve heavy verification process and may take up to 1-2 hours maximum for the entire process.
EV SSL Certificates
Extended Validation Certificates are offering the highest level of authentication to the Websites. This EV SSLs are designed to boost the security and confidence, especially for E-commerce Site visitors. You may need to go through a verification process of the physical location, servers, IP address and other security guidelines before issuing this EV SSL Certificates.
EV Multi-Domain SSL Certificates
EV SSLs are also available for multi-domain like Wildcard SSLs for an additional price. This EV SSL Multi-domain certificate is ideal for E-commerce sites those are hosting multiple sites like Main Site, Shop Site, Forums, Blogs etc.
EV SSLs are good for Business, E-commerce Sites and Government Institutes websites to protect your clients. The validation process may take from few hours to 1-2 days to process the information and issue SSL Certificate.
Wildcard SSL Certificates
Wildcard SSLs are extending the protection to your main site and subdomain too. This is ideal for those who have a main website and additional subdomains like forums, email servers or deals subdomain.
OV SSL Certificates
These Organization Validated SSL Certificates offers unlimited server license with maximum security, the level of protection and guarantee typically more than USD 1 million.
The Organization Validated SSL Certificate (OV certificate) validates the organization information in addition to the domain ownership, physical address etc.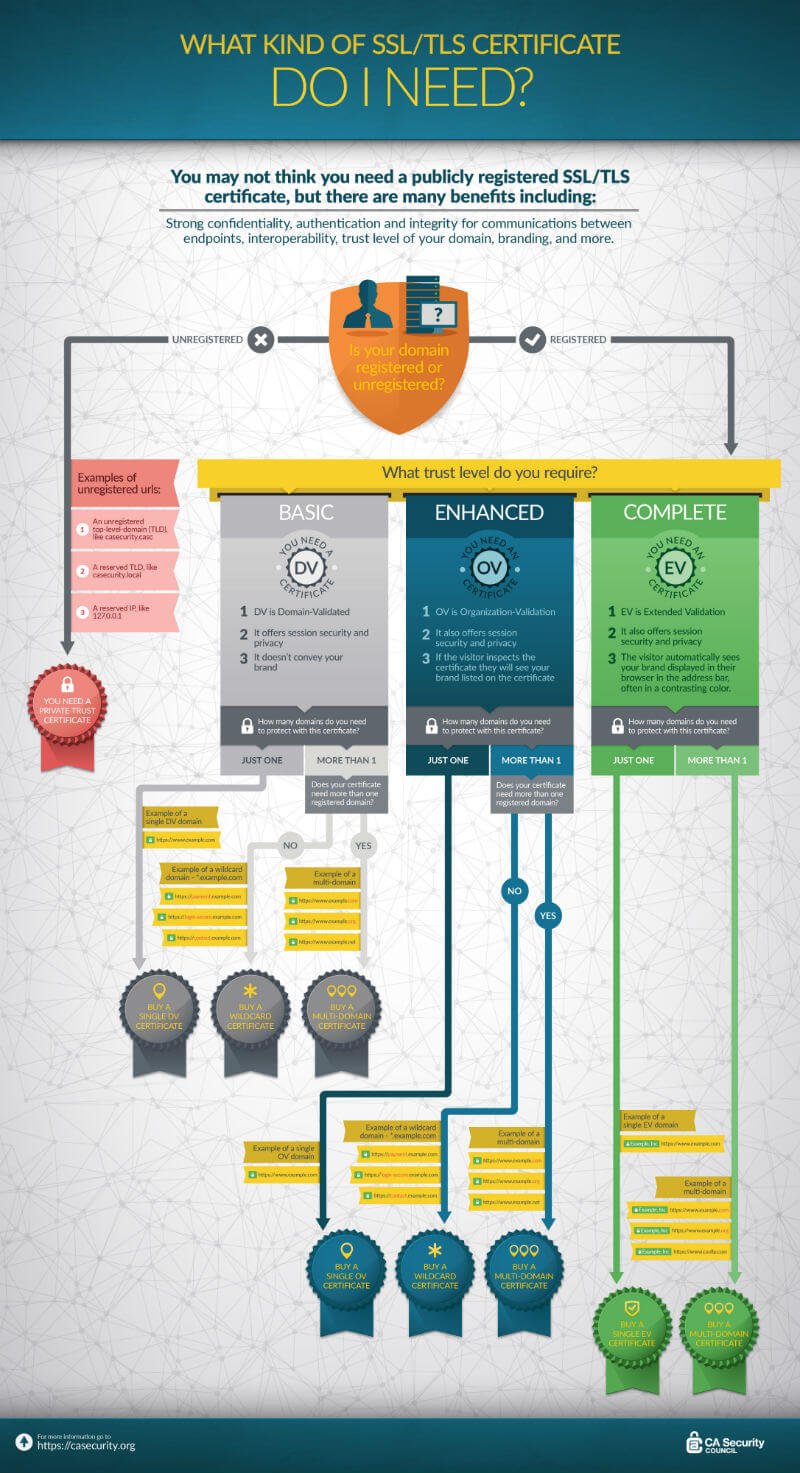 It is your choice to select the right SSL certificate for your business need. Please make sure and select the right standard of SSL Certificate need for your business or personal website. Now shop around and find the best secured, guaranteed and least priced SSL certificate for your website.