Google search is powerful, and there are some other amazing Google Search Tricks hidden under the same Google Search Engine. These search tricks help you to get dedicated tools that can perform a set of actions under the same Google Search website. Here is the list of essential Google tricks that can't avoid from your daily life.
This Google Search Tricks can bring you Tip Calculator, Flight Status, Weather, Currency Converter, Local Time in any place, etc. all from same URL, www.google.com
Google Tip Calculator
Google Tip Calculator is a handy tool when you go for an outing and want to calculate the restaurant tip. Just open Google search and just type 'tip calculator.' The Tip Calculator will pop up in Google search page with the option to change the tip percentage and split amount to per person.
Google Weather
With Google Weather, check the temperature before you step out. Google weather is a nice tool to give the current weather with one week forecast. Jut type 'weather' to pop up the local weather or give City or Zip Code "weather Miami" to check the weather in a location.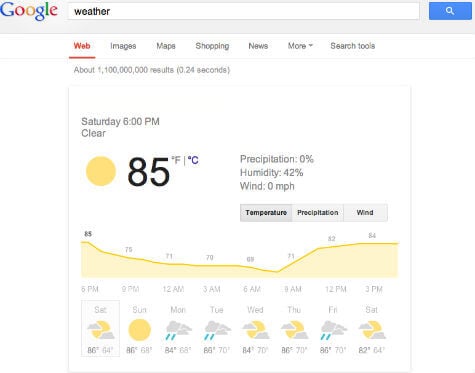 Google Calculator
Calculator from Google is a beautiful and easy tool for students and financial job. Type 'calculator' in Google search window, to get a good calculator with basic scientific functions.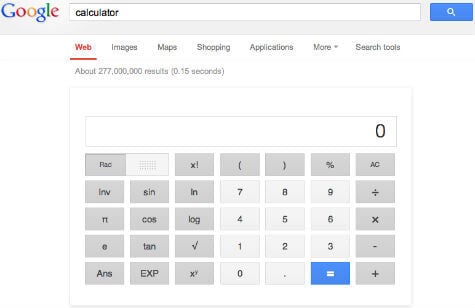 Google Unit Conversion
Unit Conversion is an essential quick tool you want to keep in your pocket always. This Google Unit Conversion is and essential app for healthcare field, shopping and even to calculate cooking time. You can convert the units here to other measurements, type "unit conversion" to get the tool.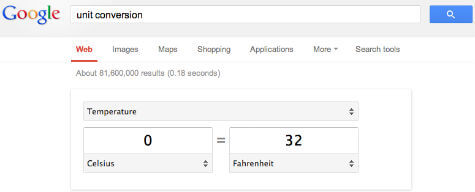 Google Local Time
Handy tool to check the time on different time zones. Google Local Time shows you the current time in your local area or any other place with keyword and location or zip code 'time Miami'.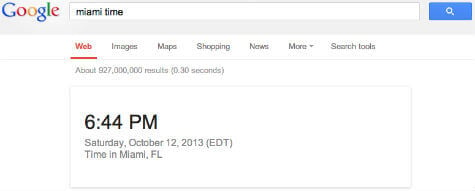 Google Graphic Calculator
Google Graphic calculator with visual representation, an excellent tool for engineering and other students to work with scientific functions. Just type the formula on the search bar and you will get the graph below.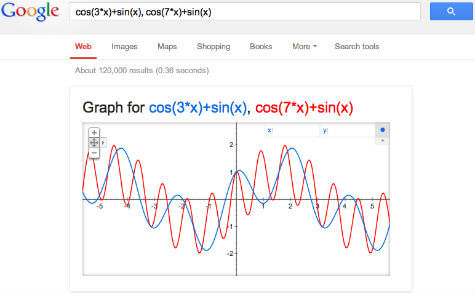 Google Translate
Are you planning next vacation outside the country next time? This is a must have tool to convert language. Type translate and the word or sentence you need and enter the language at the end that you want to transfer like 'translate How Are You in Spanish.'

Google Currency Converter
Another essential tool while you are on abroad to check the currency exchange rate online to keep update. Type the number and the currency that you have and the currency name that you want to convert into like '10USD in EUR'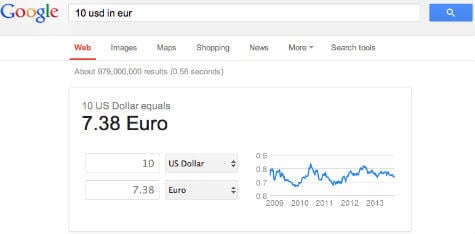 Google Flight Time
You don't want to login to travel company or flight company website to update the status of the flight. Open Google page search and type flight + flight name and number. This example type 'flight delay 260' and you will get the status of the Delta Airline Flight Number 260.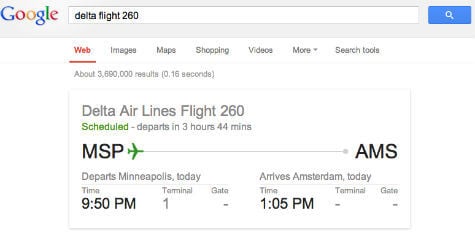 Google Ship Track
Do you want to track a package? You don't want to spend time by log into the FedEx or USPS site to track the information. Just type the tracking number in Google search, it will guide you the tracking details page.

Google Stock Price Search
Are you checking the stock index daily? Google Stock Price Search tool can update the stock price that you are watching. Just type the desired company Ticker Symbol, you will get the stock price with the trend.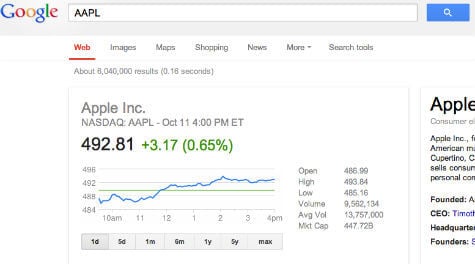 Most of these tricks are compatible with your tablet and Android phones too. There may have other Google Search tricks and useful tools, which you are using for your work and daily life, please share those for our readers here.