Let's imagine that you need to make an emergency call from your iPhone and your battery is critically low. Unfortunately, you don't have a charging cable or a power bank to charge your phone. What will you do? Here are some tips to save iPhone battery during an emergency when there is no alternate source of power.
1. Turn OFF Bluetooth and Wi-Fi
Can Bluetooth or Wi-Fi drain your battery? Of course, they consume more power, if you are using any of these communications on the iPhone actively. However, it won't drain your battery much when they are only turned ON but kept idle without any usage. Still, you need to turn them off, if your battery is critically low and you need to keep your iPhone live at least for another few minutes or so. You can turn Bluetooth and Wi-Fi OFF either from the Control Center or by navigating to Settings->Bluetooth and Settings->Wi-Fi on your device.
2. Disable Location Services
iPhone apps like Maps, Camera are using Location Services to get your current location while using the app. However, if your device is about to die, then you should turn off the location sharing/services immediately. This will avoid draining your battery and save battery use for emergency use. The location services consume a lot of power as it makes use of GPS, Wi-Fi, Bluetooth to find out your current location.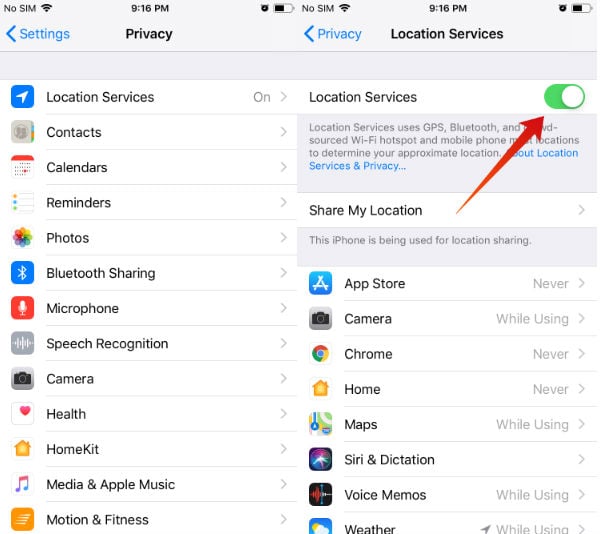 Navigate to Settings->Privacy. Next, tap the position of the switch titled Location Services to the left. Then, tap Turn Off button on the confirmation pop up. Once your iPhone is recharged, you can turn on the Location services again.
3. Turn ON Low Power Mode
When your battery level reaches 20%, iOS will display a pop up with two options Low Power Mode and Close. You can use that option to activate Low Power Mode on your iPhone.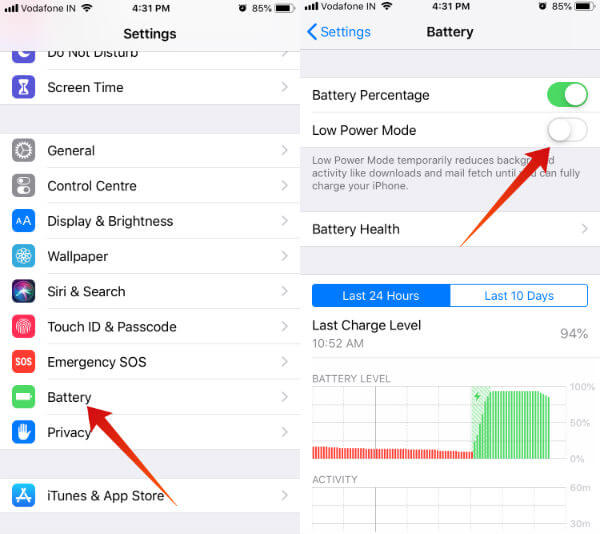 You can also manually turn ON the Low Power Mode from Settings->Battery in advance before reaching the 20% threshold. The device will automatically quit from Battery Savings Mode after charging the battery enough. The Low Power Mode helps to reduce your battery usage by restricting a lot of features like background refresh, email fetch, Siri and more.
4. Disable Mail Fetch
In iOS, there are two options to check for new emails: Fetch and Push. In Fetch, your phone will connect to the internet, checks for new emails and downloads them on your device. If the fetch time interval is set to Every 15 minutes, then your device will check for new emails every 15 minutes.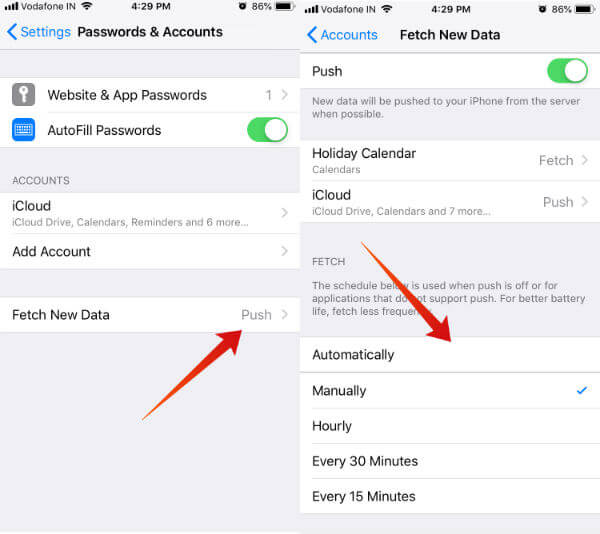 However, fetching frequently will quickly drain your battery. Hence, it is highly recommended to set either a long timeout (1 hour) or manual option for the mail fetch. Navigate to Settings->Passwords & Accounts->Fetch New Data. Under the section titled FETCH, modify the fetch schedule to Manually or Hourly. In case it is set to Manually, then your iOS will check for new email only when you open your email client. You can use this option if you would like to save your iPhone battery for emergency.
If your email client supports Push feature, then you can make use of that instead of Fetch. Unlike Fetch, Push doesn't check emails at regular intervals as that job is done by your email server. Hence, your device won't consume a lot of battery. Push feature is supported by Gmail, iCloud mail, Yahoo Mail and more.
5. Check If Vibration is Turned OFF
A lot of people make the mistake of turning on both vibration and ringing sound on their phones. If you can hear your phone ringing sound, there is no need for vibration. Right? Also, keeping your iPhone in vibration mode consumes more power.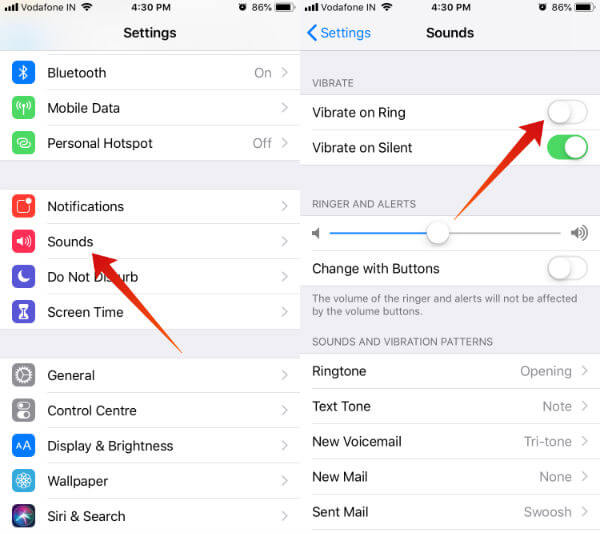 It is highly recommended to turn off vibration when your battery is critically low. Navigate to Settings->Sounds and toggle the position of the switch Vibrate on Ring to the left.
6. Enable Downtime
If you are having iPhone 5S or later, then you should have the latest iOS 12 release on your iPhone. To save iPhone battery, just enable Downtime (Settings->ScreenT ime->Downtime) on your iPhone till you put your device for charging.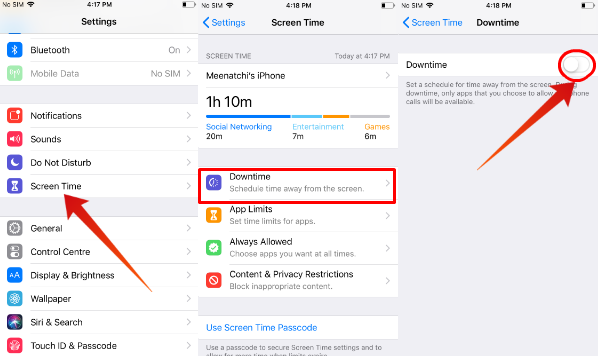 Downtime is an iOS 12 feature allows you to set nap time for your phone so that all the apps except messages and calls will get disabled. Not only apps but also you won't receive any notifications on your device which will help to save your battery till you find a power source.
Related: How to Set Downtime on iOS?
7. Disable LTE
LTE is fast and quick for data but hungry for data. When you are running out of battery, LTE is not a good choice. It is highly recommended to switch off the LTE connectivity as it consumes a lot of power.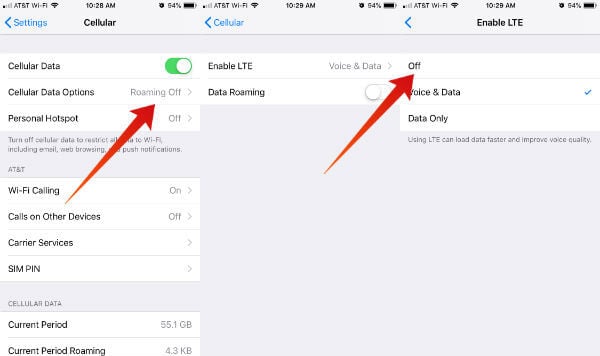 Navigate to Settings->Cellular->Cellular Data Options. Then, tap Enable LTE to set the value Off. (The menu options might differ based on your carrier and the type of mobile network you are using)
8. Use Wi-Fi Calling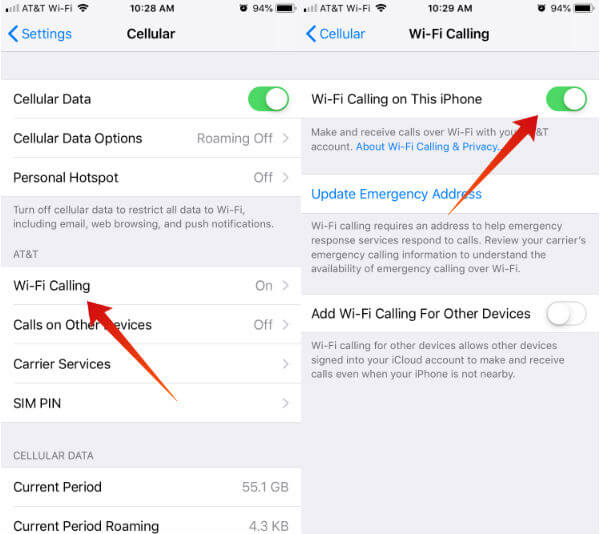 In case you need to make a quick call to someone and your battery level is too low, then you can make use of Wi-Fi calling instead of normal. Wi-Fi calling will help to extend your battery life for more time, as it consumes less power and your device is not hunting for a carrier signal anymore.
Related: How to Enable Wi-Fi Calling on iPhone and Android
9. Keep a Powerbank with You
Always recharge your iPhone when its battery level goes below 20%. If your battery won't last for a day, it is better to keep a spare cable at your workplace so that you can quickly charge your phone. If you are someone who is riding in a car to the workplace, then you can buy and keep a portable charging adapter for your iPhone to charge the device while driving.
Related: Best portable power banks with wireless charging
To avoid running out of your battery, it is highly recommended to keep a fully charged power bank with you always. A power bank should be able to keep your phone live for at least 30 minutes to 2 hours depending on your usage. If you don't have one, you can check out this post on the
10. Keep A Car Charger or USB BackPack
Well, you can always charge your iPhone from your car's cigarette lighter plug. There are plenty of USB car chargers available for less than 10 bucks from Amazon. You can connect your iPhone or Android while you drive the car. You can have one best USB car charger with a lightning USB cable from Amazon for less than 10USD.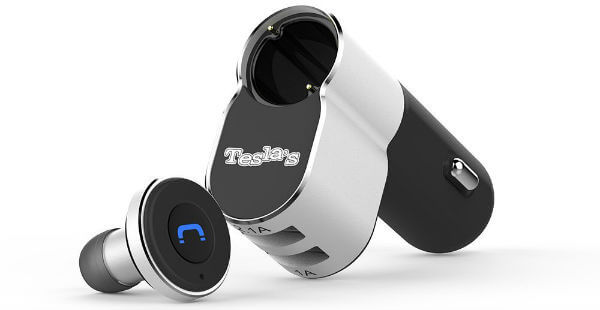 Also Read: 5 Best Smart Car Chargers with Additional Features.
The modern backpacks are coming theft free and also attached with battery packs. These are useful when you are running out of battery. You can simply connect the attached USB cable to your phone lightning port to charge the battery.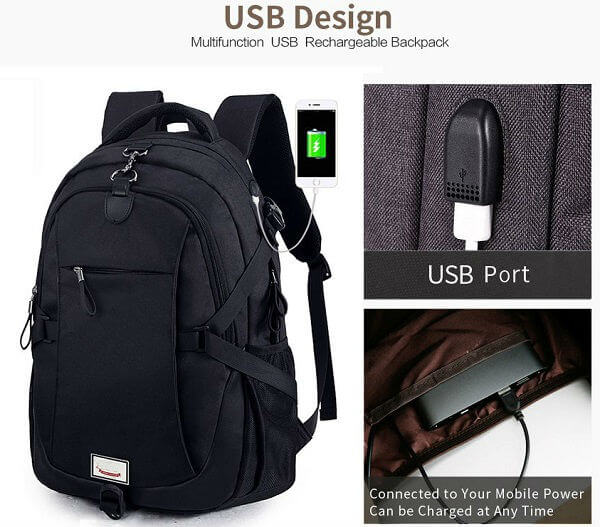 Also Read: 10 Best Antitheft Backpacks with USB Charger
If you are a moderate user of your iPhone, your iPhone battery can't stay more than a day. This depends on your daily phone usage, browsing habit, and even the cellphone provider signal. A week mobile signal force the iPhone to search for the quality signal all the time, that will drain the iPhone battery quickly. When you are on a public transporting vehicle or walking on the street, you need the last juice of the iPhone battery to make any emergency calls just in case. We hope these tips will help you to keep the iPhone's last juice until you reach home safely.