Being an Android user you would have definitely encountered unprecedented lag with your devices. Each and every day, things get even worse and you would have definitely thought of a way to bring back your Androd device perfromance and speed. If you're tired of watching how your Android device gets slower every day, and you don't know anything about clearing cache, clear search history, we've got the perfect solution for you.
We've compiled a list of the best Android cleaner apps that can clean Android junk files and cache as well as work as perfromance booster for Android devcie.
Files Go by Google
The Files GO is a useful Android app to free up a large cache data and other associated files from your phone. The app from Google well known for simplicity and connivance. With Files Go, it is easy to locate and navigate through files on the Android phone. This cleaner app for Android does the file filtering instead of sorting them into folders, and always keep your stuff more organized. The Android performance booster app always keeps an eye on available space of Android internal memory an external storage. This app can give you suggestions based on the device performances and storage issues.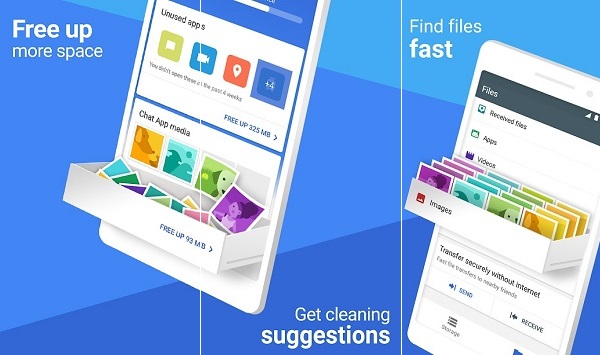 Apart from that, this cool app for Android helps you share files to all those offline apps on your list. With speeds of up to 125Mbps, its efficient and less time consuming when compared with old traditional file explorers. Moreover, Files Go app supports cloud backup direct from Android. You can select and back files to Google Drive or any other cloud storage app you prefer. The Files GO offline file sharing is safe with WPA2 encryption which is a step ahead in file transfer protocol and security. This android performance booster app is light and you never need to worry about any bloatware or malware issues<.
Download Files Go by Google from Playstore.
Clean Master
The clean master is one of the best optimization app available on the Android platform. This Android cleaner app keeps your phone clean from junk files, and protect from viruses and makes your device much smoother. This performance booster app helps free up your storage space by removing junk, residual and cache files which slows down your phone. Moreover, Android Clean Master App Scans for viruses on all apps and blocks and removes virus to keep your phone safe.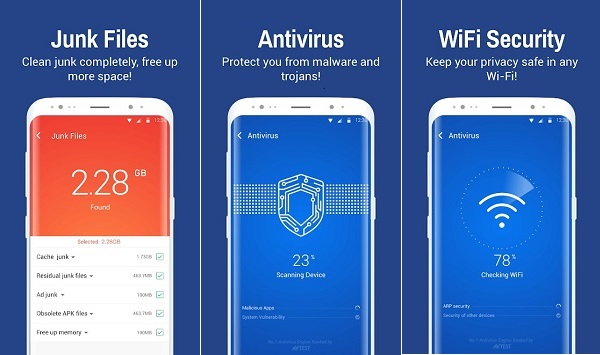 The new One-Tap Boost feature helps speed up the phone by freeing up RAM, making the device more smooth to operate. Apart from that, Clean Master also comes with the Private Photo feature, which helps you hide and encrypt your photos and secure your privacy. This Android optimization app also features WiFi Security. This WiFi security feature helps to detect fake WiFi and unauthorized connections. This feature is more useful to keep your phone safe from insecure Wifi issues. Apart from performance enhancement, this optimization app helps to save battery power and extend battery life by hibernating running apps.
Download Clean Master from: Playstore
DU Speed Booster
The DU Speed Booster scans Android and deletes unnecessary junk and cache files. Also, it features anti-virus access, keeping Android device safe from virus attacks and makes your private data more secure. All you need to do is to just tap the One-Tap Boost button. The one-tap comprehensively detects network status, including Wi-Fi security, download speed, upload speed etc and optimizes itself to the maximum.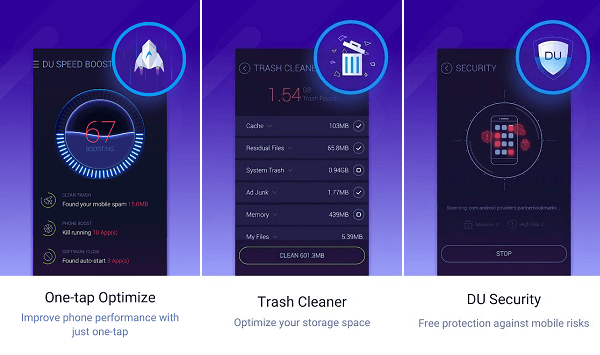 Apart from these, this Android performance booster app monitors device temperature. It notifies accordingly when the core starts overheating and starts cooling when the temperature heats up. This Android performance app also monitors battery status and in turn monitors charge status and other related aspects.
Download Clean Master from Playstore.
Power Clean
The Powe Clean is based on a powerful Android junk file scan engine which detects useless files and large cache data. The data scan lets you clear spaces and releases memory of the Android phone, make your phone rather smooth. This Android speed booster here comes with added features of battery monitor, temperature cooler as well as a notification cleaner.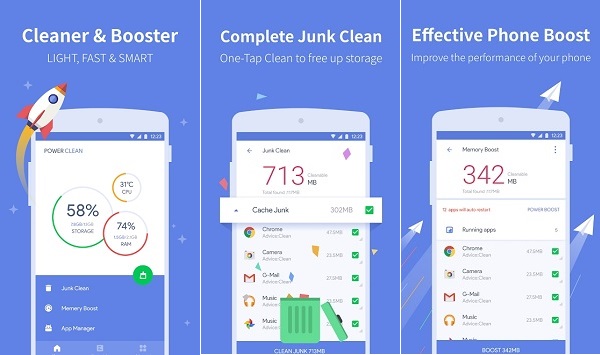 The battery monitor feature helps you keep track of your battery status while being charged or when you use it. The CPU temperature cooler is capable of detecting exceeding temperatures and aids in cooling the device by eliminating RAM eating apps. As for the notification cleaner, it blocks junk notifications and stores them until you want them to be shown. As most optimization apps, the Power Cleaner also comes with a one-tap memory release feature.
Download Power Clean from Playstore.
C Cleaner
With C Cleaner, one of the best Android cleaner apps can be used to clean and optimize Android devices with few taps. This cleaner app helps you wipe out Android's residue files and delete cache files. This Android app analyzes your device completely and notifies about unwanted apps that eat up the internal space.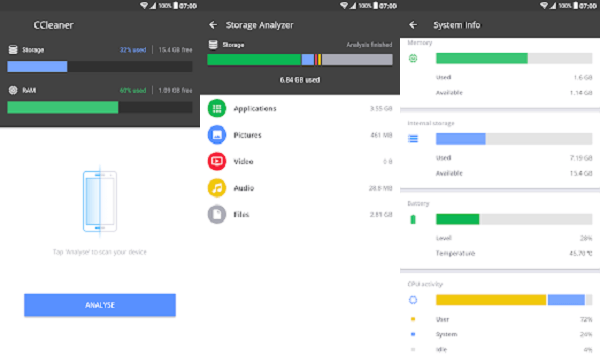 The hibernation feature of this app will stop the apps from running in the background until you manually open them. Apart from space management, the C cleaner also keeps track on the battery drain/charging status throughout. The battery status helps the charging process and keeps an eye on the core temperature.
Download C-Cleaner from Playstore.
GO Speed
The Go Speed is abruptly the lightest Android Performance Booster till date. This Android speed booster can boost your device by up to 60%, and safely clean junk files to increase available space. With the new Process Monitoring Technique, the Go Speed app intelligently cleans background processes and stop laggy apps.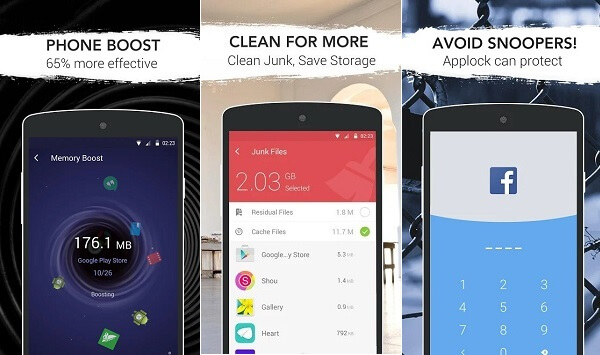 Moreover, this technology helps you disable auto-start of certain bulky apps, saving a lot on memory as well as battery life. Apart from the cleaner, the app offers app manager feature which makes backups and manages cache data. The smart on-screen widget is extremely useful when your device starts getting fussy. Just a tap and the GO Speed will instantly free up junk files and improve the device's performance.
Download Go Speed from Playstore.
All-In-One Toolbox
As the name suggests, the All-in-One Toolbox is a complete pack of Android optimizer available on the play store. This app is an all in one cleaner and speed booster that also features a mini-launcher and privacy protector. This Android Toolbox app comes with a smart battery optimizer as well as an app manager. This All In One Android cleaner app lets you optimize every aspect of the Android device intelligently. The cleaner function also gives a floating widget that lets to scan storage and kill background RAM wasting apps.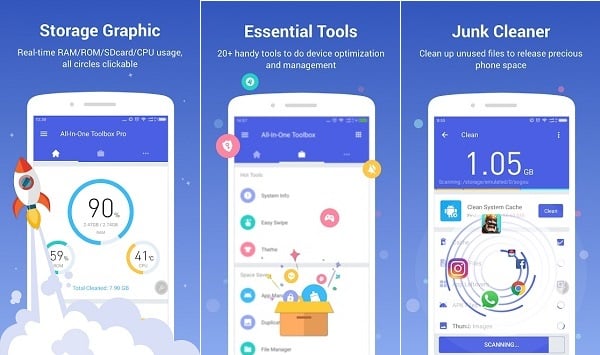 A feature worth mentioning is that this Android Performance Booster app lets you clean up hidden WhatsApp chat junks from the on-screen widget. Also, it cleans and increases space by eliminating duplicate images on Android storage drives. This feature is useful as a measure to reduce junk spaces maximum. Additionally, this optimizer app features image compression that helps reduce image sizes. It also favors boot speedup and startup customization (both features must require root access).
Download All-In-One ToolBox from Playstore.
Ace Cleaner
The Ace Cleaner's unique boosting Engine can maximize Android performance rapidly. Like all cleaner apps, this Android performance booster app is capable of freeing cache data and junk spaces. This data cleaner app scans for duplicate images, large residue files etc and releases much-needed RAM space to make your device smoother.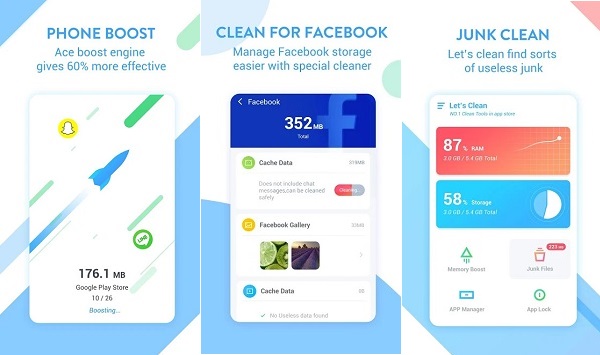 The one tap widget always sees your device and never gets drenched in lag issues. Just a small tap, and that's it. The app lock feature is useful to protect apps containing sensitive data. Apart from the app lock, the Ace Cleaner also comes with app manager that help backup needy apps and uninstall useless ones. Additionally, this app comes with a specialized clean tool dedicated exclusively to clean Facebook residue data. This makes using Facebook and its peer apps without causing much of a fuss on Android phone.
Download Ace Cleaner from Playstore.
Turbo Cleaner
The Turbo Cleaner cool Android app cleans background data efficiently with its unique data algorithm. With the special cleaning engine, Turbo Cleaner detects junk files on Android including advertisement junk, system junk, etc., and effectively eliminates them for smoother performance. All you need to do is to just enable the one tap widget and press spaces directly when you feel your device starts getting laggy.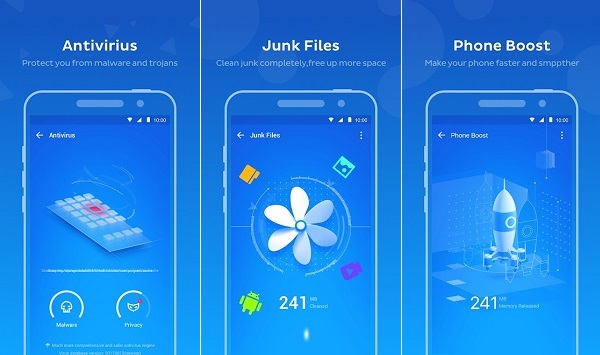 Apart from the cleaner, this performance booster for Android comes with CPU cooler and battery saver that keeps a track of your battery health and hardware related issues. The Turbo Cleaner monitors CPU temperature and detects apps that are overheating. By killing heavy resource consuming apps, you can reduce CPU usage, lag or laggy issues as well.
Download Turbo Cleaner from Playstore.
Boost Cleaner
The Boost Cleaner is one of the lightest Android cleaner apps available on the play store. It's easy to use and the app interface is simple and friendly. Being an Android RAM cleaner app, the Boost Cleaner is has turned out to be a good contender with its efficient scanning and cleaning algorithms. Boost Cleaner app can simply clear Android RAM with just a tap and make your device much smoother.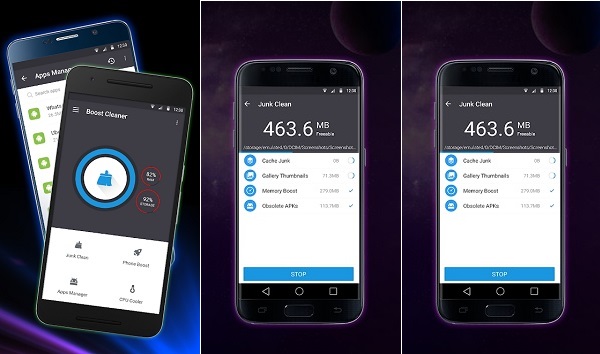 The one tap clean option collects data on space issues and RAM eating apps and eliminates them. This Android speed booster app also features battery checker that monitors battery status. It keeps an eye on the battery draining apps and stops them from opening to protect battery power.
Download Boost Cleaner from Playstore
The Android platform is expanding each day and rather equipping the right optimizer app is quite cumbersome. Our list of the best Android cleaner apps includes top-rated Android cleaner apps that are quite user-friendly. Most of them are light and does work with most of the stable Android versions. We hope that our list helps you choose the right one according to your device's compatibility.  These android performance booster apps are highly reliable and are extremely efficient in doing what they're programmed to do.. ie complete android device optimization.