You will find plenty of apps when you search iPhone launcher for Android on the Play Store. On Android, you get many skins from many manufacturers, some of which do look similar to iOS. If you too like the iOS look and feel but prefer the flexibility of Android, you can use an iPhone launcher for Android.
The quality of many of these launchers isn't quite good. Especially when compared with the likes of Nova Launcher, Action Launcher, etc. So, here are the best iPhone launchers for Android.
Launcher iOS 16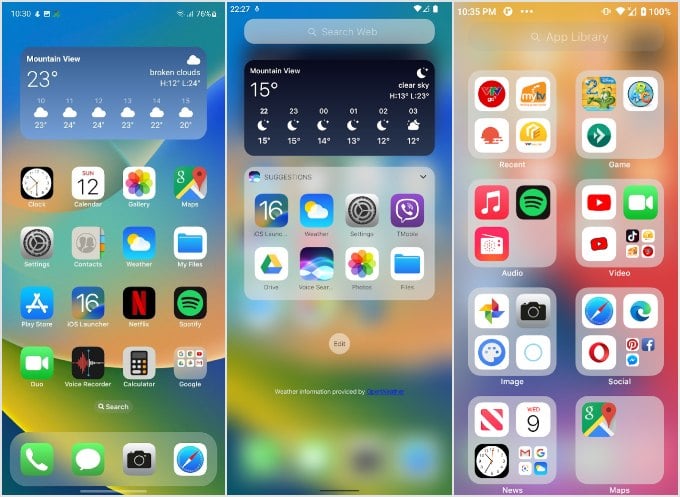 Key Features
Dark mode support
Icon customization
iOS widgets and wallpapers
Transition animations and effects
iOS Assistive Touch
Control Center
Launcher iOS 16 is kind of a new launcher. It was released on the Play Store as Launcher iOS 15 soon after the launch of iOS 15. It's been a year and there have obviously been updates, since it's now called Launcher iOS 16. As you would expect, the app brings iOS 16 look and feel to your Android home screen.
You also get some iOS-esque features such as an iOS style app drawer, search, etc. The app has several iOS wallpapers, icons and animations built-in. It also has iOS style widgets, notification badges, and weather info. You can also access App shortcuts with a long press, which is similar to the 3D touch feature on iOS.
In the Settings, you can find links to a couple more apps by the developer, which will give you an iOS style lock screen and control center.
Download from PlayStore: Launcher iOS 16
Phone 14 Launcher, OS 16
Key Features
Swipe down search screen
Lock screen with passcode and pattern lock
iPhone Wallpapers and Icons
Clean, beautiful Design
Customizable style, size, color, position, vibration
Control Center
Phone 14 Launcher is also an iOS 16 style launcher which used to be called Phone 13 Launcher, iOS 15. As you will expect, it has the iOS style icons, app drawer, widgets, and of course, the home screen. In addition to all of that, Phone 14 launcher also replaces your status bar and brings iOS status bar icons.
Naturally, this limits some of the functionality that you get with your Android status bar. But, in exchange, you can also swipe down from the right side of the status bar to access the control center. If you swipe down from the left, you get an iOS style notification center. An iOS-like lock screen is also built-in along with security options such as biometrics, pattern or passcode. Phone 14 Launcher also gives you the option to swipe down to access spotlight search, just like iOS.
There's a built-in widgets collection from both Android and iOS as well as the touch assist functionality.
Download from PlayStore: Phone 14 launcher, OS 16
iLauncher iOS16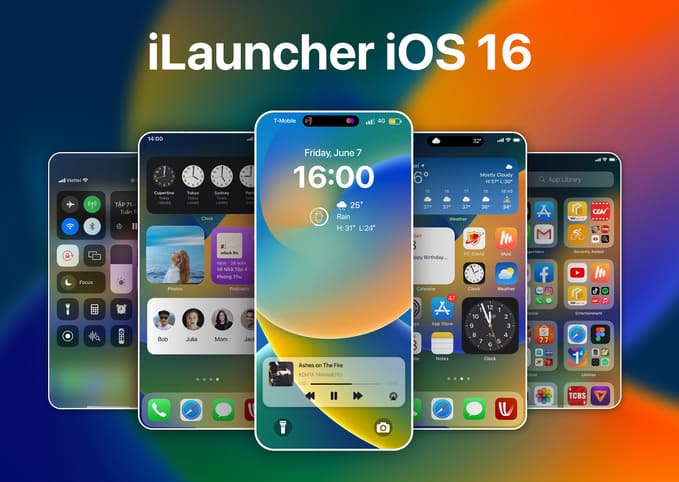 Key Features
Swipe down search screen
Downloadable themes and wallpapers
App library with hiding
iOS widgets
3D Touch menu
Control Center
iLauncher is one of the older entries on this list. The launcher has gone through many updates and iterations, but remains one of the smallest in size. It's a great option if you don't happen to have abundant storage or RAM on your Android device, but still want an iPhone launcher for Android.
The launcher has plenty of iOS 16 widgets built-in that you can also customize to your liking with different colors, fonts, and custom background images. There's also an iOS style lock screen with pass code functionality, as well as a control center. You also get various iOS themes and wallpapers. Users can also hide certain apps from the launcher, something not even iPhone users can do.
Download from PlayStore: iLauncher iOS16
Launcher iPhone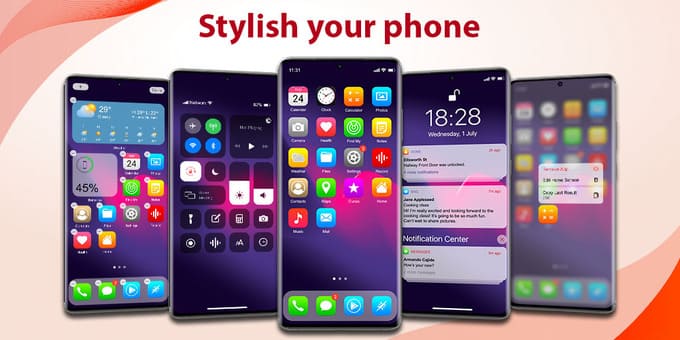 Key Features
Lock screen
Control center
Smart search
Customizable icons
iOS style status bar
Screen recorder
Launcher iPhone is one of the most feature packed iPhone launcher for Android. With it, you get an iOS style home screen, control center, and lock screen. If you've noticed the trend by now, this is all pretty common amongst iPhone launchers for Android. However, Launcher iPhone also has the Assistive Touch functionality baked in, which you can find on a few other iPhone launchers for Android.
There are even some transition animations to choose from, and you can even apply your favorite icon packs. There are, of course, some iOS widgets built-in as well. Moreover, there's even a built-in screen recorder. It can be helpful if you're running an older version of Android which does not have the screen recording feature.
Download from PlayStore: Launcher iPhone
X Launcher: With OS13 Theme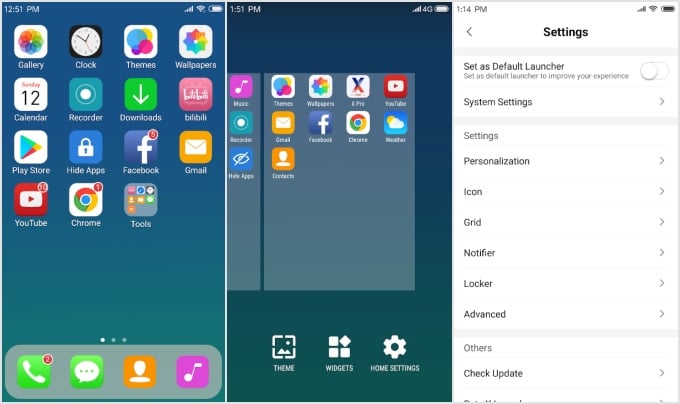 Key Features
Theme store
Hide apps
Control center
Customizable icons
Android style app drawer
If you liked iOS before all the widgets, when the home screen was but a grid of icons, you can still do that with any iPhone launcher for Android. But, X Launcher gives you that experience out of the box. For others, this may be quite out-dated. If you don't mind the iOS 13 look, you do get the ability to customize app icons.
X Launcher has, like many others, a built-in control center that looks like the one on iOS. There's also a theme store, if you're not a fan of the default iOS icons. There's no app library, since that's an iOS 14 feature. But a swipe up from the bottom brings up an Android-like app drawer. The app is sprinkled with ads like every other iPhone launcher for Android. But you can get rid of it by paying for the premium.
Download from PlayStore: X Launcher: With OS13 Theme
OS14 Launcher, App Lib, i OS14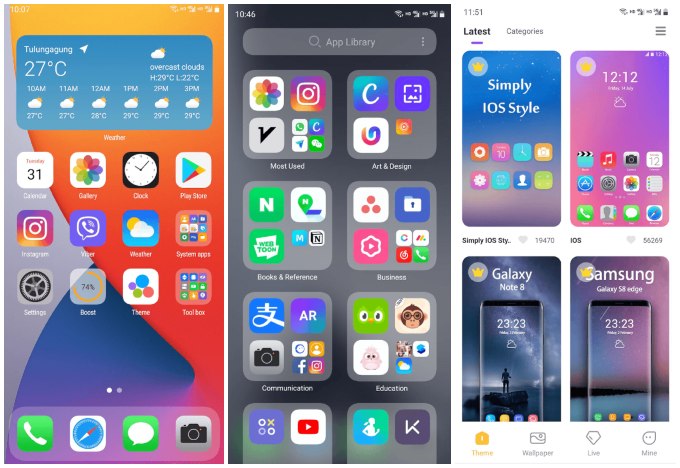 Key Features
Themes and wallpapers
iOS widgets
Dual apps support
Eye protector feature
Customizable icons
Transition effects & animations
Font options
Phone Booster
Battery Saver
Junk Cleaner
OS14 Launcher is based around the iOS 14 look and feel, which may sound a little outdated, but it doesn't look as such. That is mostly because the latest iOS 16 does not look much different than iOS 14, if at all. You get iOS 14 widgets, app library etc. In addition, there's also support for dual apps and an eye protector feature.
This iPhone launcher for Android even allows you to hide and lock apps with a pass code. There are over 500 themes you can choose from if you are not a fan of the default iOS icons. Unfortunately, there is also some bloat attached, such as a Phone Booster, Battery Saver, and Junk Cleaner.
Download from PlayStore: OS13 Launcher, i OS13 Theme
For a long time, iOS has felt like the more polished smartphone OS compared to Android. These says, that gap has mostly closed, but iOS still has a distinctive iOS look to it.
Some of these can be customized to look like an iPhone's home screen. Some others are pre-configured or designed to replicate the iPhone home screen. And the latter is the type that we're interested in today.
iOS has looked pretty much the same for many years, which makes the look iconic. Most people can look at a particular grid of icons and identify if it belongs to iOS. That also means there are many that would love to sport that iconic look, but can't, for whatever reasons.
This is why you can find several apps on the Play Store designed solely to let you mimic iOS features. Unfortunately, that also means the market is full of low quality apps full of ads and possibly even malware.
If you're looking for an iPhone launcher for Android, you will most likely find yours amongst one mentioned here. Because out there is a wild world of ad infested apps with sub-par experiences that you now don't have to go through.
iPhone Launcher for Android
What is an Android Launcher
For those unaware, a launcher is an app that allows you to launch other apps. This is the app that acts as your home screen, has an app drawer and other features. On Android, you have the option to download third-party launchers with more features and different themes directly from the Play Store.