Image editing used to be a job for the pros with their fancy cameras and Photoshop skills. With the internet and smartphone revolution, if you want to effectively remove background from a photo, no Photoshop skills are needed. There are many apps and online services available that let you easily remove background from photos.
If you are a newbie with photoshop skills, we will show you the quickest methods to remove background from a photo online using your computer and phone.
Remove Background from Images Online
Installing an app may seem too much if you have only a couple of images to edit. There are many online tools available for many tasks and removing background too is pretty easy from your computer. It only takes a few clicks to remove background from images online using your PC or Mac.
Click the Upload button and select the image you want to remove the background from. You can also drag and drop the image to the website.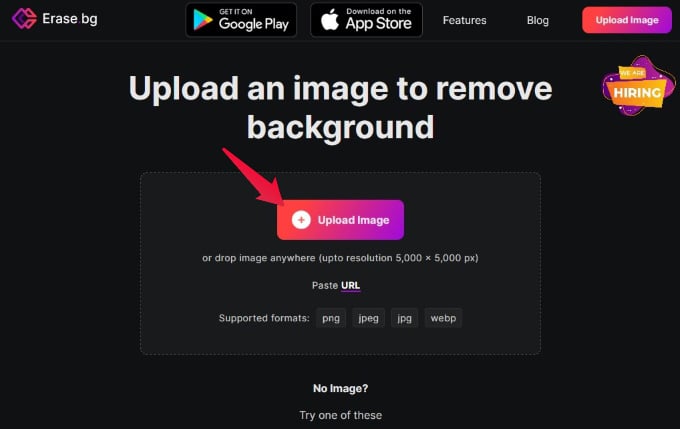 That's pretty much it. The app will automatically detect the background, and remove the background from the photo. You can see the results below from remove.bg.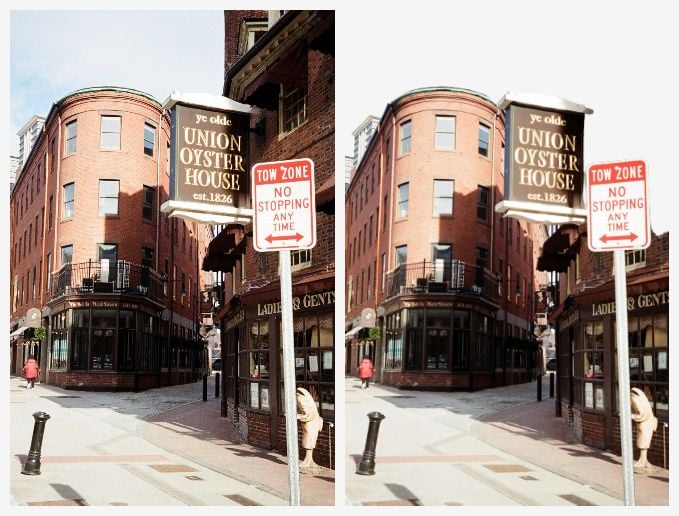 The results are not always up to par and will greatly depend on the photo. The example you see above was created using remove.bg. The same image gives very different and unwanted results with erase.bg. Things get even worse with some other services such as photoscissors.com or removal.ai.
That's not to say one of these is definitely better than the rest, however. As already mentioned, you will get different results with each of them depending on the photo. However, in our limited testing, remove.bg seems to get it right a little more than others.
Related: 12 Best Free Online Photo Editor Websites
Remove Background from Photo on Android
There are, of course, apps available for Android that can also remove background from photos. In fact, remove.bg, and erase.bg, are available as background remover apps for Android. You can simply open up these online services in any browser and use them as described above. But if you regularly need to remove background from photos, installing an app is the better idea.
Download from Play Store: Remove.bg (Free)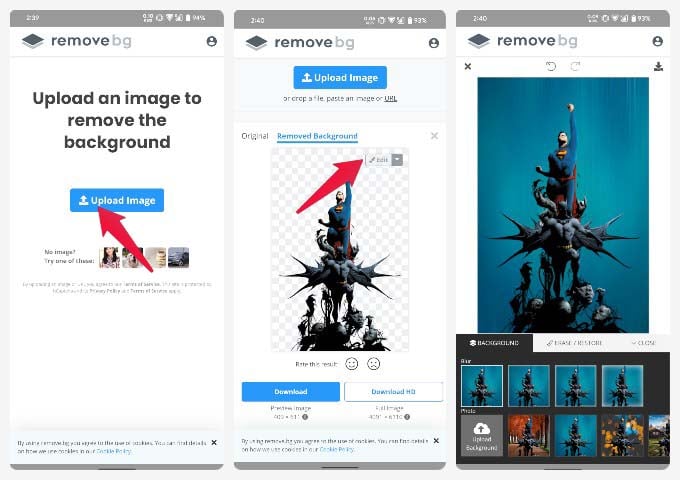 Install remove.bg Android app from the Play Store.
Launch the app and tap the Upload button.
Use your preferred app to browse and select the photo that you want to remove the background from.
Tap on the Download button to save the image to your device.
You can also tap on the Edit button located in the upper-right corner of the preview. That gives you built-in background options as well as the ability to manually cut out certain parts.
Related: Best Photo Editor App for Android Phones and Tablets
Remove Background from Image on iPhone and iPad
The remove.bg tool is not available for iPhone users. But you can still use erase.bg to get similar results. Once again, it's the same online service but comes as an iPhone app that is more convenient to use if you need it often.
Download from App Store: Erase.bg (Free)
Download and install the erase.bg app from the App Store on your iPhone.
Open the app and tap the Upload button.
Select the image that you want to remove the background from.
The app will then automatically detect and remove the background from the image on your iPhone or iPad. Again, the results greatly depend on the complexity of the image you're using. The erase.bg does not offer any manual tools either.
Related: 10 Best iPhone Photo Editing Apps
These are not the only apps available on Android or iPhone that can remove background from photos. There are plenty of choices available if you want to remove background from images accurately. Many of those apps do a lot more than simply removing the background, too.