Performing data recovery on pen drives is now easier than ever. Presently, there is an extensive range of applications that can recover data from all kinds of sources. Though, not all of them can fulfill your requirements. For your convenience, we have come up with a tried and tested solution to perform pen drive data recovery and get positive results in the end. Read on and learn how to recover data from any USB drive in no time.
Recoverit Data Recovery: The Best USB Data Recovery Solution
If you are looking for a user-friendly and secure solution to recover data from a pen drive, then we recommend trying Recoverit Data Recovery. It is known to yield an exceptional 96% data recovery success rate and that too under all kinds of scenarios. This includes virus attack, accidental data deletion, formatted pen drive, corrupt storage, and more. You can learn how to recover files from USB drive by following a simple click-through process. Here are some of its other features.
Recoverit supports all kinds of USB drives from numerous manufacturers and of various file systems.
It is a complete data recovery tool that can recover photos, videos, music, documents, and more than 1000 different data formats.
There are two different scanning methods that it supports – normal and deep. While the deep scan would take more time, it will also yield far better results.
Not only your pen drive, the application can also recover data from the system's internal partition and numerous other sources like SD card, MP3 player, external hard disk, etc.
The desktop application runs on every major version of Windows and Mac. There is also a free version of the tool that users can download from its websites.
How to Recover Files from USB Drive Using Recoverit?
One of the best things about Recoverit is that it does not require any prior technical experience to operate. You can undergo these basic steps to perform pen drive data recovery under all scenarios.
Step 1: Connect your pen drive
First of all, connect your pen drive to your computer and make sure it gets detected successfully. Now, launch Recoverit Data Recovery on your system and click on the "External Device Recovery" option.
If you are asked what kind of external device you have attached, simply select the USB drive to proceed.
Step 2: Choose a location to scan
As you would proceed, the application will display all the available locations (the internal partitions and the connected USB drive). Choose the USB drive icon and start the scan.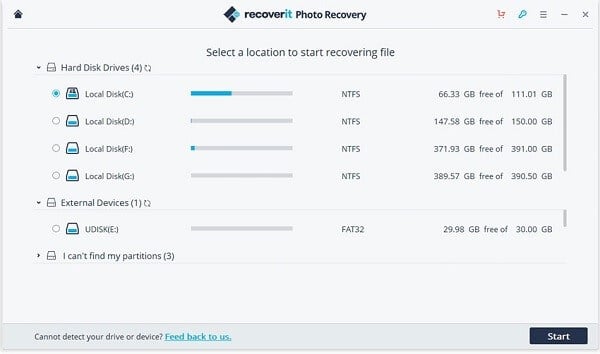 Step 3: Scan the USB drive for lost data
As Recoverit would look for any lost or inaccessible content on the connected pen drive, you can simply sit back and wait for a while. There is an on-screen indicator on Recoverit to display the progress of the scan.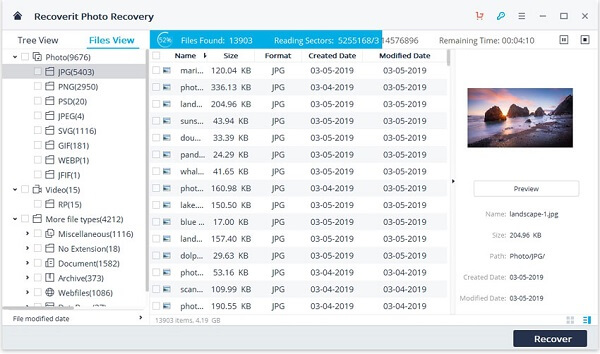 Step 4: Recover the extracted data
In the end, Recoverit Data Recovery will display the extracted data and would automatically segregate it into different sections. You can preview the media files or any other content here and make the needed selections. Click on the "Recover" button to save the selected files.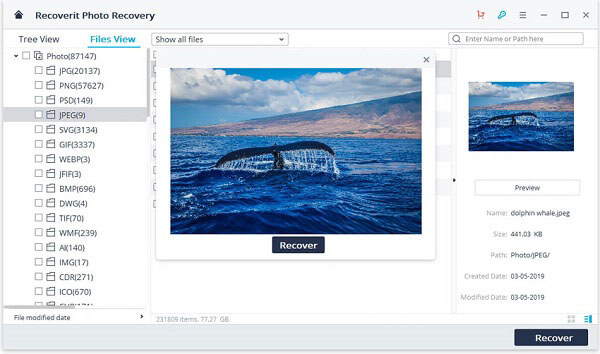 How to Pick a Data Recovery Solution?
After a quick search, you can see that there are several data recovery apps and tools out there. If you also want to pick the best recovery tool too, then consider the following things in mind:
Recovery rate: Every tool has a data recovery success rate, which defines how easily it can extract data from a source. Therefore, the higher the data recovery rate, the better the tool would be. Recoverit has an impressive recovery rate of 96% which is one of the highest out there.
Data support: The tool should be able to extract your videos, photos, audios, documents, zipped files, and all kinds of related data.
Ease of use: Needless to say, the interface should be user-friendly and not complicated at all. One should be able to perform data recovery without any technical background.
Security: The data recovery tool should not store or access your data in the process. It should keep your files safe and protected during the process.
Compatibility: It should be available for the Windows or Mac version that you own. Also, it should support USB drive recovery at any cost.
Other features: Apart from that, look for the overall reputation of the recovery tool online. Check if it has a free version available that you can try beforehand. Also, make sure that it should come with responsive customer support and a money-back guarantee.
Protect Your USB Drive from Data Loss
Although now you know how to extract the lost content from a USB drive, it is important to take some preventive measures as well. The following are some easy tips that you can follow to protect your pen drive.
Try not to disconnect your USB drive from your system when it is still being processed or when data is being transferred to/from it.
Make a habit of safely removing your USB drive to avoid an unexpected data loss.
Keep your system updated with all the essential drivers and security patches.
Avoid connecting your USB drive to any public computer or a device that you don't trust.
Install an anti-malware tool on your computer and keep it active so that you won't suffer from any virus attack.
Consider formatting your USB drive every once in a while so that you can get rid of any malware or damaged component.
Who knew performing pen drive data recovery would be so easy? By following these basic steps, you can easily learn how to recover files from a USB drive using Recoverit. In case if the first scanning process is not able to satisfy your requirements, then you can do a deep scan as well. Click on the "All-around Recovery" to scan the USB drive in a more extensive way. This will let you get back all kinds of deleted, lost, or inaccessible data files without any trouble.
---
This article has been sponsored by Recoverit