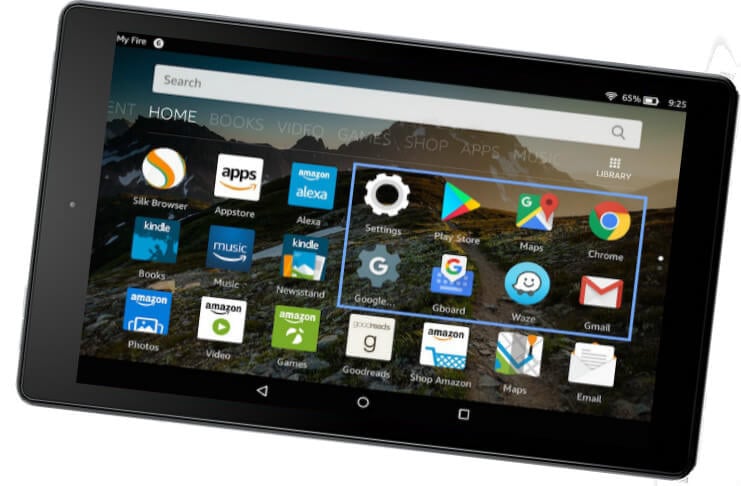 Amazon Kindle Fire Tablets are operating on Fire OS. You can't find many apps on Amazon store for your Fire Tablet. However, you can easily set up your Amazon tablet to install apps from Google PlayStore. Amazon Fire is an Android-based OS, and all of the Android App from Google Play Store will work on Amazon Fire Tablet.
The first step to install Android Apps on Android Fire is to install Google Play Store on Fire Tablet. Once you have Google Play Store on Fire HD tablet, you can install all Android Apps on Amazon fire and operate just like an Android Tablet. There is no rooting required to install Android Apps on Fire HD Tablets. Those who want to buy Amazon Fire HD, you can get 8GB version just for 49.99 from Amazon.
Now let's go through the step by step process to install Google Play Store and Android Apps on Amazon Kindle Fire HD.
Editor's Note: In this workaround, we demonstrated the solution for All-New Amazon Fire tablet (Fire HD 8 7th Generation) with Amazon Fire OS 5.6.0.0. Please see the Troubleshooting Step 7 if you find any Package Parse Error or Grey INSTALL button.
Step 1: Change Fire Tablet App Installation Permission
Google Play Store app is not available on Amazon App store. To install Google Play Store App, we have to depend on Android App APK Files.
To install APK files or any other third party apps on Amazon Fire, you have to change the permission on Android Fire Tablet. Open your Fire Tablet, Head over to Settings >  Security > Apps from Unknown Sources > Turn On > Click OK on Warning.
Step 2: Download Google APK Files on Amazon Fire
Next step is to download and install APK files on your Amazon Fire Tablet. There are four APK files required to download and install on Amazon Tablet. Fire Tablet is coming with default browser called Silk browser. To proceed with APK Install, please open this article on your Amazon Tablet Silk Browser (if you are on a desktop now) and tap on the links provided for each APK file below. When you tap on these APK links, the APK files will start to download on your Amazon tablet. Please download and install all these four files in the same order provided here. (if you miss any order or file to install, then follow the steps below).
When Amazon Silk browser completes the downloading of each file, the pop-up will ask you to download the downloaded APK file.
Click OK and proceed to download the files on your Fire Tablet. Once the download complete, the pop-up screen will ask you to install the APK file on Fire Tablet. Please be aware that, all the four APK files should install in the same order we provided above. Follow the same steps to download and install all four APK files mentioned above links.
Related: Complete Guide to Self-Publish eBook on Amazon Kindle
Step 3: Find Downloaded Files on Amazon Fire
Just like File Explorer in Windows or Android phone, Amazon Fire OS has the app Docs. All downloaded files are available in the Fire Tablet Download folder. You can use this Fie OS "Docs" App to open the download folder. If you miss any files to install after download, then download the rest of the files first. After downloading all four files, open the Docs App > Tap on Local Storage Tab > Download Folder > See All downloaded files.
There is an alternative solution to find the download files on Amazon Fire Tablet. Open the Amazon Fire default browser, called as Silk Browser. Tap on Hamburger Menu on the Top left to get Amazon Silk Menu > Downloads. Now you can see all the download files over there.
Step 4: Install Google APK on Amazon Fire Tablet
Once you find the download APK files and locate them as per Step 3, go head to install them one by one. Just tap on these files one by one install the APK files.
Once you tap on, you will get a screen with install button on bottom right. Tap on INSTALL to install these APK files on Fire tablet. If you find the INSTALL button in Grey and unable to Install, please read troubleshooting Step 7.
Step 5: Verify the Android Apps on Amazon Fire
During the installation of each APK, if you are interested, you can see all the information about each APK files like the screenshot we provided below.
Once you complete all APK installations, you can verify the installed App on Amazon Fire App Section.
Open Fire Tablet Settings > Apps& Games > Manage All Applications > Downloaded. You can see all Android Apps installed on the Fire Tablet using the APK files.
Step 6: Register Google Play Store to Install Android Apps
Now time to open Google Play Store App installed on Fire tablet. Tap on the Google App store app and register with your Google Account to start with Google Play Store. Once you register Google Play Store, you can install any Android Apps (Check here to clean and speed up the Android phone).
We have installed a few apps including Google Chrome, Google Map on Amazon Fire Tablet direct from Google Play Store. Just to make your life easy, Google introduced Lite Apps that use less resource of your device. If you don't want to spare much system CPU and memory for Android Apps, you can install these Lite Apps from the Android Store.
As you see the screenshot below, we installed a couple of Android Apps like Google Map, Chrome, GBorad, Waze, Gmail on Amazon fire tablet through Google Play Store.
Both Amazon Settings and Google Settings App will work on their own to handle the Amazon tab settings and Google Account Settings respectively.
Step 7: Trouble Shooting Steps
Depends on your Amazon Fire Tablet OS and the APK files you are installing, you may find some issues with this APK installation process. We listed a couple of errors we faced in the entire process.
Parse Error on Amazon Fire Tablet
Depends on the Fire OS, you have to install the right APK Version on Fire OS. If you have an old Fire Tablet with OS version 4 or below, these APK files may not work with the Fire Tablet. Once you try to install the wrong APK version files, you will get a Parse Error on Fire tablet with a message "There was a problem parsing the package".
You may get the same Parse error if you try a different version of APK files on Fire tablet. We linked the right APK files version that we tested on Amazon Fire HD 8 7th Generation with Fire OS 5.6.0.0. Please try to use the same version of your Fire Tablet.
Fire OS Install Button Grey (Not Active)
This is the second error we got while we try to install the APK files. We noticed this error (maybe a Fire OS bug) on new Fire OS 5.6. There is a workaround to solve this issue.
Once you are on the left screen with Grey INSTALL button, press and release the Amazon Fire Power Button just one time. Do not shut down the tablet at this point. You have to just press and release the power button one time, that will turn off the screen. Then press and release the power button again to turn on the screen and unlock the tablet. Now you will see the INSTALL button in yellow (active). You can tap on the Install button to proceed APK File installation.
Additional Tip to Utilize Fire Tablet.
Do you think the Amazon Fire Tablet is underutilized? The above solution will bring all Google PlayStore apps to your tablet. In addition to that, you can convert this tablet to an Alexa Powered Gadget by spending an additional $40.00 bucks.
We have brought Show Mode Charging Dock for Alexa tablet to transform our Fire HD8 to a full-screen Alexa. You can use this to show the weather, play songs, read the news, call friends and family etc. You can buy Show Mode Charging Dock for Fire HD 8 ($39.99) or Fire HD 10 ($54.99) from Amazon.
Install Android Apps on Amazon Kindle Fire HD
Amazon Fire is an excellent tablet with dual camera and powerful hardware. However, you may not find your favorite Apps on Amazon App Store. Here you have to depend on the Google Play Store to install your favorite apps on Amazon Fire Tablet. Once you have Google Play Store on Amazon Fire HD tablet, you are free to install any Android Apps from Google Play Store just like an Android tablet. Now you have an excellent tablet with tons of Apps from PlayStore and Amazon's powerful hardware.