You can bring the 3D animals to your living room with Google's AR (Augmented Reality) feature. This can bring 3D Animals like Lion, Tiger, Shark, or Penguin to your home. This is a nice feature to spend some time with kids, and your kids can take a picture with the live animal in your living room.
You can do this with a simple Google Search. Let's see how to bring 3D animals into your living room with your iPhone or Android phone.
How to View 3D Animals in Your Room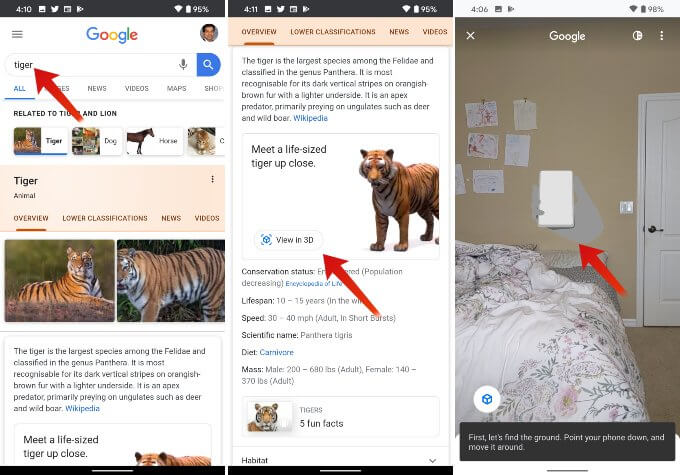 Open iPhone or Android browser (Safari/Chrome/Android browser).
Search the animal you like, we did "tiger"
Scroll down until you see "Meet a life-sized tiger up-close"
Tap on "View in 3D"
Move your phone across the room for a while.
Boom!!! You'll see a life Tiger in your room next to you.
You can move around the animal by dragging on the phone screen. The default size will be the real size fo the animal. You can resize the 3D Animal to small or big. I brought the tiger on top of my keyboard.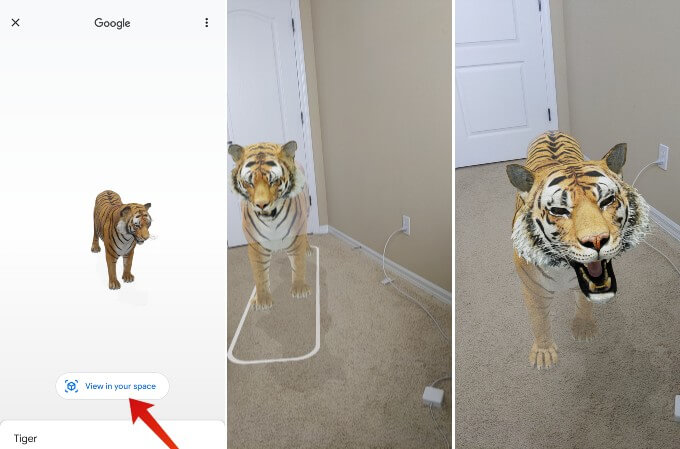 Your kids can get a picture with the live Animal. The phone will work with the camera button, and you can take the picture as usual with this 3D animal from Google.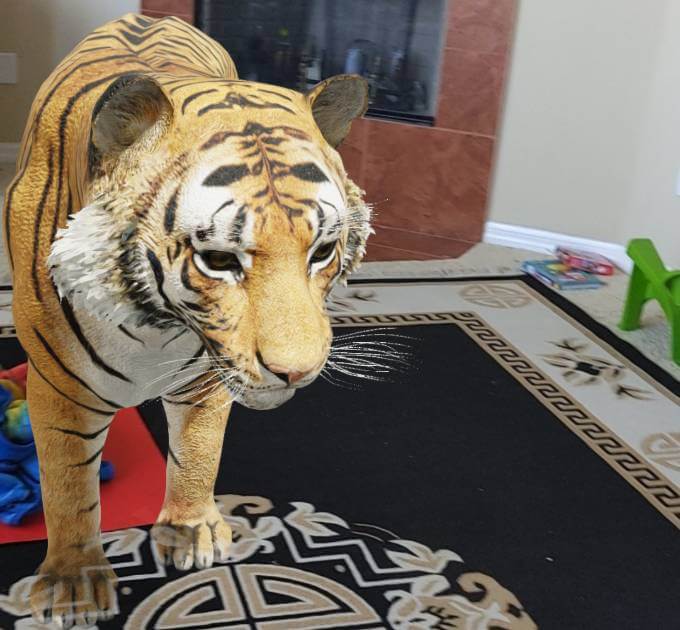 Let them take some snaps: https://t.co/NsFtuF1i5W pic.twitter.com/lpX1j4tBtJ

— MashTips (@mashtips) March 27, 2020
Record Video with 3D Animal.
iPhone support to take a video of the 3D Animal. You have to tap on the camera button once to take a picture. Instead, you can hold on the camera button to continually record the Animal movement with your kid, and the video will save to the iPhone photo gallery.
If you don't see the video option, you can still depend on the iPhone Screen recording feature to get the video with your friend and 3D animal.
We don't see a similar option to get a video with a 3D animal on Android phones. However, you can use the Android Screen recorder for capturing the video.
Additional Features
There are a few more additional settings and changes you can do with Google 3D animals to entertain your kids.
You can drag, rotate or move the animal to the required location you want.
You can Zoom in or out to make the animal big or small by pinching on the screen.
Android Phones support sound (tested with Pixel 4) with 3D Animal.
You can see all features in action with the completed list of Animals on this hands-on video.
Google 3D Animals List
There is no official list of Google 3D Animals yet, however, we have a list of available lists for Google 3D Animals that you can try.
Lion
Tiger
Cheetah
Shark
Hedgehog
Duck
Emperor penguin
Wolf
Angler fish
Goat
Rottweiler
Snakes
Eagle
Brown bear
Alligator
Horse
Shetland pony
Macaw
Pug
Turtle
Cat
Octopus
Dog
Golden Retriever
Google 3D Animal iPhone Support List
This will work both iPhone, Android, or Samsung phones that enabled with AR. The OS version should be iOS 11. We see this work from iPhone SE and above. We don't see this works in old iPads like the iPad Mini. See the list of iPhone Models Support Google 3D Animals. We are just listing the iPhone year model, and this will also support the Pro and Max model of each iPhone.
iPhone 11
iPhone XR
iPhone XS
iPhone X
iPhone 8
iPhone 7
iPhone 6S
iPhone SE
Google 3D Animal Android Support List
Android phones should have Android 7 or up, supports Samsung models and Google Pixel 2 and all higher models.
Google Pixel 4
Google Pixel 3a
Google Pixel 3
Google Pixel 2
Google Pixel
Samsung Galaxy A3 (2017)
Samsung Galaxy A5 (2017)
Most of the latest Samsung Phone.
As we mentioned above, the Pixel XL models will also support with 3D Animals. Here is the list of AR supported list from Google.
There are more AR objects that can get in Google Search. You can search for Human Skelton, NASA objects like Mercury, Uranus, etc., are available with the search results. You may need to add the term "in-depth" along with the search term to appear the 3D objects in Google Search result. Have some fun with these 3D Animals while playing your iPhone and Android.