There is no built-in auto-reply feature in iOS to set out-of-office messages for iPhone to auto-reply for text and calls. Auto-reply on Text messages on iPhone is an essential feature useful when you go for a vacation or out of the station for a while. However, there is a workaround to set auto-reply text messages on the iPhone for calls and texts. This will always work and send iMessage auto-reply for incoming calls and text messages to your iPhone.
We want to go through the step-by-step instructions to set out-of-office messages on iPhone and iCloud email to auto-reply your clients on your next vacation.
Editor's Note: We have updated the article for new iOS users. Please refer to this article for those with iOS version 15 or above.
Set iMessage Auto Reply Text Message on Vacation
There is no vacation responder on iOS to auto-reply to text on the iPhone. However, there is a workaround for the iPhone auto-reply while you are on vacation. We will use the DND mode feature to auto-reply to incoming text messages while you are on vacation. This will work perfectly if you want to set auto-reply text on your iPhone to automatically reply to calls and messages while on vacation.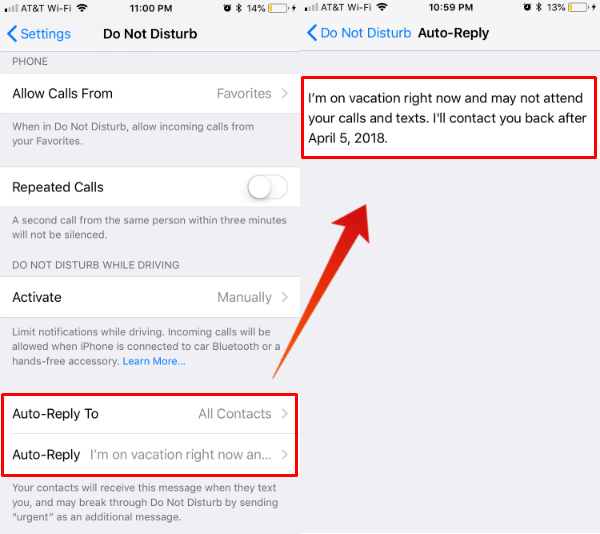 To set this iPhone auto-reply message, go ahead;
iPhone Settings
Scroll down for Do Not Disturb
Tap on Auto-Reply
Fill out the vacation text message you want.
Select the recipient list to All Contacts. 
You have options like Recents or Favorites to select based on your choice. This section will take care of the iPhone Auto Text Reply.
See iMessage Vacation Reply Setup
Set iMessage Auto Reply on Vacation for Calls
Once you set the iMessage Auto Reply, then let us see the iPhone Auto Calls Reply setting. From the same Do Not Disturb Setup screen, you can allow the calls from a specific group like "Favorites." If you want complete freedom from calls on your vacation, you can select "No One."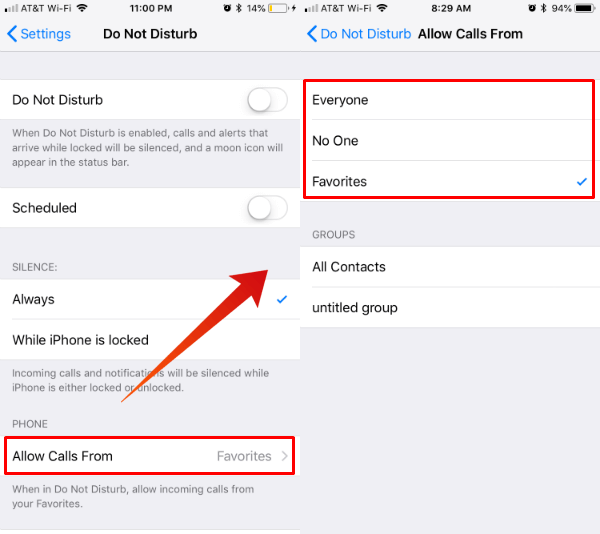 Make sure you take care of the additional settings for DND and turn off "Scheduled." Make sure the phone can be set on DND mode "Always," otherwise you can expect some calls while the phone is not locked, which may ruin your vacation.
Related: 7 Best USB Flash Drive for iPhone to Backup Photos, Videos & Contacts
Activate DND on Vacation to "Manually"
On the iPhone, you have the option to activate DND mode in different ways. The "Automatic Mode" and "When Connected to Car Bluetooth" will take care of while driving.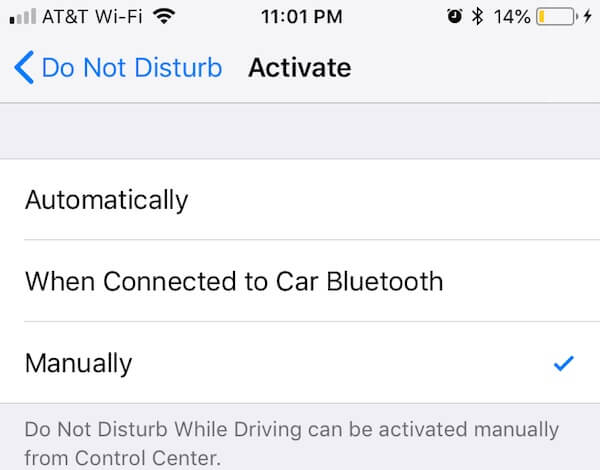 But to set a vacation mode on the iPhone, it is better to select it manually. This will give you more control to change the mode at any time.
Also Read: How to Display Weather on iPhone Lock Screen? (No Root)
Set Vacation Mode on iPhone
The last part is to bring up the DND mode to the Control Center, where you can turn on the DND mode to make your iPhone respond to calls and messages with an automated vacation message set.
Go ahead to iPhone Settings > Control Center > and include Do Not Disturb While Driving. Now you are ready to manually switch your phone to vacation mode from the control center.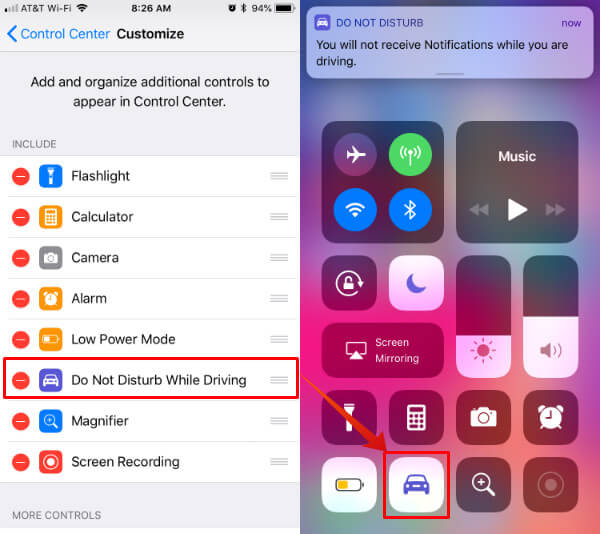 When you activate this DND mode manually, it will stay there until you deactivate it. Your iPhone will respond with an automated message you set for vacation response for every incoming call and message.
iPhone Vacation Mode in Action
We have tested this workaround by placing a sample vacation message on the iPhone DND mode Auto-Reply screen. To check this feature, we manually turned on the iPhone DND mode from iPhone Control Center with the above settings.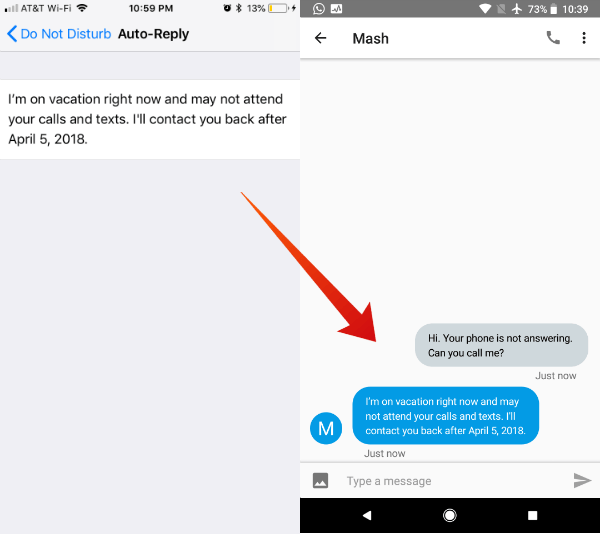 We sent a message from the Android phone to the iPhone number that has already been set in vacation settings.  And finally, we received an auto-reply text from iPhone to the Android phone.
This workaround will take care of auto-reply messages for phone calls and messages to the iPhone. There are a lot of users using iCloud emails on iPhones and Macs. You can set a vacation auto-reply on the iCloud email account. Let's see how to set automatic vacation messages on iCloud email.
Related: How to Transfer & Play MP3 on iPhone/iPod, No iTunes Required
Set Vacation Email Reply on Vacation
If you depend on iCloud emails, you can set the vacation response right from your iCloud Email Settings. Log in to www.icloud.com and select Mail. Once you open the mail app on the browser, click on the Settings icon from the bottom left of the sidebar.

Click on Preferences from the pop-up menu and click on the Vacation tab to continue. On the vacation tab, you have the option to set your vacation period and the automatic response.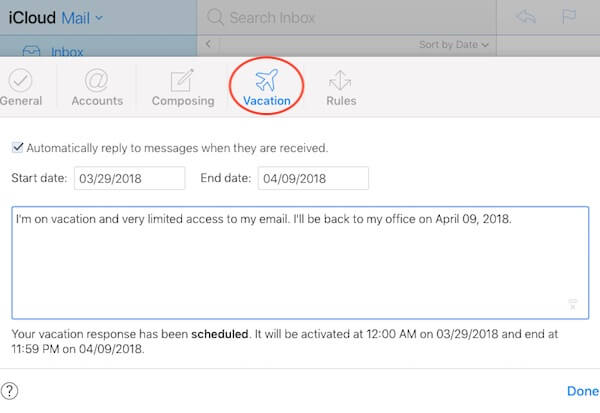 There is no option on the iPhone Mail app to set the vacation response for emails. However, like iCloud, most other email providers also offer to set up an automatic vacation response, including Gmail, Yahoo Mail, and HotMail providers.
There are a few more auto-reply texts on iPhone in different modes. This includes the Automessage while driving and iPhone auto-reply for incoming calls that you can set. Let us see how to set up these auto texts on iPhone.
Also Read: 9 iPhone Keyboard Shortcuts & Tricks to Save Time
Auto Text Message Reply While Driving
The iPhone DND mode is supposed to use while you drive. When driving, you don't need to divert your attention while driving you can set Do Not Disturb while driving. There are a few options to set Auto Text while driving. You can place the iPhone to switch automatically to DND mode while driving by detecting motion.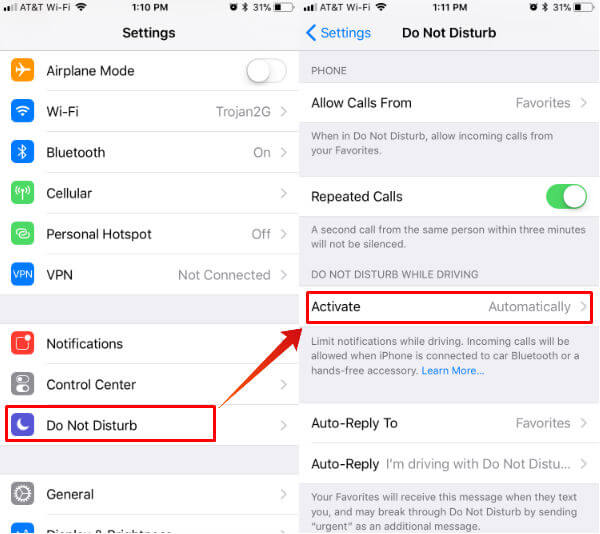 This auto-detection will be easy for you to send an auto-message from your iPhone while driving. You can customize this auto message to use in DND mode and decide who can send this auto message while you drive. You have the option of "No One, Recents, Favorites, All Contacts" to select and send the auto message.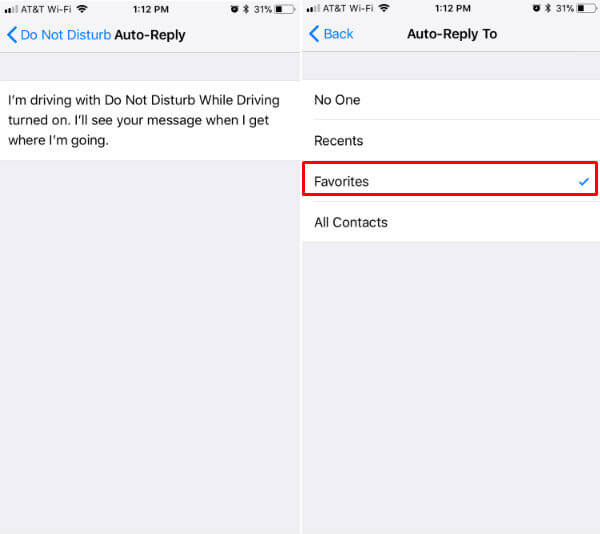 To set up Do Not Disturb on iPhone, go ahead to;
iPhone Settings
Tap on Do Not Disturb
Scroll for the "DO NOT DISTURB WHILE DRIVING" section.
Tap on Activate
Select Automatically or When connected to Car Bluetooth.
Customize iPhone Auto Reply Messages for Calls
iOS is offering a feature to set an autoreply for all incoming calls. Instead of merely rejecting the calls, you can send back pre-set messages while you reject it. You have the option to set three quick response messages to send back while rejecting incoming calls.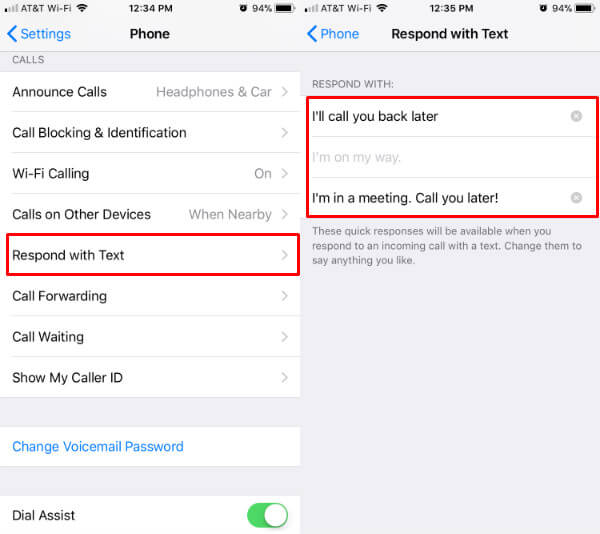 To customize "Respond with Text" for incoming calls, go ahead to iPhone Settings > Phone > Respond with Text > Edit "Respond with Text" messages.
Set Out Of Office Auto Text Reply Text Message on iPhone
IPhone has a few auto-reply text modes that can be used while driving or on vacation. This vacation auto message will work both for incoming phone calls and iMessages. This workaround can send a standard auto-reply text from your iPhone for the scheduled interval, or you can manually set the vacation time. This will work for you guys to reply to your business clients while you enjoy a smartphone-free vacation.