Google Play Store is central to the Android experience. Even though some manufacturers have their own app stores, most users and developers prefer the Play Store still. So why would you want to clear the Play Store cache and/or data? On your phone, the Play Store is just an app, a front to access the apps repository hosted by Google. And sometimes, it likes to act up.
You may not be able to install an app after several tries, or worse, you may not be able to install any app. Sometimes it can just start giving error messages for seemingly no reason. An app might be failing to update. There can be many kinds of Play Store problems. They used to be a bit more common, but thankfully they are very rare these days. The most common, and the first solution to try for these problems, is to clear the play store cache and data.
How to Clear Cache in Play Store
Wiping any app's cache is pretty straightforward on Android if you just know how to do it. Play Store is also just an app, albeit with elevated privileges. So, you can clear the Play Store cache and data the same way you would for any other app.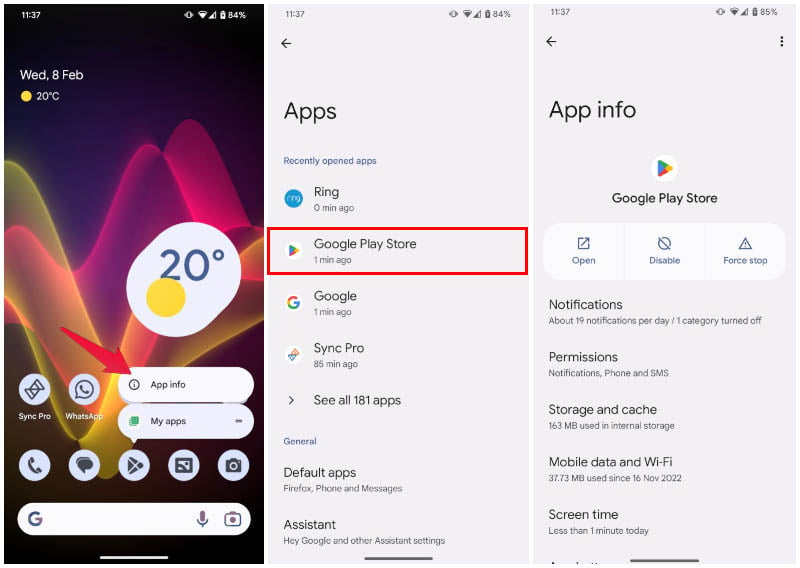 Open Settings.
Go to Apps.
Tap on Play Store or select See all apps if you don't see Play Store in the most recent apps shown here.
Alternatively, you can long press on the Play Store icon in the app drawer or home screen and select ⓘ App info.
Either way will take you to the App info page for Play Store.
Select Storage and cache.
Tap on Clear cache and it will be cleared without any confirmation.
To clear storage, tap on Clear storage and you will receive a confirmation popup.
Select Delete on the popup.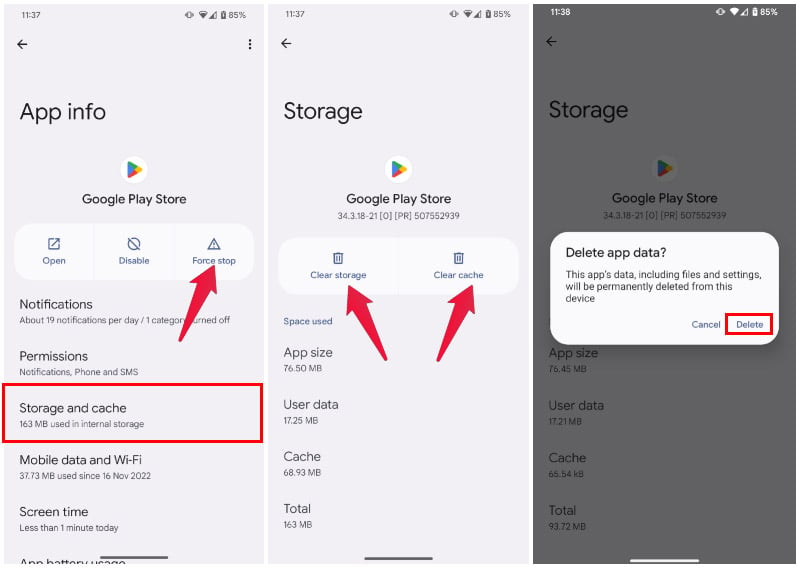 Clearing an app's storage also clears every allowed permission and other settings, as well as the cache. So, if you want to clear the Play Store cache and storage, you need not tap Clear Cache. Simply clearing the storage will clear both the cache and storage.
After doing this, or before, you may also want to head back to the App info page mentioned in Step 5 and tap Force stop. This makes sure Play Store is not running in the background. So when you open the app again, it really starts fresh, as if newly installed.
FAQ: How To Clear Play Store Cache
What happens if I clear the cache on Google Play Store?
Clearing the cache deletes all the cache memory stored on your device by the Google Play Store app. This can help you get rid of issues with the Play store, such as connection failures, app installation problems, error messages, etc.
How do I clear the app cache on Android?
You can clear any app's cache on Android, just as described above for the Play Store. The option is available from the app's App info page under Storage and cache.
Does clear cache delete everything?
Clearing the cache only deletes the stored cache on your device from the app. Cache helps apps and websites load up faster. Sometimes, it can get corrupt and cause certain unexpected problems. In that case, clearing the cache might be helpful.