If you do any online gift shopping or a variety of other things on the web that you don't want others to discover, then private browsing is a good choice for you. You can now enable private browsing in Safari for the iPhone, iPad, and iPod touch in iOS. This allows you to browse the web without saving a record of browser history, cache, logins, searches, and whatever else would normally be visible by whoever comes across the iOS device.
You have to go through the following steps to enable private browsing in Safari on iPad, iPhone, or iPod touch.
Tap on "Settings" icon in your iDevice.
Navigate to and tap on "Safari"
Under 'Privacy' slide the switch next to "Private Browsing" so that it displays "ON"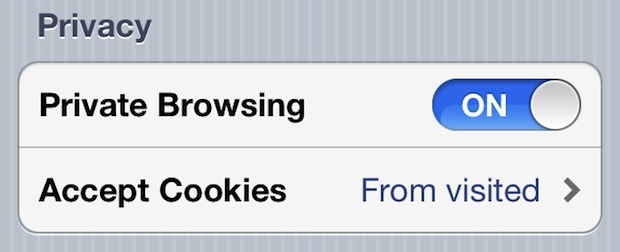 You can further tweak the Safari privacy by adjusting cookie behavior in the same menu. You can set Accept Cookies to "Never, From Visited or Always".
You can disable private browsing by going back to the same menu and sliding 'ON' to "OFF". There is no harm to leaving private mode enabled all the time.
If you have Google Chrome in your iPad or iPhone, you can enable private browsing in chrome browser. You can do the same steps on your phone to do private browsing in chrome that you do in your desktops.
Do you want to know more details about private browsing in Internet Explorer, Google Chrome, Mozilla Firefox, Apple Safari, Opera, iPad / iPhone Safari? Please go through the entire article to Protect your data while browsing on a public computer.