Chrome is one of the lightweight and fast browsers from Google. When you want to check any web page in stealth mode (private browsing), Google Chrome offers the incognito browsing mode. While you use incognito mode, web pages that you open and files downloaded while you are incognito aren't recorded in your browsing and download histories.
All new cookies are deleted after you close all incognito windows that you've opened. Changes made to your Google Chrome bookmarks and general settings while in incognito mode are always saved.
Related: How to Share Link between PC and Mac using Chrome
You can enable the Chrome Incognito window by clicking on the wrench icon on the browser toolbar. Select New incognito window.

A new window will open with the icon in the corner. You can continue browsing as normal in the other window.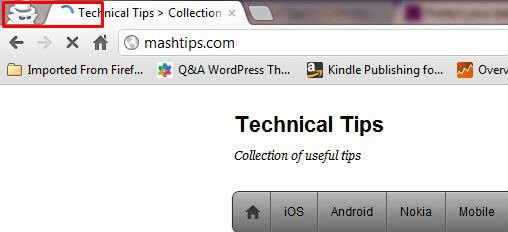 You can also use the keyboard shortcuts Ctrl+Shift+N (Windows, Linux, and Chrome OS) and ⌘-Shift-N(Mac) to open an incognito window.
Browsing in incognito mode only keeps Google Chrome from storing information about the websites you've visited. The websites you visit may still have records of your visit. Any files saved to your computer or mobile devices will remain.
Do you want to know more details about private browsing in Internet Explorer, Google Chrome, Mozilla Firefox, Apple Safari, Opera, iPad / iPhone Safari? Please go through the entire article for Protect your data while browsing on a public computer.