SSD drives can improve the performance of Mac Machine and offer a lightning speed loading time. The high-performance players in SSDs are the operating speed and resistance to impact and shock. Even though SSDs are bit expensive, the investment on SSD can pay back you in terms of speed. Solid State Drives can read, write and load your OS X at lightning speed compared to your traditional spinning hard disk. But when you consider maintenance and span of life, the traditional hard drive does not need any additional maintenance and has more lifespan. With this current technology, SSDs are demanding more care and bit less lifespan while offering best speed performance.
Here we are listing the best SSD Tools for Mac to Maintain SSD Drive in a proper way to extend the life.
Chameleon SSD Optimizer
Key features: SSD Optimizer | Reduce I/O Writing cycles | Read SATA System Profile | Download from Website (free)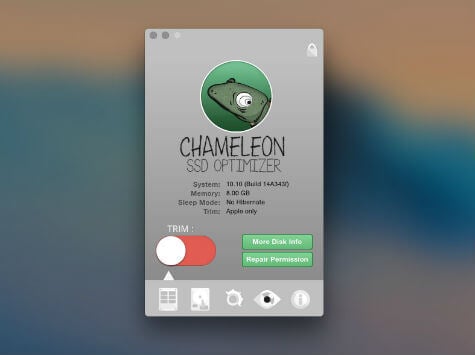 Chameleon is an optimization tool for Solid State Drive on Mac OS X system. It can
enable TRIM
on generic branded disks and increase
durability
by reducing I|O writing cycles, set
hibernate
mode and save space disabling sleep image. Chameleon is able to read
SATA system profiler
info and allows you to easily check trim status, disk speed or properties and also supporting S.M.A.R.t. status. Chameleon SSD Optimizer can monitor your SSD's performance and make sure it will continue working properly by enabling the trimming function.
Blackmagic Disk Speed Test
Key features: Measure Disk Performance | Large block Data Wrote to measure performance | Download from iTunes (free)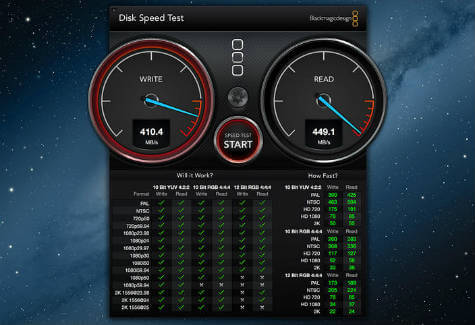 Disk Speed Test is an easy SSD Test tool to use with your Mac that can use to measure and certify your disk quickly. Starting the test with a simple click is easy. Disk Speed Test will write test data your disk using large blocks of data and then display the result. Disk Speed Test will continue to test writes and reads from your disk so you can evaluate both performance and readability over time.
Related: 5 Built-in Mac Security Software you Never Knew in OS X
DriveDx
Key features: SSD Health Diagnostic | Monitor SSD Wearout | Check I/O Errors | Download from iTunes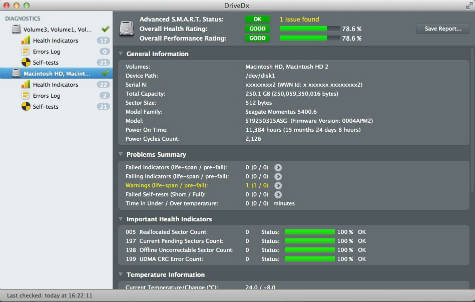 DriveDx is an advanced drive health diagnostic and monitoring utility. DriveDx does not only monitor the drive's built-in S.M.A.R.T. status but also analyzes the changes of all drive health indicators that are closely related to SSD or HDD failures like SSD wear out / endurance, reallocated bad sectors, offline bad sectors, pending sectors, I/O errors and more. DriveDx alerts user immediately if anything goes wrong. The application provides access to all sufficient drive diagnostic data. This app supports modern SSDs and HDDs and offers real-time SSD/HDD health status monitoring. It can display SSD lifetime left indicator, save drive's health report to file and monitor drive temperature, free drive space etc.
Trim Enabler
Key features: Live Health Monitor | Performance Optimizer | Time Machine Optimizer | Temperature Monitor | Download from Website ($9.99)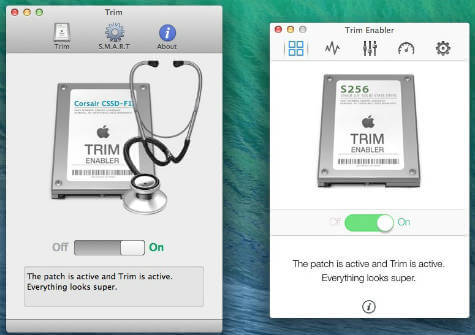 With Trim Enabler, you can enable trim to any Solid State Drive. Trim is a must-have feature for most SSDs. It not only increases data writing speeds, but it enhances the lifetime of the SSD itself. Trim Enabler can monitor your disks and the detailed S.M.A.R.T monitor will provide performance and health-relevant statistics and reports about your disks, both Hard and Solid State Drives. The inbuilt benchmark feature measure SSD or hard drive speeds and file system performance with the super-easy-to-use Benchmark feature.
Xbench was developed by Spiny Software to provide a comprehensive benchmarking solution for Mac OS X. Xbench is useful not only for comparing the relative speeds of two different Macintoshes but also for optimizing performance on a single machine. Xbench is accompanied by a website that allows graphical side-by-side comparison of any out of thousands of submitted benchmarks.
Website: Xbench
Conclusion
There are a couple of tools available in the software market and Apple store to measure the performance of your SSD and monitor its life. Most of these tools are capable of enabling Trim function for your laptop. Trim function is known as an essential feature as part of SSD maintenance. Whenever you delete a file on your SSD, the data still stays on the drive in segments called blocks.
These blocks are not deleted until you need to use them again to write new data. Due to technical limitations in the NAND Flash design, only whole blocks can be deleted in SSD. This means,  when you need to write new data, the SSD must perform time-consuming cleaning and maintenance of these blocks before your data were written. With Trim feature your blocks can be cleaned instantly when you delete the data, leading to much fewer operations during the writing process which gives you better speeds and minimizes the wear on the drive.
Related: 7 Dos and Don'ts of SSD to Maximize Performance and Increase Life
Eventually, the SSD technology will improve and offer you more reliable SSDs with less maintenance and reach up to the same life of traditional Hard Disk lifespan without any additional tools or maintain software. You have to depend on at least one software tool to keep your SSD until technology reaches that point.