Did you set a wake-up alarm on your iPhone that didn't go off as expected? These days, most of us rely on our gadgets a lot to make things easier and we easily get frustrated when it doesn't work. Plus, getting up late will affect our schedule for the day. To avoid that, let's see how to resolve the iPhone alarm not working issue.
Let's begin.
Check Your Alarm Settings
If your iPhone Alarm is not working, you probably should have set something wrong in the settings. You might have missed changing PM to AM while setting the alarm. Or you could have put the alarm to one-time but expect it to ring daily.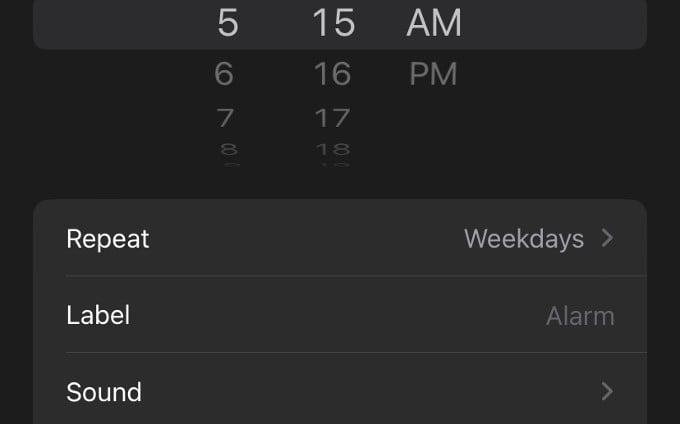 Open the Clock app on your device and tap Alarm at the bottom. Then, look at the alarm settings and tap on that to make changes if required. For example, you might accidentally set the alarm for 5 PM and expect it to go off by 5 in the morning.
Disconnect and Turn Off Bluetooth
Most of us love hearing music using Bluetooth headphones, speaker or earphones. In case you forgot to disconnect your Bluetooth device, then the alarm will be playing on the connected device and not on your iPhone.
Don't forget to turn off Bluetooth before your bedtime so that you won't miss the wake-up alarm. To do that, just swipe down from the top right to launch Control Center and tap on the Bluetooth icon to turn it off.
Double Check Your Alarm Volume
Sometimes, you cannot hear the alarm as it is ringing at a low volume. Go to Settings > Sounds & Haptics and adjust the slider under the section RINGTONE AND ALERT VOLUME to an audible level.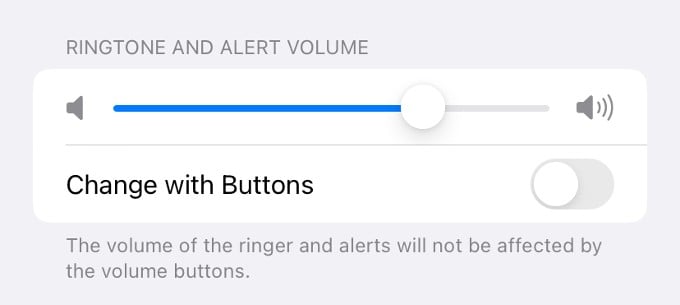 By default, you cannot control the ringer/alert volume levels using the volume buttons. To do that, you need to toggle the field Change with Buttons to on or green.
Related: Fix Your iPhone Not Notifying of Texts
Disable Sleep Schedule
If you have set up a Sleep Schedule on your iPhone and your wake-up alarm overlaps with that, then your alarm might not go off. It is better to turn off the Sleep Schedule on your iPhone for your alarm to go off properly.
Open Health app on your device and tap Browse>Sleep. Under Full Schedule & Options, toggle Sleep Schedule to off so that it won't interfere with your alarm.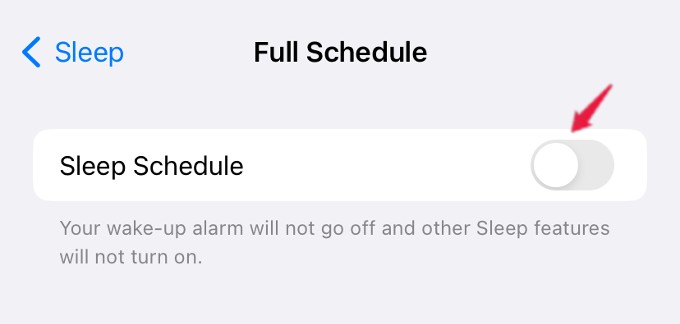 In case you don't wish to turn off the sleep schedule, set a different schedule and make sure it doesn't overlap with your alarm.
Delete All Alarms and Set Again
Are you not able to fix the iPhone alarm issue and don't have a clue? Deleting all your existing alarms and recreating new ones might work for your. For that;
Open the Clock app and delete all the alarms by tapping Edit on the top left.
Now, add the Alarms again and check if they are working correctly. You can even get the help of Siri to create an alarm by saying, "Wake me tomorrow at 5.30 AM."
Update to Latest Software
To avoid any kind of software glitches that prevents the functionality of iPhone apps, it is important to keep your iPhone updated with the latest iOS software. By default, all the native iOS apps will get updated automatically.
Just make sure that there is no pending update for the Clock app. You can search the "Clock" app on App Store to check if there are any updates. If you find none, check for any pending iOS updates and install.
Related: How to Update iPhone without WiFi Using Cellular Data
Use Third Party Solutions
There is no harm in using a third-party clock app if your iPhone alarm is not working. For that, you can search for alarm clocks on the App Store. Once you find the right app, install it and set an alarm on the app.
Or if you have a smart speaker like Echo, then you can create a routine using Alexa to wake you up daily. You can also ask Google Home or Nest speaker to set a wake-up alarm.
FAQ: iPhone Alarm Not Going Off
Why does my iPhone alarm go off but no sound?
Your iPhone alarm goes off and you are not able to hear that? Either the alarm volume is very low or your device is connected to a Bluetooth accessory.
Do alarms work when your iPhone is on silent?
Yes. Even if your iPhone is in silent or Do Not Disturb or Work mode, your alarm will work and you can hear the sound.