There is no direct setting to display weather information on iPhone or iPad screen. However, it is handy to see the weather info direct from lock screen like Android phones. When you wake up, you will get an idea about snowfall or rain, and you can plan your day accordingly. Apple is introducing this feature from iOS 12 onwards to see weather info on iPhone lock screen.
Let us see how to set your iPhone to display weather information on the lock screen without any jailbreaking or apps.
Editor's Note: This feature is available on iOS 12 onwards. If you have iOS 11 older versions, wait until your iPhone get iOS 12 update.
There are some changes in the default settings that you have to perform to work this iOS lock screen weather display, follow the steps below;
Set Weather Location Service Always
We usually set most of the apps' Location Service to "While Using the App" to avoid battery draining on iPhone. To display Weather on iOS Screen, you have to change these settings.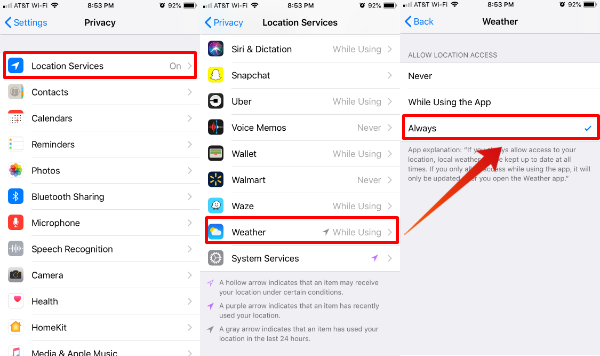 Open iOS Settings > Privacy.
Tap on "Location Services."
Scroll down until you see Weather and tap on it.
Select "Allow Location Services" to "Always."
Set Do Not Disturb for Bedtime
You have to turn on "Do Not Disturb" on bedtime to work this Lock Screen Weather Info on iPhone. Go to iOS Settings > Do Not Disturb > Bedtime > Turn on.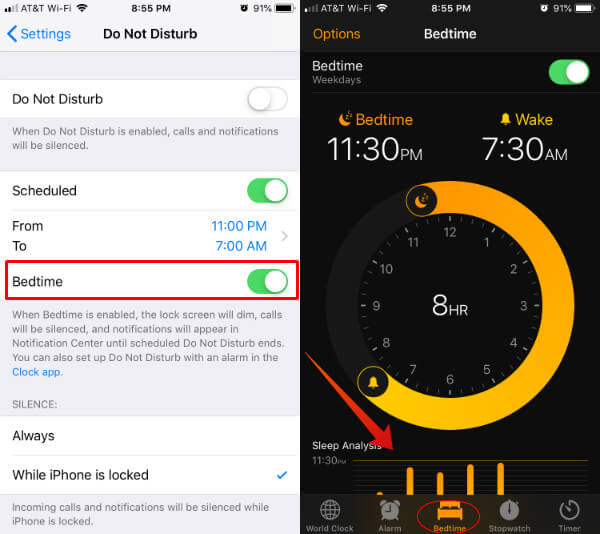 The next step you need is to set Bedtime. Please head over to the iOS Clock App. Tap on Bedtime tab from Clock and set your bedtime. Don't forget to turn the Bedtime on.
Now you complete all the setting changes that required to display weather on iOS lock screen. We have tested this in iOS 12 beta version, and iPhone will display the weather information when the iPhone wakeup from the Do Not Disturb Mode after the bedtime.
Related: How to Add Recurring Events to iPhone Calendar?
The iOS 12 will not display the weather information always on the lock screen like Android OS. Instead, iOS 12 will display weather on the lock screen in the morning when you wake up after the bedtime. You can simulate the same setting by changing the bedtime to noon or evening. iPhone will wish you Good Morning (depends on the time) along with the weather information when you wake up after your bedtime.
This feature is not a bulletproof solution to get weather alert like android. If you want to get some deep information about the weather like Android widgets, you can use iPhone weather apps and widgets. This is a good start in the morning to get quick info about the weather from iPhone Lock Screen.